Houses
This Scandinavian Home in Pangasinan Will Make You Love White Interiors
Floor-to-ceiling windows open up spaces in white, gray, and brown. Photography: Courtesy of Kristine Bauzon
Christian and Katrina Bauzon's home is located in the same compound as Kristine Bauzon's home which we had previously featured, but while Kristine went for a modern minimalist space, Katrina opted for something that Scandinavian-inspired.  
"My husband and I… wanted our home to be simple and minimalist, but still modern and very functional," she shared with Real Living via email. "We decided on a predominantly white color palette to maintain an open, airy feel to the space, with some cool gray tones. We also added visual texture by incorporating natural materials like wood, raffia, hemp, leather, and cement."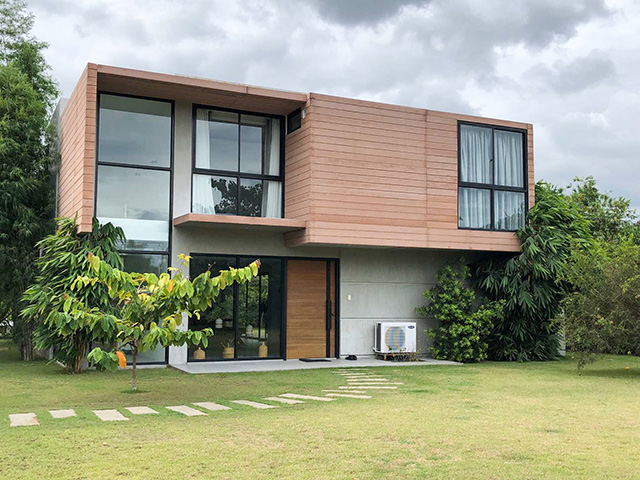 ADVERTISEMENT - CONTINUE READING BELOW
Entrance and foyer
One of the first things visitors will notice at the entrance are the large, custom-made doors.  "[They're made from] wood, and the matte black vertical panel is steel," says Katrina. "It's one of my favorite elements of our home, because it's big and welcoming, and it kind of gives the guests and idea of what interior design style to expect inside."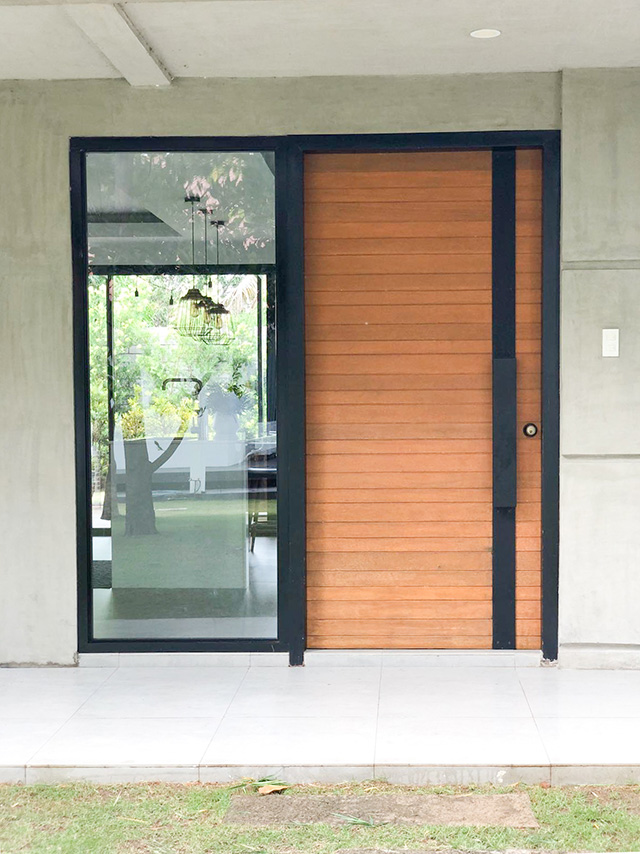 One wall of this Scandi-inspired foyer is lined with artworks and photos. A electric keyboard and a painting rests below.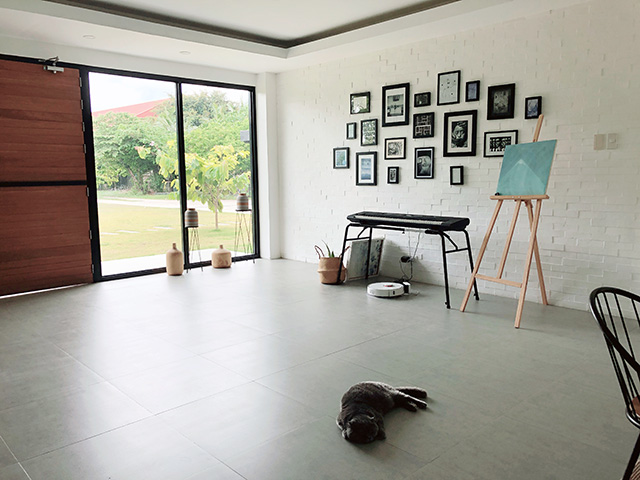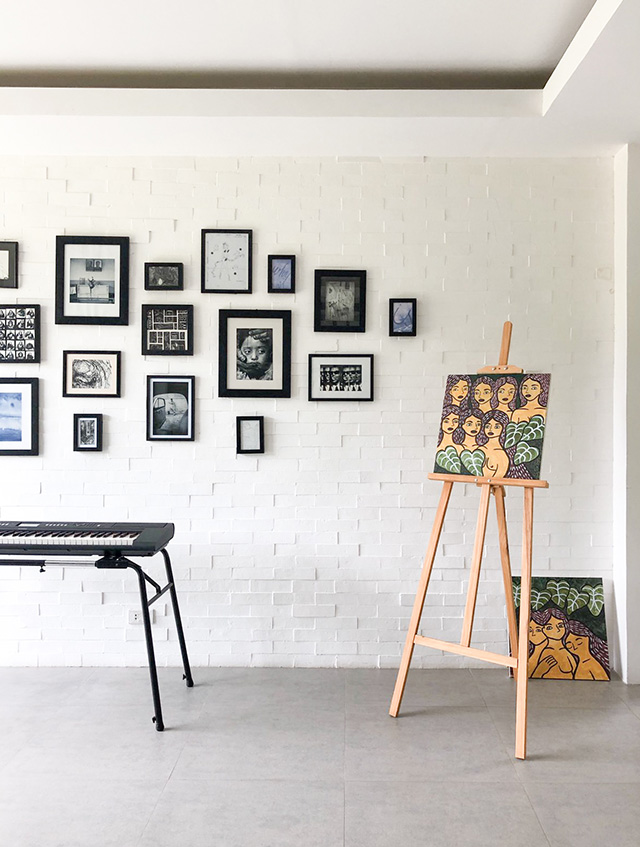 ADVERTISEMENT - CONTINUE READING BELOW
Library
Katrina's family spends a lot of time in the library, which is blocked off from the entire house by sliding French doors. "[As] these effectively close the room off from the rest of the house…we can turn on our smaller A/C, and not worry about sky high electric bills."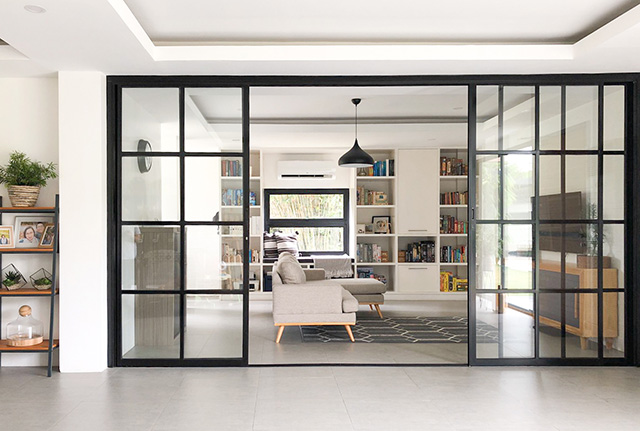 ADVERTISEMENT - CONTINUE READING BELOW
The library itself, which houses the board game collection of Katrina's husband, is a soothing mix of whites, blacks, and grays, offering a clean and cozy nook for the home owners and their pets. A couch from Edia sits at the center and a patterned gray carpet acts as an accent and a break to the room's monochromatic scheme."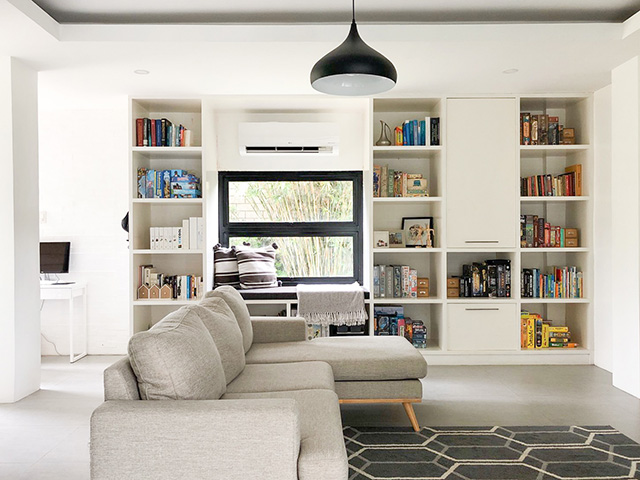 ADVERTISEMENT - CONTINUE READING BELOW
Home offices
Connected to the library are mini offices which were set up to provide ample space for the couple. Katrina shares that she opted to go all-white to minimize distraction. This included white chairs from Dimensione and desks from the Ikea Besta Burs collection from Furniture Source. "It's also positioned beside floor-to-ceiling windows that look out into the patio and the garden, so we can look up from our computers from time to time to relax our eyes.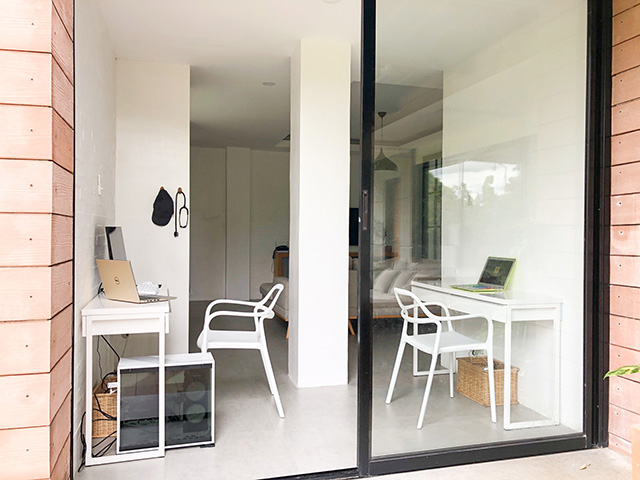 ADVERTISEMENT - CONTINUE READING BELOW
Kitchen and Dining Area
Similar to the rest of the house, the open kitchen features bone colors made warm by the wood of the island.  Bar stools are also available for anyone wanting a quick snack.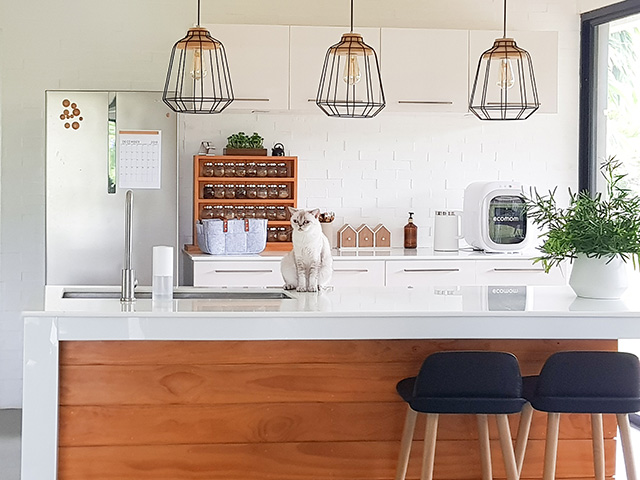 The space itself is bordered by floor-to-ceiling windows showing compound's expansive garden. Off to the side is a wooden dining table.
ADVERTISEMENT - CONTINUE READING BELOW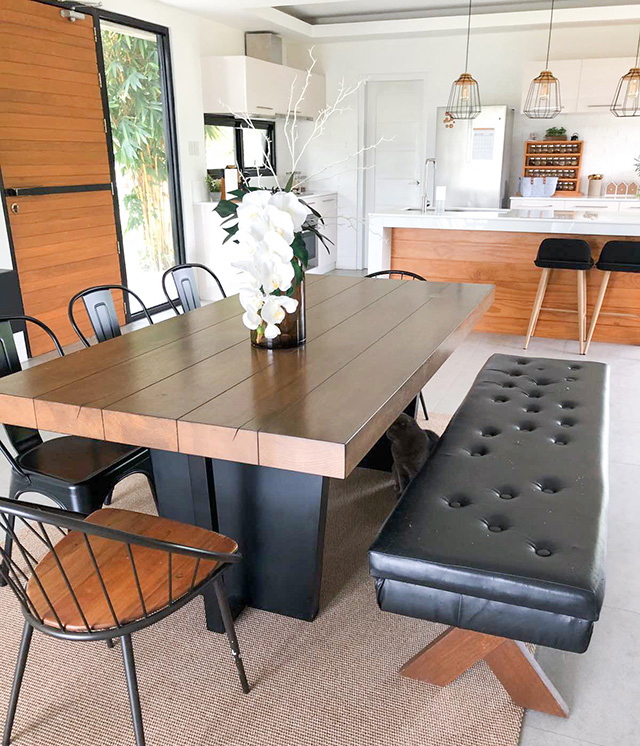 Katrina prides herself on having a wide array of spices which she keeps in an open cabinet from The Garage Hause. "I always make sure all the spices are arranged in alphabetical order."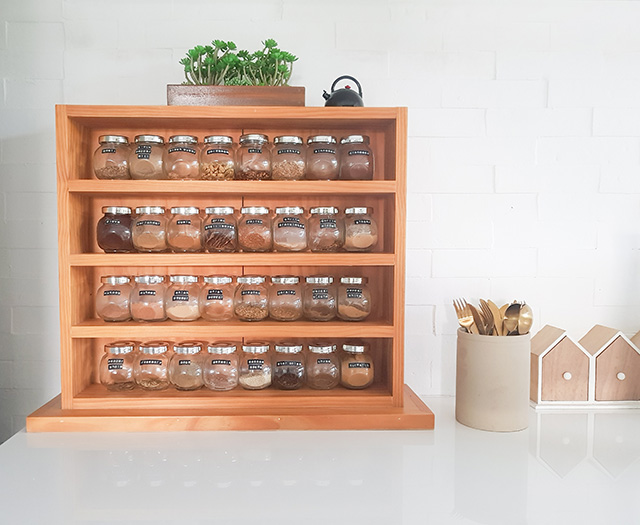 ADVERTISEMENT - CONTINUE READING BELOW
Children's Room
The children's room is in cool gray and white, highlighted by touches of green and Montessori-style open shelves, wherein toys were neatly arranged.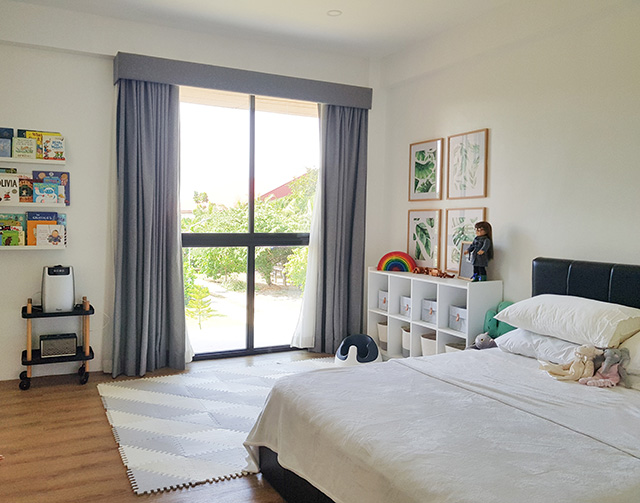 Master Bedroom and Bathroom
Featuring white brick walls similar to those in the foyer and the kitchen, the master bedroom's crisp feel is balanced out by its wooden floors. On one side is a simple vanity table and a wishbone chair from Our Home, as well as a circular mirror from Dimensione.
ADVERTISEMENT - CONTINUE READING BELOW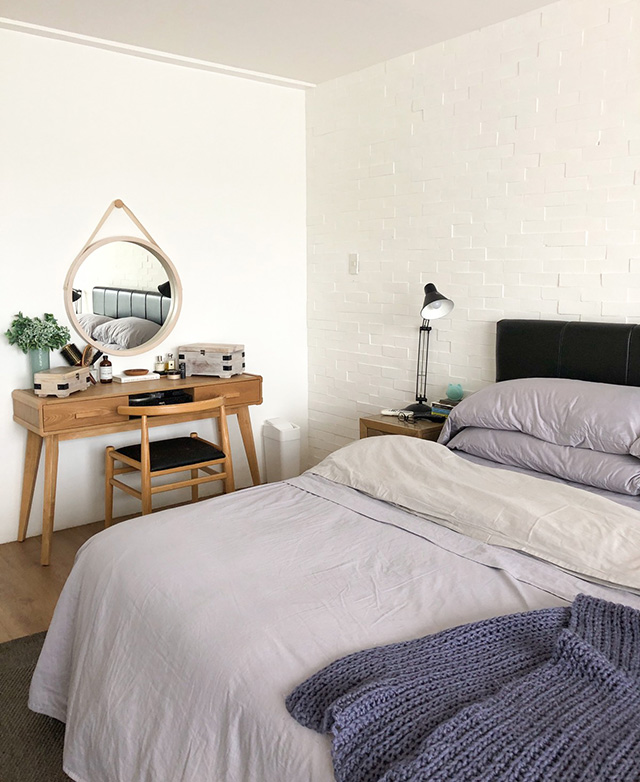 Across is a long wooden work table back-dropped by curtained windows.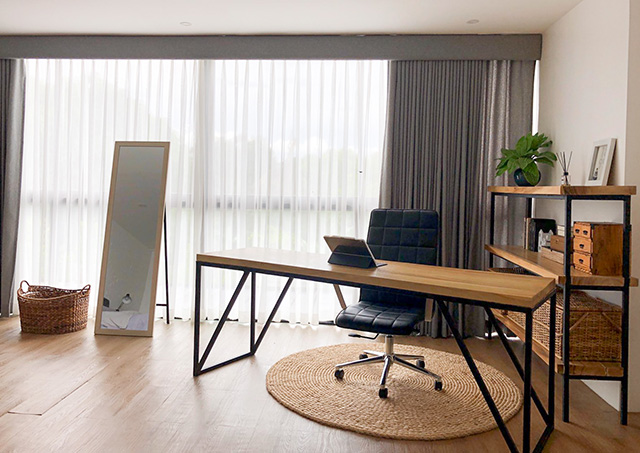 ADVERTISEMENT - CONTINUE READING BELOW
The room itself has access to the master bathroom, which comes complete with his-and-hers sinks, a rain shower head, and a tub. Natural light filters in from a large window installed with drapes for privacy.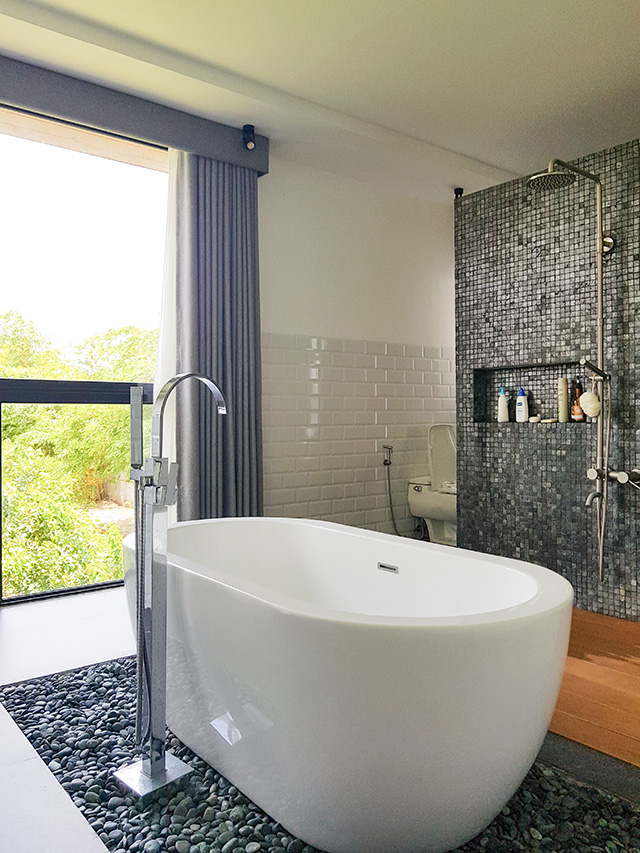 Storage
While Katrina is big on keeping their space organized, she also learned that there must be a balance between storage and living spaces. "It's so easy to go overboard and just put lots and lots of storage space in each area of the house, but I realized it would just eat up a lot of space that could otherwise be lived in.
ADVERTISEMENT - CONTINUE READING BELOW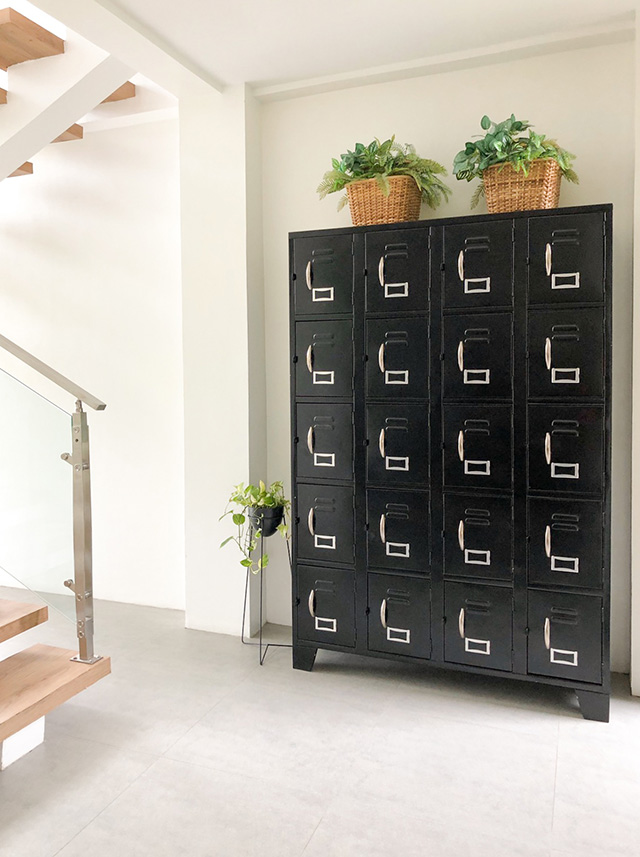 "So before moving into our home, we pulled a major KonMari on our existing stuff, and only kept those that we really needed, and those that 'spark joy'. Our organization goal in our house is to have a proper place for everything."
Home improvement tips
ADVERTISEMENT - CONTINUE READING BELOW
"I don't think we will ever finish setting everything up," says Katrina. "Our home is always growing, always changing… We didn't buy our furniture pieces all in one go; it's a continuous process of feeling out what we needed at the moment, and getting inspired by modern design, which is always evolving."
She shares that research is vital when designing one's own space. "Browse through interior design magazines, blogs, Pinterest, etc. Find a color palette that suits your taste and stick to it—like, really stick to it! Everything you buy for your house can potentially be a design piece: a water pitcher, a cookie jar, a plastic tabo—so choose wisely and curate everything. Manage clutter by owning less and having an appropriate storage area for everything."
More on Realliving.com.ph
Load More Stories