Houses
Take a Peek Inside This Brutalist-Inspired House in San Fernando, Pampanga
Interior designer Hanna Chua of Habitat Curator Interior Design made sure the concrete dream home exudes warmth and a welcoming ambiance Photography: Hilary Buenaflor Photography Interior Designer: IDr. Hanna Chua | Habitat Curator Interior Design
While there's something captivating about concrete homes, there are some who find such spaces uninviting, thinking that concrete gives off a cold, unrelaxed vibe. For the owners of this stunning house in San Fernando, Pampanga though, concrete is the best material for their dream home.
READ MORE HOME TOURS:
A Minimalist House Made of Concrete
You Need to See This Floating Farmhouse in Batangas
A Play of Light and Shadow in This Brutalist-Inspired 105sqm
"For my client, concrete can define their safe space and they didn't have any problems with this material embracing their abode," shares interior designer Hanna Chua of Habitat Curator Interior Design. Hanna was tapped by the owners to bring the space to life.
Given the heavy use of concrete, Hanna made sure the interiors convey warmth the moment you step inside. "Thinking of the brutalist characteristics such as being massive and sustainable, we thought of making it more interesting by adding Filipino elements through materials," the designer explains. From solihiya details to wooden touches, Hanna made sure the house is comfortable and inviting while still making the concrete material shine.
Take a peek inside the Brutalist Haven below:
Façade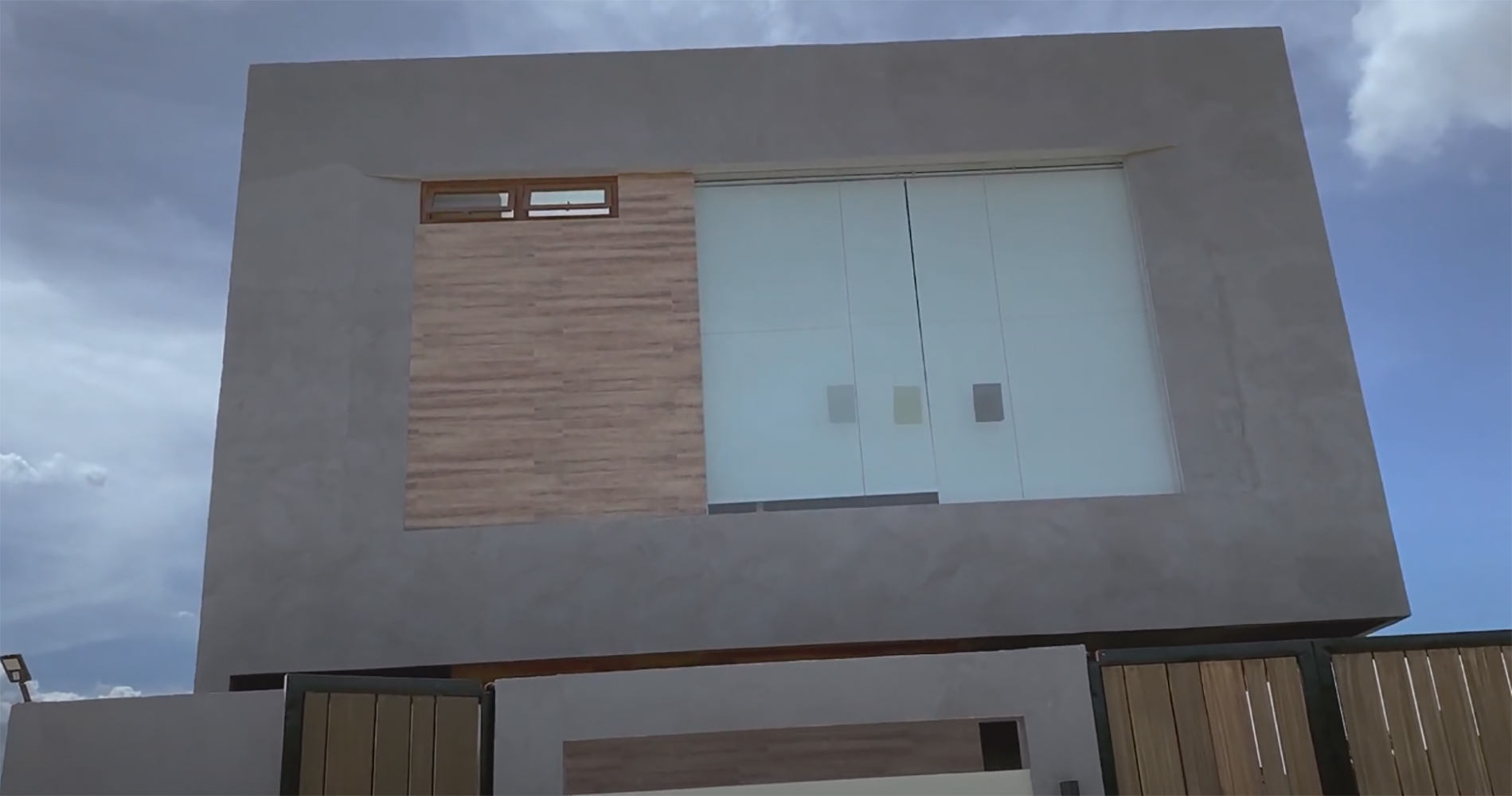 ADVERTISEMENT - CONTINUE READING BELOW
The house features a striking concrete façade with big windows completing the exterior. It measures around 250sqm with two bedrooms and three bathrooms.
Foyer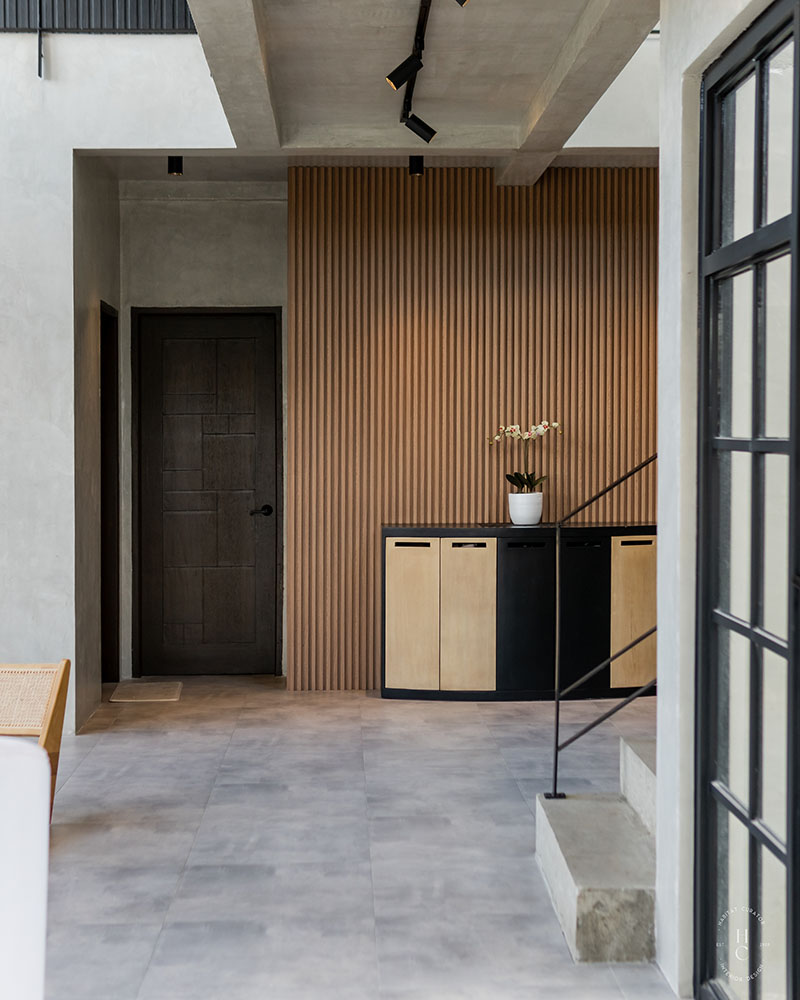 To define the entryway Hanna added a custom-made console table that also functions as a shoe cabinet.
Living Area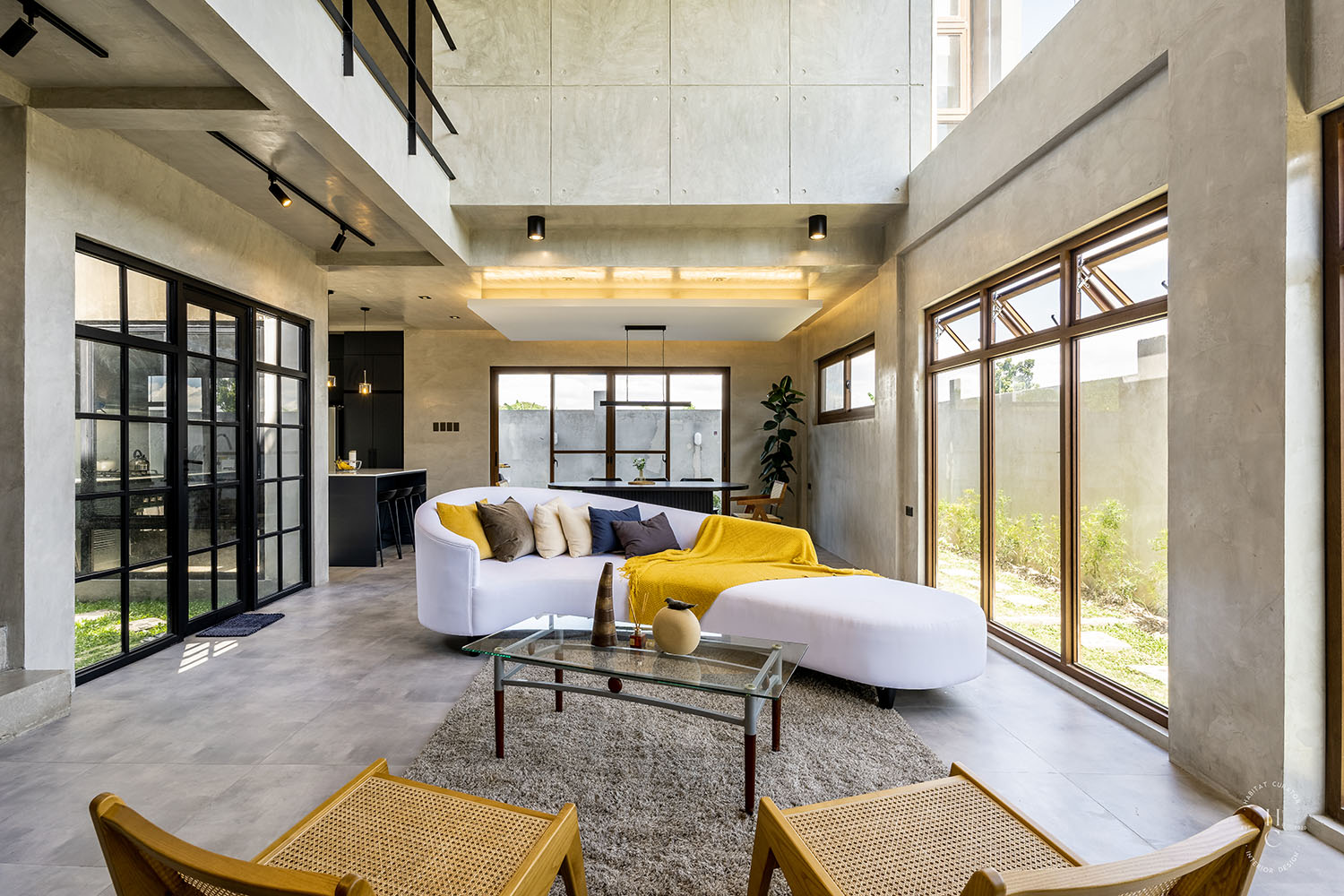 The house looks and feels spacious because of its high ceiling. The interior designer furnished the space with bespoke furniture pieces. "We worked on a custom eight-seater curved sofa paired with replicas of Pierre Jeanneret's Kangaroo chairs," Hanna says.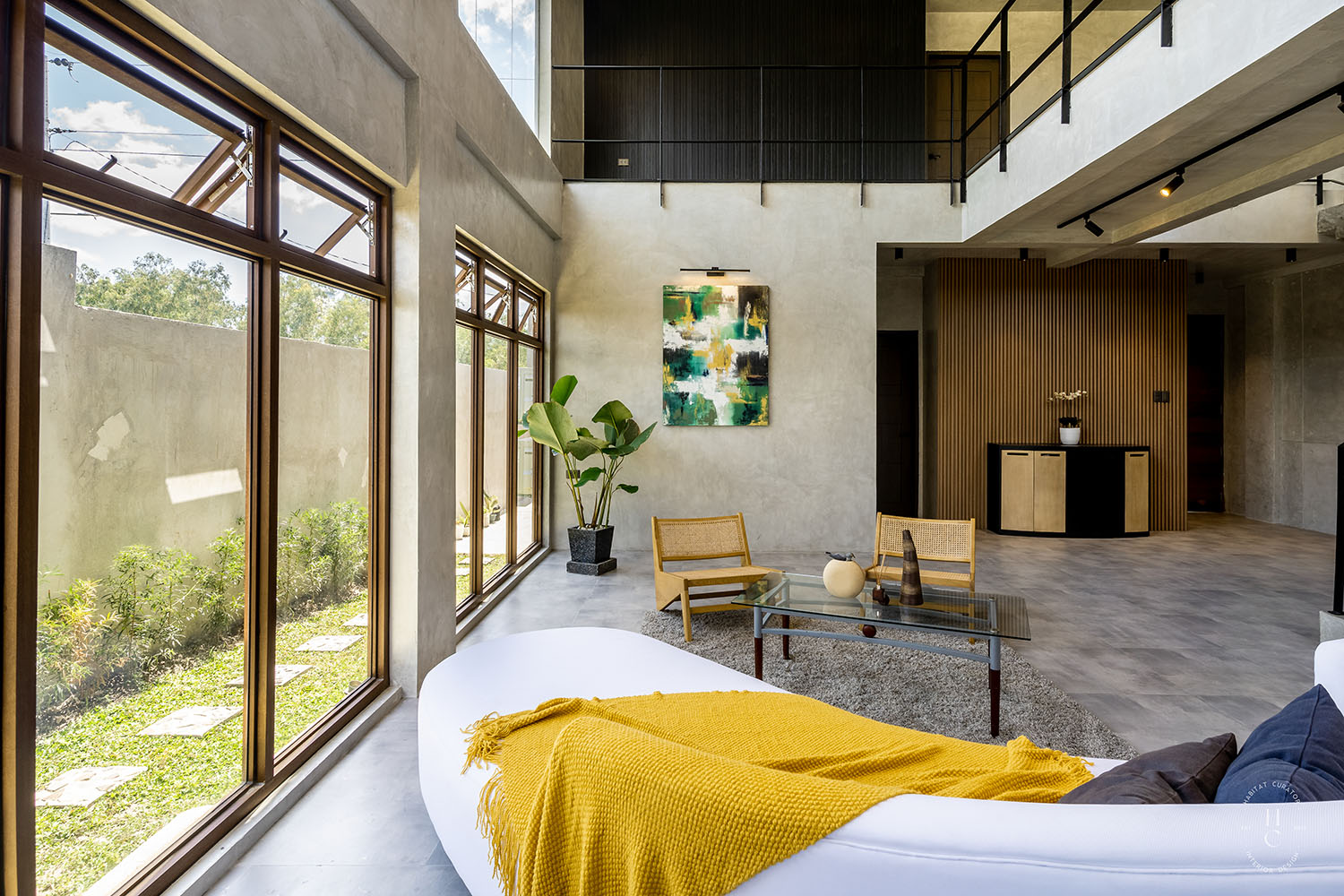 Hanna made sure to create the things on display inside the house. Taking the spotlight in the living area is an abstract painting by Irish Pan.
Pocket Garden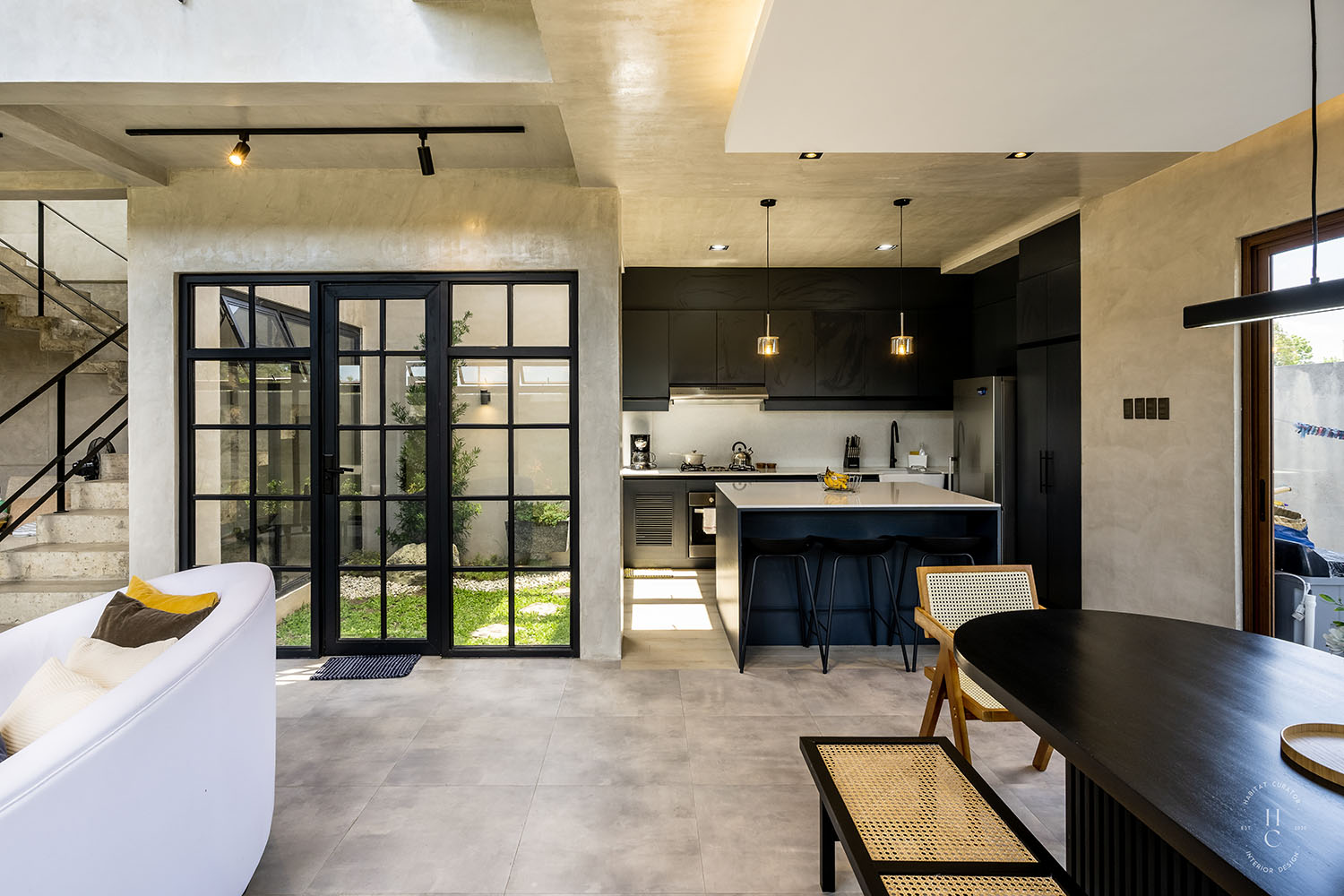 ADVERTISEMENT - CONTINUE READING BELOW
A few steps from the living area is a French door that opens up to a pocket garden that softens up the look of the house. From this angle, you can also see how the kitchen flows to the dining area, food prep and entertaining guests easier.
READ: These Lovely Gardens Will Inspire You To Start Your Own
Kitchen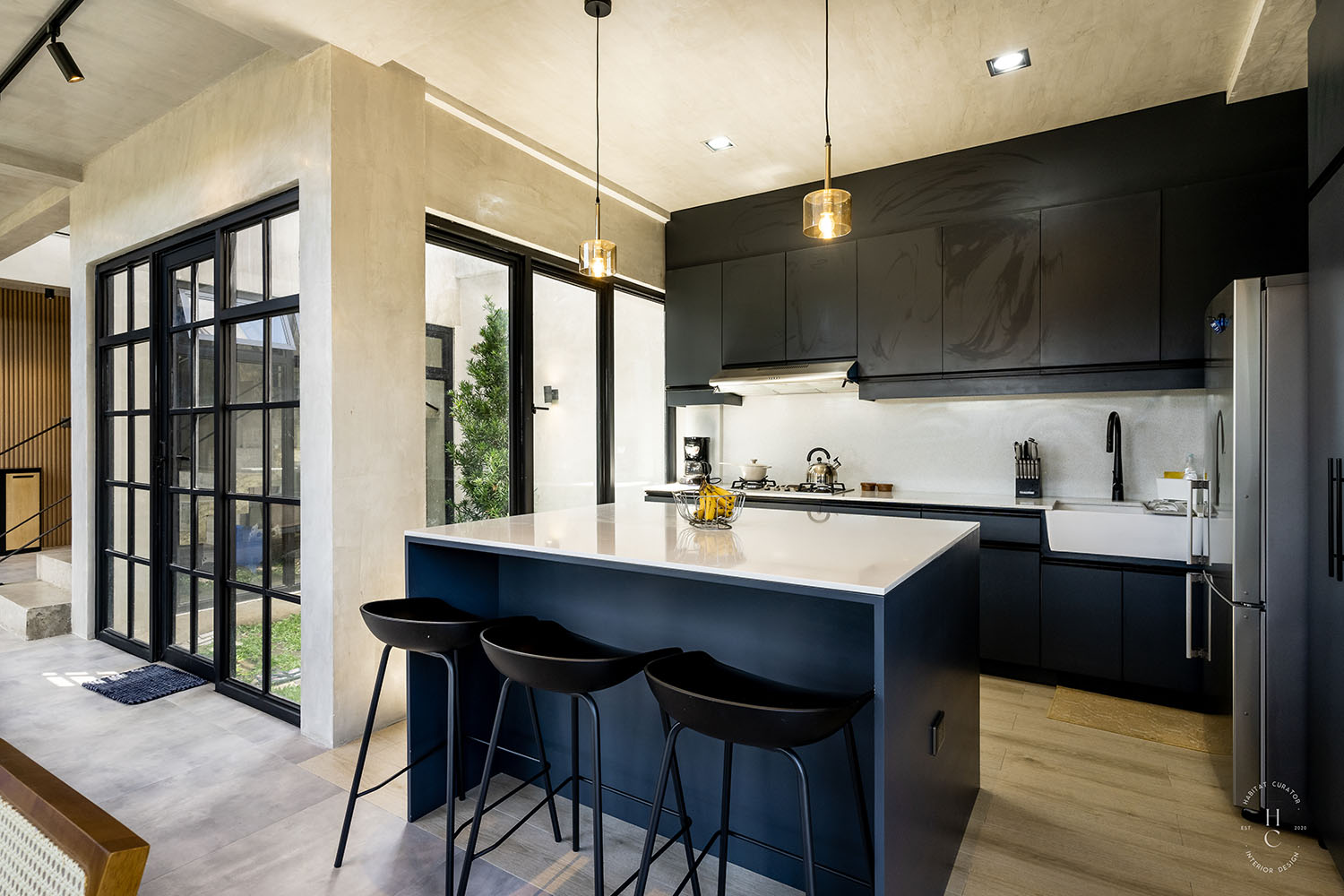 "We went all black and white for our kitchen to balance out the colors, considering this is an open space on the ground floor," explains Hanna. The interior designer maximized the space by making sure the owners have an extra island where they can also prepare or enjoy food.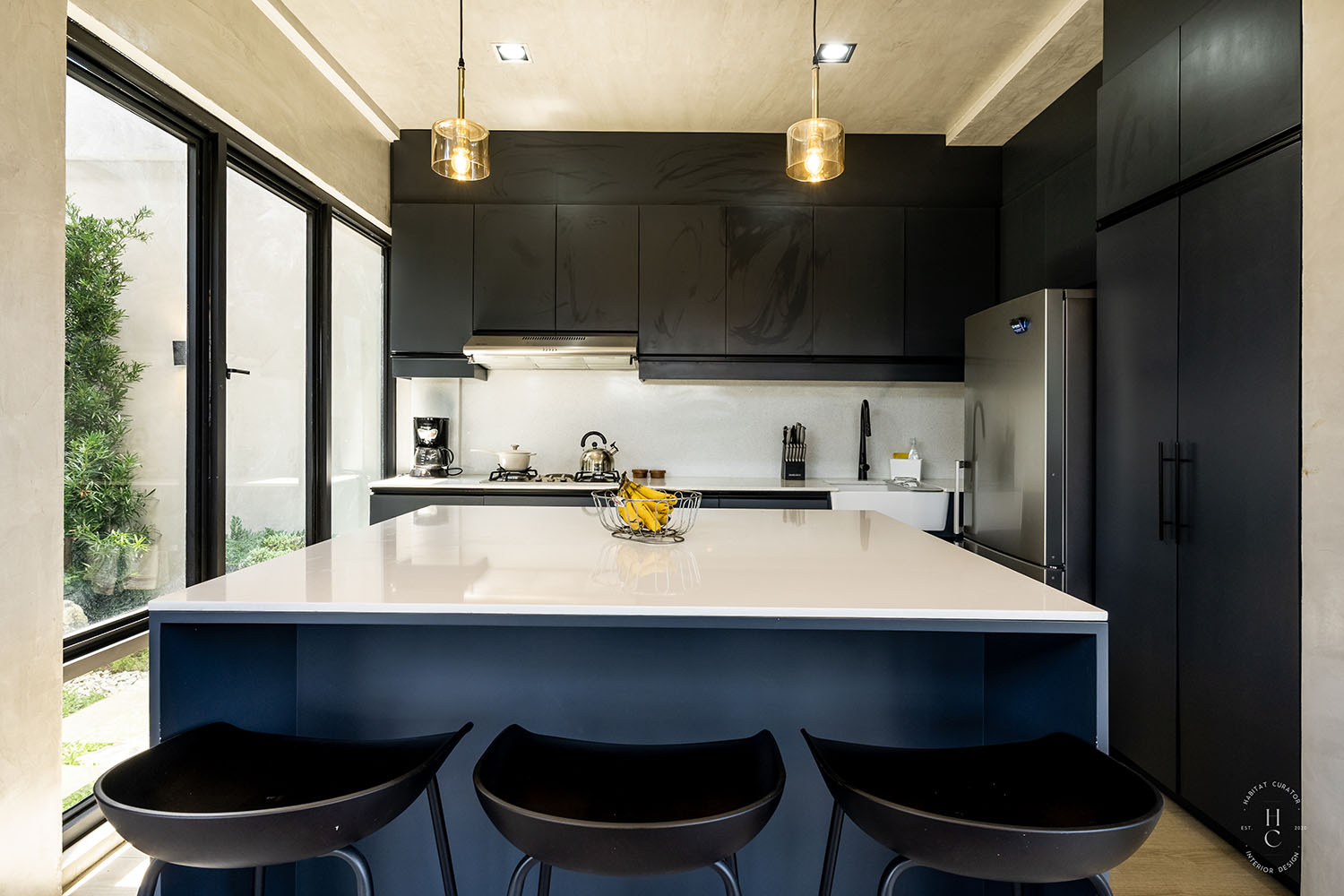 She also used stained engineered wood for the kitchen cabinets then paired it with white quartz countertops.
Dining Area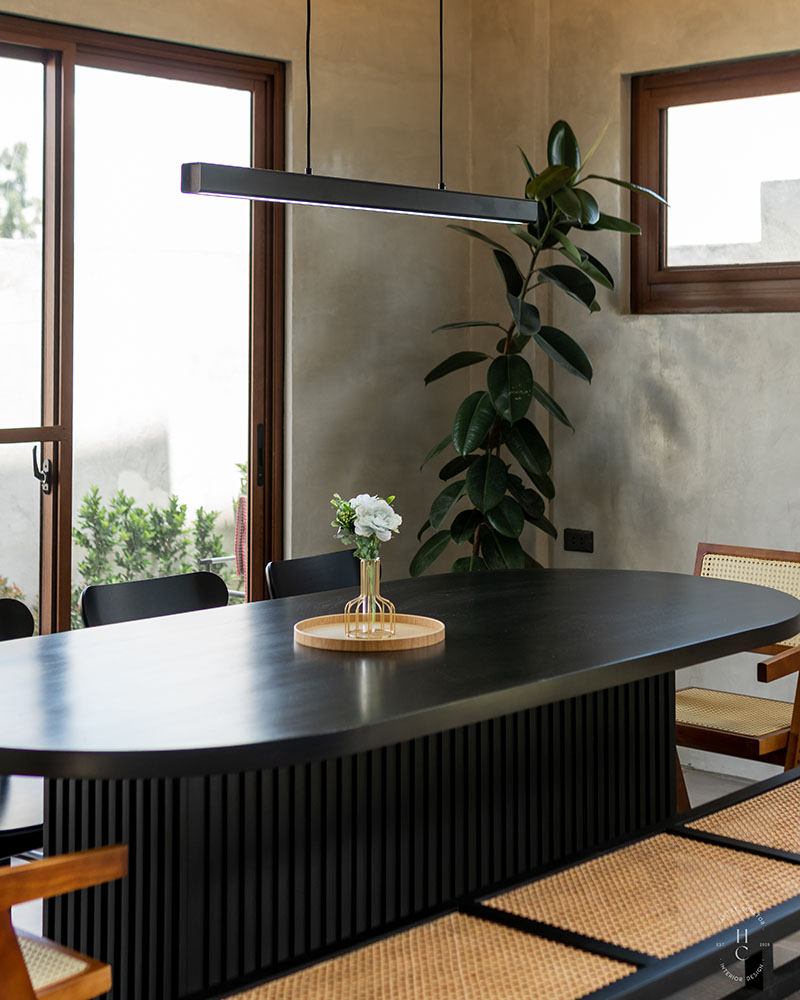 To make sure the dining area stands out, Hanna opted to complete it with a custom-made curved table, stained to its darkest color to work in contrast with the chosen seating pieces. "Taking advantage of the massiveness concept of brutalism, we decided to balance and play with it by matching it with solihiya chairs and bench," she explains.
Powder Room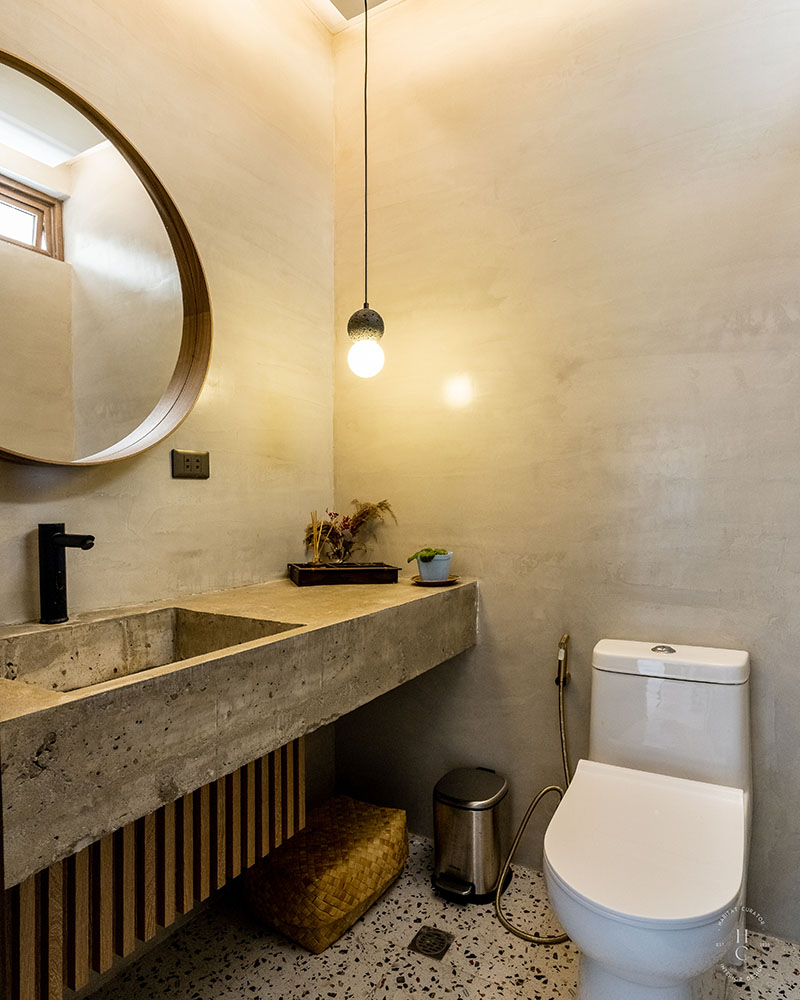 ADVERTISEMENT - CONTINUE READING BELOW
Hanna says that concrete is flexible and can be paired with other materials. For the powder room, she chose to install terrazzo tiles as flooring which work well with the rawness of the walls and sink. "This powder room is easy to maintain, but it's also cozy and remarkable for the homeowners' visitors," she adds.
READ: 8 Ways to Achieve A Hotel-Like Powder Room
Staircase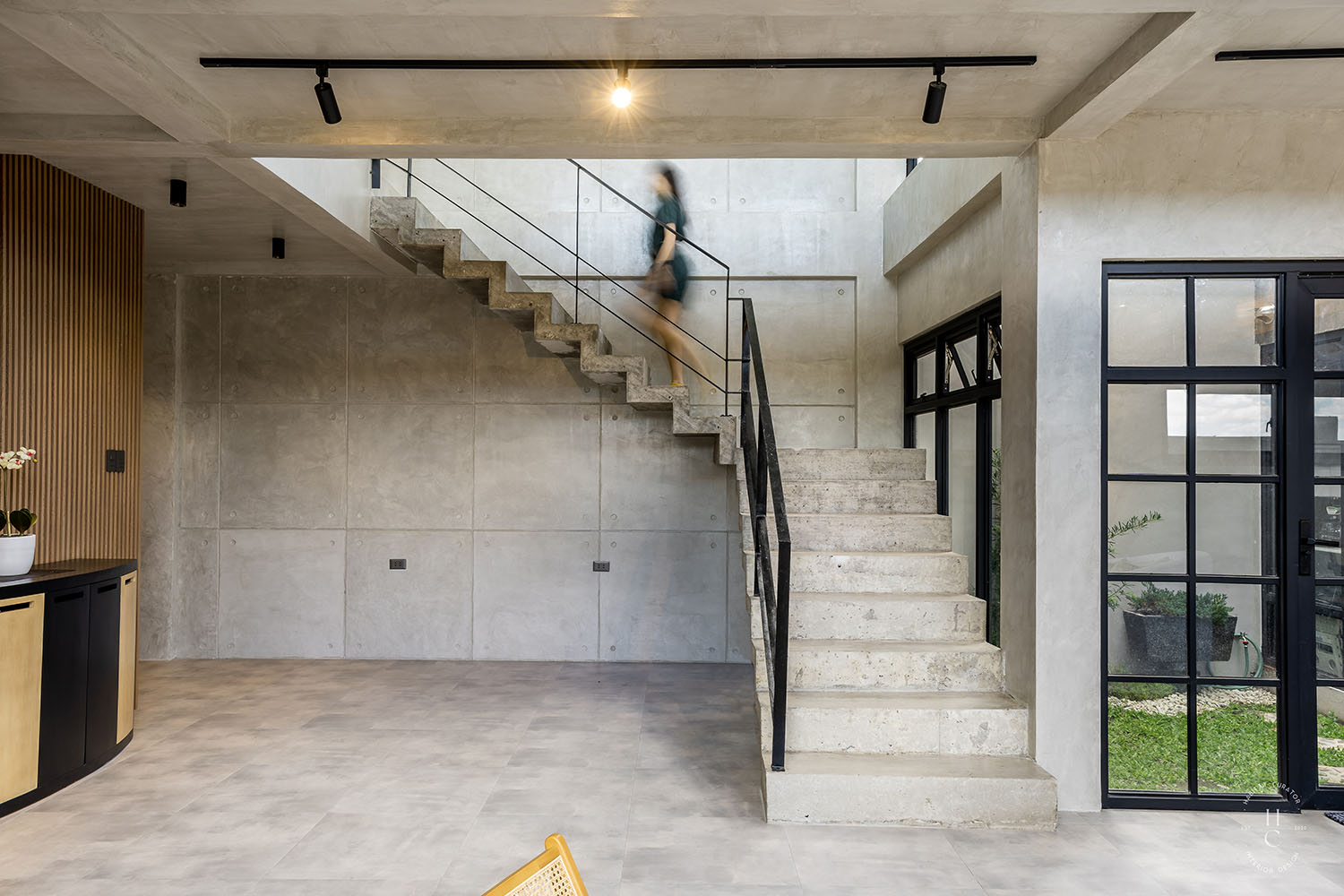 Concrete steps and a metal railing define the staircase leading to the private spaces on the second floor.
Hallway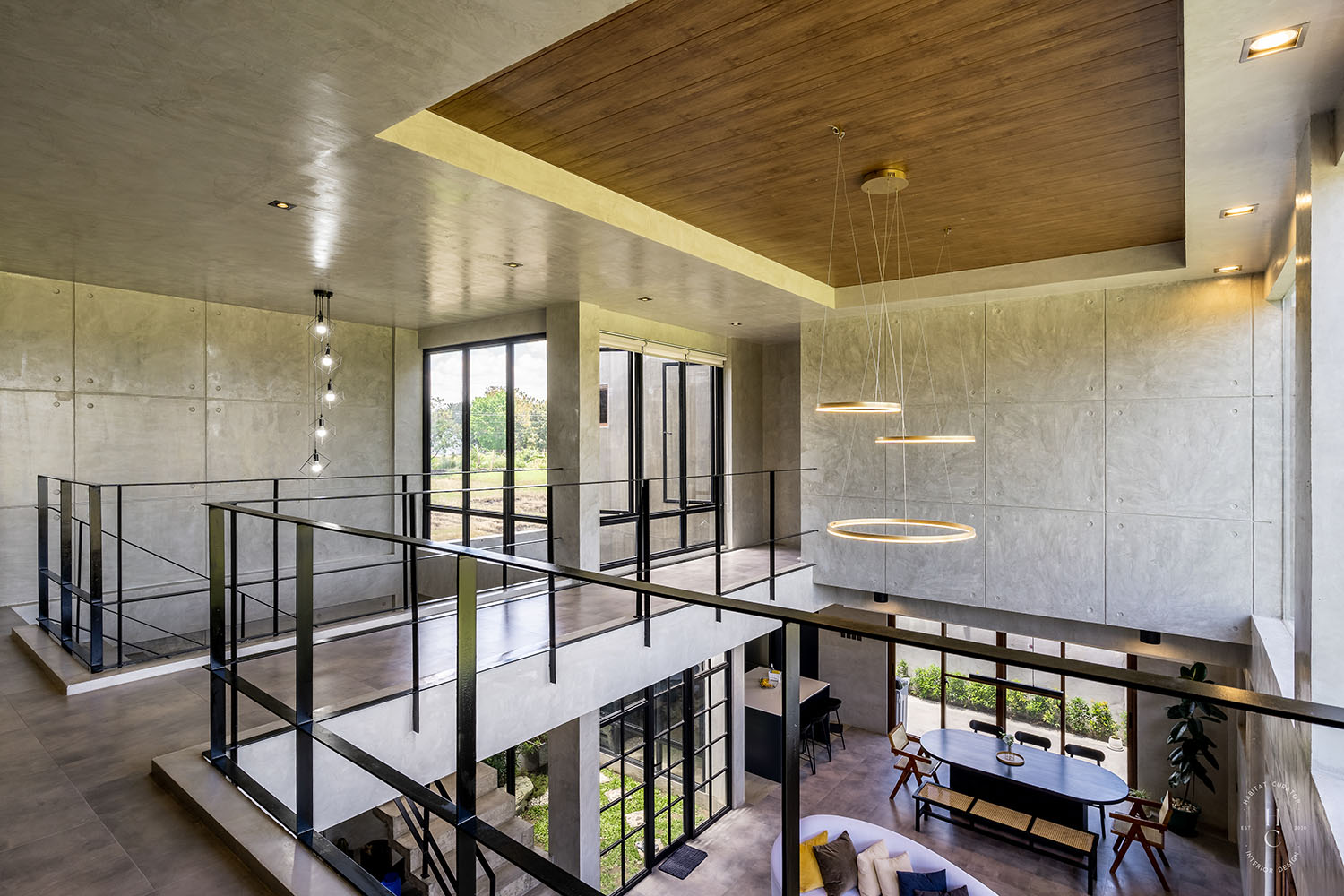 According to the interior designer, the hallway is the definition of "a room to grow." "It's a playground for the homeowners' imagination as the hallway is spacious enough to house another gallery wall and even a reading corner," Hanna shares. Standing in the middle of the second floor hallway can make one feel a sense of openness because of the high ceiling and abundance of natural light.
Master Bedroom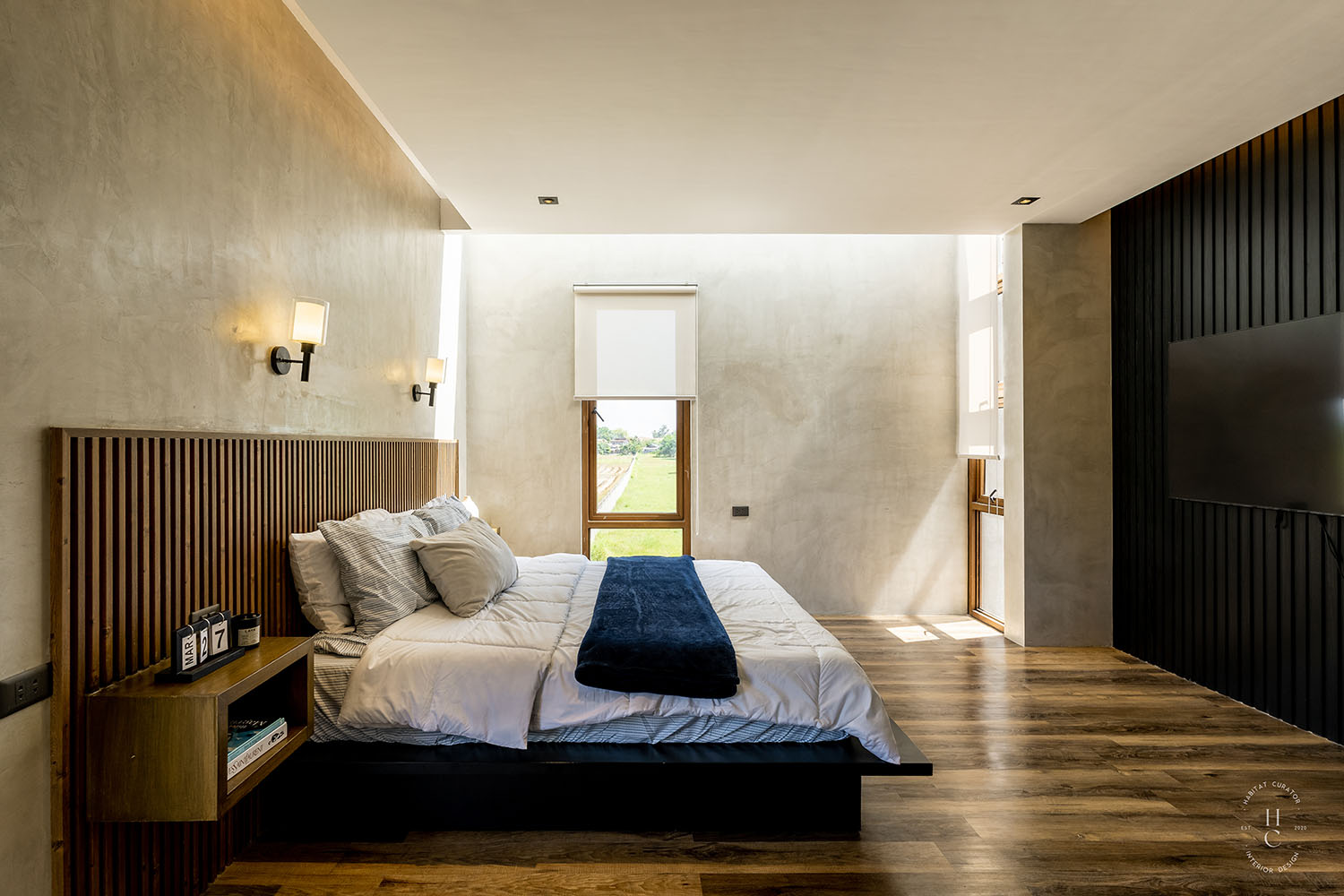 Cozy and inviting best describe the spacious master bedroom. Hanna paired the customized king-size bed with walnut fluted panels which feature niches where books and other essentials can be kept.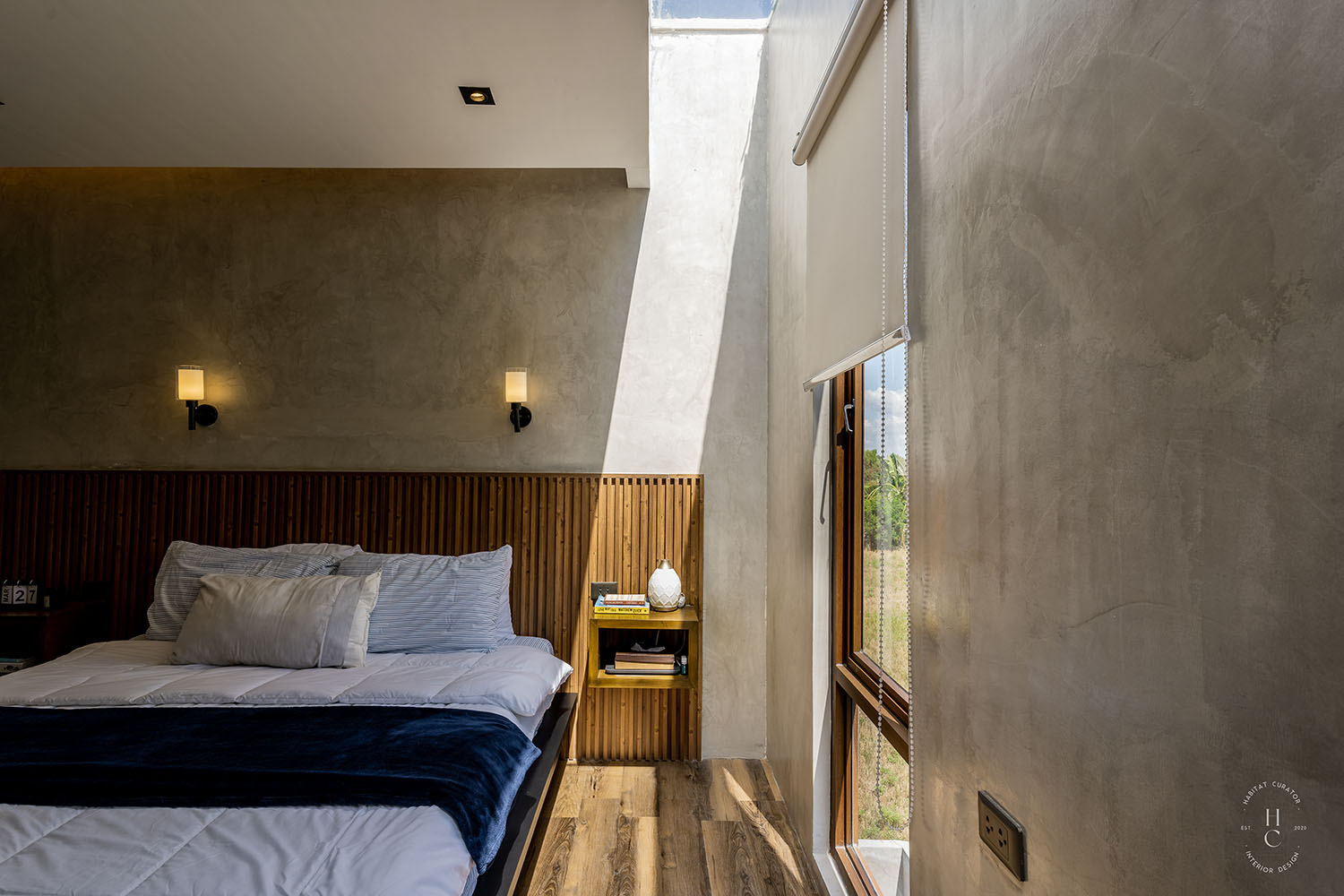 ADVERTISEMENT - CONTINUE READING BELOW
"Considering that this home is a fan of views and sunlight, there's a dainty skylight peeking through, giving a dramatic and playful touch to the space," the designer adds.
En-suite Bathroom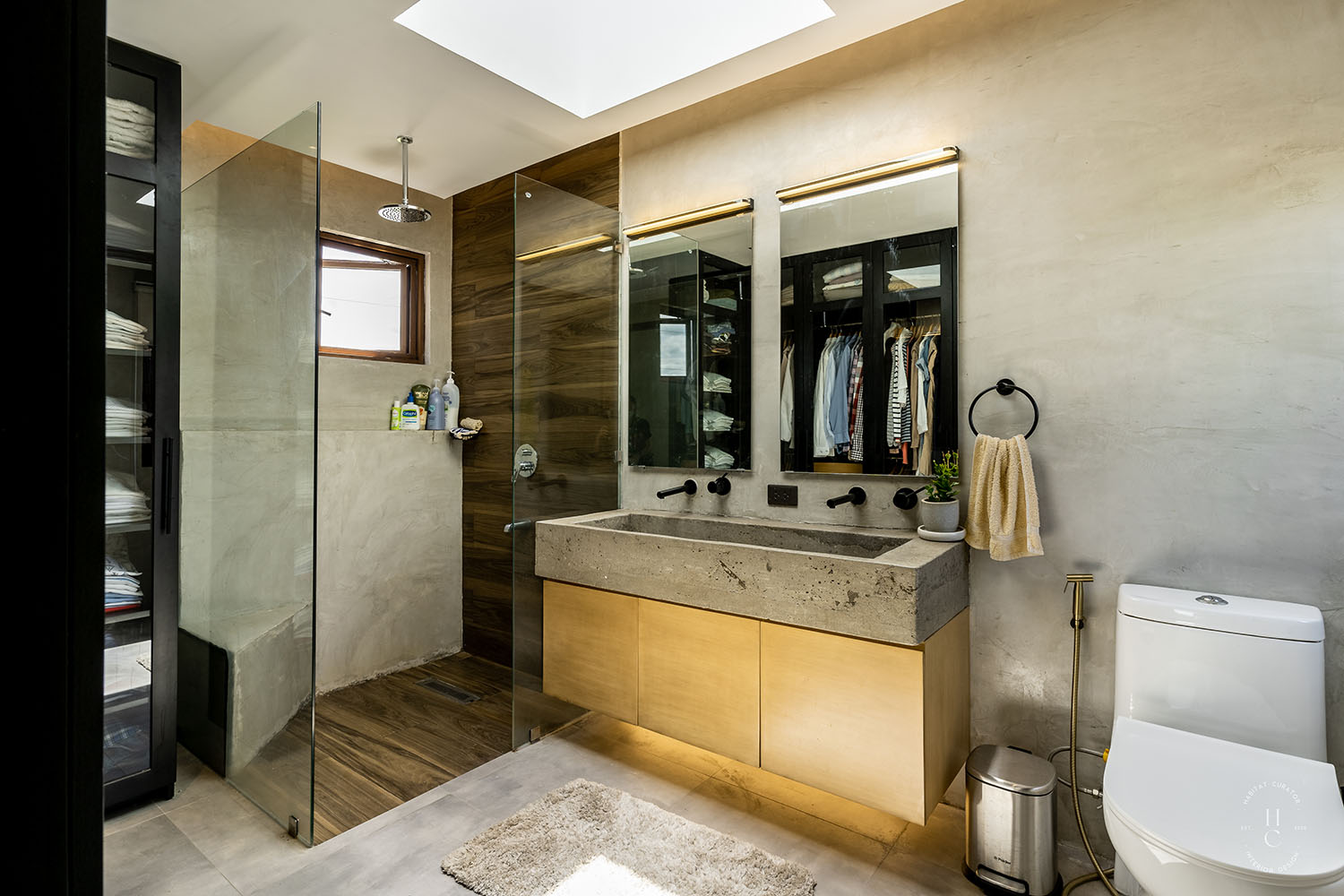 Roomy and completed with storage, the en-suite bathroom features a shower enclosure and a captivating concrete sink that complements the rest of the materials used in the space.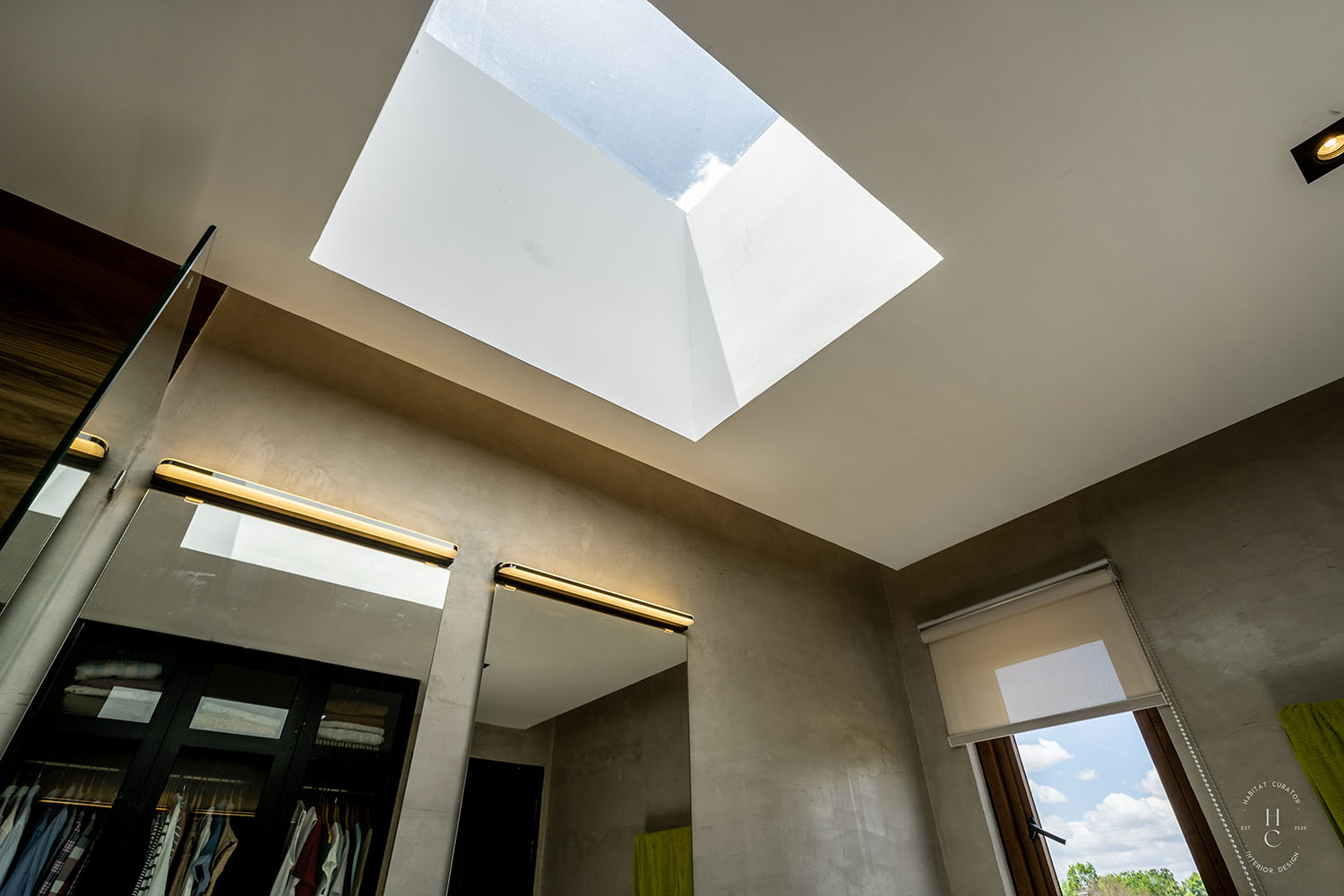 This private space also has a skylight which lets in natural light during the day and gives the owners a view of the night sky during nighttime.
Bedroom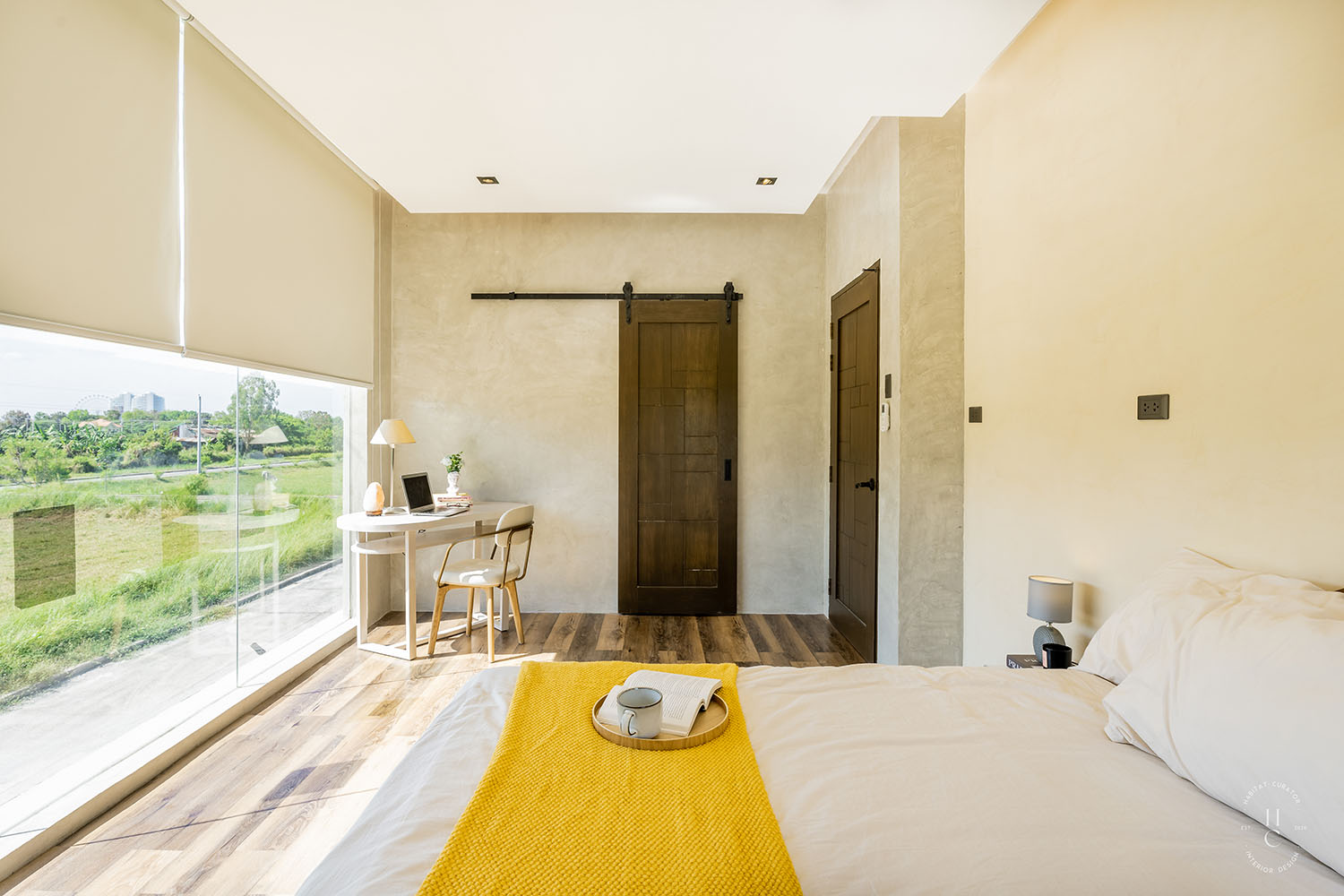 We wouldn't mind spending hours in this bedroom! It has a full-length window letting in natural light that makes the beige concrete accent wall shine. Aside from the lovely workspace placed by the window, this private space also highlights a curved headboard (not seen) that showcases the client's love for curves and unique shapes.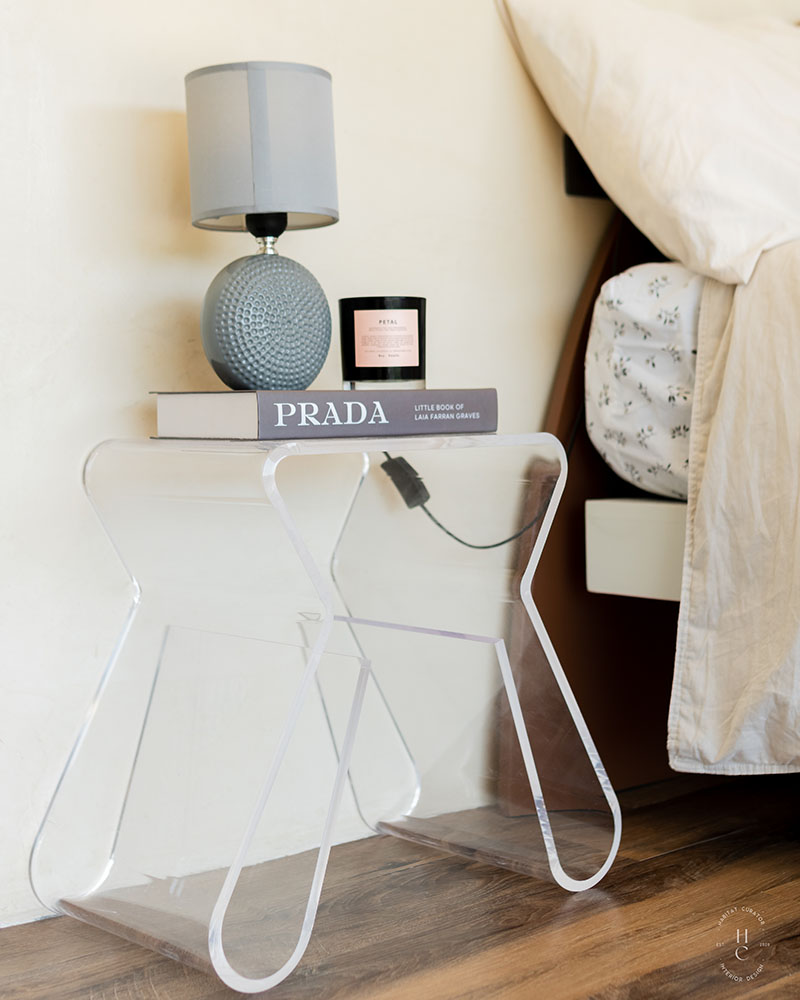 ADVERTISEMENT - CONTINUE READING BELOW
One of the interesting pieces completing this space is this transparent side table that's sleek and chic.
READ: 5 Beautiful Concrete Interiors For Industrial Homes
Bathroom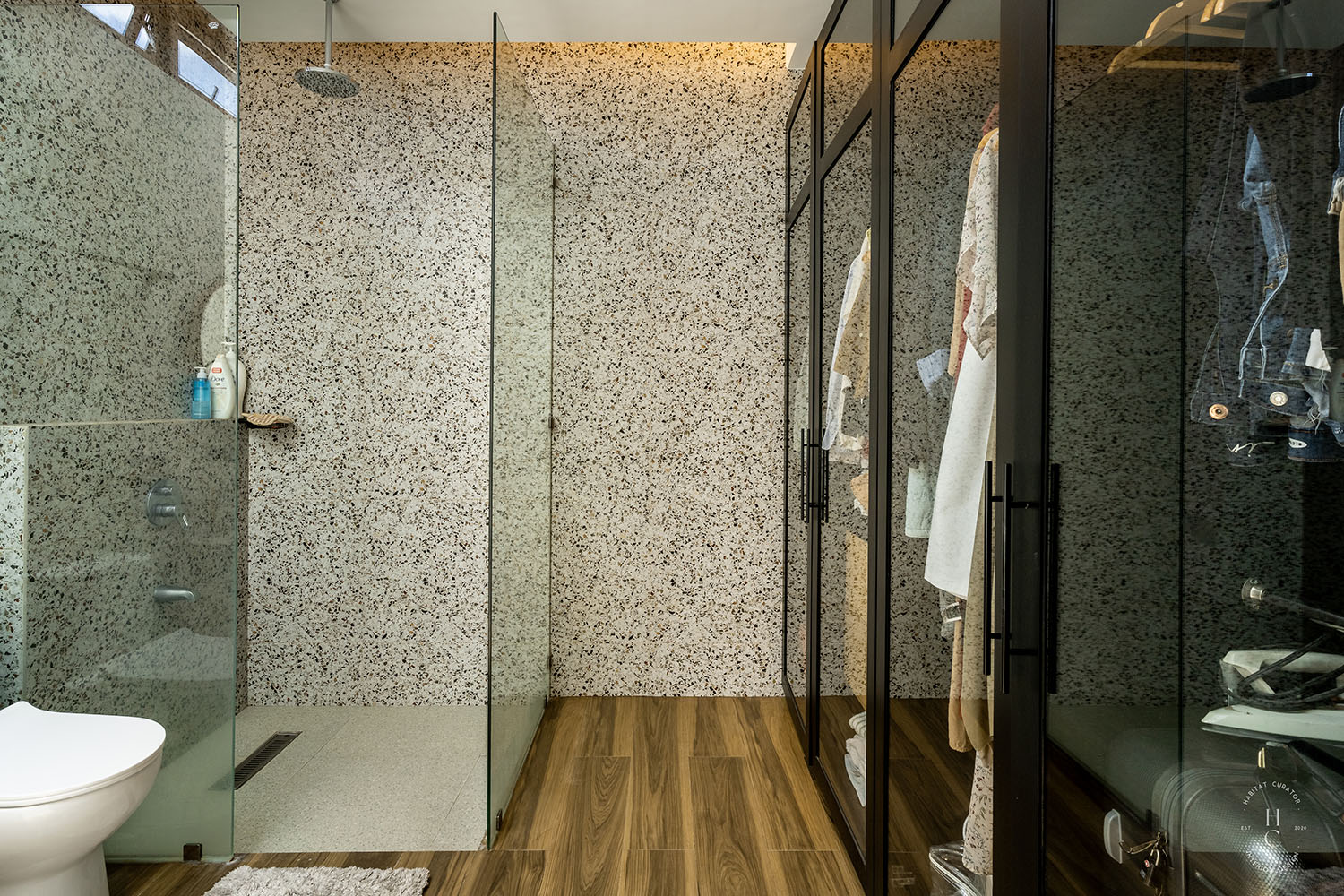 Similar to the chosen material for the powder room, this T&B also features terrazzo tiles. "Given the spacious bathroom, we've separated it into two areas: the wet and dry," says Hanna.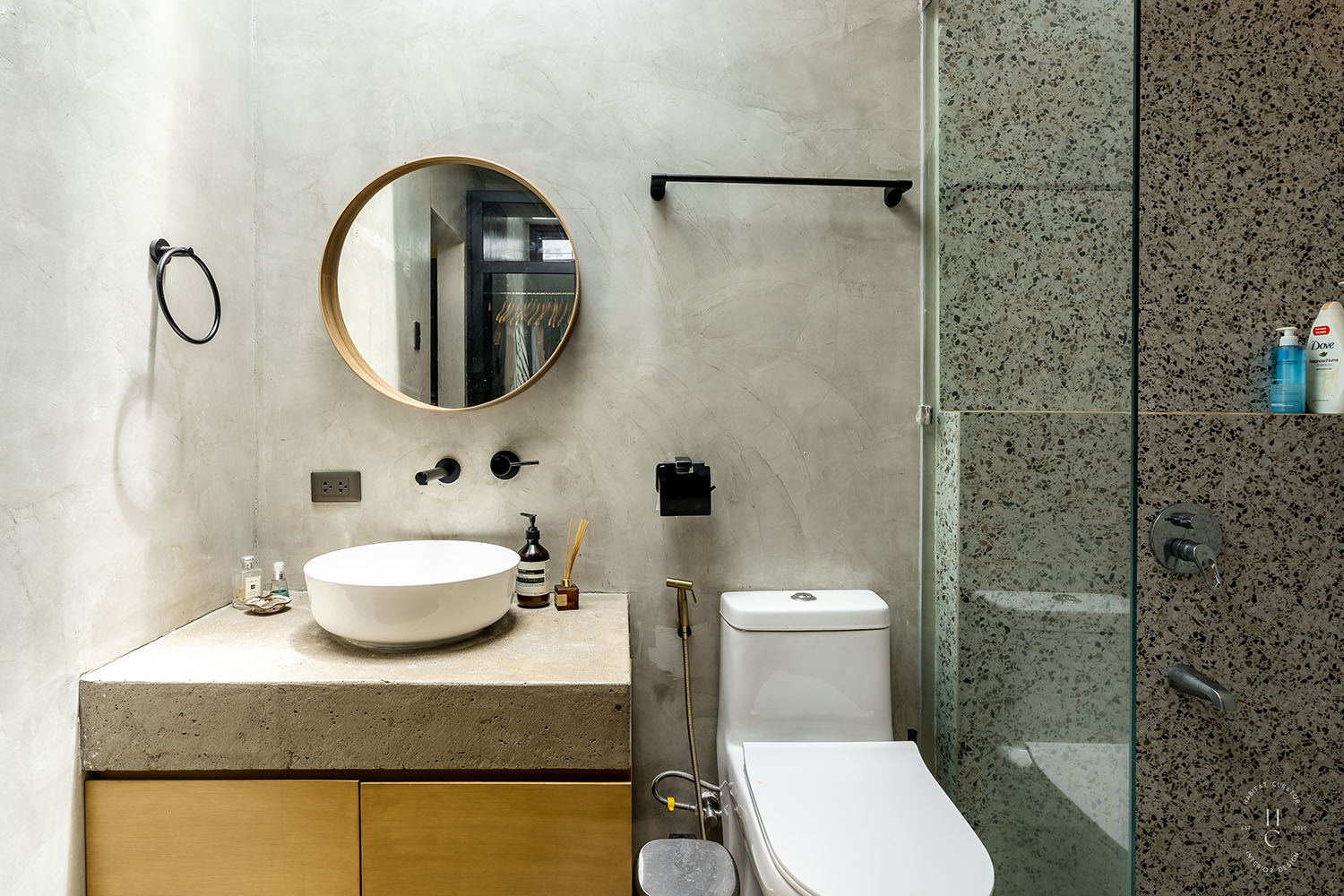 "For the wet area, we have the shower area with terrazzo tiles along with the toilet and sink. For the dry area, we have a custom-made wardrobe that easily blends with the space," she adds.
For this project, IDr. Hanna Chua worked with interns from University of San Agustin: Zara Lee and Marielle Parce. To watch a tour of this house, click here.
Ready to work on your dream home? You can get in touch with interior designer Hanna Chua of Habitat Curator Interior Design through email: idr.hannachua[at]gmail.com. You can also follow @habitatcurator on Instagram or visit www.hannachua.com.
More on Realliving.com.ph
Load More Stories