Houses
This Family Spends an Average of P5K a Month on Utility Bills After Building a Sustainable Home
Their modern house in Bulacan features solar panels, a vegetable garden, and a rainwater collecting system Photography: courtesy of Lyka Caguioa
Homeowners would agree when we say that managing monthly bills can be challenging. We all want to lower our utility bills by looking for ways to save electricity. Homeowner Lyka Caguioa agree with the same sentiment as their family used to spend an average of Php12,000 on monthly bills alone, back when they were living in a 120sqm space.
"Water and electricity palang ang nasa average na Php12,000, Php8,000 for electricity then Php4,000 for water. Tuwing summer, nasa Php17,000 monthly," she shares with Realliving.com.ph.
READ: 6 Ways to Incorporate Sustainable Living At Home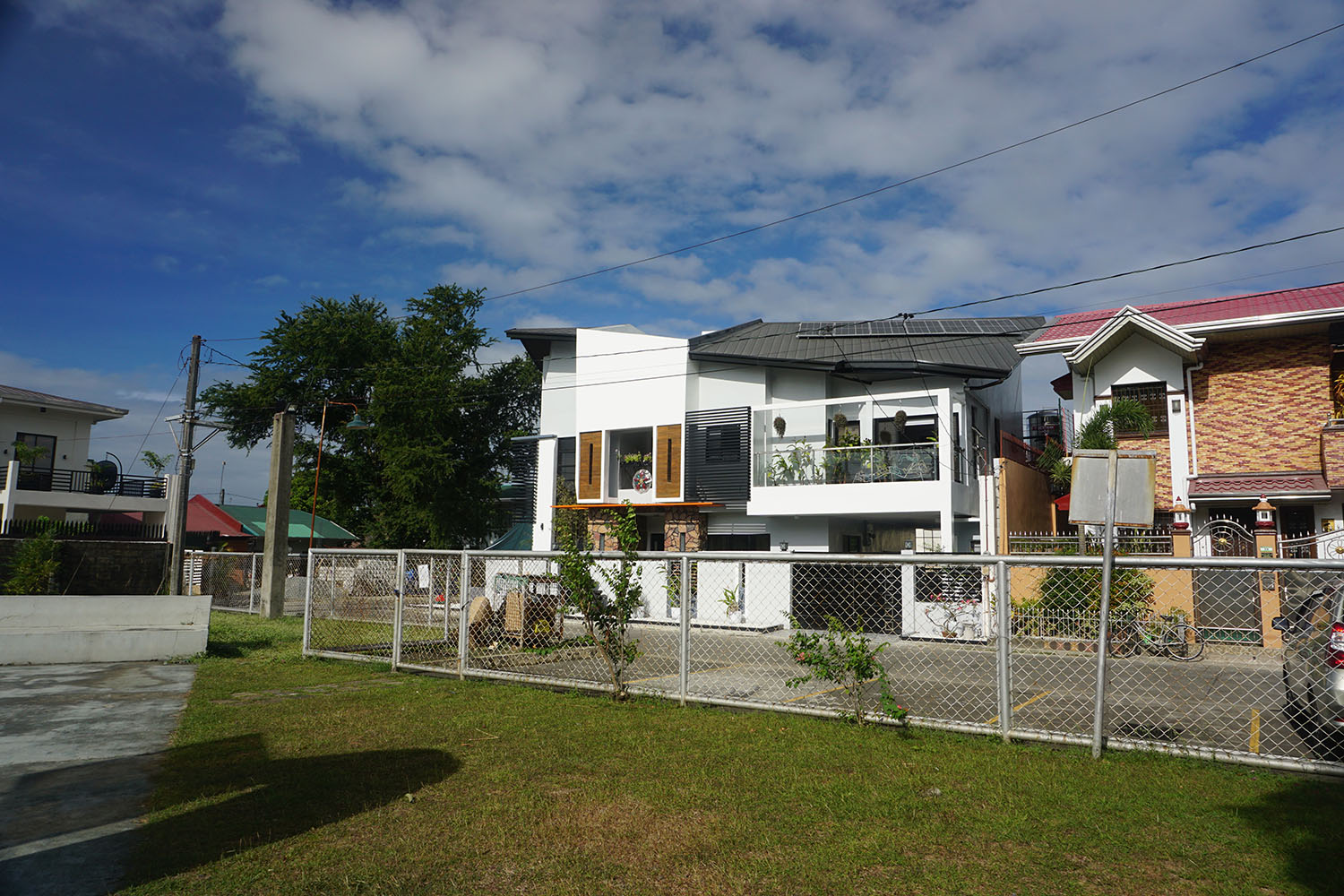 ADVERTISEMENT - CONTINUE READING BELOW
After acquiring a Pag-IBIG home construction loan, Lyka and her husband decided to build a home that's not just perfect for their family, but a structure that will help them cut down on expenses. "Building a sustainable home was brought about by our love of nature. We want our kids to learn how to protect and help nature. [Our home] can help raise their awareness of depleting natural resources," she explains.
While conceptualizing their home, Lyka made sure they achieve not just an earth-friendly dwelling, but a structure that has low environmental impact and uses renewable resources as well.
Learn more about the family's sustainable home below:
Facade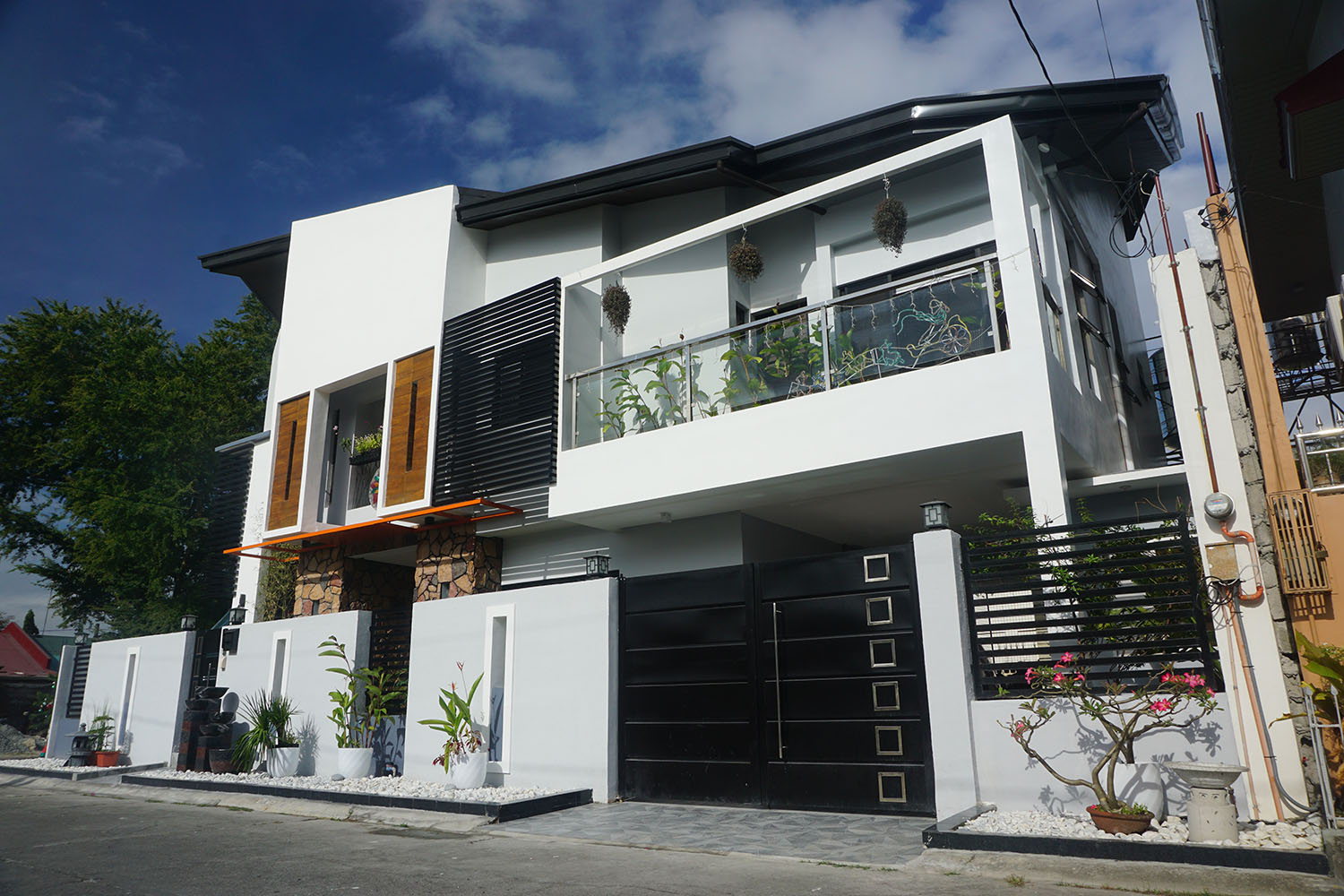 Passersby will surely stop and admire the modern house—with its streamlined façade, well-placed windows, and solar panels. "The roof was designed for solar orientation, even the color, to get the maximum solar harvest," Lyka shares. The 260sqm house stands on a 240sqm lot area.
READ: These Cool Home Items Are Made Out of Trash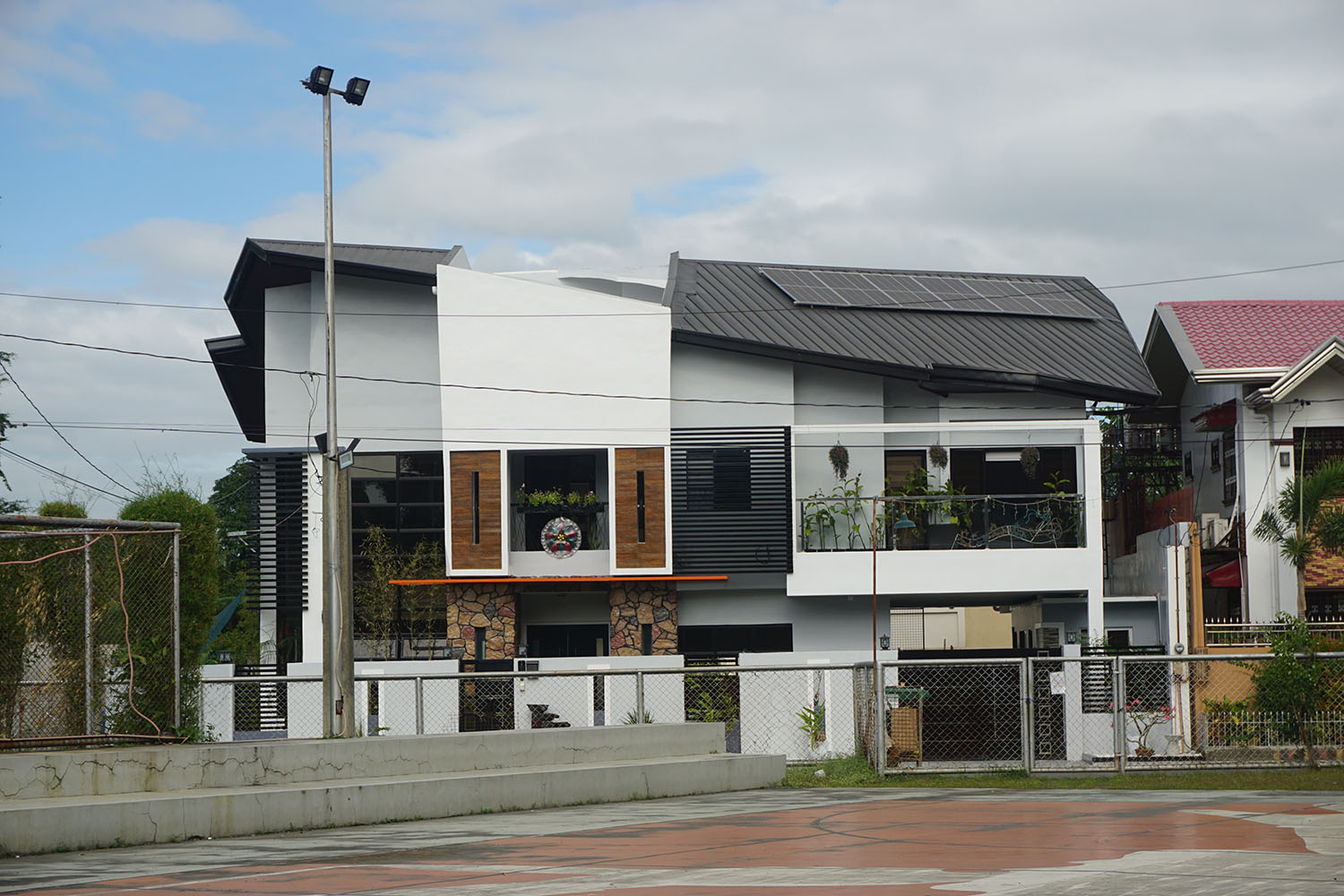 ADVERTISEMENT - CONTINUE READING BELOW
It's no secret that solar panels are quite an investment. They spent around Php125,000 on the solar panels which are usable for 25 years. They plan to further improve this aspect of their house in the future to further save electricity.
READ: Where to Buy Solar Panels in the Philippines
ADVERTISEMENT - CONTINUE READING BELOW
Vibrant plants liven up the front of the house. Houseplants are stars in the family home, with big pots used as accents in different areas of the house.
Common Areas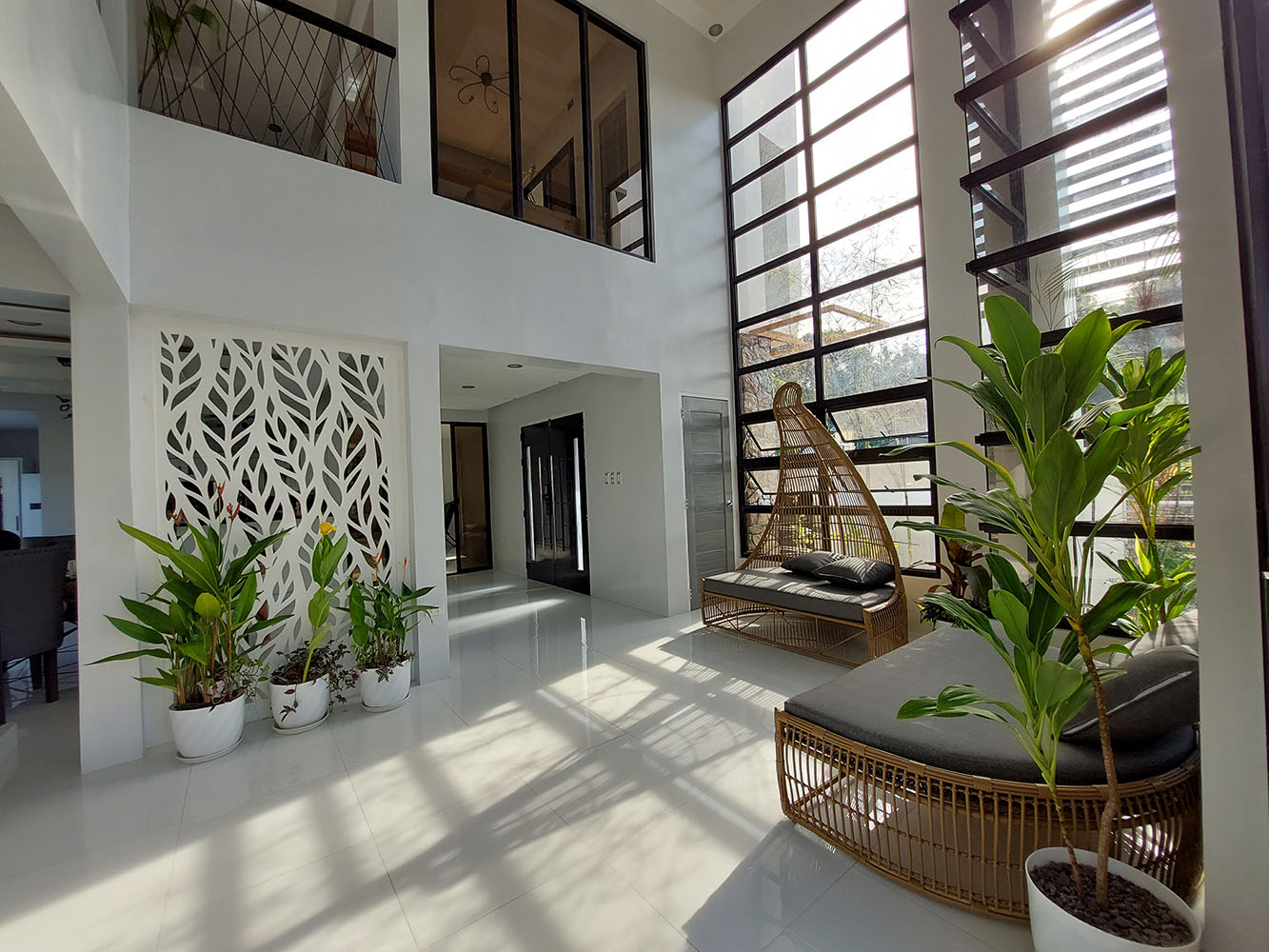 One of the home's features is the high ceiling. According to Lyka, the height of the house is mean for a three-storey property but they only have two floors. "Kasi hot air rises so presko sa baba. Insulation is also important," she says.
ADVERTISEMENT - CONTINUE READING BELOW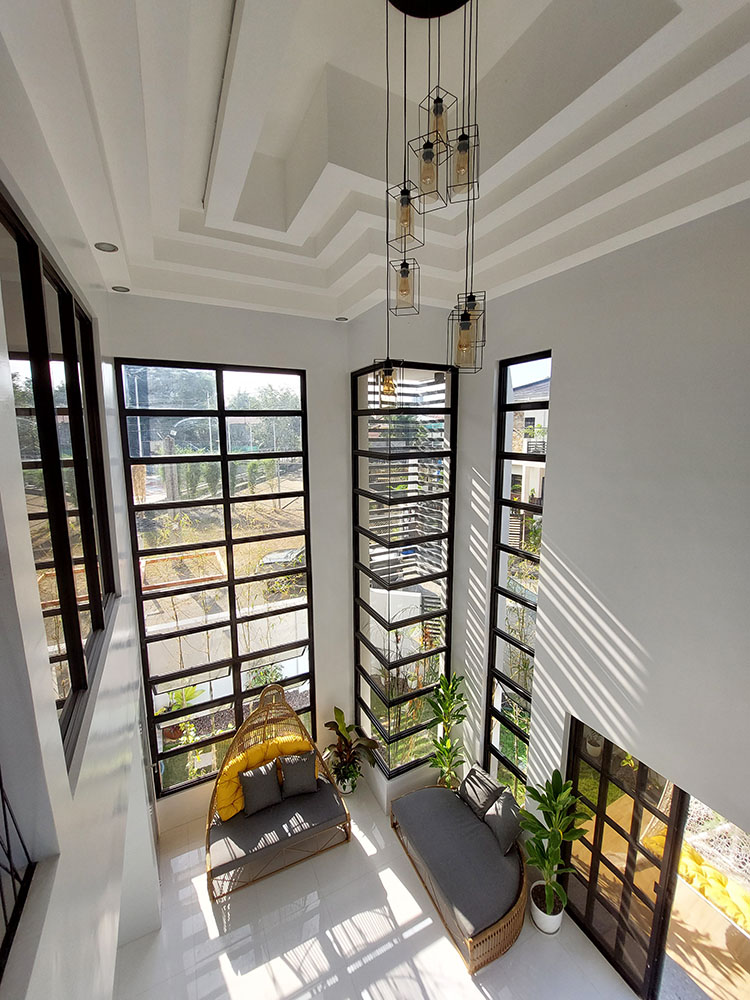 From the second floor of the house, one can truly admire the high ceiling accentuated with lovely lighting pieces. The owners made sure to choose windows that let in plenty of natural light.
READ: Greener Is Better: The Best Zero-Waste Shops in Manila
Kitchen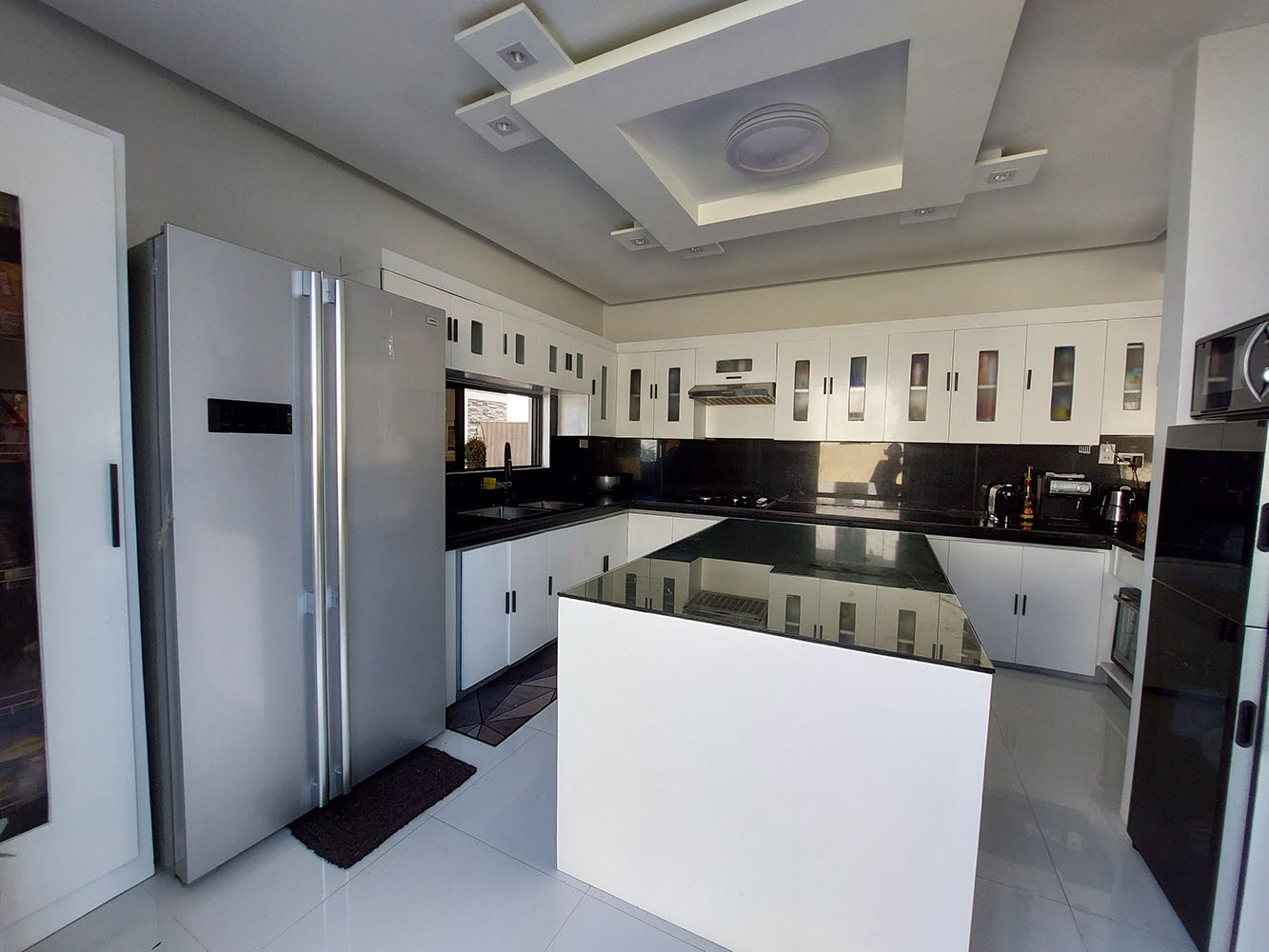 ADVERTISEMENT - CONTINUE READING BELOW
The well-equipped cooking area is spacious with a kitchen island serving as extra prep space and storage. Sticking to a black and white color palette keeps within the modern aesthetic of the house. Though not seen in the photo, the homeowners also chose low-flow faucets for the house to save water. "We really did our research and looked at water-saving features before we pick based on price and aesthetics," shares Lyka.
The family is also able to save an additional Php800 per month because they don't need to order mineral water. They have put a water filtering system in place to make sure they have safe drinking water in the house.
Dining Area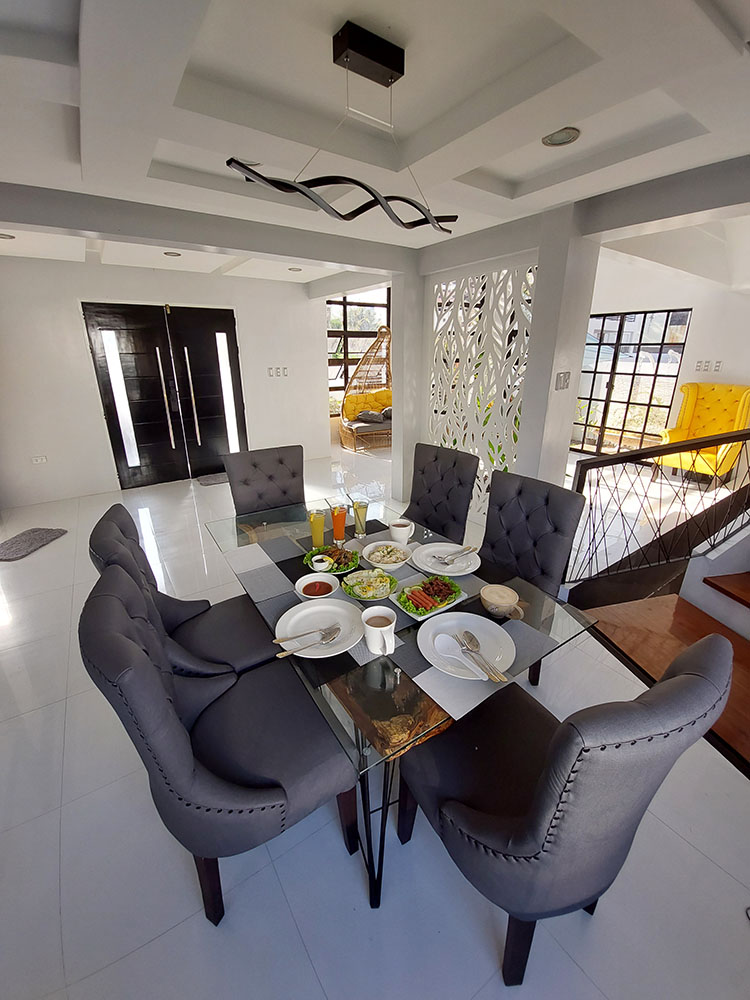 ADVERTISEMENT - CONTINUE READING BELOW
The dining area is furnished with matching tufted chairs and a glass-topped dining table. There are no solid walls separating the dining area from the other areas of the house—allowing air to circulate freely and light to stream into the space.
Staircase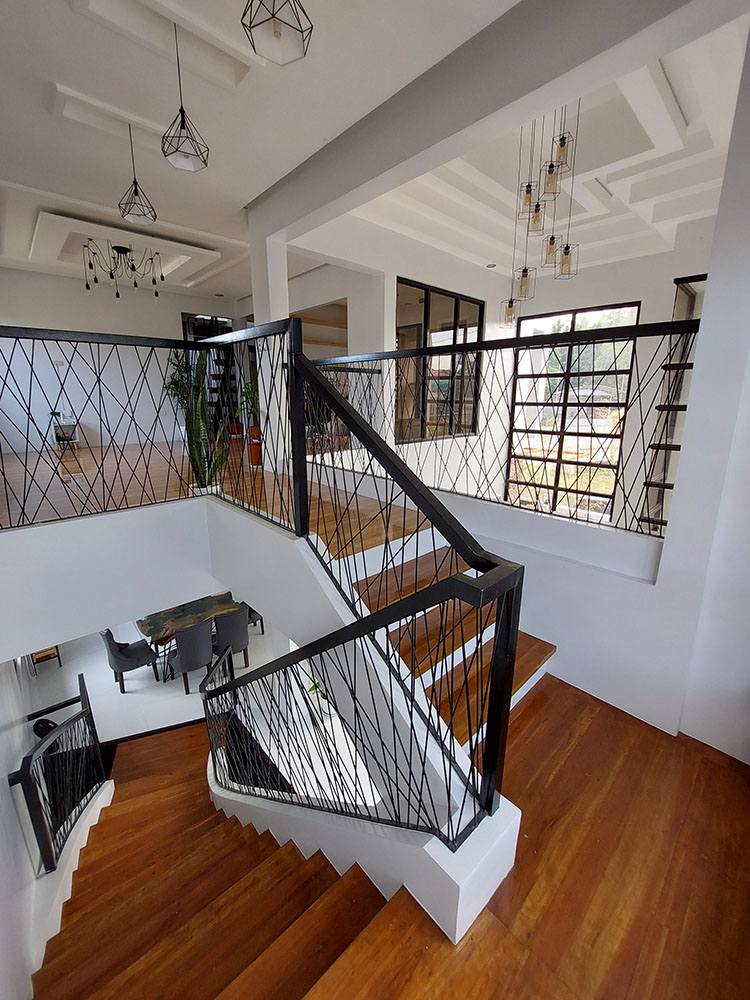 The baluster of the staircase resembles not only the legs of the dining table, but the look of the lighting pieces, too. The chosen material gives the home an industrial vibe which goes well with the modern interiors.
ADVERTISEMENT - CONTINUE READING BELOW
Second Floor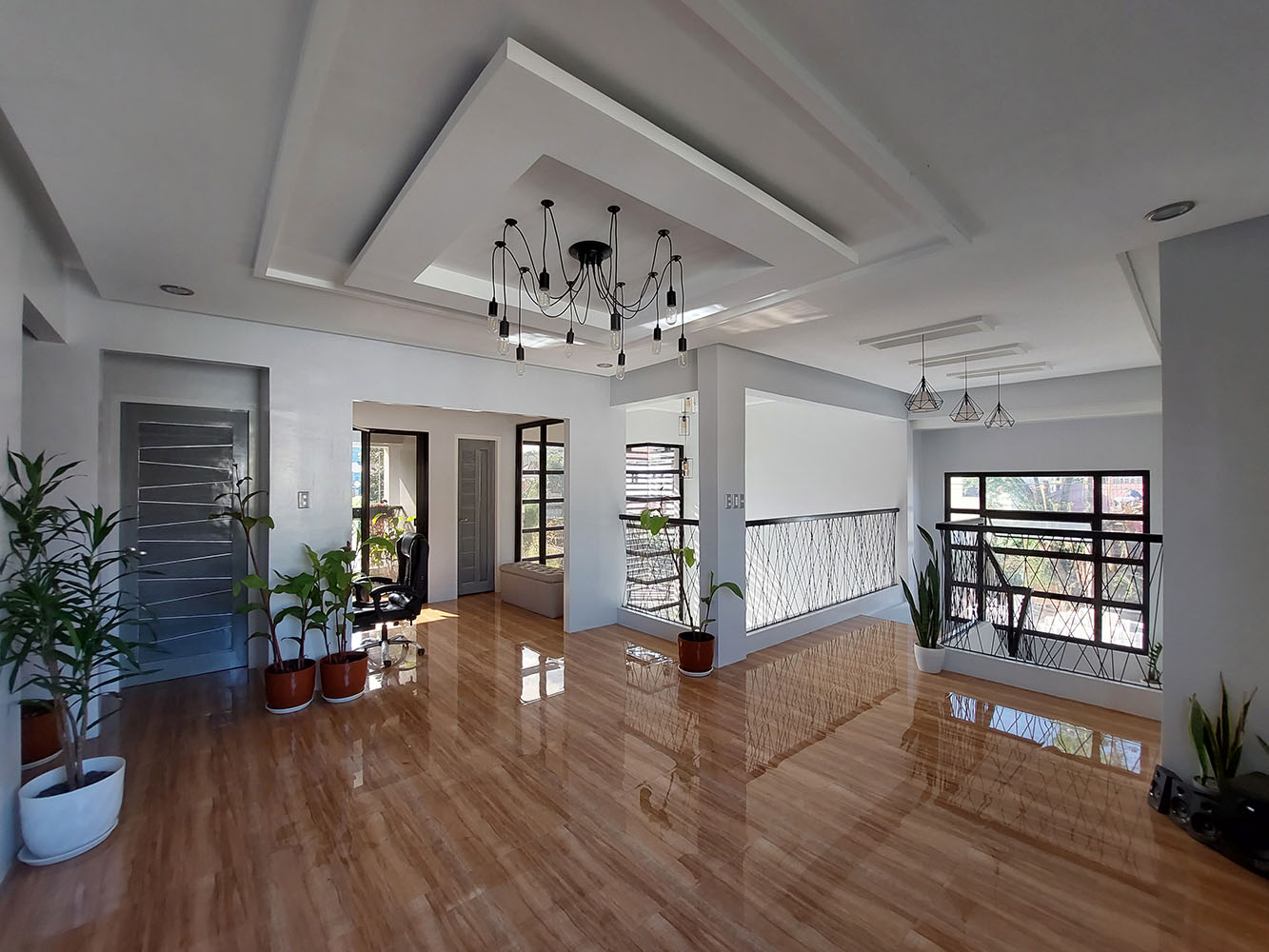 The home's second floor is kept open and spruced up with potted plants. Houseplants not only brighten up a space, it can also add to its airy feel. From this angle, it's easy to notice the number of lighting they have. Despite this, the owners are still able to maintain a manageable electric bill thanks to the numerous windows that help illuminate the space.
ADVERTISEMENT - CONTINUE READING BELOW
Hallway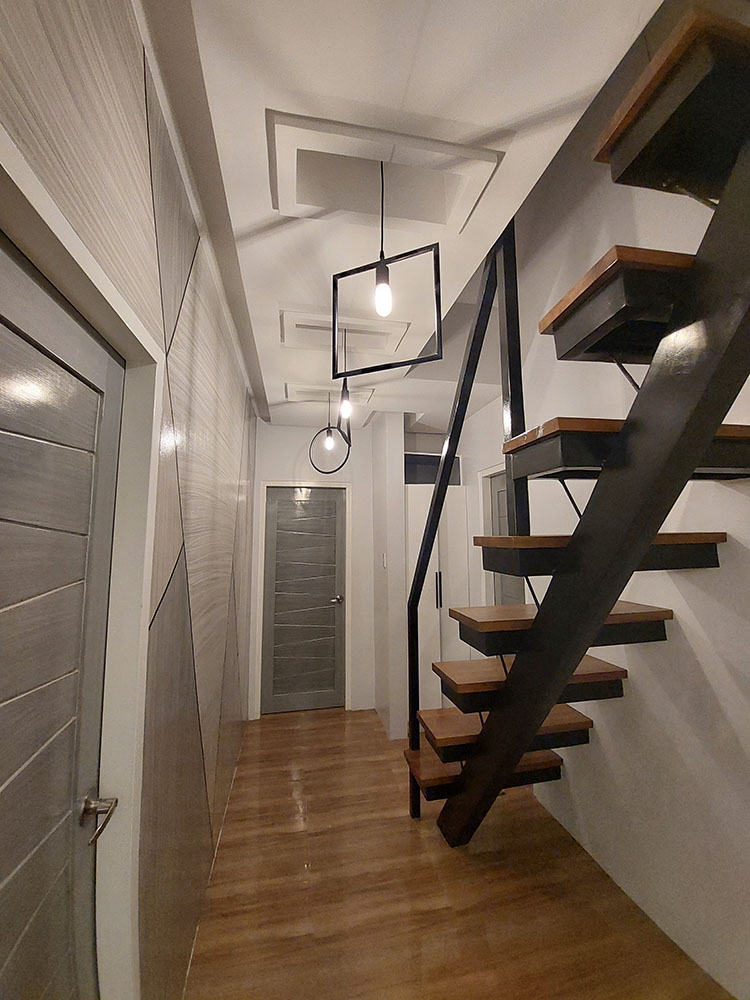 Geometric patterns, seen on the droplights, are also showcased on wall treatments to achieve a cohesive look.
Bedroom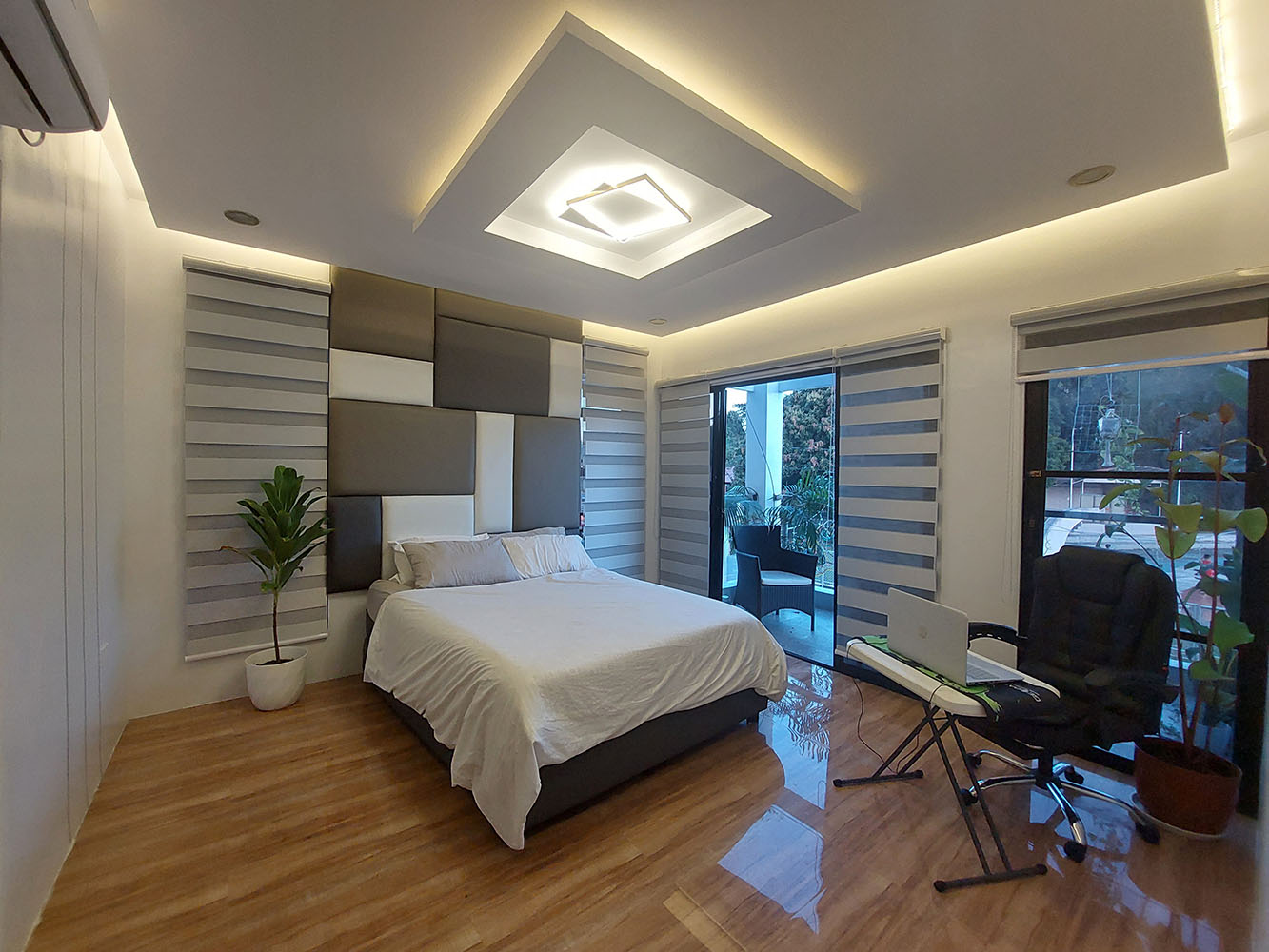 ADVERTISEMENT - CONTINUE READING BELOW
In this bedroom, the modern theme is maintained and punctuated with a tall padded headboard. According to Lyka, even the location of the bedrooms in the house were planned well. "Dapat doon sa hindi naaarawan kapag tanghali para presko hanggang gabi," she muses.
As much as possible, the family limits the use of their AC units and they made sure to complete the house with energy-saving appliances.
Garden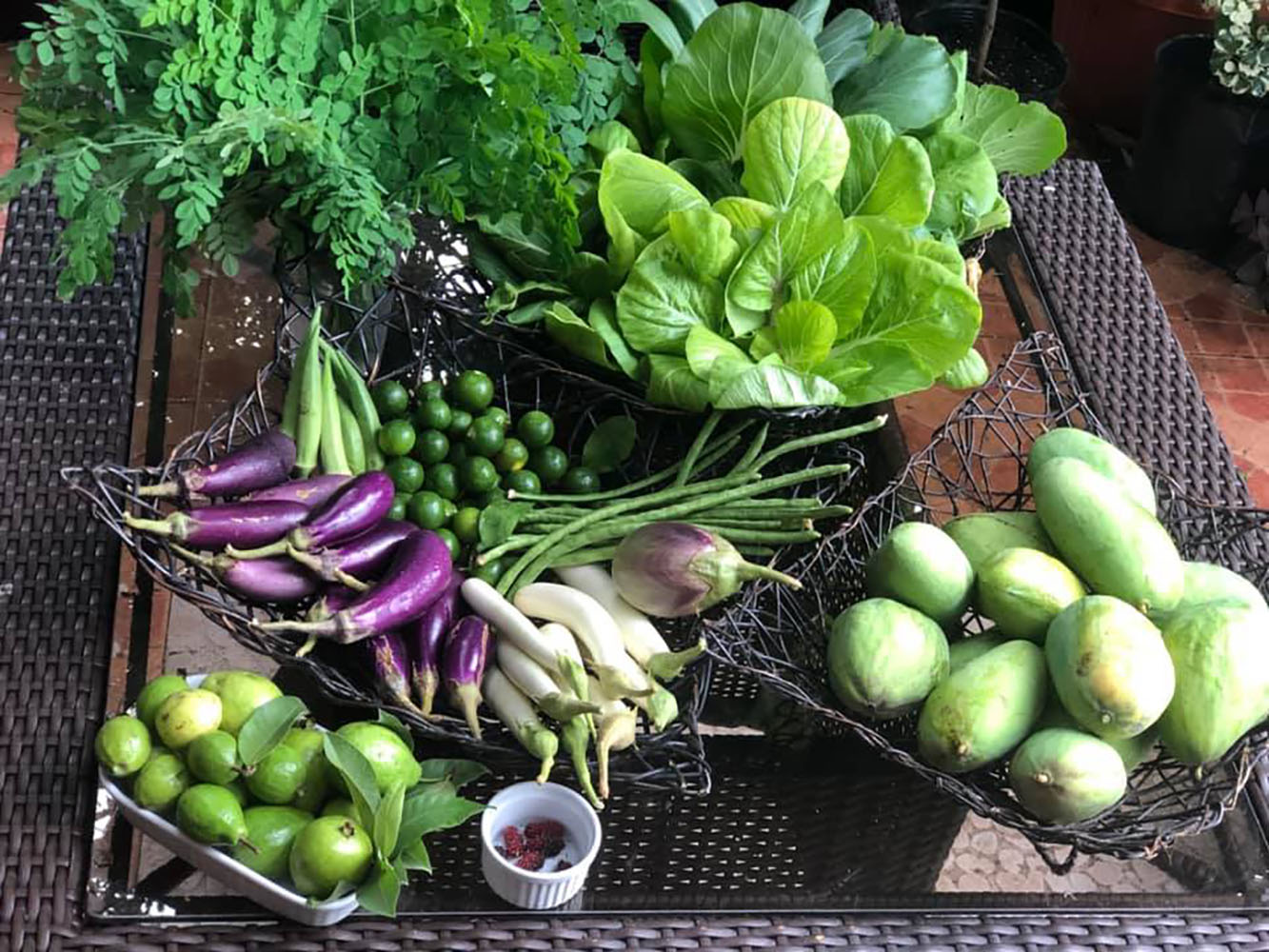 ADVERTISEMENT - CONTINUE READING BELOW
The family is also proud of their "food-producing landscape" where they plant and harvest different vegetables. Lyka shares that they seldom buy eggplants, okra, kangkong, calamansi, and other native vegetables since they harvest their own.
"We're able to save around Php150 to Php300 per week on vegetables. The best benefit is the vegetables we eat are guaranteed fresh and free from pesticides," Lyka adds.
She plans to expand their vegetable garden since there's an empty lot beside their home that can be utilized for planting. "Ngayon kasi naka-container lang ang mga gulay. I will also expand my hydroponics and plant more vegetables," shares Lyka.
Rainwater Collecting System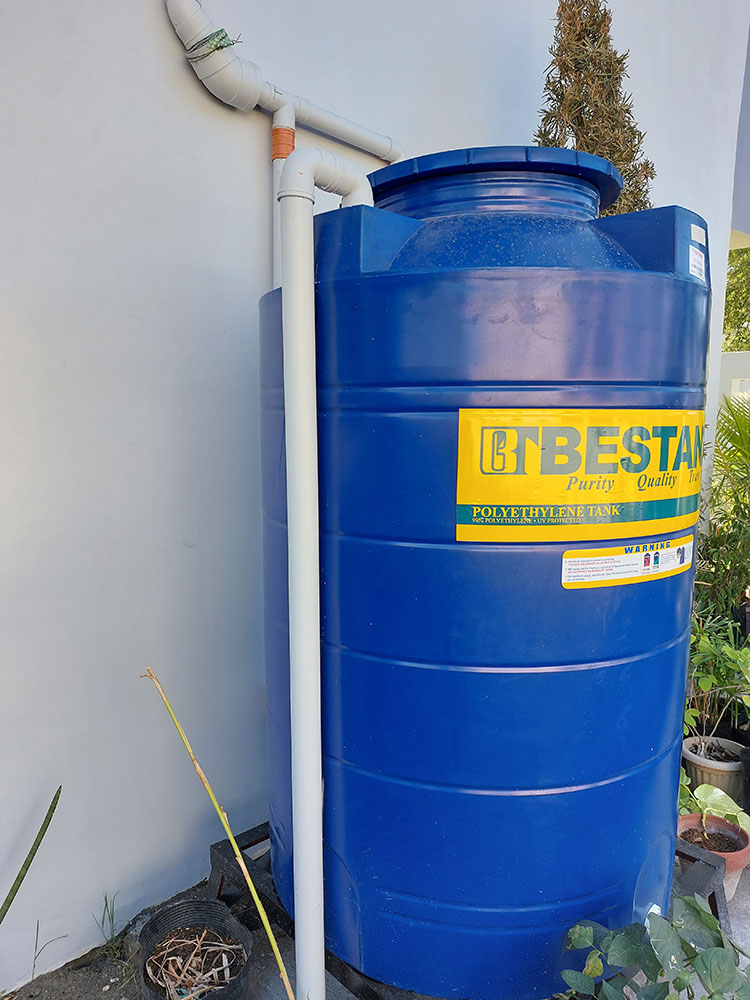 ADVERTISEMENT - CONTINUE READING BELOW
The downspouts installed in the house were designed to collect rainwater which the family uses in different ways, including watering their plants and vegetable garden.
Building a sustainable home is an endeavor that requires research and a budget. Getting help from design professionals is also a huge plus. According to Lyka, those who want to build a similar environment-friendly space should take into consideration the location, size, and orientation of the property, to name a few.
"Choose LED lights, local materials, and water-conserving plumbing fixtures. Pwedeng hindi sabay-sabay gawin, kahit unti-unti pero at least may provision at plano," she suggests.
More on Realliving.com.ph
Load More Stories