Houses
This Luxurious Home in Alabang Hills Features Works of Ben Cab, Ramon Orlina, and More
A home and art gallery in one ultra luxe space Photography: Courtesy of Presello
People collect art for different reasons, but for many, choosing a piece is an intimate journey; which is why having art at home is also an act of personalization and self-expression. And while some homes have choice pieces, this home in Alabang Hills featured by Presello has a collection of them, not a few of which are by national artists.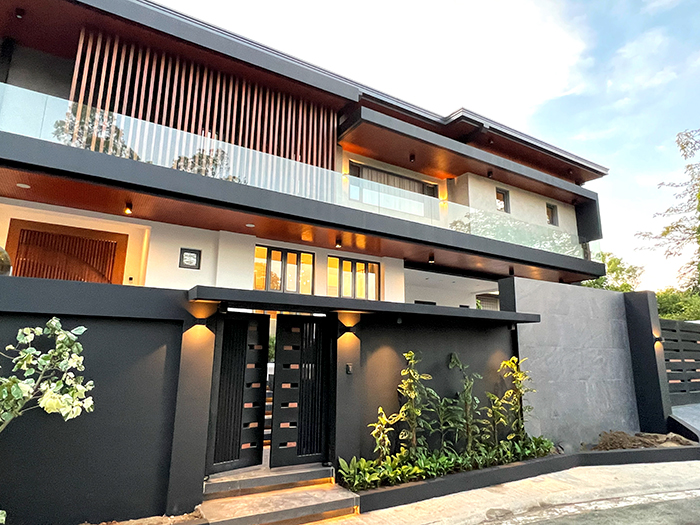 ADVERTISEMENT - CONTINUE READING BELOW
In a tour of the aptly-named Luxe Heim or "Luxe Home" with guests Ellen Adarna and Derek Ramsey, we get to see how this expansive (and expensive) mansion becomes a live gallery for the Masters: 
Entrance and Foyer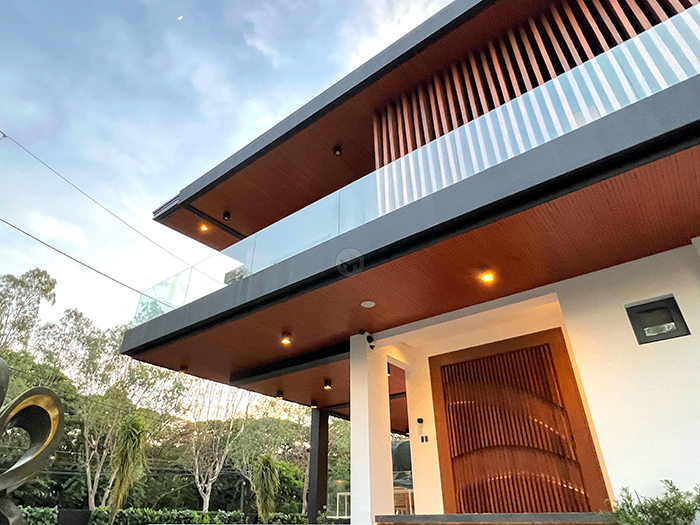 The designers from Draco Builders did not hold back when it came to showing off the vastness of the home: moving from its huge garage, visitors are greeted by a beautiful hardwood door that opens on a pivot.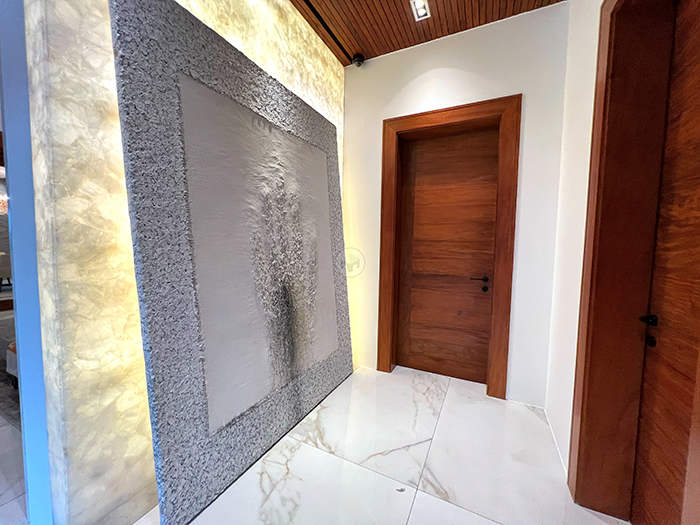 Immediately upon entering, one is greeted an art piece by Lao Lianben, propped against a lighted wall of quartz.  
Office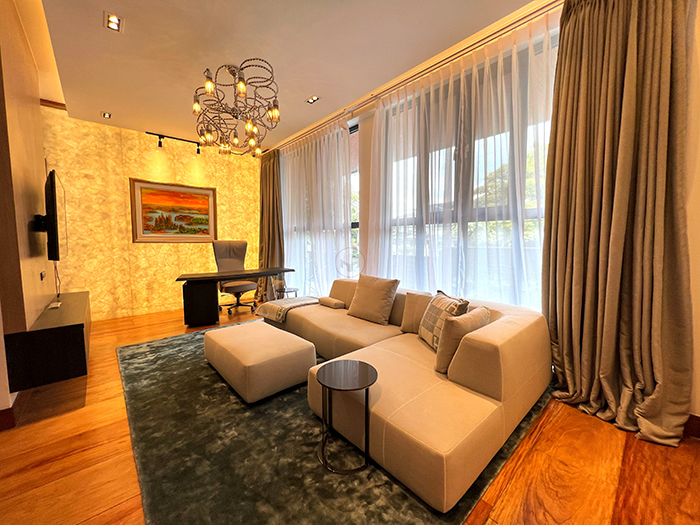 ADVERTISEMENT - CONTINUE READING BELOW
Right by the foyer is a thickly-framed tall door that leads to an office. Bordered by windows that allow natural light in, the space features hardwood flooring and another lighted crystal quartz wall positioned behind a work station. 
If given the chance, Ellen would convert it into a makeup room, "with all the ring lights, and the natural light."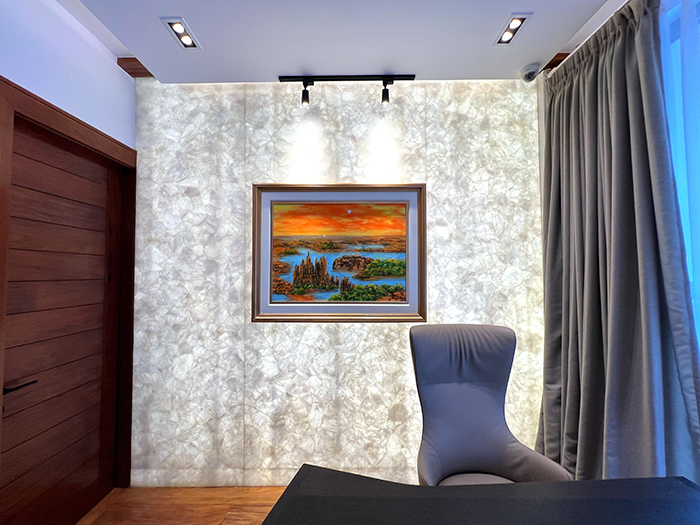 ADVERTISEMENT - CONTINUE READING BELOW
Aside from the posh accent wall, Derek was also taken by the room's unique chandelier. "Super nice... I'm a big fan of furniture, I'm a big fan of lighting." 
Living area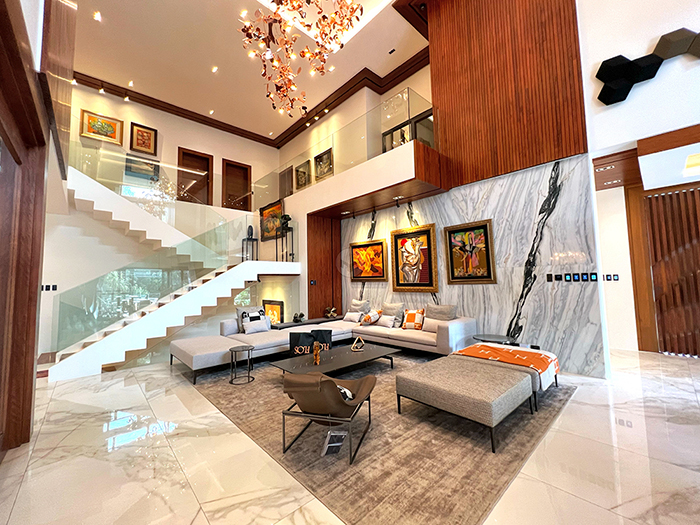 The foyer then opens up to the living room with a high ceiling, and immediately, one gets the notion that the home is not afraid to flaunt what it has. The beige marble floor is contrasted by gray marble panels for its accent wall on which few art pieces are displayed. Above are narra panels that add even more texture to the space.  
ADVERTISEMENT - CONTINUE READING BELOW
Across is the pièce de résistance: a Ben Cab wool tapestry entitled "Sabel".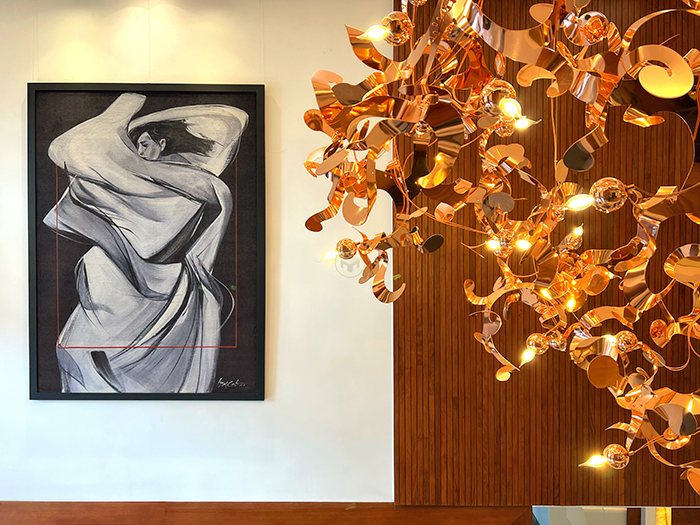 "I'm a big fan of Ben Cab," says Derek. "I don't think there's anyone who not a fan of Ben Cab."
Rare chandeliers hang from the high ceilings—aside from this home, only a hotel has another piece in the Philippines.  
ADVERTISEMENT - CONTINUE READING BELOW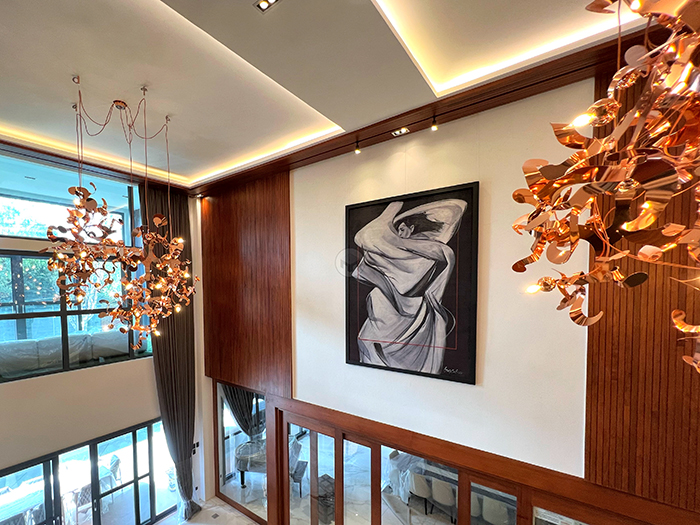 Sliding glass doors open to a covered outdoor space where guests can enjoy ample seating that offers a view of the swimming pool and the home's vertical garden.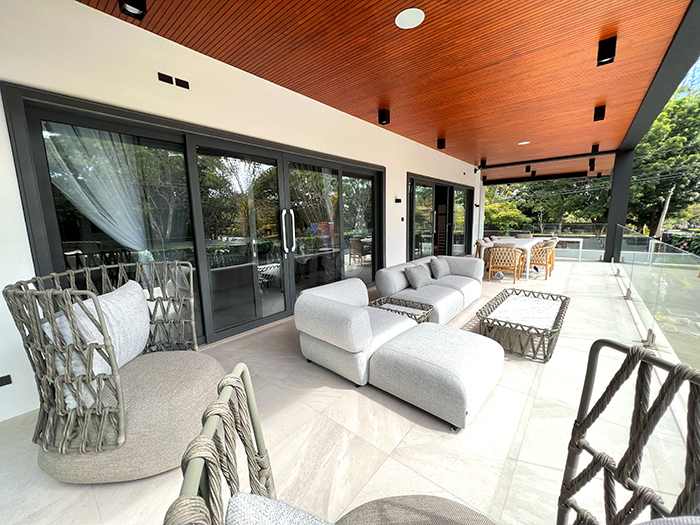 ADVERTISEMENT - CONTINUE READING BELOW
Dining area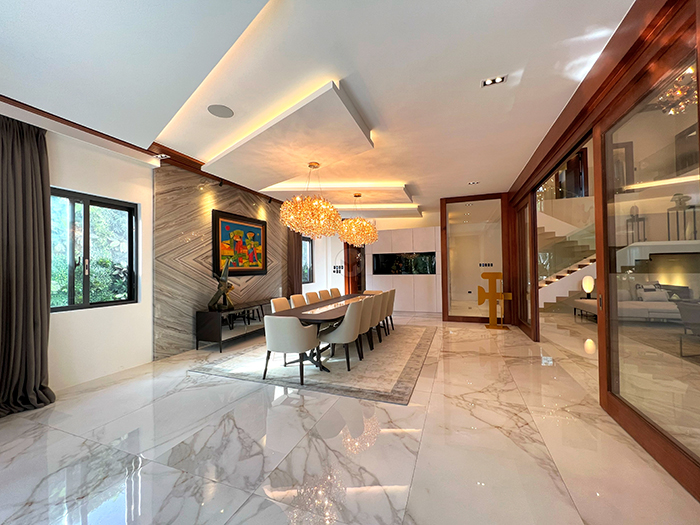 More art pieces from are seen in this space, particularly those of renowned Filipino sculptors Eduardo Castrillo and Arturo Luz. A painting by National Artist Ang Kiukok acts as the room's focal point and hangs before a marble wall. 
Formal Kitchen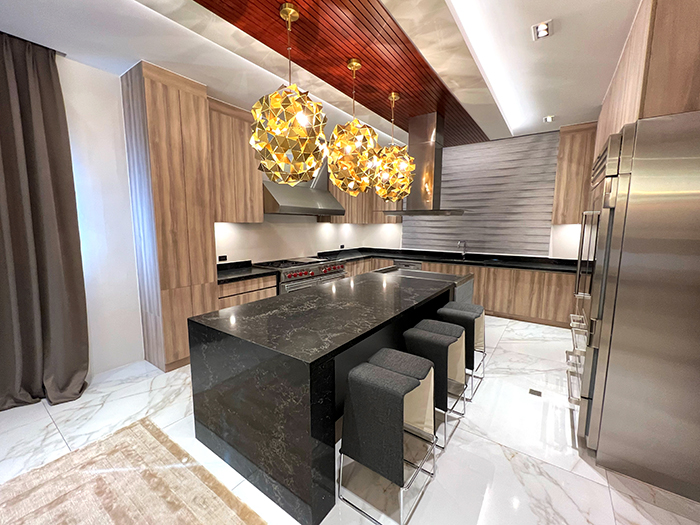 ADVERTISEMENT - CONTINUE READING BELOW
Connecting to the dining area is a narrow hallway (featuring shelves for a collection of Versace plates) that leads to a kitchen, which has an L-shaped counter and a center island that comes complete with a tepanyaki grill.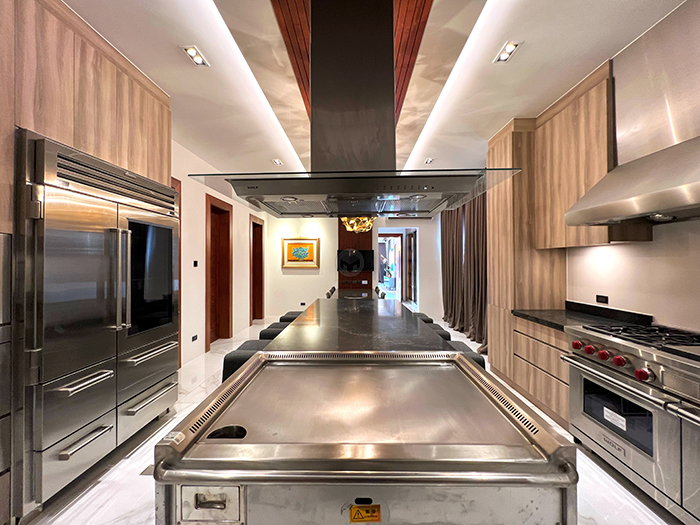 A breakfast nook sits nearby, perfect for intimate meals with family and close friends.  
ADVERTISEMENT - CONTINUE READING BELOW
Stairwell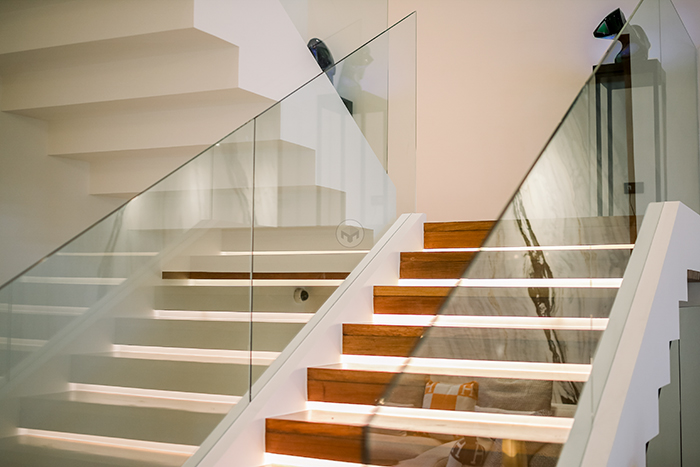 Back down the hallway to the left is a door that leads directly to the staircase. The wall across it features an elevator bordered by Patagonia marble, which can only be sourced in one quarry in the world.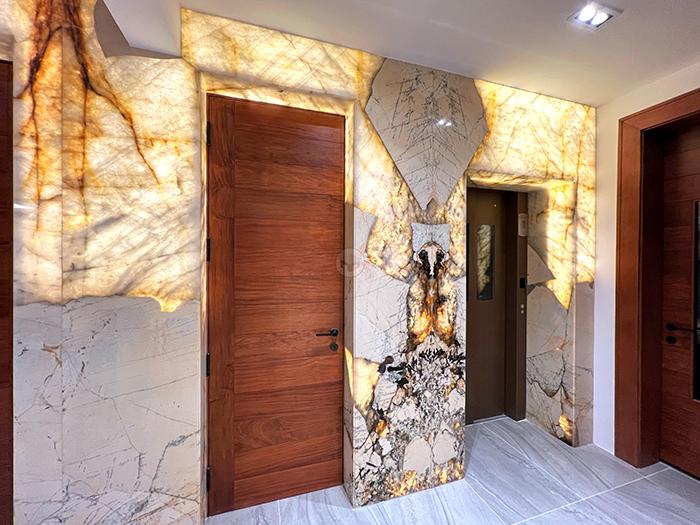 ADVERTISEMENT - CONTINUE READING BELOW
Entertainment area and theater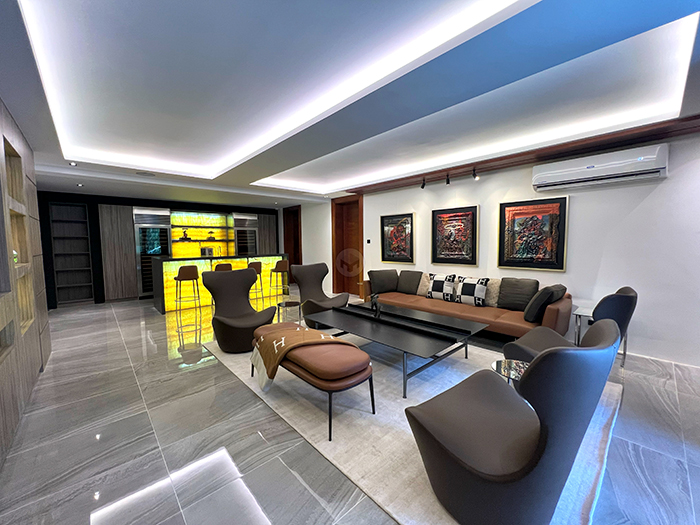 The bar/entertainment area is one of several rooms located at the home's basement. Of course, this room has its own gallery of artwork by Jigger Cruz and glass sculptor Ramon Orlina. It connects to a home theater, which has its own rows of comfy recliners. 
ADVERTISEMENT - CONTINUE READING BELOW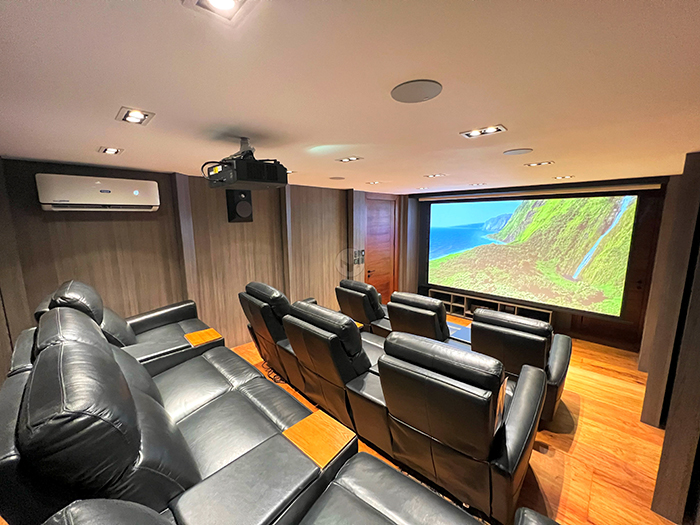 Artwork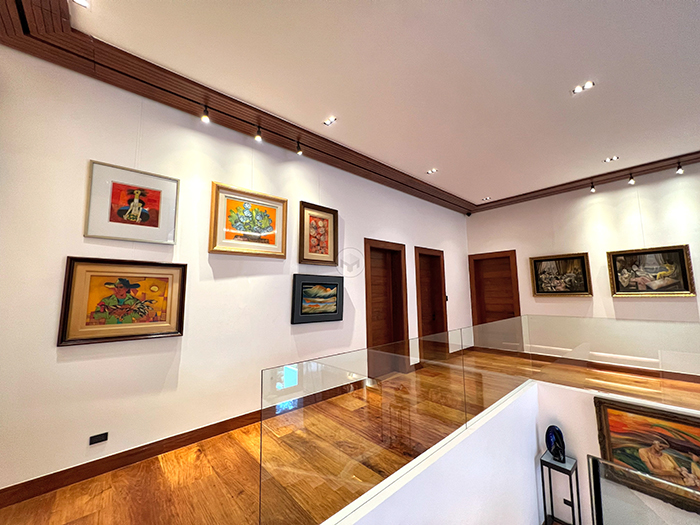 ADVERTISEMENT - CONTINUE READING BELOW
Ben Cab, Ang Kiokuk, Arturo Liz, Ed Castrillo, and Liamben Lao are not the only huge names on display in this Alabang property. Works of other prominent artists and sculptors have also found their home here, namely pieces by Barrioquinto Andres, Ronald Ventura, H.R. Ocampo, Mauro Malang, Ferdinand Cacnio, Juvenal Sanso, Isabel Diaz, Gus Albor, Jose Joya, Marina Cruz, Rodel Tapaya, Justin "Tiny" Nuyda, Cesar Legaspi, Oscar Calmeda, Romulo Azo, Micheal Cacnio, J. Villanueva, Ray Paz Contreras, Jigger Cruz, Angelito Antonio, Federico Uaz, Jerry Elizalde Navarro, and Araceli Dans, among others. 
IN PHOTO: Works of Jigger Cruz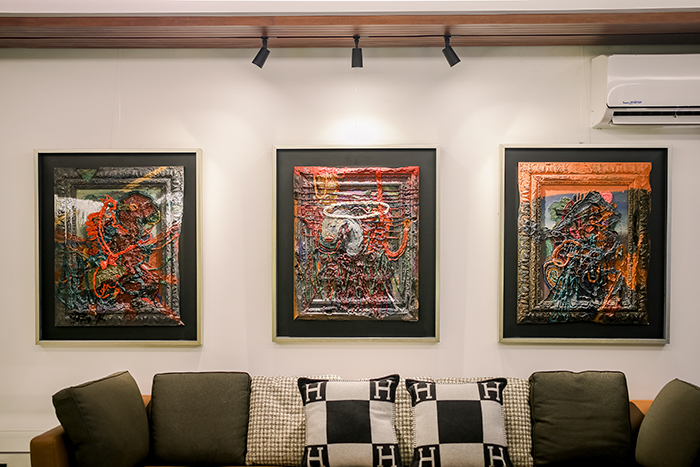 ADVERTISEMENT - CONTINUE READING BELOW
IN PHOTO: A piece by Ramon Orlina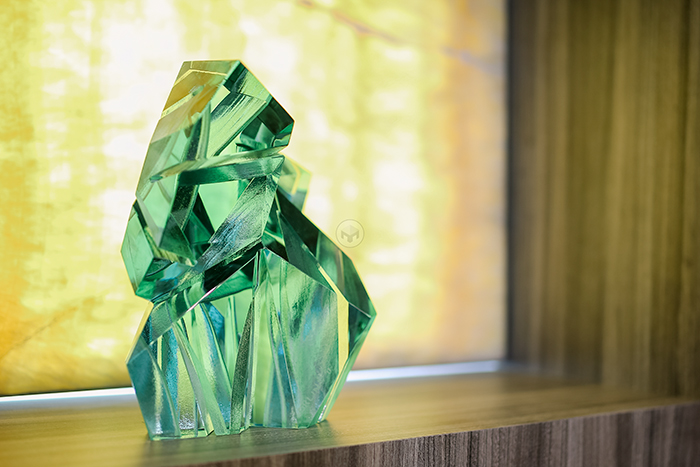 You can watch the full tour here: 
More on Realliving.com.ph
Load More Stories