Houses
This Modern Home Keeps Family Memories Alive Through Sentimental Keepsakes
From a grandfather clock to a rediscovered painting, Dr. Mitch Mariñas shares with us unique stories of family memorabilia she cherishes in this episode of "Kakaibahay." Photography: Courtesy of Dr. Mitch Mariñas
As the saying goes, "Home is where the heart is." More than providing a roof over one's head, a home holds and preserves memories—whether it's the slightly musty but oh-so-familiar scent of your childhood bedroom, or the feel of the banister you've slid your palm against for decades, your own space is almost like a time capsule you open every time you step into it.
For Dr. Mitch Mariñas, her home holds very fond memories of her parents. Located on the lot beside the house she grew up in, it keeps her close to a well-loved past. "This is adjacent to where my mom lived, it was our yard and our garage," she shares. "When I finally had my own family… We decided to build a house here and move in."
Mitch's mom was overjoyed to find out that she and her family decided to settle nearby. Soon after, however, she was diagnosed with cancer. "[She] passed away six months before we moved in."
While the dream of truly living beside her mom was never realized, many memories lived on with the things she had decided to keep. "I decided that furniture she left behind, I would just take it," she says. Aside from practicality, it gave her a sense of continuity. "It was really a home. It was really ours."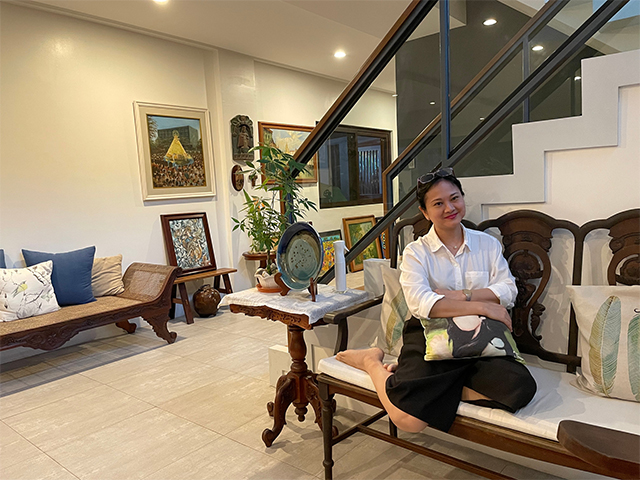 ADVERTISEMENT - CONTINUE READING BELOW
Mixing the old with the new, each piece in Mitch's home weaves a colorful and hopeful family story of love that overcomes loss. "Despite it being sentimental, it wasn't sad. I felt like I gave the pieces a new home." Every abode has a unique history, she says, and every home is a Kakaibahay.
Kakaibahay is Real Living's web mini-series that features unique homes with unique stories. From urban mansions to seaside cottages, we will walk beyond the threshold of aesthetics into the personal histories of those who live in them. Each week, we will have homeowners take us through their spaces, going down memory lane as we highlight favorite corners, interesting furniture, and sentimental pieces that culminate into a biography of building, adapting, and settling in.
Watch out for a new episode every Friday at 7:00 p.m. on RealLiving.com.ph and Real Living's YouTube channel, and every Saturday at 7 p.m. on Real Living's Facebook page. 
* * *
Video produced by Kim V. Gan, Jico Joson, and the Real Living Team
Special thanks to Dr. Mitch Mariñas and her family
* * *
Do you have a unique home with a unique story? Send photos and your personal kuwento to [email protected] and we may just feature you in one of our next episodes!
More on Realliving.com.ph
Load More Stories