Houses
This Eclectic Industrial Home in Pangasinan Is a Comfortable Nook of Colors and Memories
Within the gray walls of this home are splashes of bold color and statement pieces, all hand-picked to reflect the personality of each family member. Photography: Courtesy of Berna Flroendo
The 220sqm residence of the Florendo family in Binalonan, Pangasinan was built on what remained of an old ancestral home—constructing almost from the ground up, renovation turned into rebuilding in the hopes of creating new spaces that would house new memories.
"[It] was inspired by a Cebu hotel we stayed in during our 20th anniversary," says homeowner Berna Florendo in an email correspondence with Real Living PH. "Originally, we wanted an industrial type of house [but we had] limited ideas, until we saw the beauty of how an industrial theme can be blended with colors. We wanted a house to be vibrantly colorful and expressive of our personalities as a family. And since it is not always that one would build a house as often as shopping, we decided to integrate everything into it —industrial, modern, retro, eclectic and Mediterranean."
The result is an interesting mix of color against neutral grays, lending the space an organic yet artistic vibe. Color also softens the structure's hard industrial lines, creating a comfortable and lived-in atmosphere reflecting the different tastes of its residents.
Construction
Berna and her family initially hired a contractor for the job, but had a falling out during the finishing phase. "This was where we came into the picture and Real Living Magazine became our 'life saver,' as hiring an interior designer or architect was not in the budget," she shares. "I put out every old issue I kept and those religiously bought since we started building. Through the magazines, I was able to find design and decoration inspirations, and stores like La Europa Ceramica Tile Center for our tile needs, Modliving Furniture for our dining chairs, and Ido Furniture for some of our furniture pieces." It was also through Real Living that she discovered Anna Banana Rustics, who later became her friend.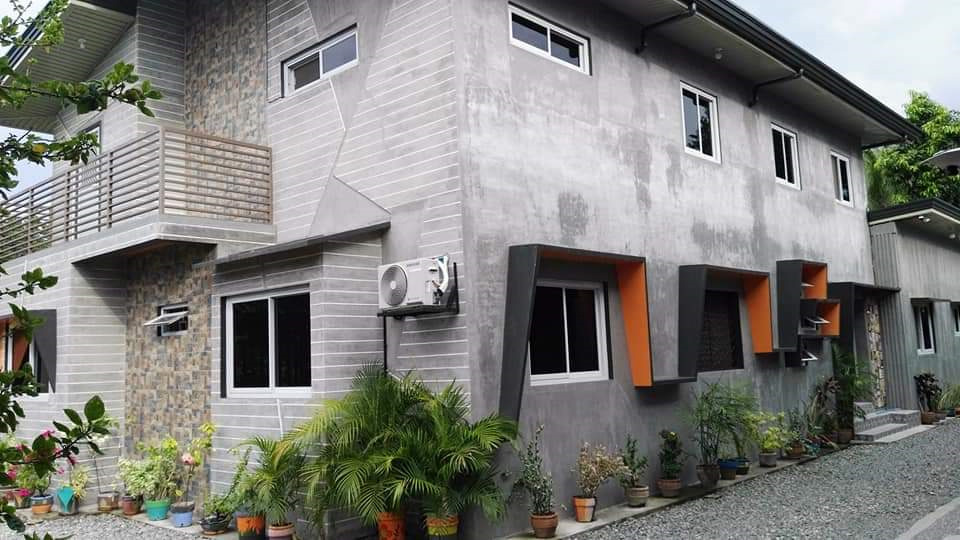 ADVERTISEMENT - CONTINUE READING BELOW
Living area
The family had always wanted a loft from which they can view their open living area. The result was a high ceiling that gave a lot of breathing space to play with.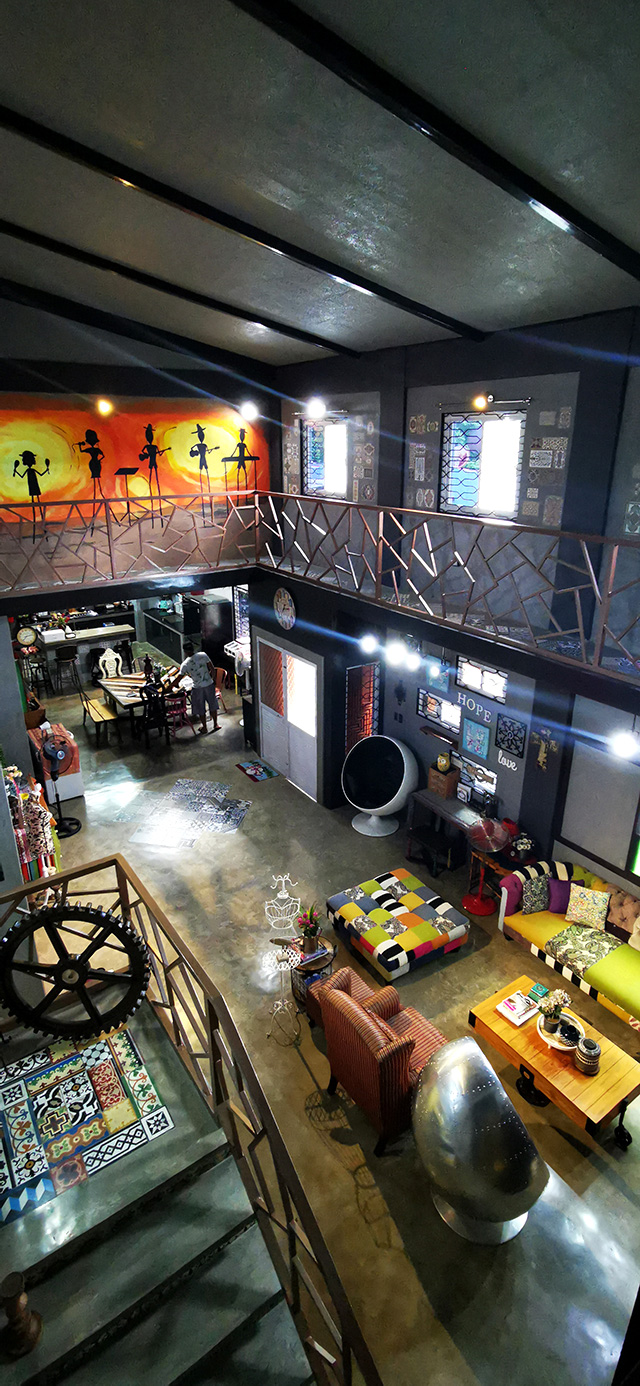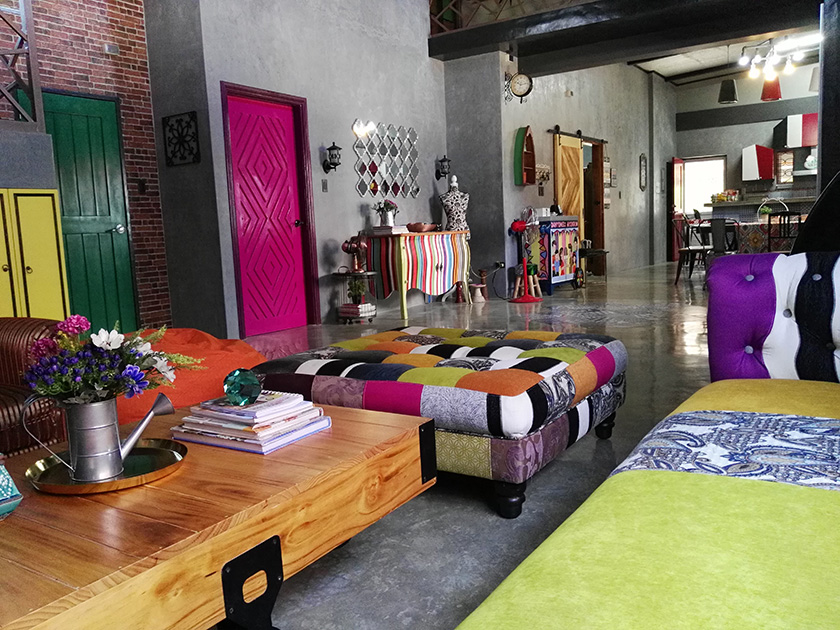 The highlights of the area were a tufted patchwork sofa and a matching ottoman by Upcycle Manila. A wooden table serves as a balancing centerpiece to the set-up.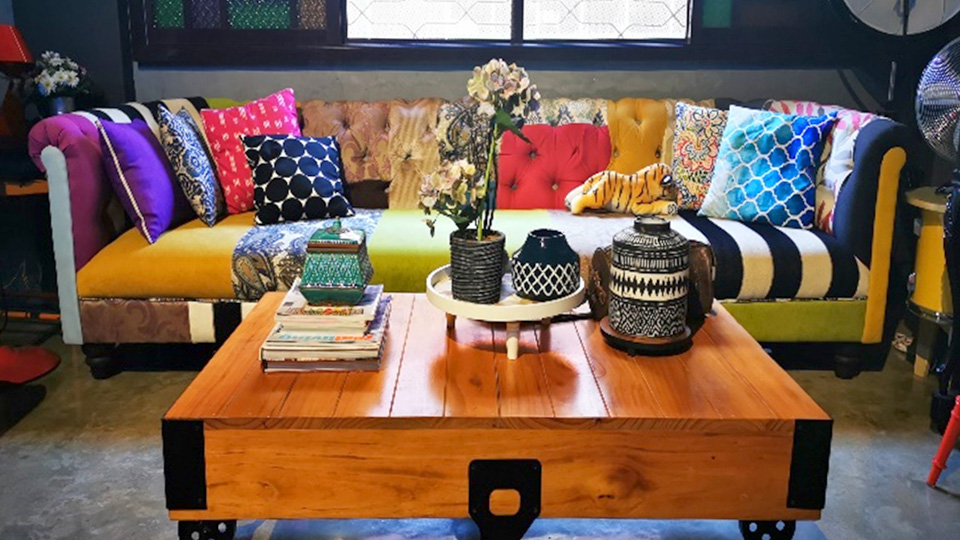 Kitchen
Berna had always wanted touches of red in the kitchen, and the family went with an asymmetrical design for the cabinets. This was contrasted by interesting black-and-white patterns on the counter and backsplash. The sink area's back granite top and painted black cabinets help tie whole look together.
ADVERTISEMENT - CONTINUE READING BELOW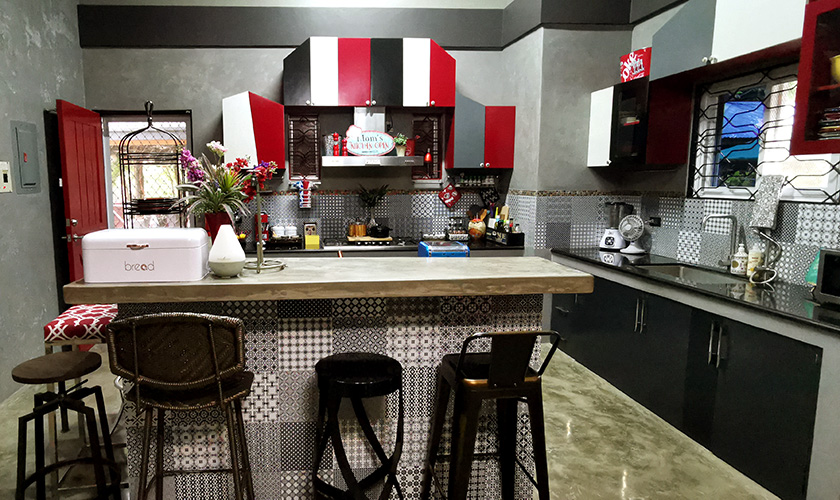 Loft
Aside from offering a wonderful view of the ground floor, the loft also acts as a "man cave" to Berna's husband Daniel.
A huge tufted sofa from Vintage Hub sits in front of a flat screen TV, making for cozy late night binge-watching sessions. Hanging shelves adorn the walls and act as both storage and décor.
ADVERTISEMENT - CONTINUE READING BELOW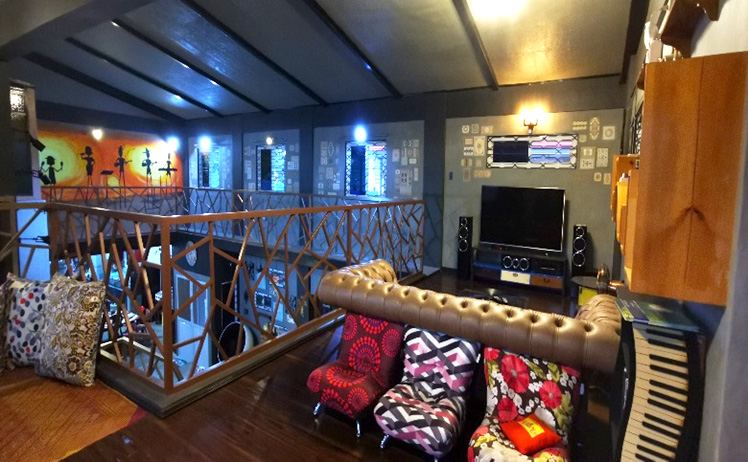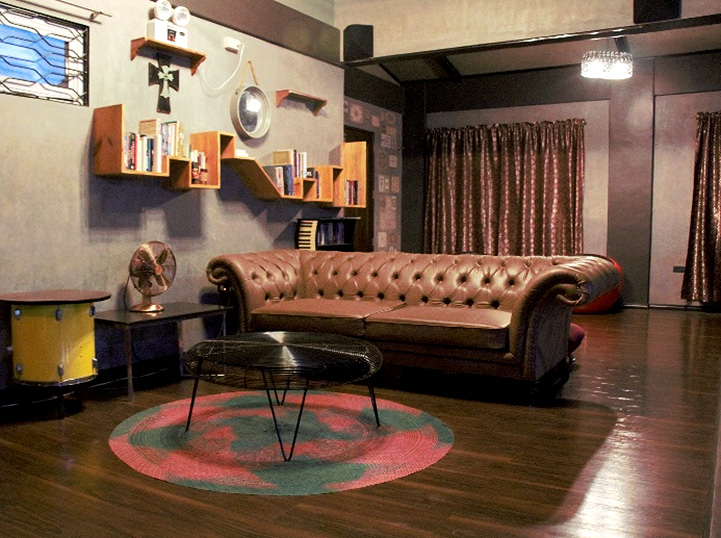 ADVERTISEMENT - CONTINUE READING BELOW
"We designed [it to be] spacious enough for sleepovers and hanging out. In the same area is a spare room that can be used as a guest room or a family room."
A customized wall mural decorates one side of the loft, painted with the help of their church community. "The loft wall pictures our family as a praise and worship team, since two of my sons are really part of our church's music team," Berna shares.
ADVERTISEMENT - CONTINUE READING BELOW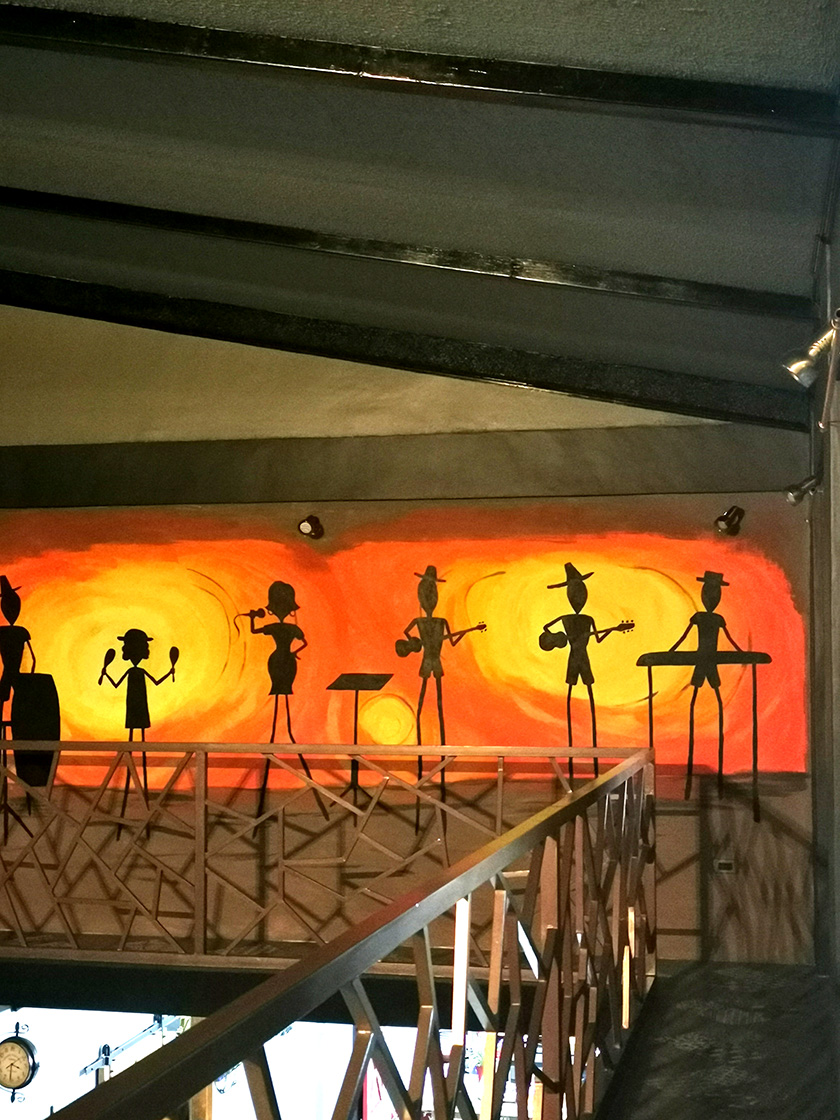 Children's bedrooms
Berna and Daniel have four children, and for their bedrooms, they made sure that each had equal floor space. Each door was painted according to each child's preference, and every room had ceilings painted with customized patterns designed by Berna herself. "[It] was such a challenge because it was something very new to the painters. I had to draw the patterns myself just to relay the idea, and I painstakingly watched over each paint job."
ADVERTISEMENT - CONTINUE READING BELOW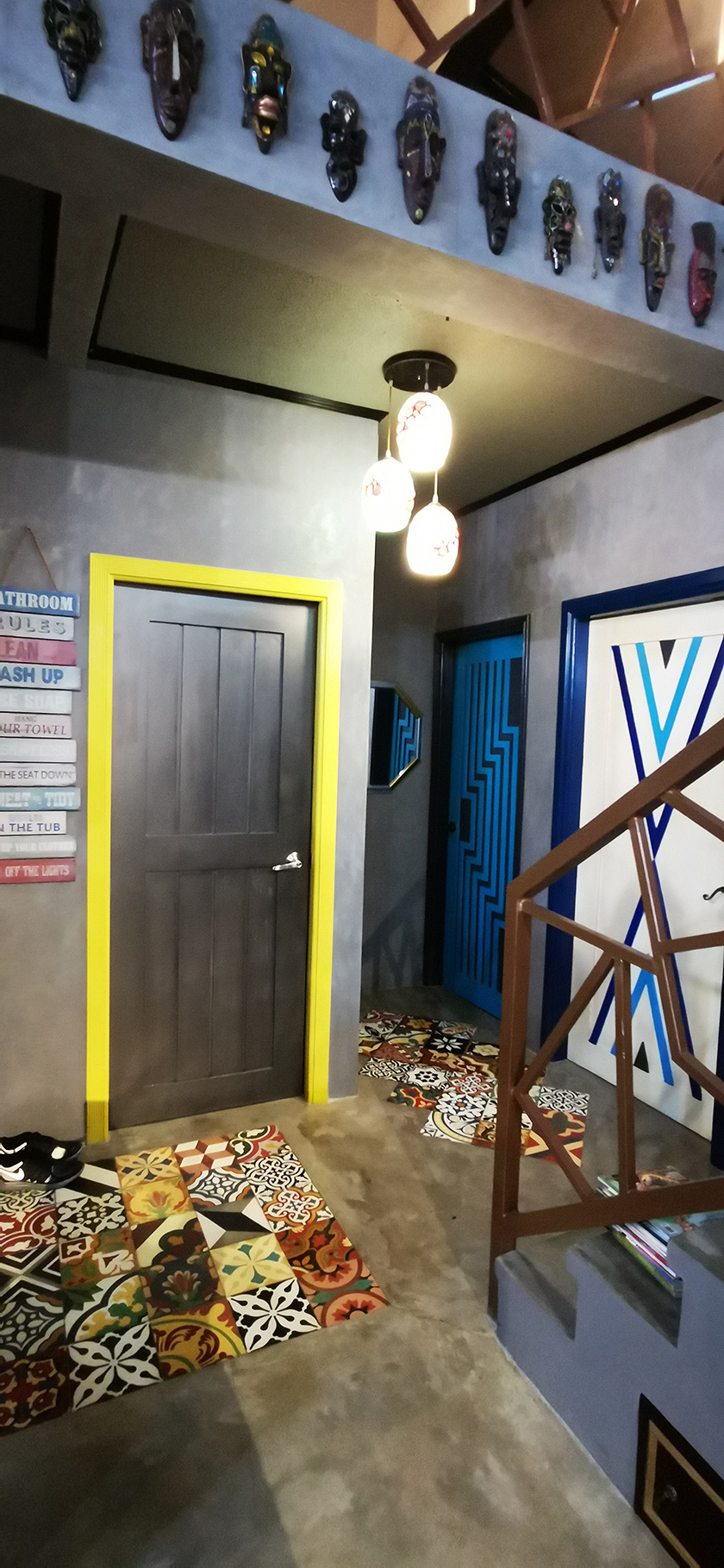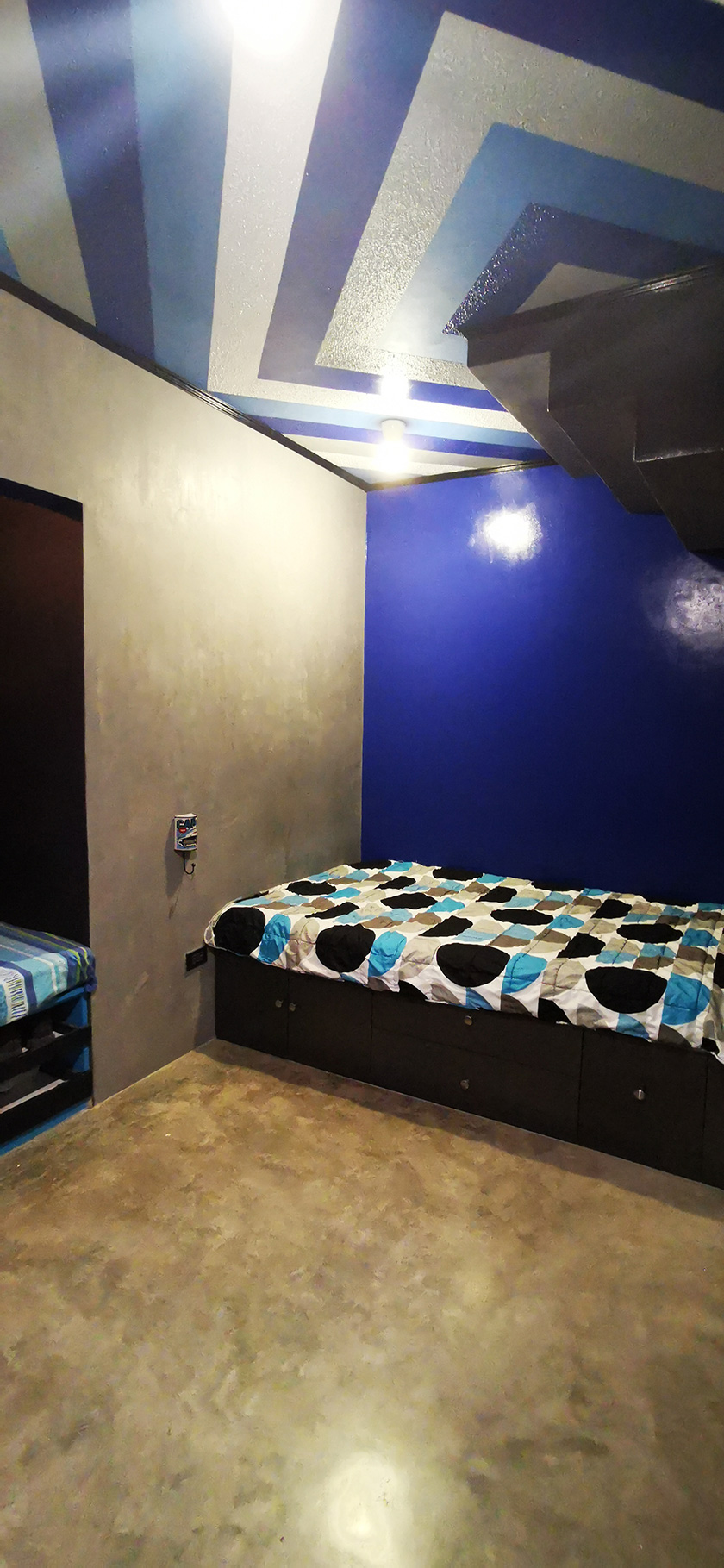 ADVERTISEMENT - CONTINUE READING BELOW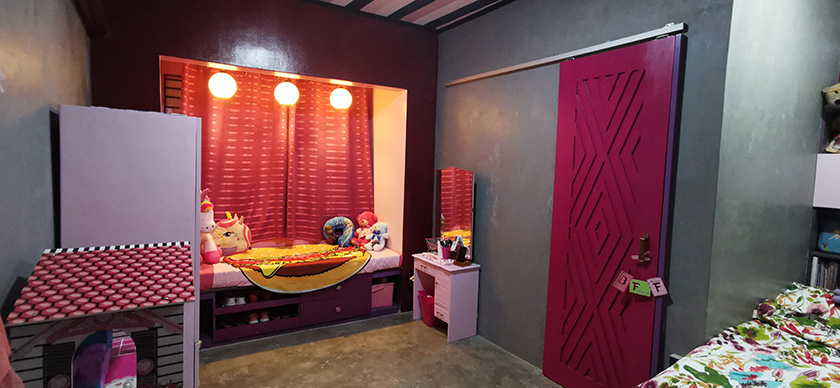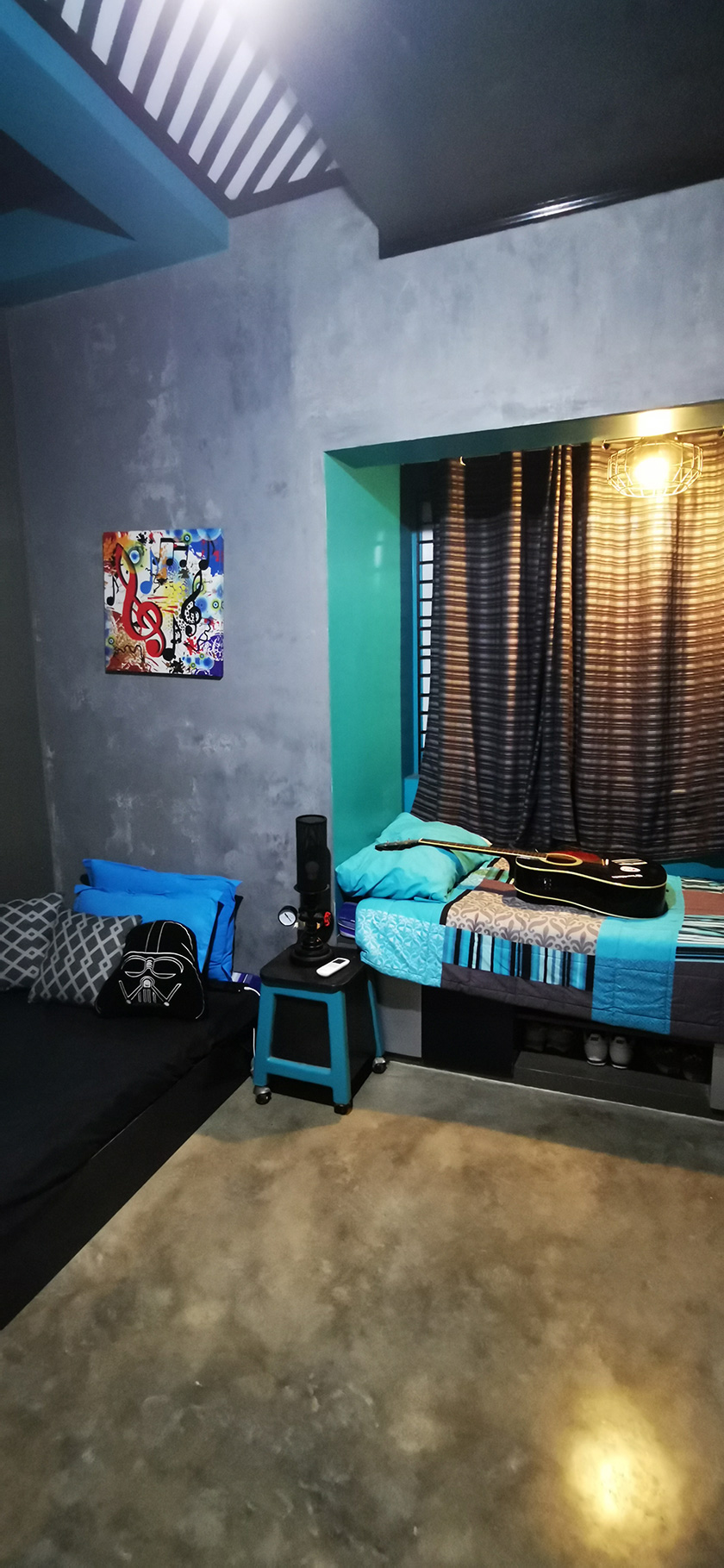 ADVERTISEMENT - CONTINUE READING BELOW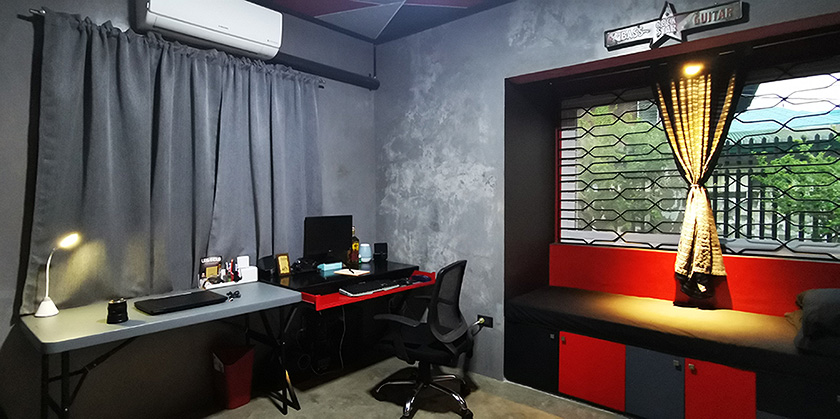 Master bedroom
The master bedroom is a whimsical mix of statement colors and furniture. A round bed was something that Berna had always wanted, which she finally got from Vintage Hub.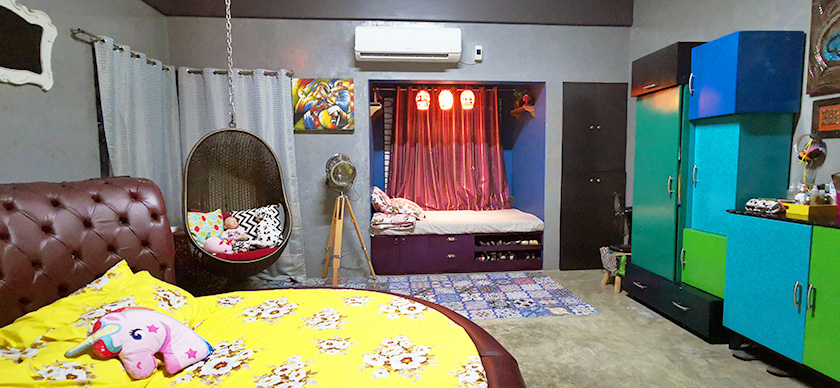 ADVERTISEMENT - CONTINUE READING BELOW
The couple also had their cabinets and closets custom painted, and similar to the loft, the room was also adorned with a mural, which was a copy of a painting from the Cebu hotel which the house was inspired by.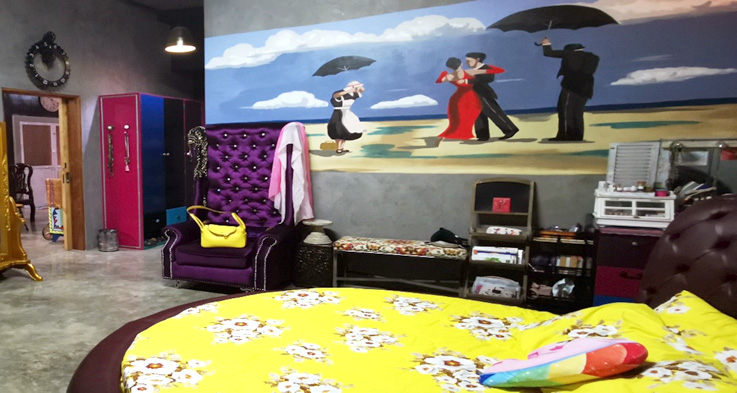 Statement furniture
The Florendo home is dotted with charming furniture and accessories, all adding up to the eclectic-bohemian vibe of the space. One of Berna's favorites is a piano that has been converted into a work desk, which she got from Resurrection Furniture PH.
ADVERTISEMENT - CONTINUE READING BELOW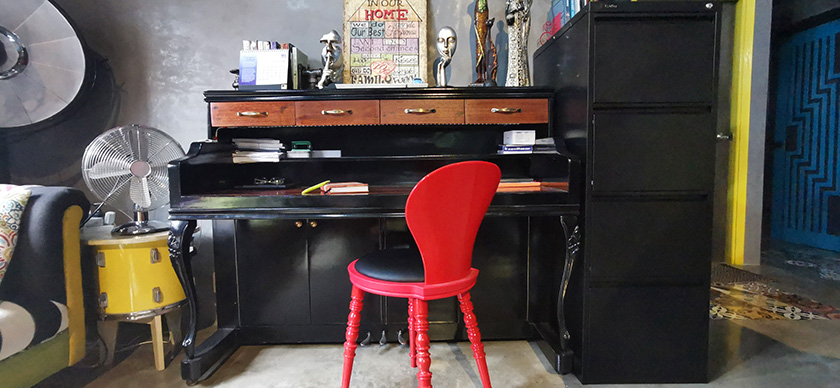 A dining table from Oldwood PH has a pattern reminiscent of the painted ceilings of her children's rooms. The set is completed by a mix of different chairs for a unique visual texture.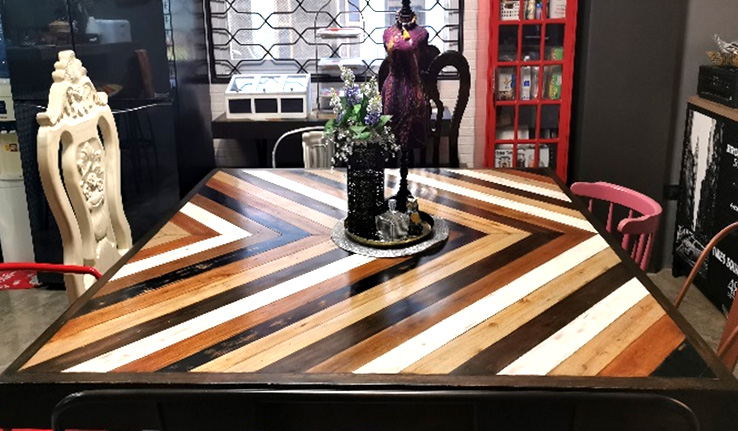 ADVERTISEMENT - CONTINUE READING BELOW
A console cabinet from Ido Furniture complements the tufted couch in the living area. This vignette is completed by rustic iron stand and a bright orange lamp from Anna Banana Rustics, as well as a vintage-inspired dress form from Wilcon.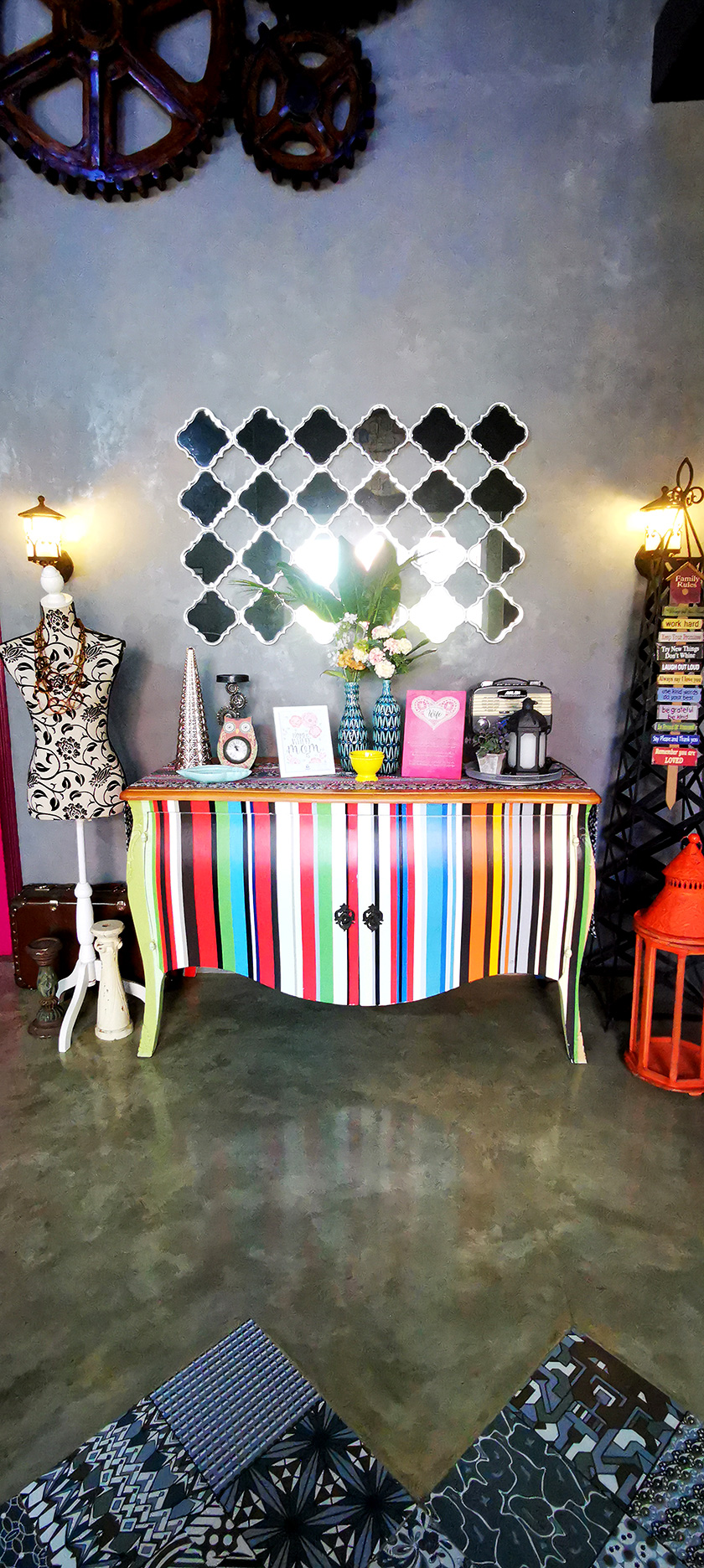 "This house was already a dream pictured in our minds even before it came to be," shares Berna. "Up to this day, [the] house we call home may not be as grand as the others, but we are proud that we were able to pull through with what we have, [as we've] always wanted to show how and what we are as a family."
ADVERTISEMENT - CONTINUE READING BELOW
More on Realliving.com.ph
Load More Stories