Home Tours
A Growing Family Finds a Haven in this Contemporary Rustic QC Home
Interior designer Angelica Fua made sure to create a space that is both intentional and functional. Photography: Courtesy of IDr. Angelica Fua Interior Designer: IDr. Angelica Fua
Owning a home is a massive milestone, which is why it is so important to create a space that not only speaks to your preferences but also caters to your needs. Such was the case for a couple who, after recently becoming parents, decided to invest into purchasing and renovating a property in Quezon City that will serve as their new haven.
According to interior designer Angelica Fua of Inward Spaces, her primary focus when she worked on this project was to design the "bones" of the property in such a way that would allow the homeowners to modify it over time, as needed. This way, they would not feel pressured to furnish the space all at once, and instead be free to really make the place feel like their own.
To achieve this, Fua selected finishes that could stand on their own or that could pair seamlessly with different kinds of furniture. She also utilized elements of wood and stone with white accents. "This created a feeling of warmth and [a] welcoming atmosphere–a contemporary rustic interior," she explained.
ADVERTISEMENT - CONTINUE READING BELOW
Take a tour of this stunning two-storey home:
Foyer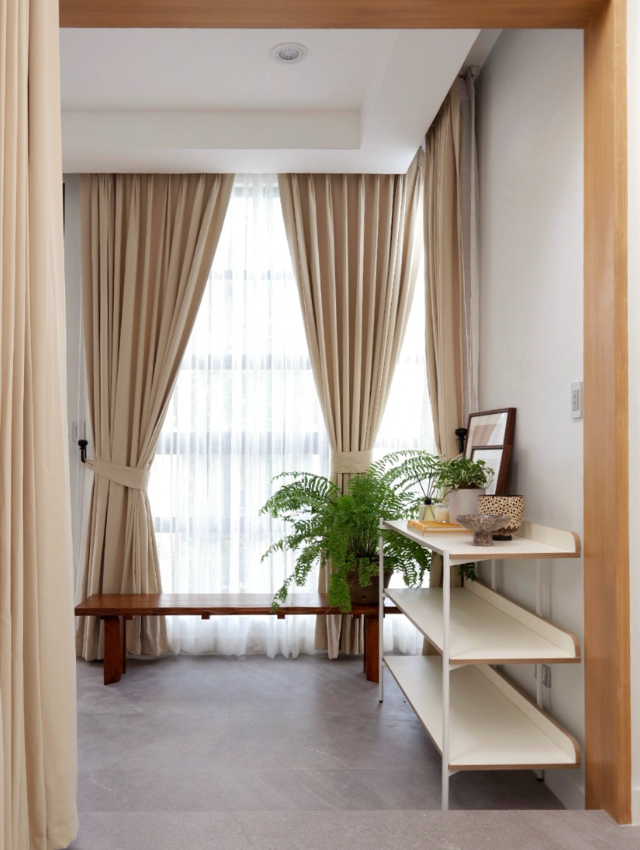 One of the first things you see when you enter this home is this foyer, which immediately gives a good idea of the design elements that were used throughout the property, namely wooden pieces, touches of white, and a muted, elegant color palette.
Altar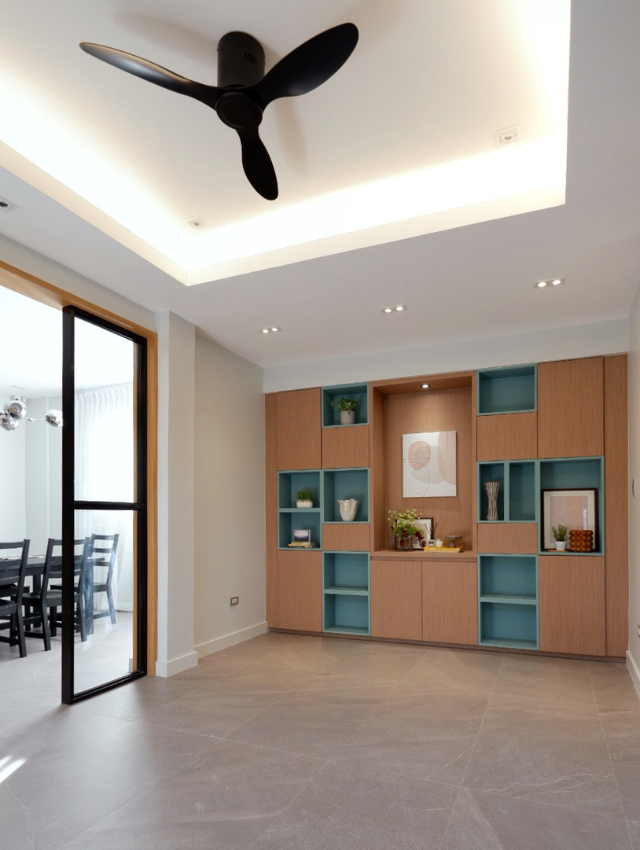 The altar is one of the parts of this home that features pops of color as well as a trendy ceiling fan and simple decor. This area also has an interesting tray ceiling design.
Living Room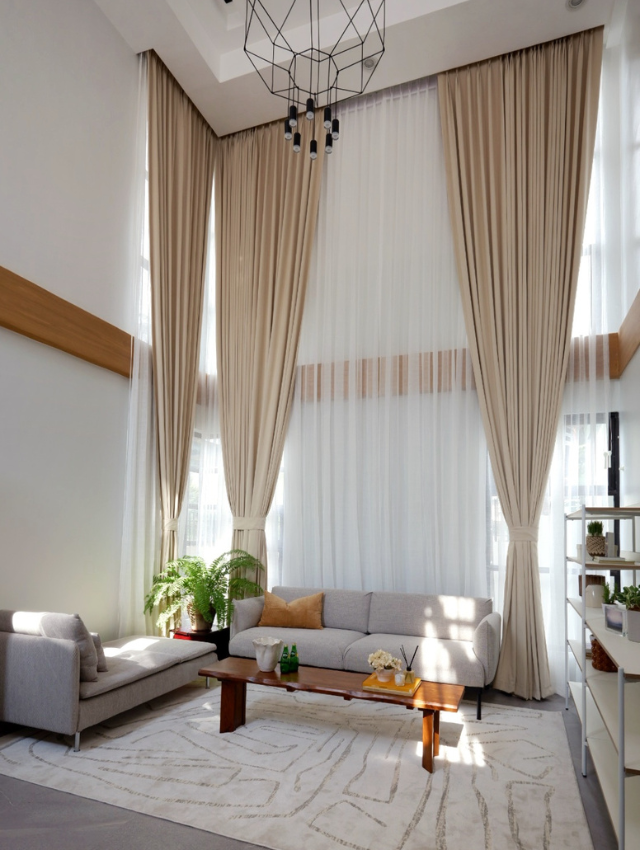 ADVERTISEMENT - CONTINUE READING BELOW
According to Fua, one of the biggest changes she made to this house was creating a double volume ceiling for the living room, as this involved demolishing part of the second floor. Evidently, the effort definitely paid off! "It brought in a ton of natural light which is showcased when you enter the living area and even on the second floor family area," shared Fua. "This was the home's focal point and it tied all the common spaces together."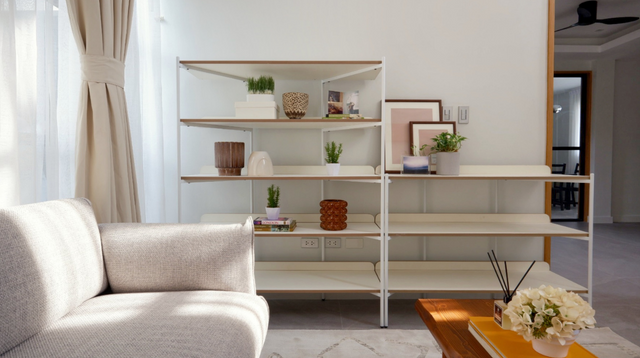 ADVERTISEMENT - CONTINUE READING BELOW
The pieces found in this home come from a myriad of backgrounds, from department stores and thrift stores to even some refurbished heirlooms. Fua shared that in her projects, she likes to mix and match items to be able to show her clients' unique personalities.
Dining Room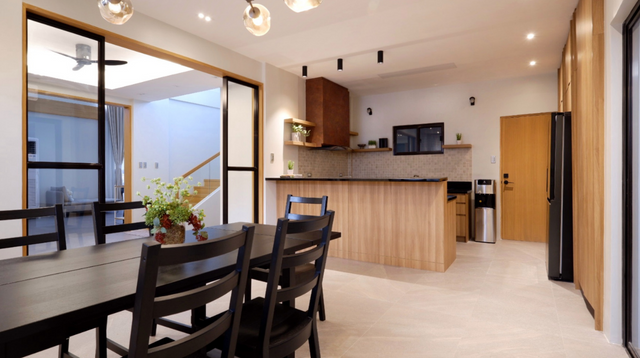 ADVERTISEMENT - CONTINUE READING BELOW
Fua encountered some challenges in designing this home, one of which was how to configure the existing columns. She had to find ways to work with the beams and columns that had already been built in, in a way that would also cater to the homeowners' needs and lifestyle.
Kitchen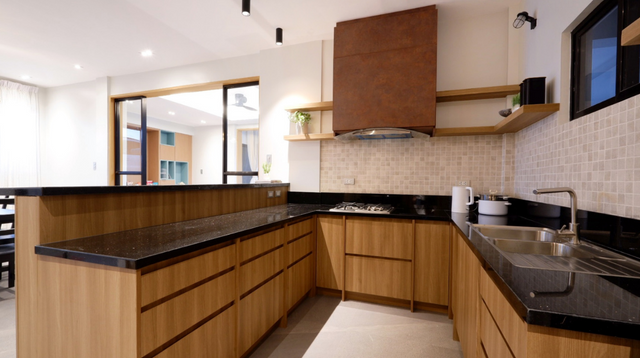 ADVERTISEMENT - CONTINUE READING BELOW
The kitchen uses a U-shaped design, which is a terrific way to provide plenty of space for storage. The wooden finish of the cabinets and the color of the tile backsplash go perfectly with the look of the rest of the house.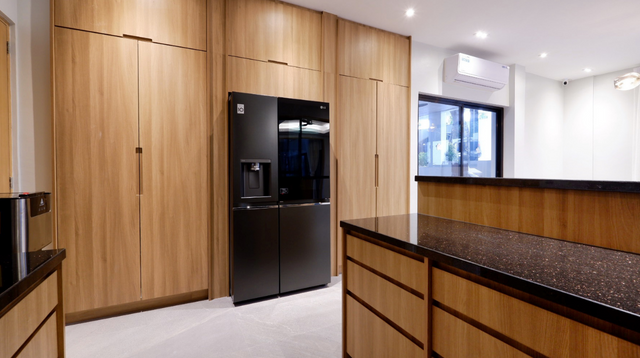 There is no shortage of storage in this kitchen! This is just one of the ways that Fua achieved her goal of creating a home that is well-designed but which also leaves room for its owners to make a space that truly fits their lifestyle.
ADVERTISEMENT - CONTINUE READING BELOW
Stairs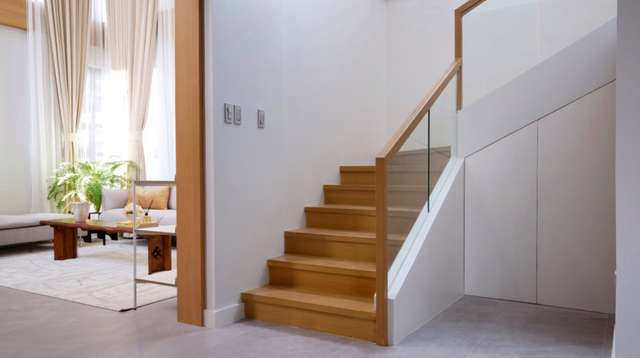 Another significant change to this space pertained to the location of the stairs, which initially had an orientation that was obtrusive and tight. Fua shared, "There was no light coming in and it had steep risers. It was imperative we relocate so we [could] take advantage of the hidden pocket storage created below it."
ADVERTISEMENT - CONTINUE READING BELOW
Now, the staircase houses a powder room as well as additional storage space dedicated for larger, bulkier items. "It was key to the ground floor design because it acted as a multi-functional floor space by maximizing the unused volume usually found under the staircase," said Fua.
Hallway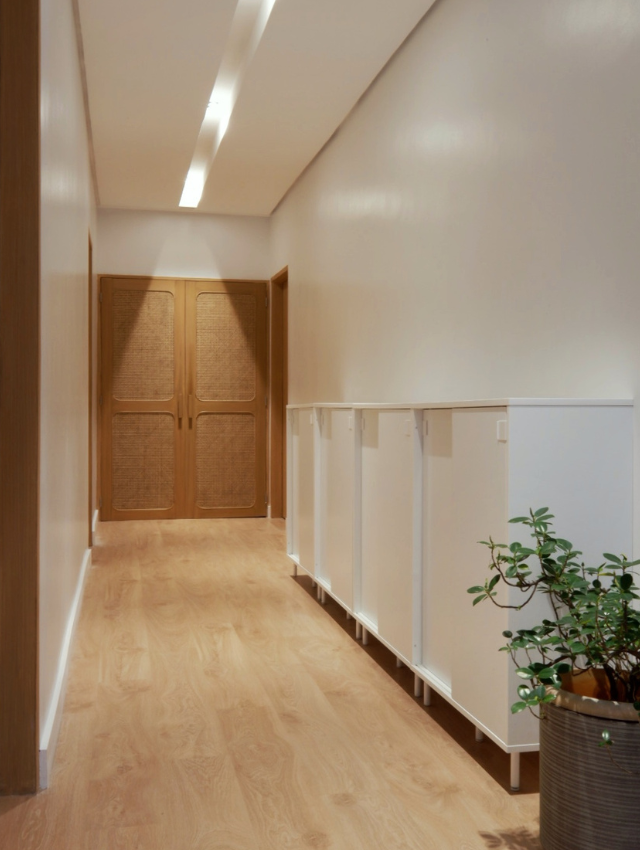 ADVERTISEMENT - CONTINUE READING BELOW
The hallway is clean and sparsely decorated, offering the homeowners plenty of space for storage and for the addition of other decor they might want to use.
Bathroom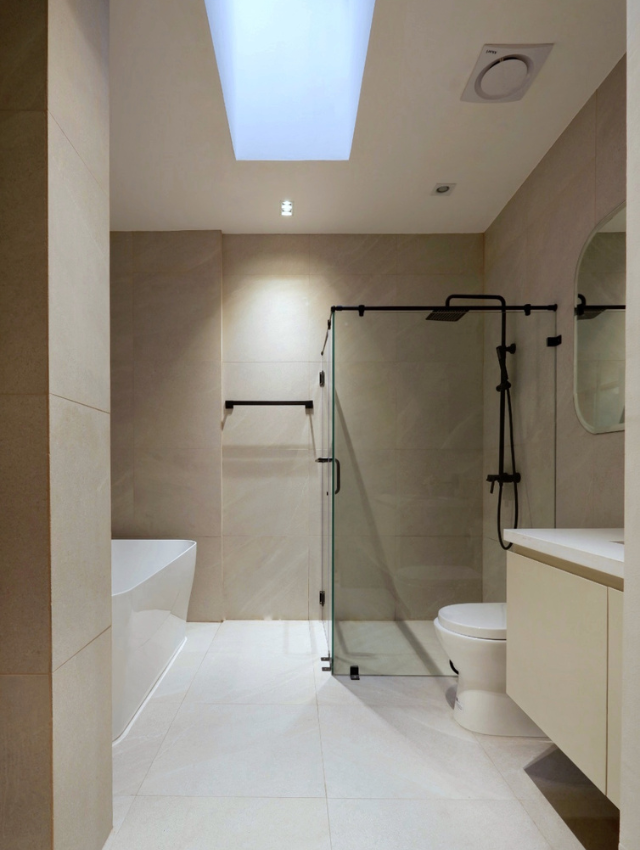 In a blog post about designing the bathroom for this home, Fua wrote that she "wanted the fixtures to [stand out] from the muted tone of the tile. The matte black finish of the fixtures did just that. It was a simple switch of color that made such a visual impact."
ADVERTISEMENT - CONTINUE READING BELOW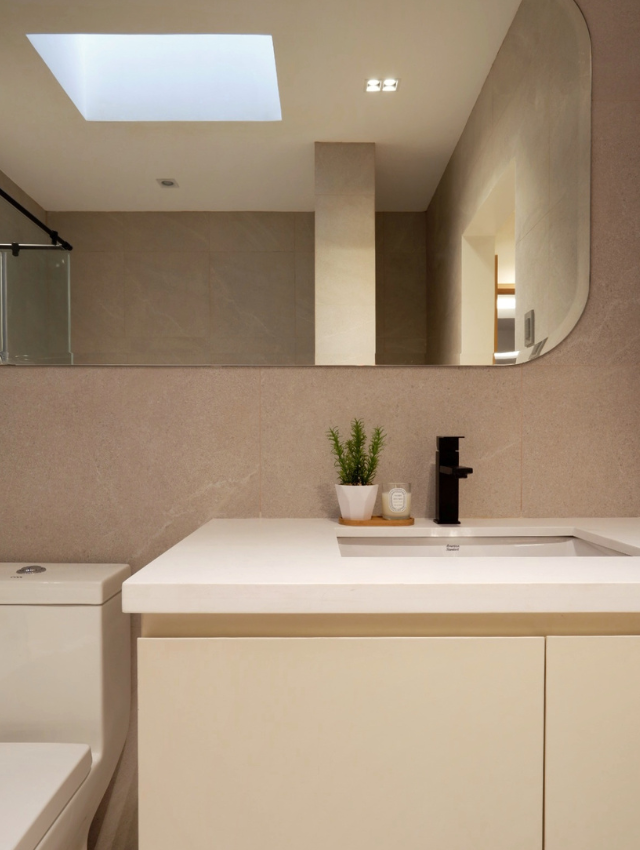 Fua used a mirror with rounded edges to help soften the overall look of the bathroom. This particular design was made to order, and before it was installed, a full-size mockup was created for the designer to see what the best placement for it was.
ADVERTISEMENT - CONTINUE READING BELOW
Walk-in Closet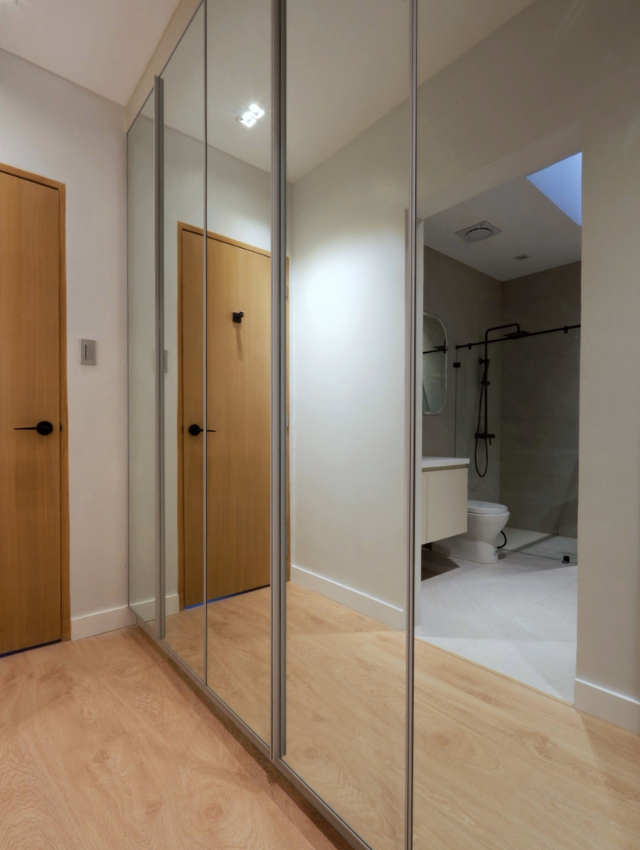 Next to the bathroom is a walk-in closet furnished with full-length mirrors, which help create the look of a larger, more expansive space. Adding mirrors is also a great way to make a room look brighter.
Lanai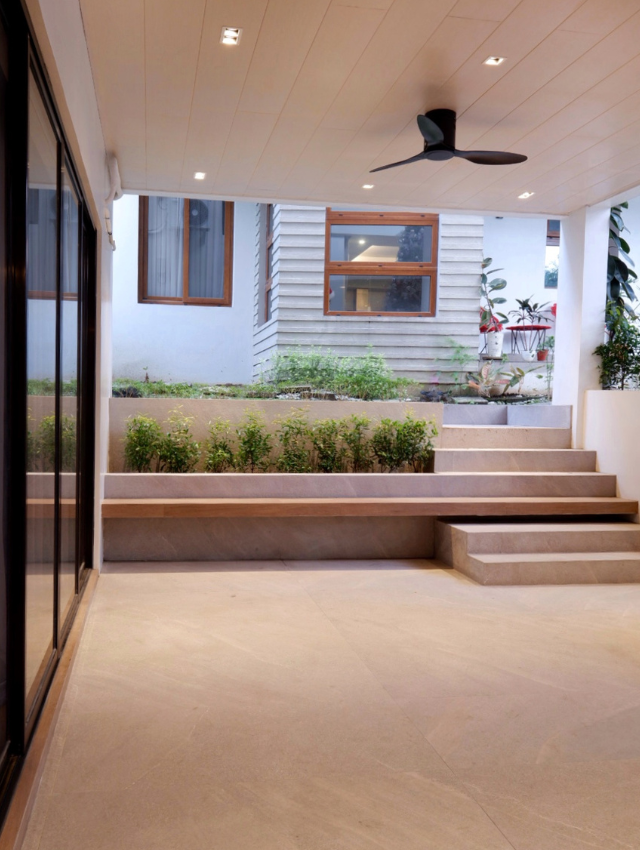 ADVERTISEMENT - CONTINUE READING BELOW
Fua revealed that the lanai was one of the parts of the house that she most enjoyed the result of, because it is an oft-overlooked area that is actually more useful than many might realize. "The finishes are understated but when put together, it creates a complementary space for the main areas. Collectively, it becomes the DNA of the home which is kind of special."
Ready to work on your own home makeover? Get in touch with interior designer Angelica Fua through email at angie[at]inwardspaces.com. You can also follow her on Instagram: @angiefua
Want more home tours? Check this out:
ADVERTISEMENT - CONTINUE READING BELOW
More on Realliving.com.ph
Load More Stories