Home Tours
This 150sqm Family Home in Bacolod is the Perfect Blend of Luxurious and Homey
This hotel-like space has dark colors, ultra-modern elements, and more. Photography: Courtesy of The Maintra and Sensority/John Rick Carbos Degasa Interior Designer: IDr. Gen Rena Marie L. Tribaco of The Maintra
Often, when we think of creating a luxurious home, we assume we have to purchase expensive furniture and decor and use high-end finishes. While this is one way to go about it, it is not the only way–you don't necessarily have to burn a hole in your pocket to come up with a space that exudes sophistication and class! It can be as simple as being intentional with selecting which materials and colors to add to your space. If you need inspiration, just check out this 150sqm family home in Bacolod!
According to interior designer Gen Rena Marie L. Tribaco of The Maintra, the client originally wanted "a masculine & strong design impression throughout the home [that] still gives off a calming ambience with a very welcoming and cozy [that] feels similar to a hotel so whenever they come home from the hustle & stress of work, they can easily feel relaxed and refreshed at home." He also wanted a dark and moody color scheme that would be applied to every part of the house, from the exterior to the interior.
To achieve this, IDr. Gen Rena Marie, the project manager Bhen June O. Palomo, and their partner builder/contractor Engr. Mark Tive of MRK Construction Design & Build chose the contemporary luxe design style. "We chose the Contemporary Luxe style because it harmonizes trend and comfort with subtle sophistication," IDr. Gen Rena Marie explained.
"[T]hese are some of the best ways to describe the Contemporary luxe interior design. This kind of design has been very well recommended as it gives a clean and neat look while still giving off elegance and sophistication. It uses elegant fabrics and beautiful finishes; large scale and simple lines reinforce this feeling of elegance but comfort is never sacrificed."
ADVERTISEMENT - CONTINUE READING BELOW
Take a tour of this impressive and luxurious Bacolod home:
Facade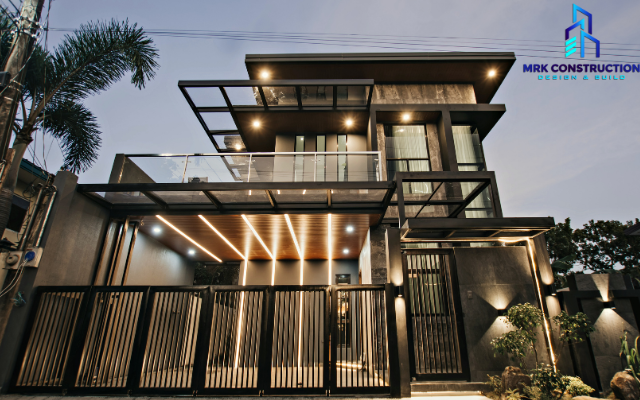 IDr. Gen Rena Marie shares that the design team opted for the contemporary luxe style "because it harmonizes trend and comfort with subtle sophistication." They also incorporated the feel of a bachelor's pad into the look with elements like wood and stone finishes as well as a dark and moody color scheme. You definitely get a taste of all that by just looking at the facade of this home, with its sharp lines and ultra-modern aesthetic.
Living Room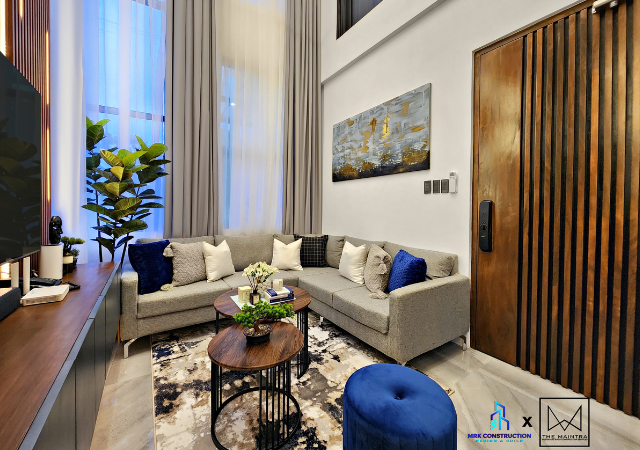 Though the client requested for a bachelor's pad–inspired aesthetic, the space will be home not just to him but also to his parents, who are both senior citizens. As such, the design team made sure to include a mix of hard and soft elements as well as major accessibility standards into the space.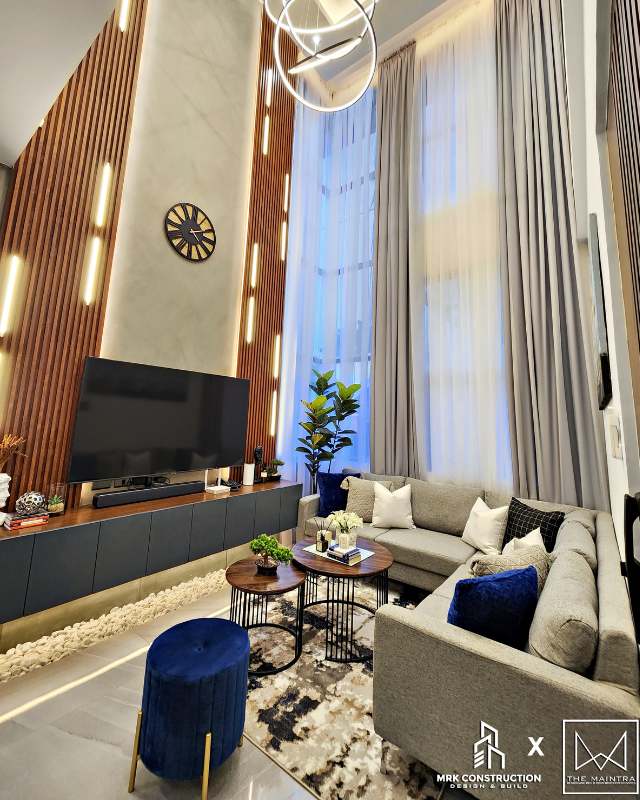 The dark and moody color scheme of this home is softened by neutral tones. This gives the space a dramatic flair without going over the top. One area where we see this is the living room, which has impressive high ceilings accentuated by wooden vertical beams, gray drapery, and soft, sheer white curtains.
Dining Room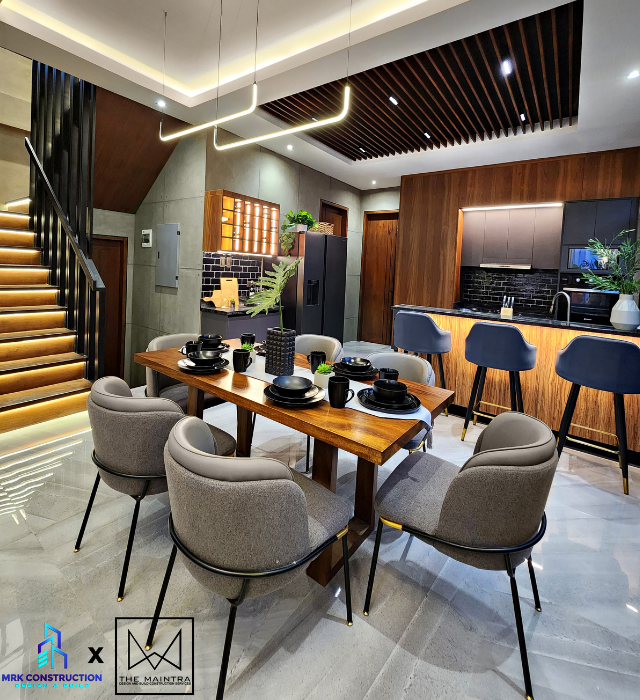 ADVERTISEMENT - CONTINUE READING BELOW
IDr. Gen Rena Marie shared that each of The Maintra's projects commences with a "thoughtful, personal conversation and exploration of our client's needs to ensure that their space is designed with their lifestyle in mind." You definitely get a sense of that in the dining area–with its state-of-the-art pieces and tasteful incorporation of softer textures, it's clear that the room design was crafted to cater to the client's family's needs.
Kitchen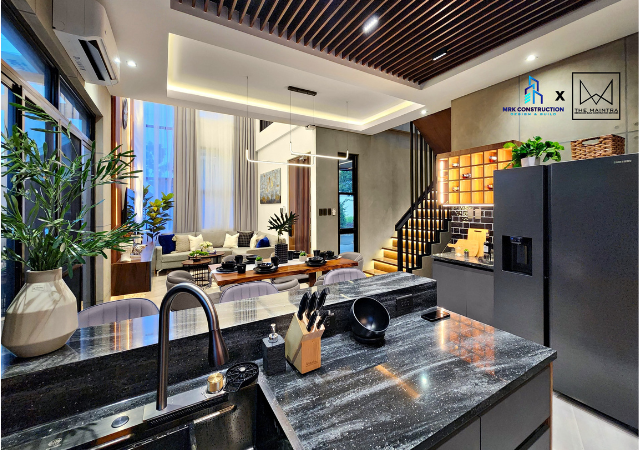 The design team utilized natural stones such as granite and marble for areas like the countertops, which allowed them to give a nod to the industrial-style bachelor's pad aesthetic that the client originally requested. This also retains "the sense of effortless sophistication, softness and luxury you'd expect in a contemporary new-build home," IDr. Gen Rena Marie shared.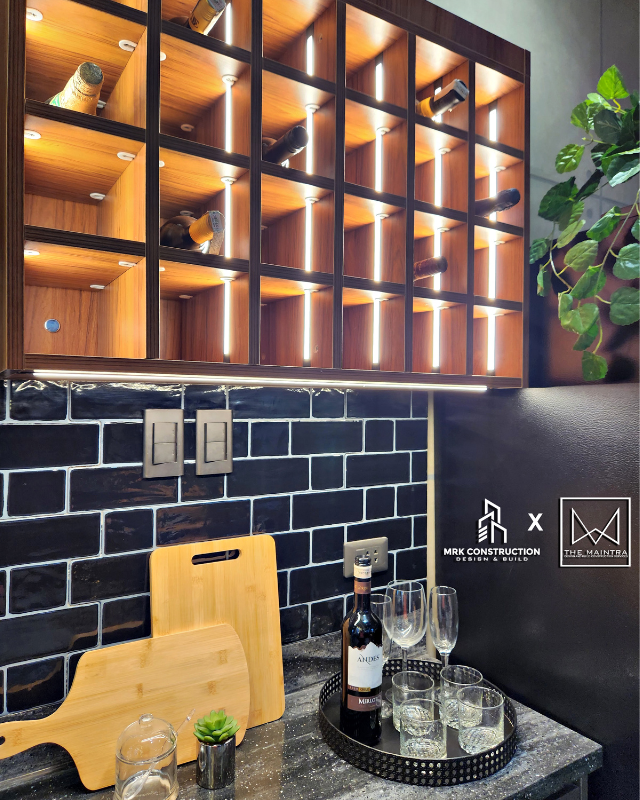 Another notable characteristic of the contemporary luxe style is that it gives off what is known as an "Instagrammable" look, as IDr. Gen Rena Marie said: "It is basically giving the picture-perfect space like what we can see through magazines. It matches color palettes through the home decors, accessories, furniture, and fixtures, to give off an aesthetic vibe." One excellent example of this is the wine nook, which has a sleek wine rack and a backsplash made of gleaming subway tiles.
Staircase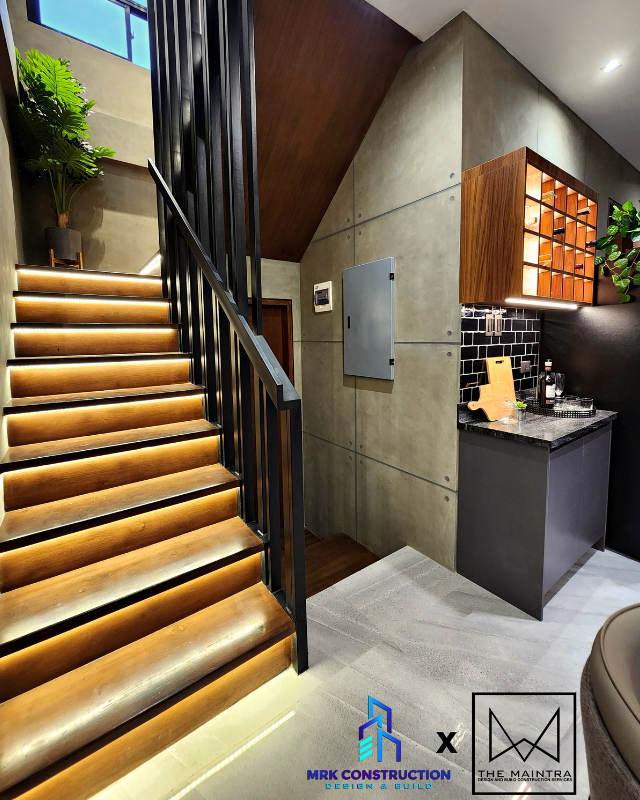 ADVERTISEMENT - CONTINUE READING BELOW
A few steps away from the wine nook is the staircase, whose steps feature recessed lighting. In place of a traditional banister, the design team installed black vertical beams that go perfectly with the home's overall theme.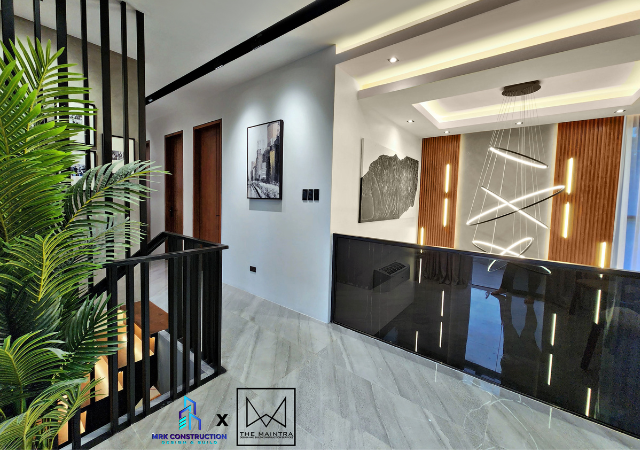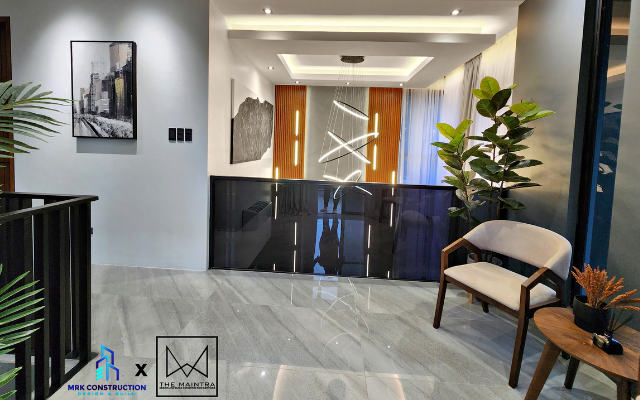 Once you reach the top of the stairs, you are led into a spacious foyer which looks over the living room. This area also has a seating area and a doorway leading to a terrace.
Bedrooms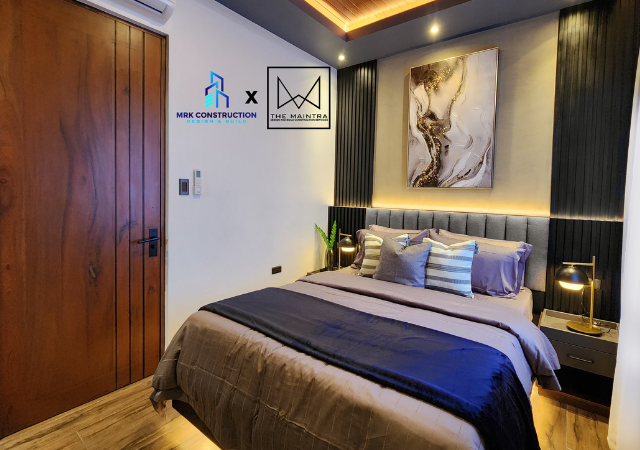 In terms of color palette, the design team went for a mix of modern colors like gray, brown, and beige; metallic hues like steel, rose gold, and platinum; and luxurious hues like navy and royal blue, which happen to be the client's favorites.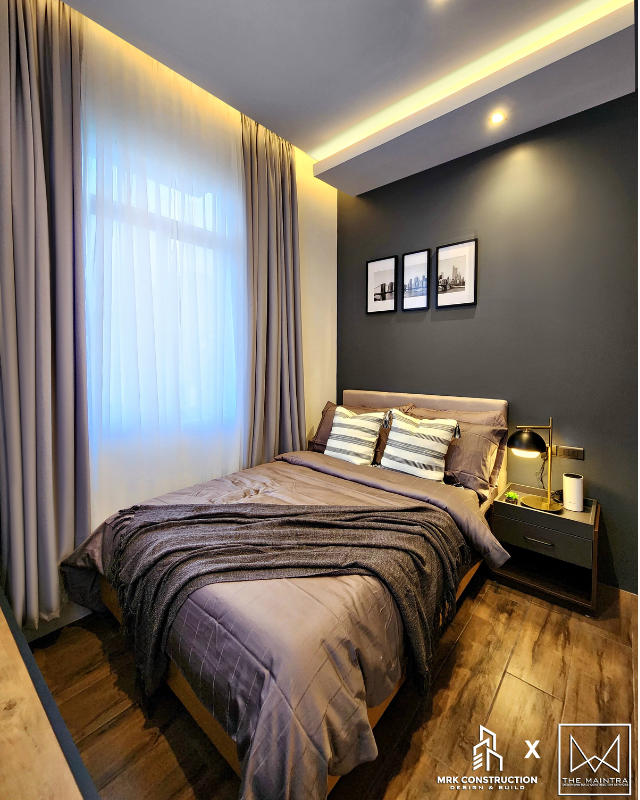 ADVERTISEMENT - CONTINUE READING BELOW
One of the other bedrooms features an accent wall painted in slate gray and accessorized with a single portrait. The rest of the room also follows a palette of gray as well as wooden finishes for the floor and wardrobe.
Bathroom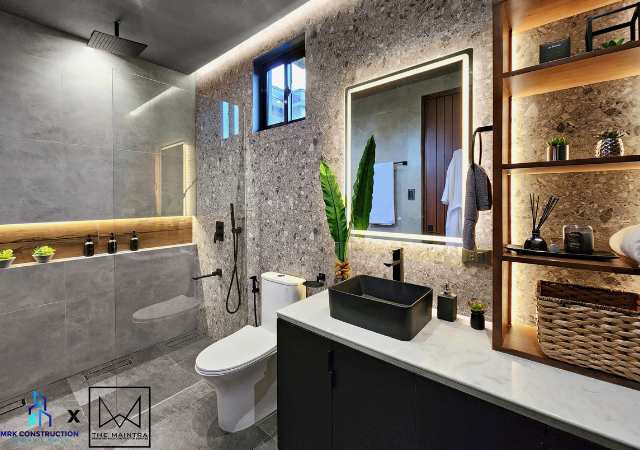 Just like the rest of the house, the bathroom also features a hotel-like vibe–it has an enclosed shower area, natural stone finishes, and a sophisticated mirror with lighting.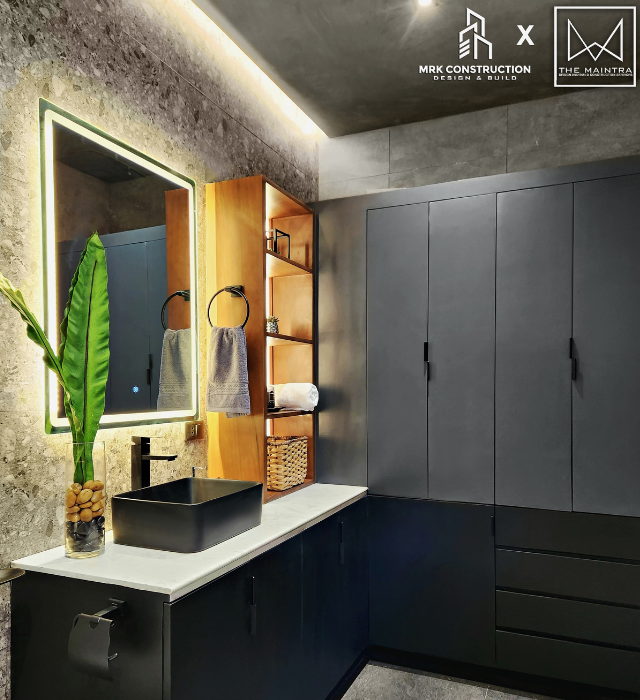 There is plenty of storage space in this bathroom. Aside from the open shelving on the countertop, which can be used to store items that are used more regularly, there are also drawers and cabinets for keeping other supplies. These units are painted in gray and black so that they go seamlessly with the look of the T&B.
Want to see more home tours? Check this out:
More on Realliving.com.ph
Load More Stories