Condos
This Bachelor Pad Will Make You Fall in Love with the Industrial Style Again
Interior designer Kenj So leveled up well-loved industrial-inspired elements to achieve a modern yet laid-back space Photography: courtesy of IDr. Kenj So Interior Designer: Interior Designer Kenj So
It's common for interior designers to have signature styles. Some are known for minimalist spaces and there are those who have embraced eclectic interior design. For interior designer Kenj So, the industrial style will always have a special place in his heart. In fact, it was his industrial loft-type condo project featured on Realliving.com.ph that led him to the owner of this condo unit in Makati City.
"One of the challenges I've encountered while working on this project is how to level up my take on modern industrial design. The client initially saw my previous industrial work in 2017 and wanted to take the same route," he shares.
To bring something new to the table and to make sure his client will have a unique space, Kenj took it upon himself to experiment and do something different. "Though some of my signature elements are still used, I brought in new fixtures and combined finishes," he explains.
ADVERTISEMENT - CONTINUE READING BELOW
Aside from stepping up his design game, the interior designer also had to make sure the unit is well-maximized by reworking the original floor plan. After the condo renovation, the owner now has a one-bedroom home complete with a mini office. Since it's located on the 41st floor, Kenj also refers to this project as the "ultimate bachelor pad in the sky."
ADVERTISEMENT - CONTINUE READING BELOW
Recommended Videos
Take a peek around the condo home below:
Living Area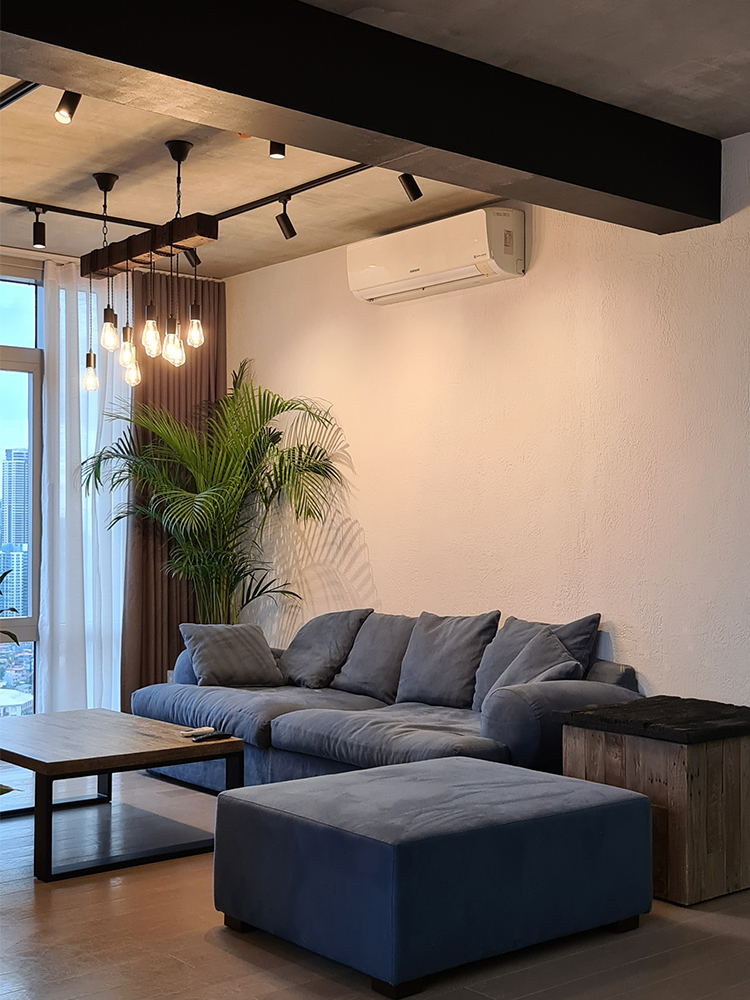 ADVERTISEMENT - CONTINUE READING BELOW
In flipping the floor plan of the unit, Kenj made sure the windows are maximized and the owner can get the best views. The living area, which is located between the office and the bedroom, is furnished with an inviting couch in a shade of blue, the only solid color you can see in the space.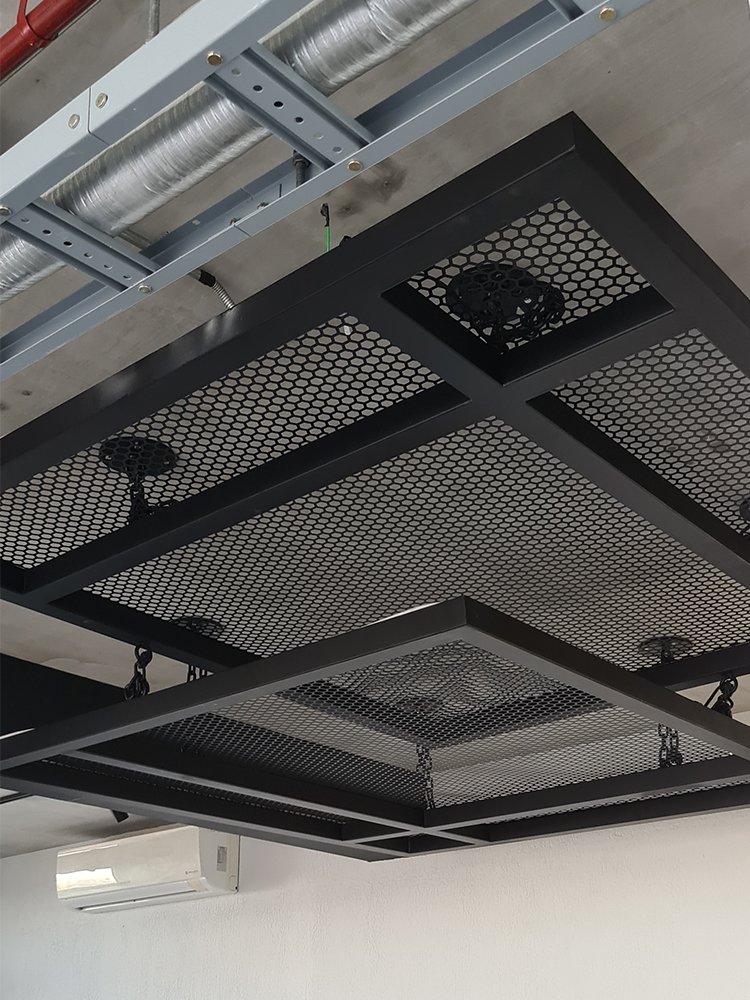 ADVERTISEMENT - CONTINUE READING BELOW
This metal mesh piece is one of the conversation-starters in the unit. More than just an accent, it's a lighting fixture customized by Mity Mike, Inc. based on a design by Kenj.
"I took an inspiration from a movie I watched that had a scene shot in a warehouse. While I was coming up with my lighting design, that scene hit me. I came up with a custom design, added LED lights, and voila! A customized lighting fixture in a tubular metal frame with mesh in between," he shares.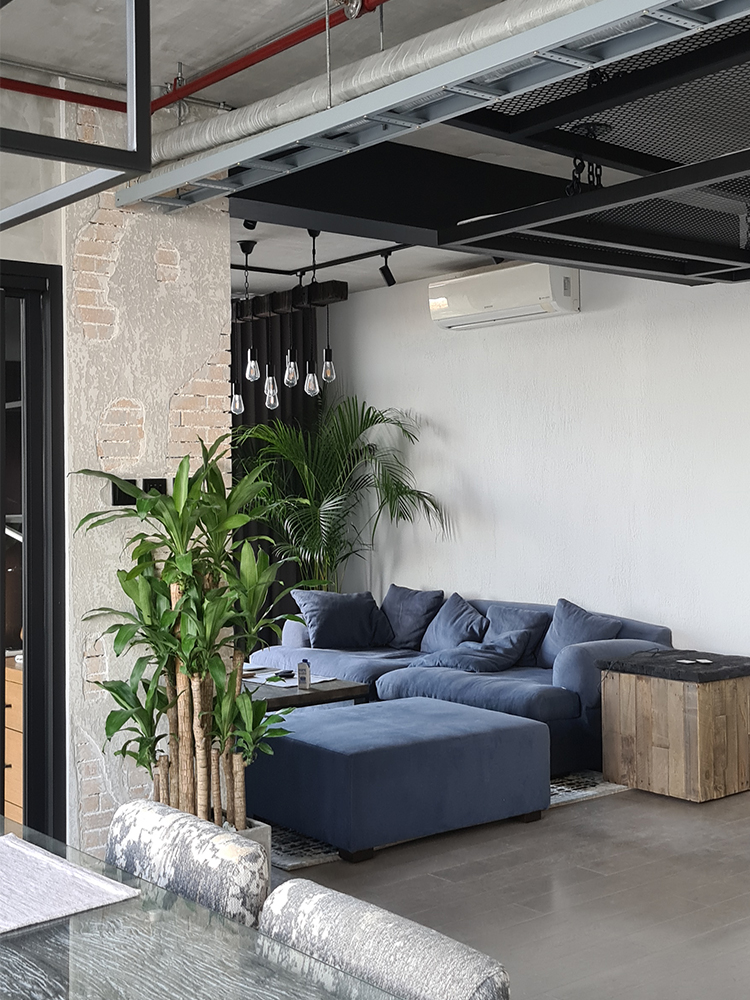 ADVERTISEMENT - CONTINUE READING BELOW
Potted plants placed in corners help brighten up the unit and balance out the industrial-inspired elements. From the dining area, you will also get a glimpse of the cable trays incorporated as a design element.
"The use of cable trays was suggested by the client. He's been playing around with the idea for a while and he told me that he wants to give it a shot since we're relocating AC units. We came up with the idea that the pipes of the AC units will be supported by cable trays," explains the interior designer.
Entertainment Wall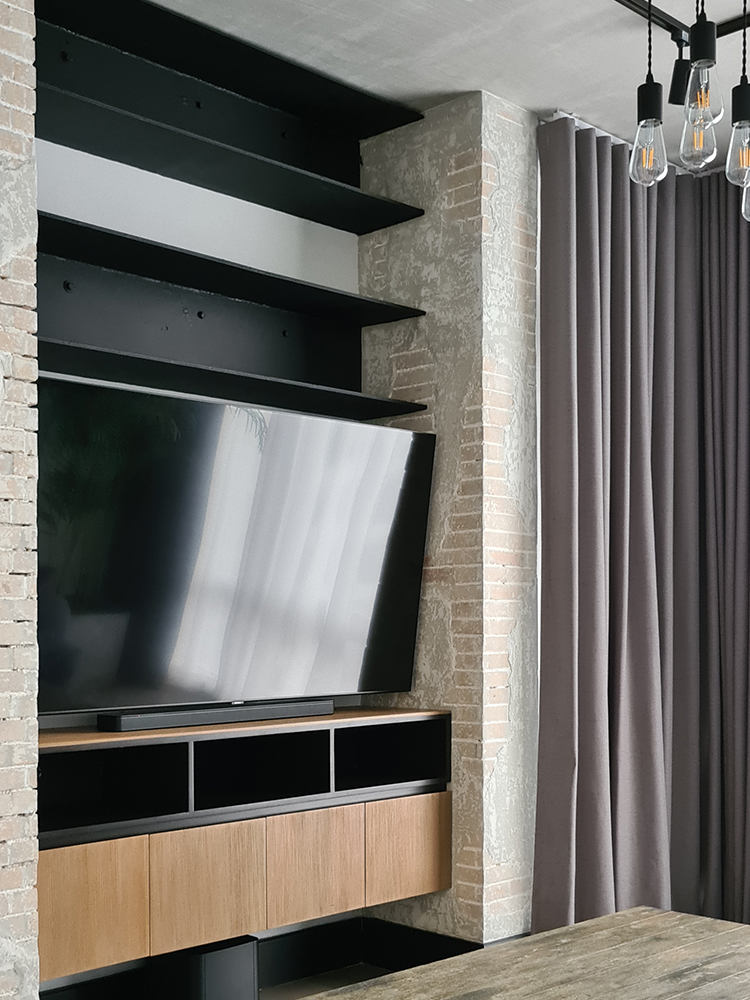 ADVERTISEMENT - CONTINUE READING BELOW
Notice anything different in this part of the living area? Those are I-beams used as shelves! Often used in construction, I-beams are usually made of steel and can work as storage pieces when installed right. "I've always loved the idea of using an authentic I-beam as a design element," says the interior designer. "I was worried that it might be too heavy but the builders were determined to make it work. We had one fabricated to achieve the desired size as well as to make sure it's not that heavy," he adds.
The entertainment wall is flanked by brick walls that you don't often see in condo units. According to Kenj, he strived to make it different by adding multiple layers of texture over each other. The same wall treatment can be seen in the bedroom.
Dining Area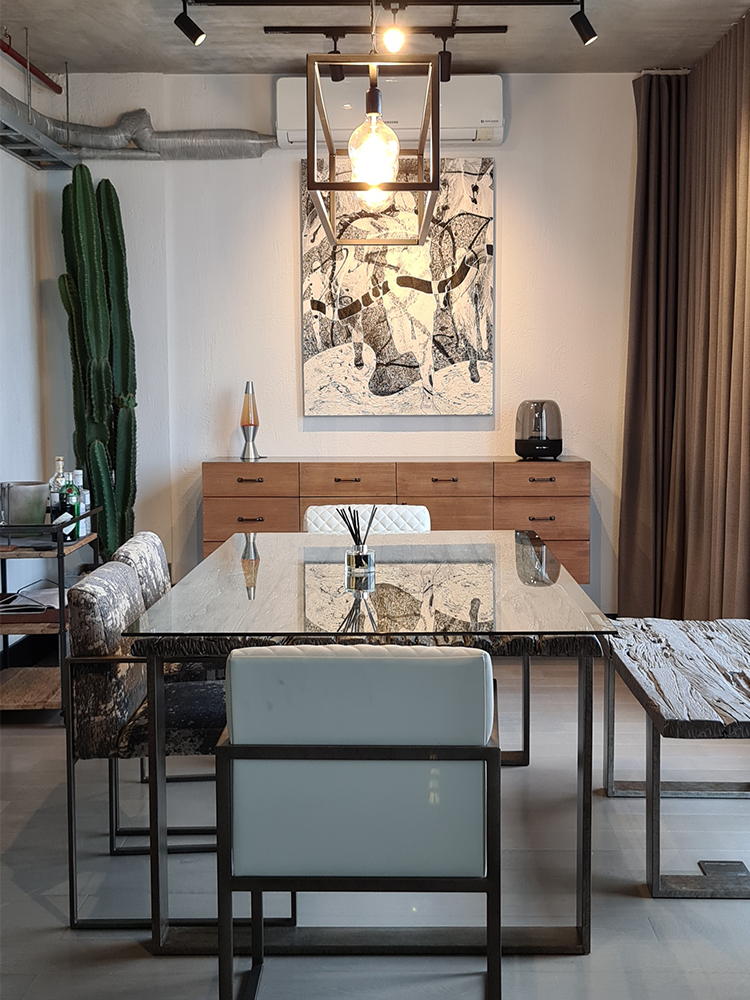 ADVERTISEMENT - CONTINUE READING BELOW
The dining area is situated in the area where the old bedroom used to be. It showcases a modern appeal, with striking furniture pieces to complete the look. Since the dining set is already captivating, Kenj tempered the overall look with white walls and select décor pieces.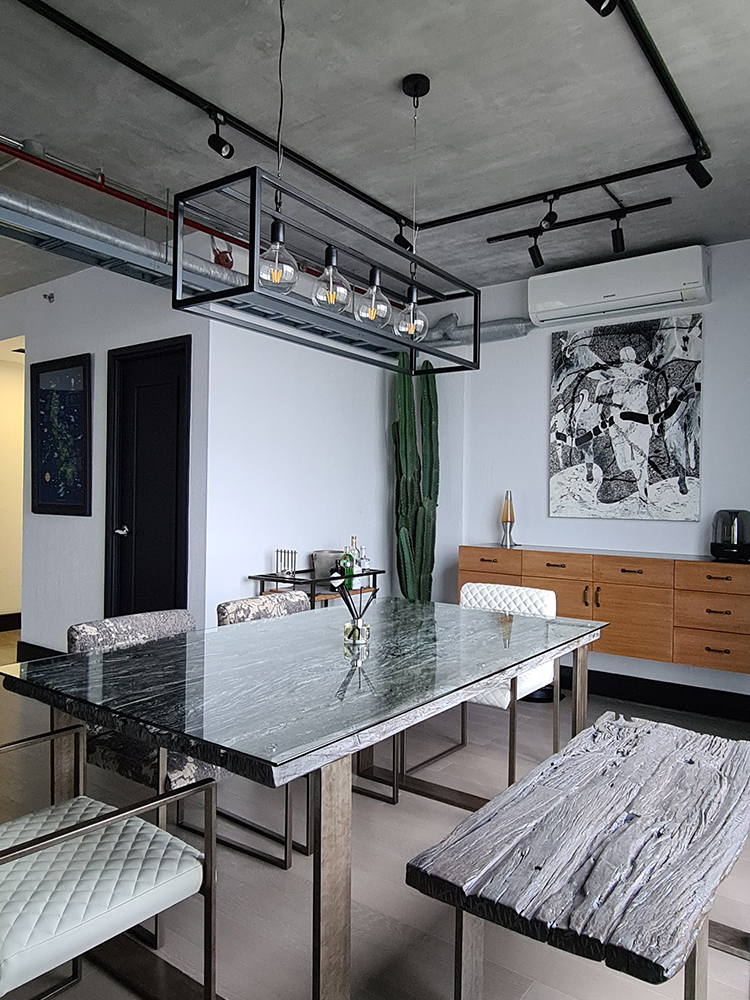 ADVERTISEMENT - CONTINUE READING BELOW
From this angle, you can see the bare ceiling and how polished the installation of track lights is. Look closely and admire the modern yet rustic dining set. The table and the bench feature a distressed look that matches the brick walls.
Coffee Station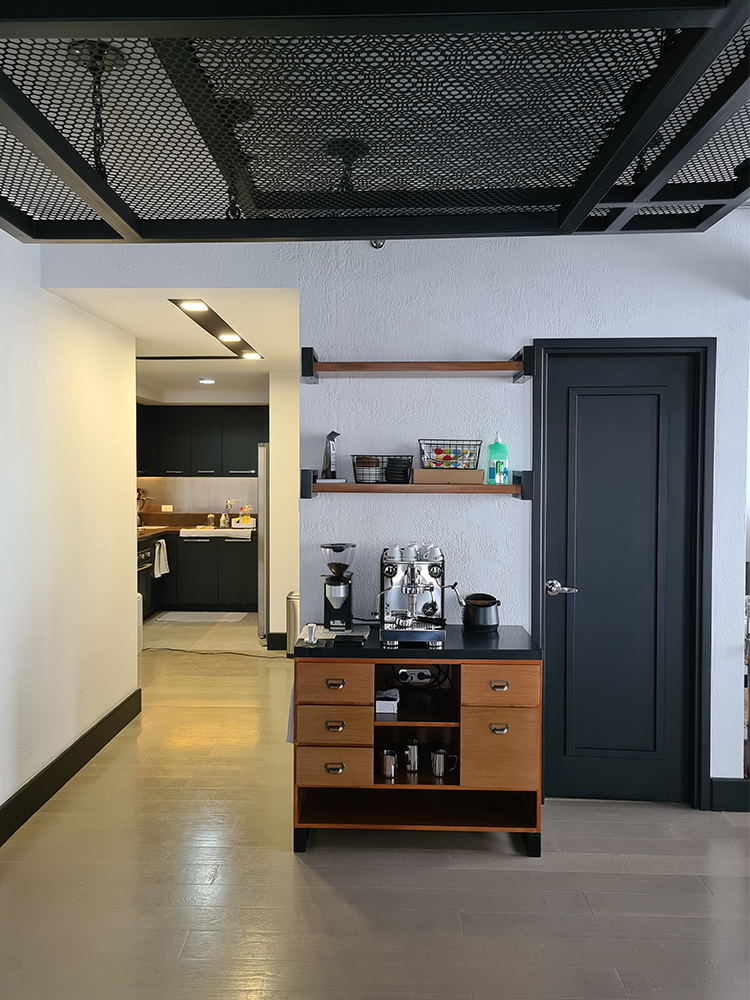 ADVERTISEMENT - CONTINUE READING BELOW
With working from home becoming the norm, getting a caffeine boost when you need it is a must. Kenj turned this space near the kitchen into a compact coffee station where the owner can brew a cup easily. The designer completed the area with wall-mounted shelves where coffee essentials can be kept within reach.
Kitchen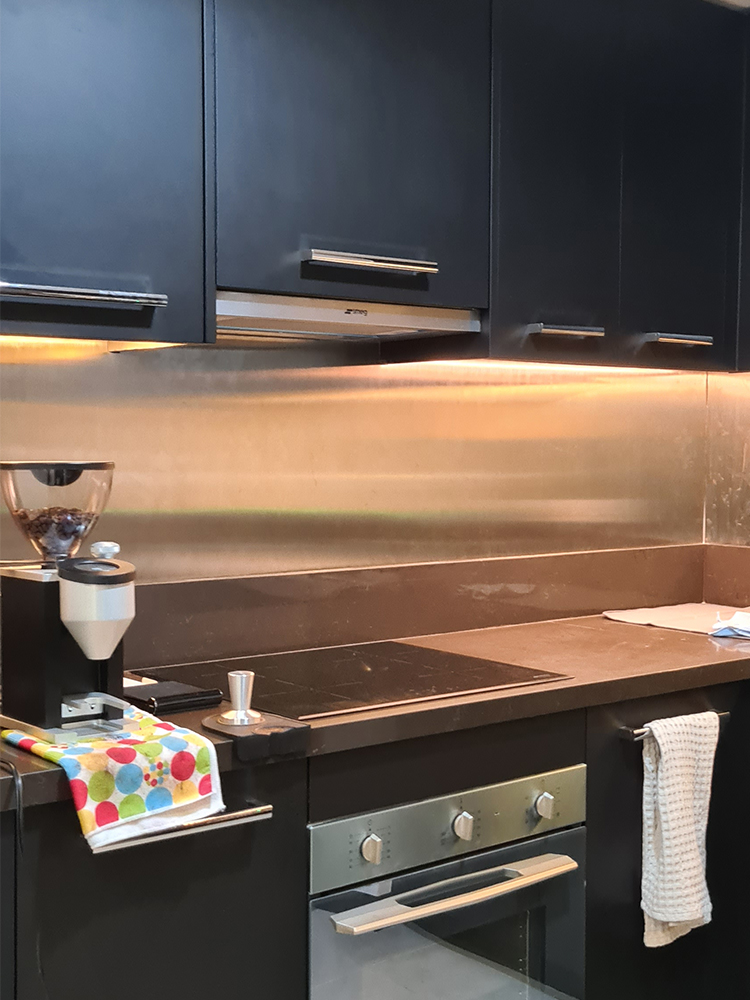 ADVERTISEMENT - CONTINUE READING BELOW
The kitchen is clean and streamlined, with black cabinets in matte black finish. To keep within the industrial look, Kenj worked with a stainless-steel backsplash, another unique choice that works.
Bedroom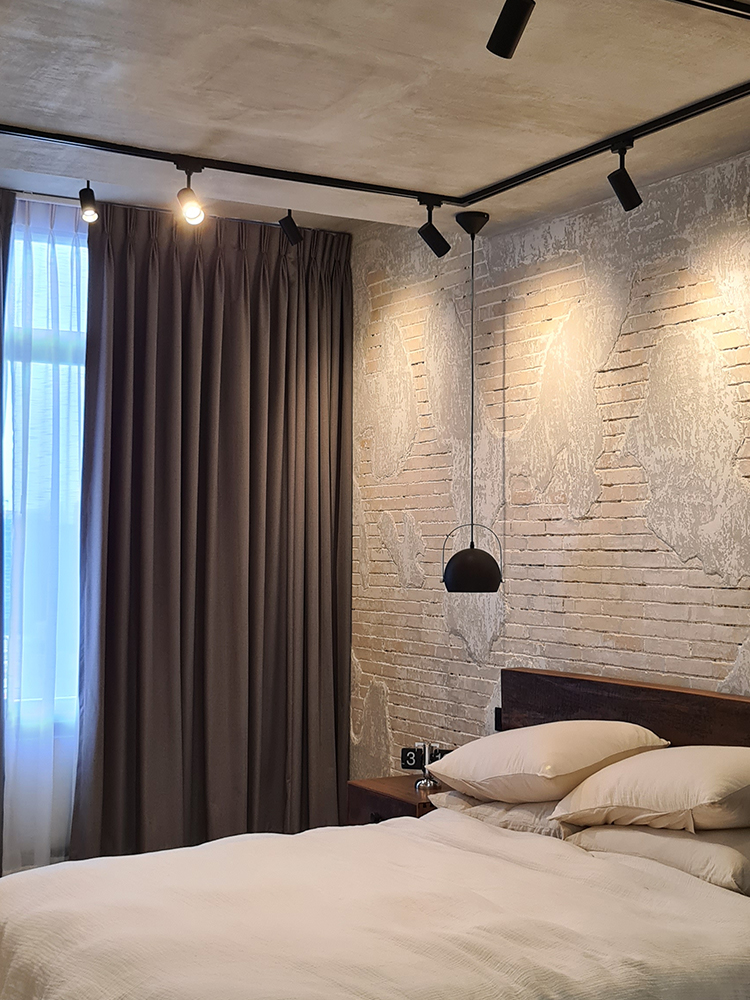 The sleeping area follows the aesthetic of the rest of the unit, with a bare ceiling and track lights. It's furnished with a wooden bed frame and completed with neutral furnishings.
ADVERTISEMENT - CONTINUE READING BELOW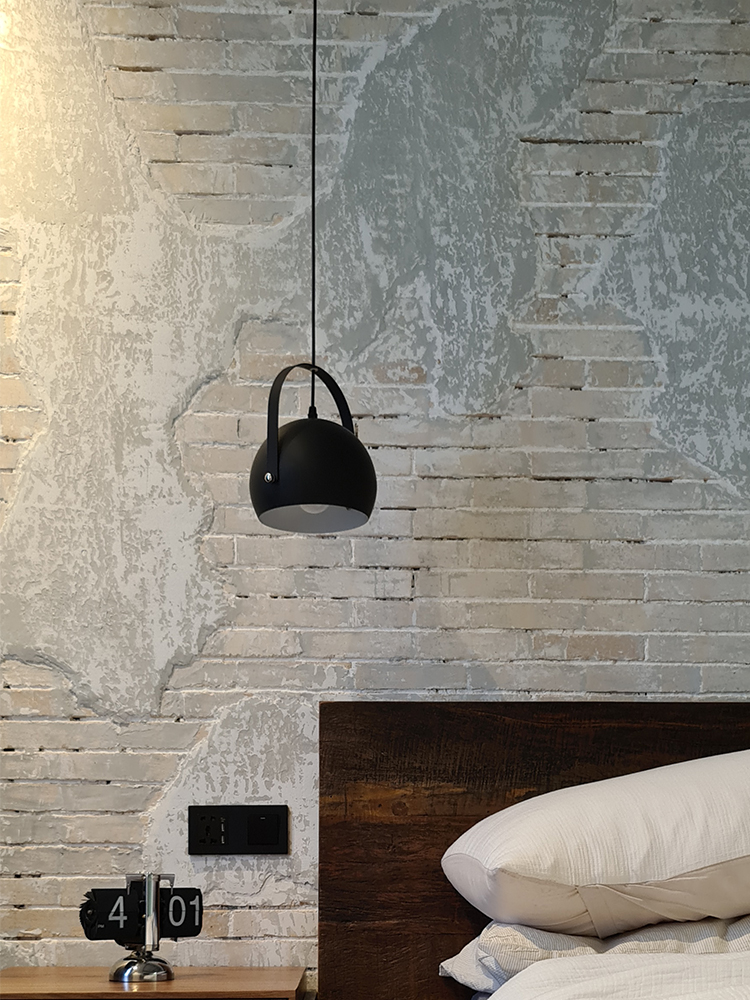 The brick wall treatment seen in the living area serves as the bedroom's focal point. With a wall as eye-catching as this, there's no need to add extra wall accents. "For the look of the brick walls, I played around with plaster over the bricks then added more cracks to the grouting to give a more vintage look. I pulled it back a bit with stucco finish in white," explains Kenj.
ADVERTISEMENT - CONTINUE READING BELOW
Achieving the final look was a process for the interior designer and his team as it took them three times to get the perfect finish. "We had to troubleshoot over and over but fortunately, we were able to hit gold after several attempts," he recalls.
Ready for your own home makeover? You can get in touch with interior designer Kenj So through email at idr.kenjso[at]gmail.com. You can also message him at (0977) 837-6541.
* * *
Have you recently spruced up your room or renovated your home? We'd definitely love to see the result! Send clear photos (with your full name, city address, and accompanying kuwento) to [email protected] with the subject "DIY Makeover" and we may just feature your DIY project!
Real Living is now on Quento! Enjoy more of our stories by clicking here to download the app.
More on Realliving.com.ph
Load More Stories