A Play of Light and Shadow in This Brutalist-Inspired 105sqm Condo Unit
Having an architect as a father, Dennis Perez enjoys creating visual stories, and this appreciation culminates in a home that showcases the brutalist style that he loves, softened by his personal touches.
by
Charlene J. Owen
Dec 22, 2021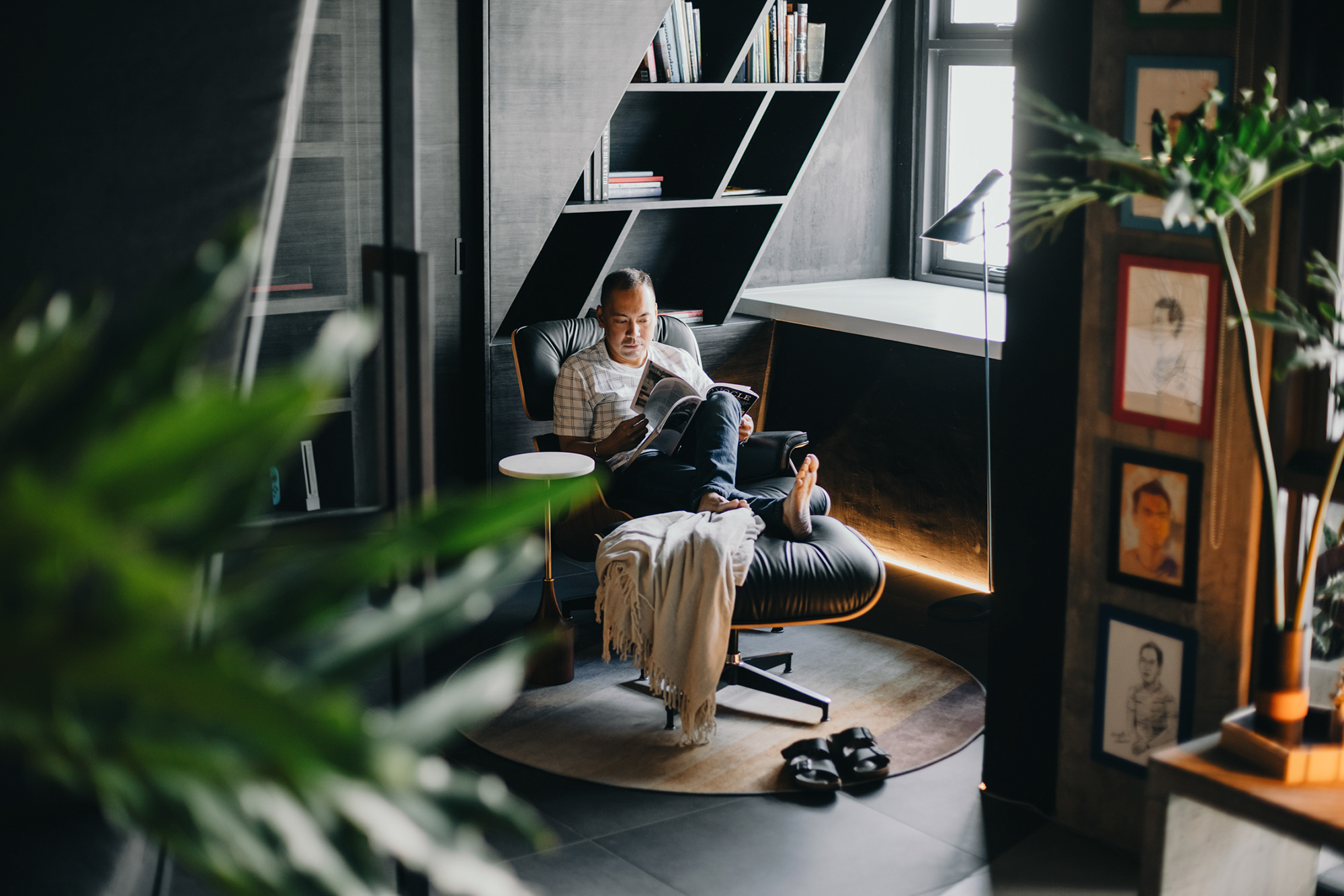 It's the magic of contracting and expanding space: the initial narrowness suddenly opens up, like a pleasant release of breath.
Dennis Perez in known in marketing circles as a media maverick: from enjoying a career spanning two decades in one of the world's largest conglomerates, to heading the Philippines' leading digital marketing association, he has mastered the nuances of telling brand stories. This skill goes beyond the office; in fact, his love for a good tale—whether literary or visual—started in his childhood while watching his father work.
"My dad is an architect," he shares. "I'm not an architect, pero... lagi ko siyang pinapanood noong bata ako when he was sketching. So parang 'yong feeling, nakukuha ko."
This started Dennis' love story with structure and design. His fascination in playing with spaces is seen in the homes he has lived in through the years. 
His initial abode in Makati was a 45sqm affair, which he occupied for 15 years. Midway, he got architectural firm Arkisens to renovate it. 
ADVERTISEMENT - CONTINUE READING BELOW
CONTINUE READING BELOW
Recommended Videos
"The first condo was a bit more Zaha Hadid," Dennis says, paying homage to the late architect who was known for her daring structures that highlighted curves. "'Yong ceiling was curvy, pero it was all wood... The floor was turf. It was green... you're like in a garden." 
In 2020, he decided to move to a 105sqm unit still at the heart of Makati and got the same team to work on the space, which this time around was inspired by the brutalist style. 
A personalized take on Brutalism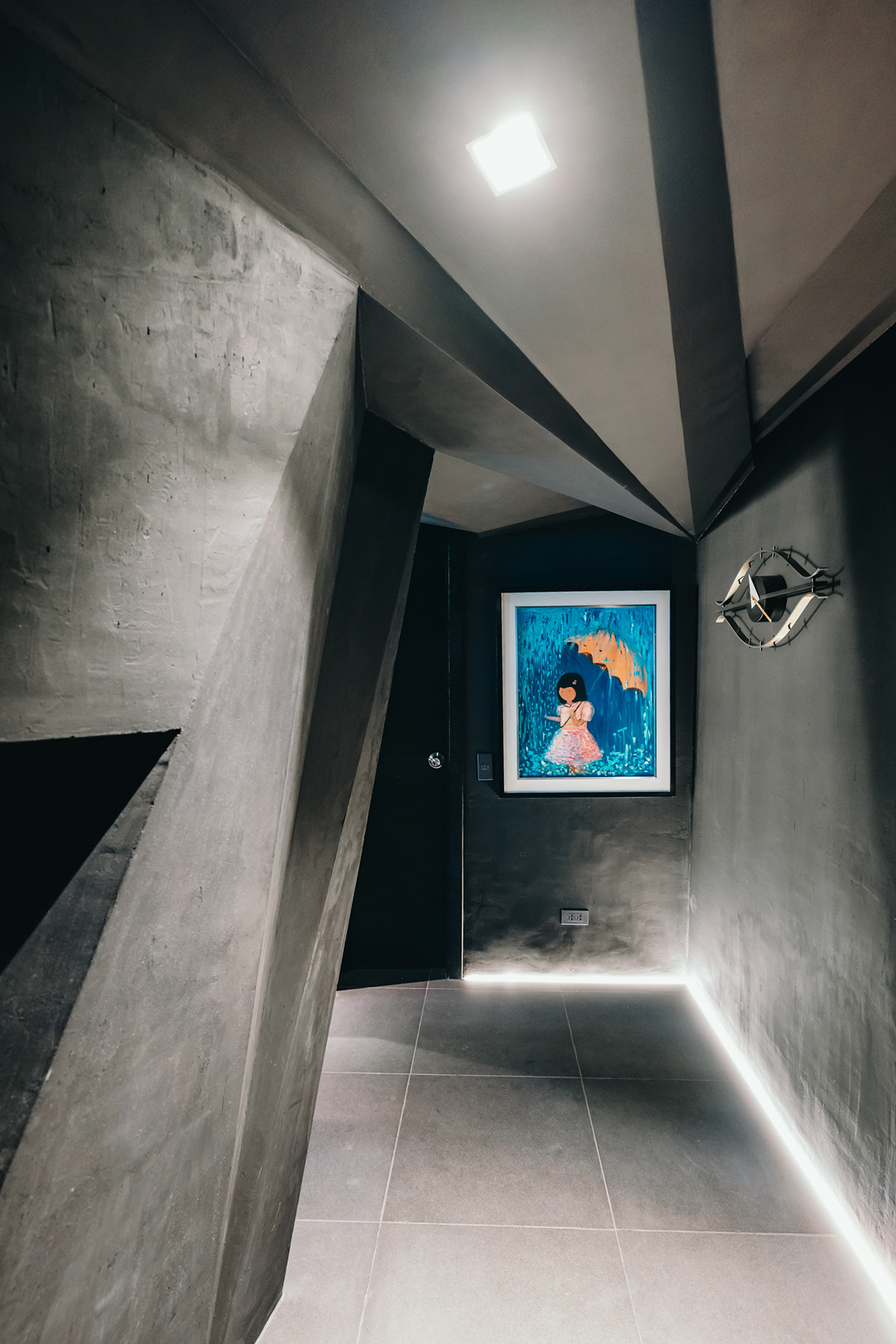 ADVERTISEMENT - CONTINUE READING BELOW
Dennis jokes that when his mom first visited the home, she said that it was like a "kuweba" or a cave. The darkly painted hallway that greets guests upon entry can easily give that impression, but this narrowness shortly flows into an open space, akin to a pleasant release of breath.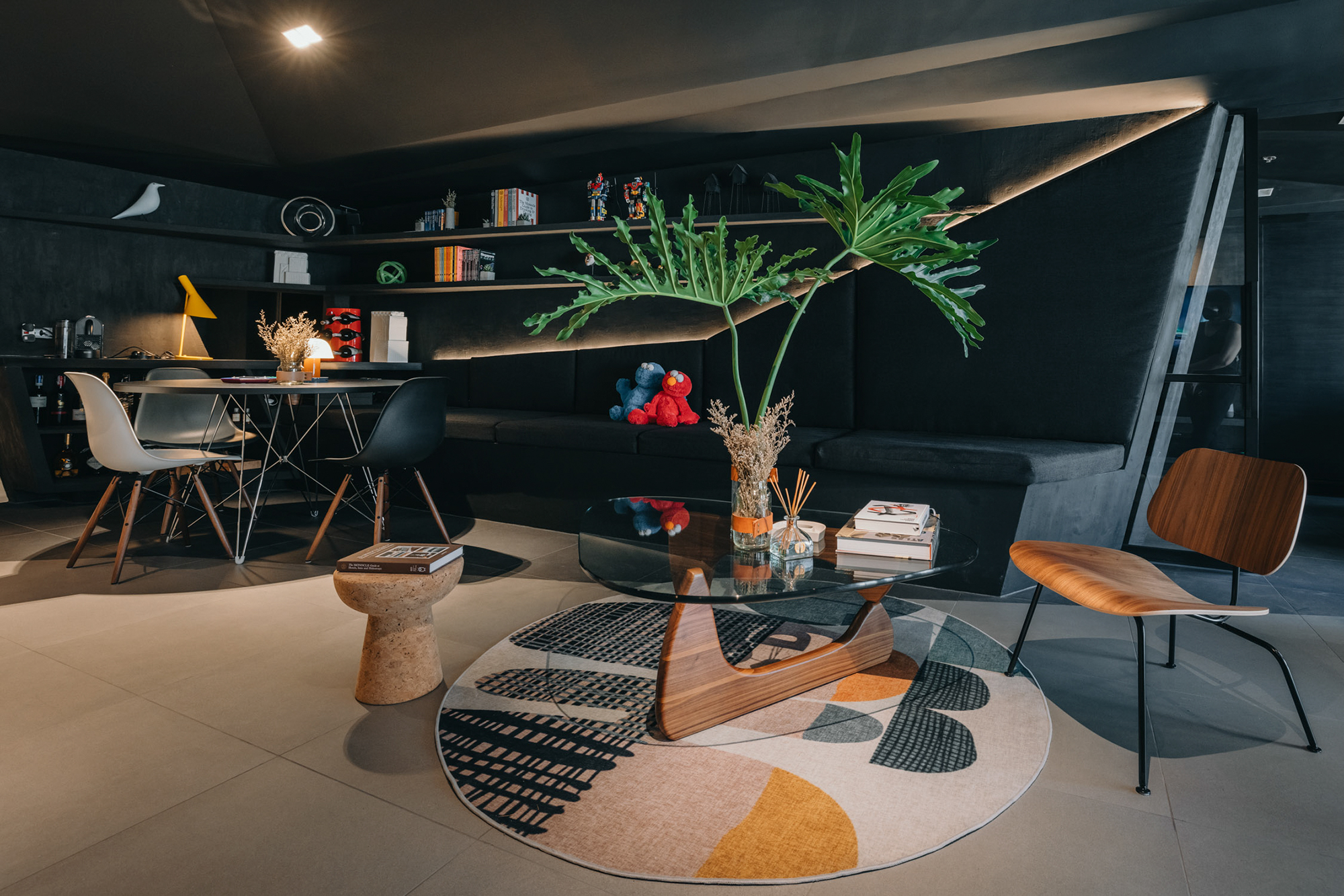 Walking in, one is greeted by an open space wherein warm lights contrast brutalist-inspired accents, offering a dramatic yet cozy vibe.
PHOTO: Jilson Tiu
This second home is a contrast to his first, going from graceful curves to the aggressive folds and corners.  
"Sabi ko, 'I want to make it brutalist, pero up in the air. I've never seen brutalist na condo. Everything's a house-and-lot, kasi it needs to be planted on the ground."  
With the team from Arkisens, he went with the creation of dramatic heaviness, yet with very little of the cold and aloof vibe the architectural movement is known for. 
Floating heaviness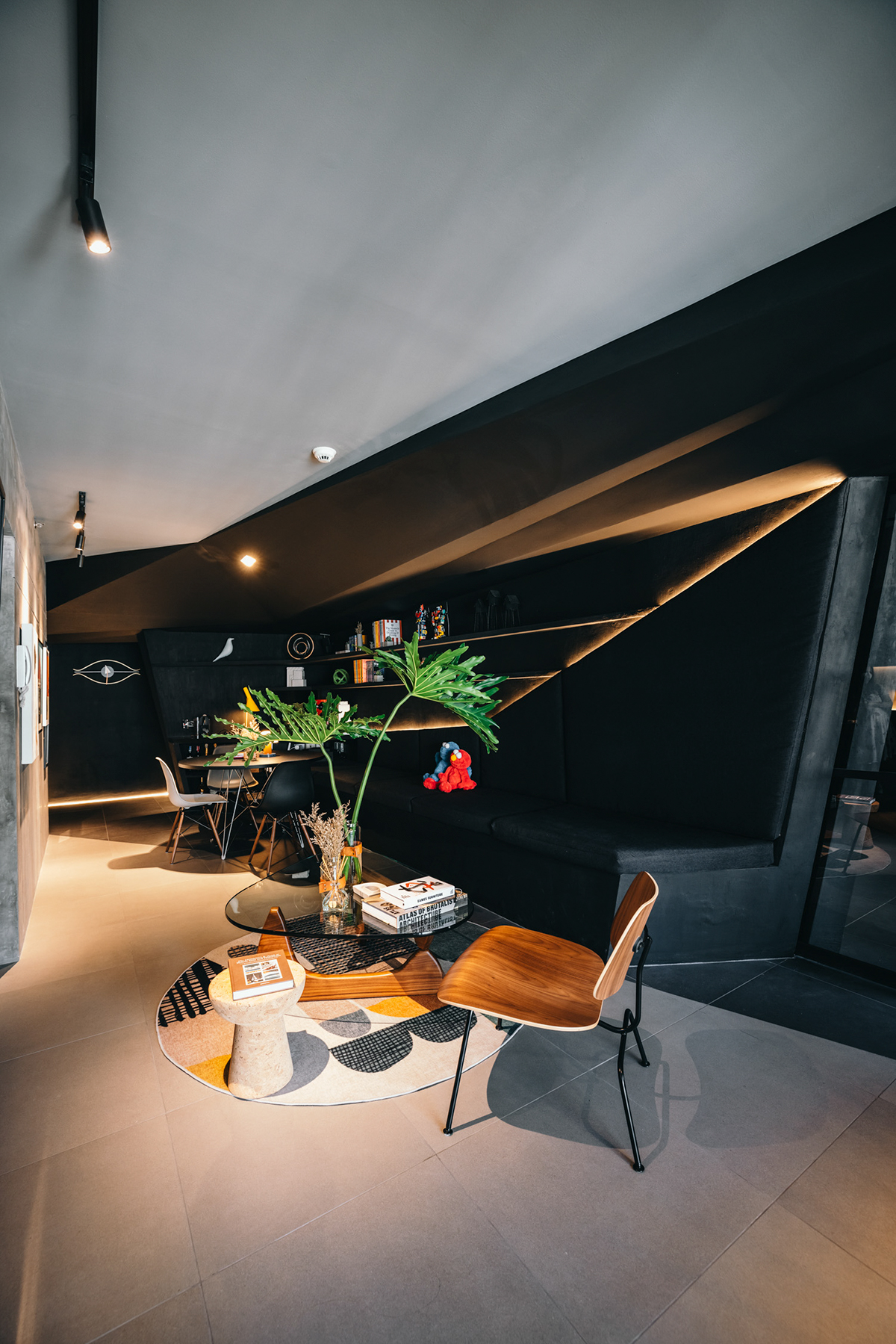 ADVERTISEMENT - CONTINUE READING BELOW
One of the most prominent aspects of Dennis' space is the levelled ceiling, which features complicated folds and corners painted in black.
Dennis admits, "Actually, ang tagal naming pinag-iisipan 'yan. Is it too dark?" But he goes back to his belief that bright colors don't have the monopoly of making a specific space look bigger. "Black, when executed well, also creates the illusion of infinity. If you look at it, space is black. You don't know where it will end." 
Lighting helped carry the floating heaviness, enabling visitors to see its origami-like execution while giving a sense of depth.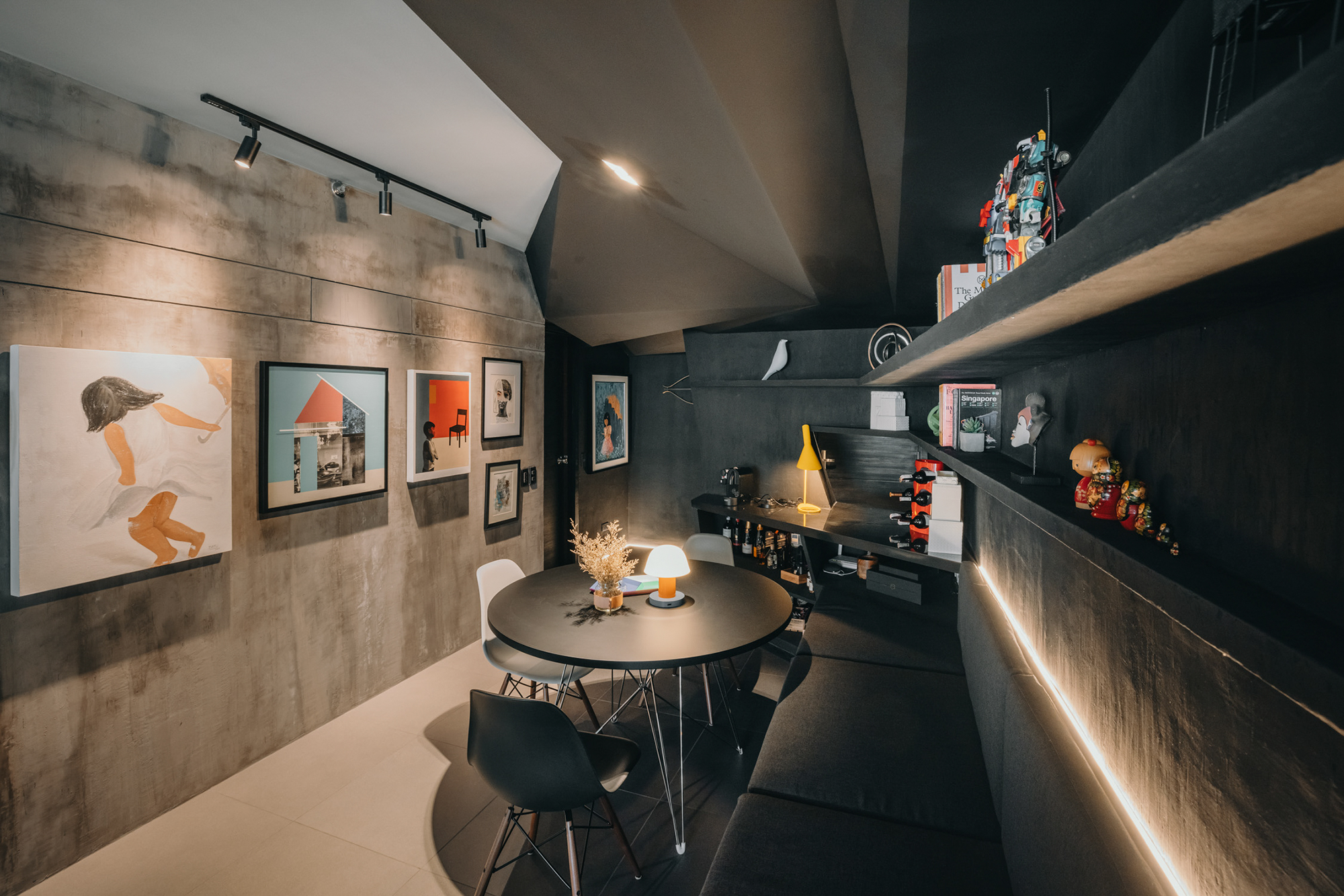 Lit from beneath, the folds of the ceiling can easily be appreciated, and makes for an interesting play of light and shadow.
PHOTO: Jilson Tiu
"The underlights are basically to highlight the structure above," Dennis explains. "'Yon 'yong thing with black: you need to light it well. Parang black box theater 'di ba? That's why you need a good director to light your play. It's like a stage, technically."
The ceiling also acts as a demarcation line between two spaces: reflecting the texture are the tiles beneath it, showcasing a contrast of dark and light, with Dennis' working area positioned in the area of the latter.
ADVERTISEMENT - CONTINUE READING BELOW
A blend of opposites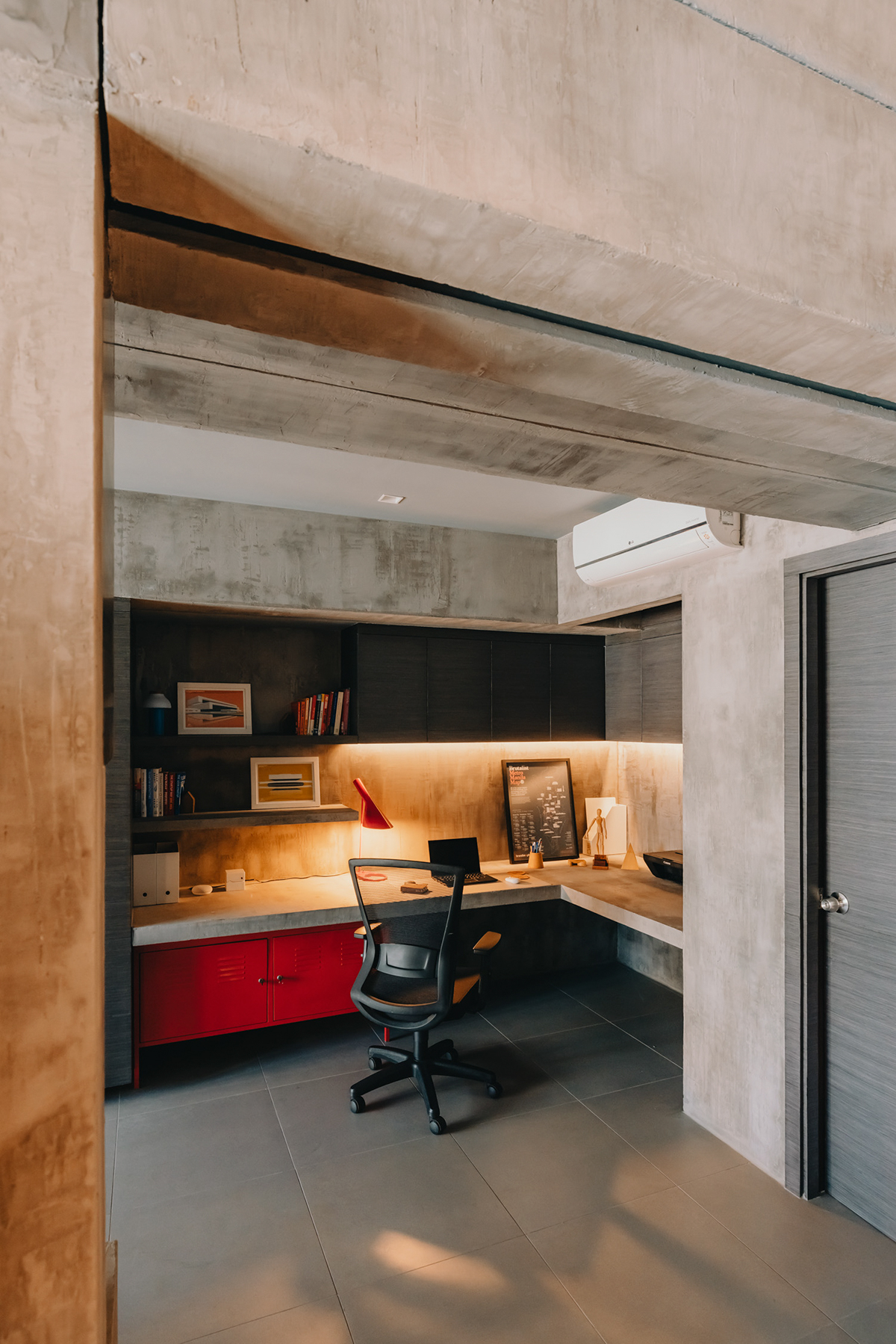 The home office is actually a second bedroom. "This is a guest bedroom talaga, pero I made it more of a multipurpose [space]," says Dennis. The daybed by the window pulls out for any one who wishes to sleep over. "Wala naman akong gaanong guests, actually... So nandiyan 'yong office." 
ADVERTISEMENT - CONTINUE READING BELOW
It's here that the traditional lines of brutalism are seen—harsher corners and a concrete finish. The magic, however, is that the walls are not actually made of concrete: they're made of wood.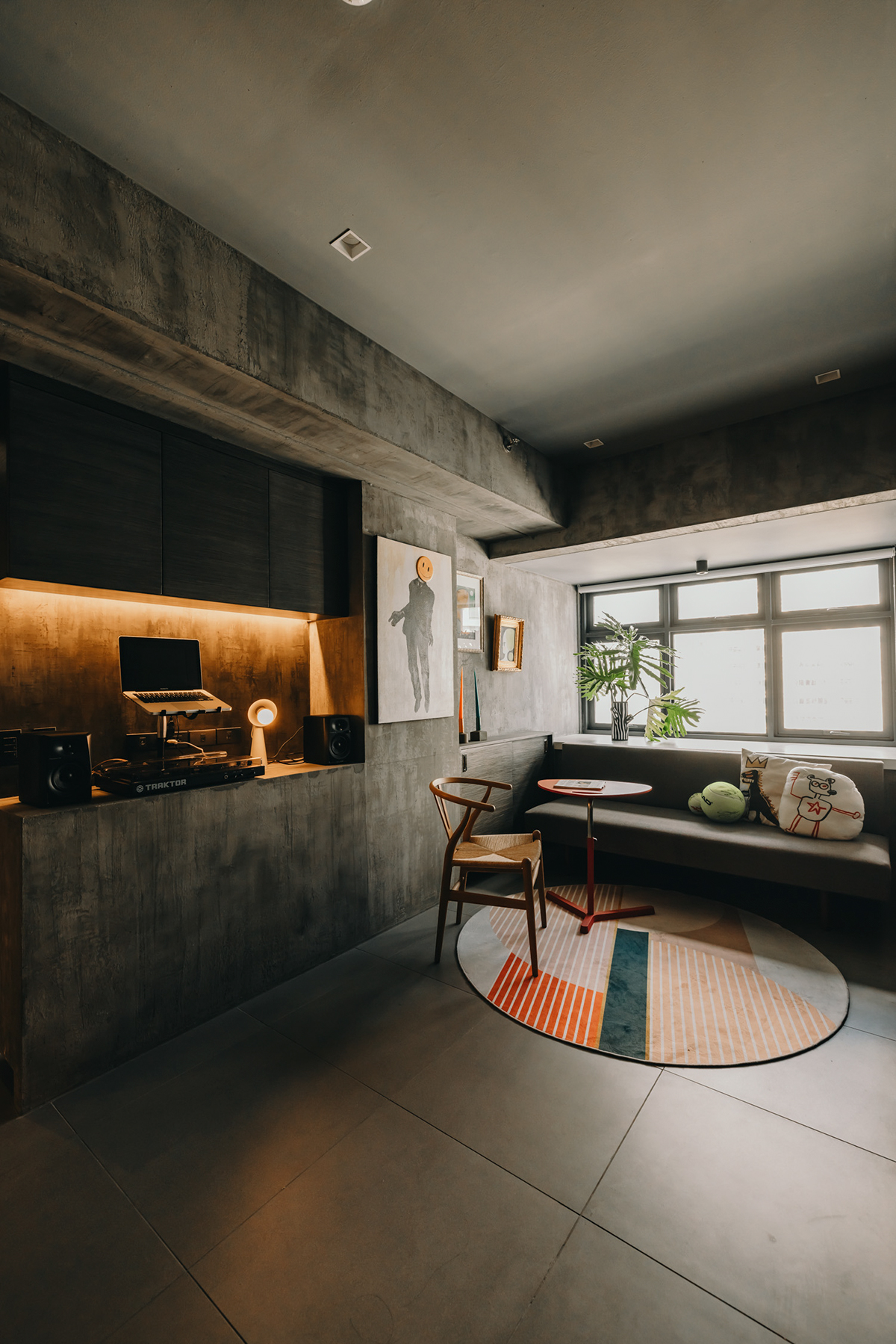 ADVERTISEMENT - CONTINUE READING BELOW
"Kaunti lang talaga 'yong real concrete na ginamit nila here," and it's only logical so as not to make things too heavy and cause structural issues. "It's only the finishing. I don't know how they [Arkisens] did it, but they said that it was really a challenge."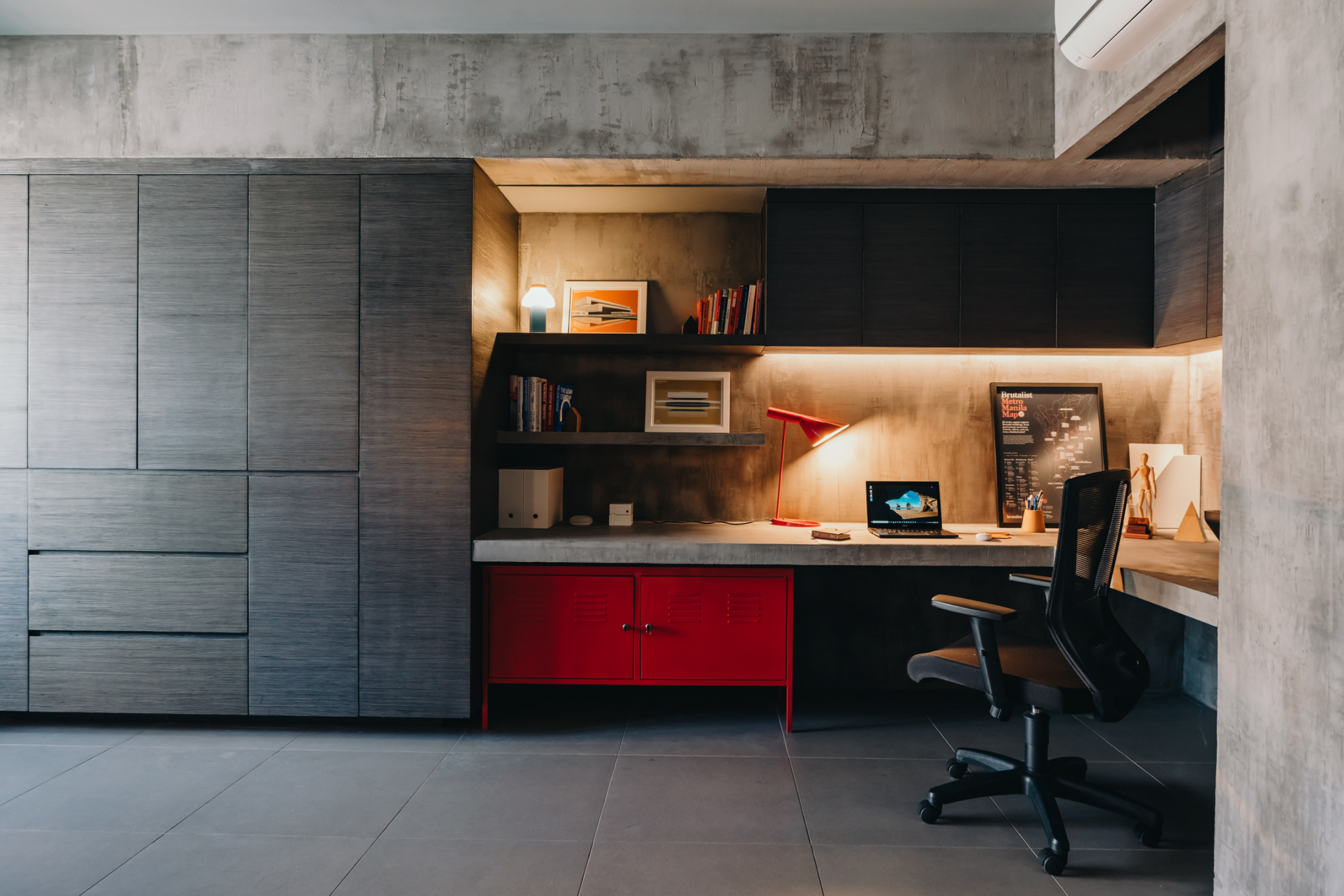 A functional, smartly-lit office space sits beside wooden storage compartments.
PHOTO: Jilson Tiu
Almost as a polar opposite to the underlighting of the common area, the room features a slightly more traditional set-up of light sources coming from above without being too harsh. 
Creating an intimate space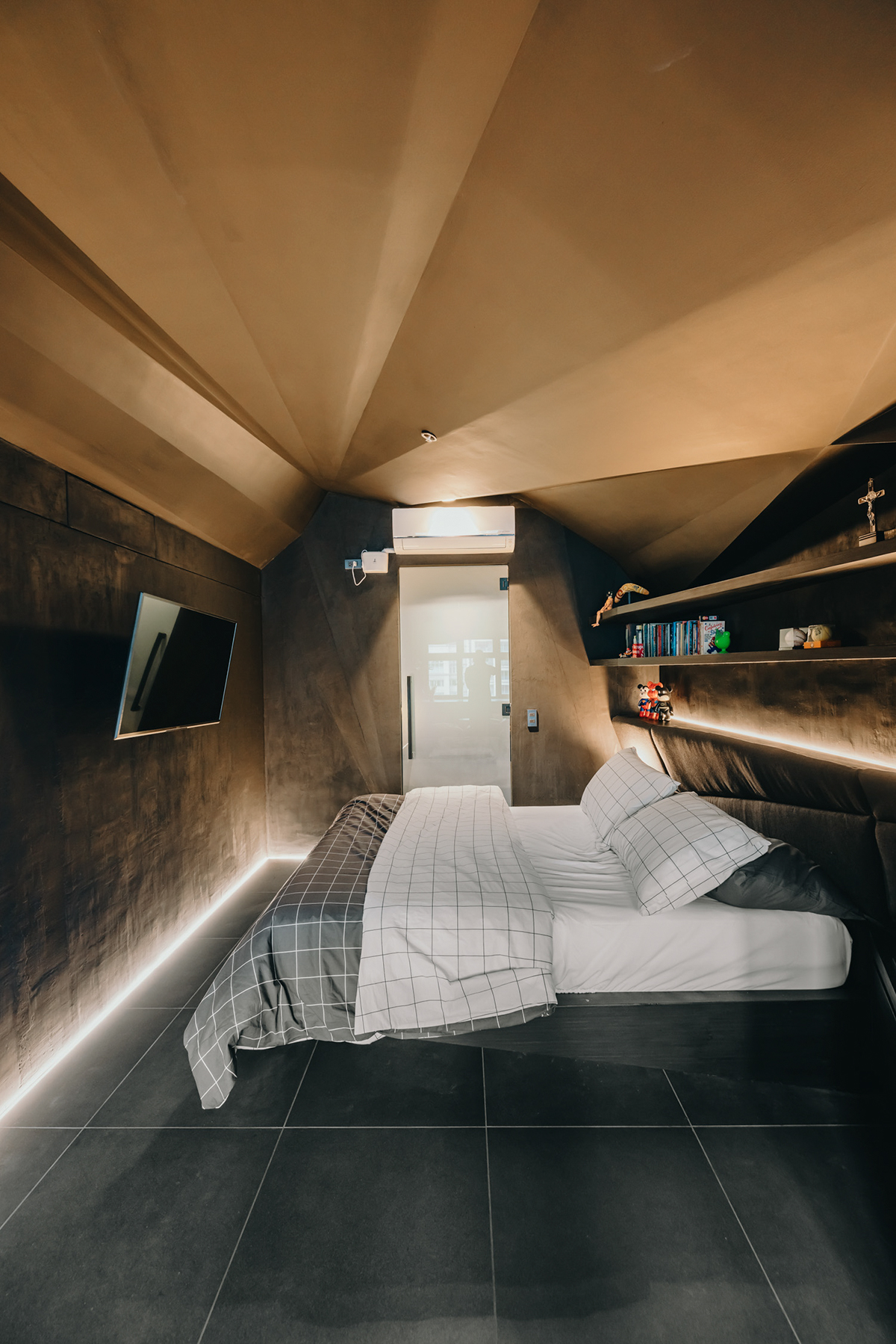 ADVERTISEMENT - CONTINUE READING BELOW
Part of the brief that Dennis gave Arkisens was the creation of zones. It was important for him to have a private area where he can disconnect, which is why despite continuing the common area's design flow, his bedroom is seemingly a separate world. 
"The whole ceiling flows here," Dennis points out, and indeed it does: going from the dark folds seen in the living area, the ceiling in the bedroom is like the climax of the space as is painted in a lighter hue, immediately presenting angles radiating from the far corner of the enclave. 
"With the future of work na your home becomes also your office, sabi ko, I need a proper disconnection zone. I don't usually bring my work here... 'pag dating rito, mahihiga lang ako, magbabasa lang ako."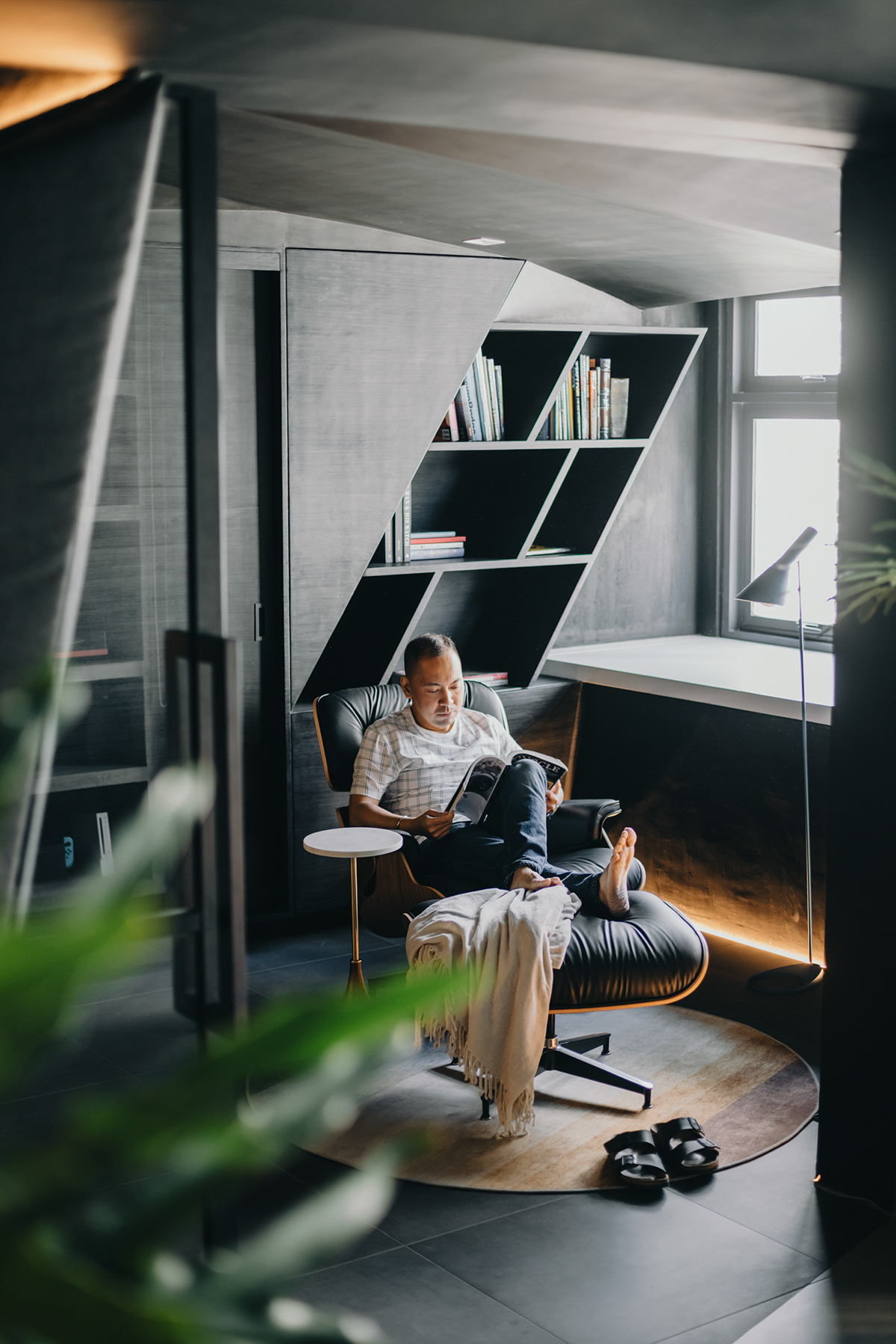 ADVERTISEMENT - CONTINUE READING BELOW
Similar to the common area, the space is underlit, and like Dennis' multipurpose home office, it also makes use of natural light coming through the windows. This side of the room features an asymmetrical bookcase, a stand lamp, and an Eames chair where he can watch television from across the common area, or simply get lost in his own thoughts.  
All three main areas of the home are separated by pocket doors of glass, which still allow each zone to flow into each other.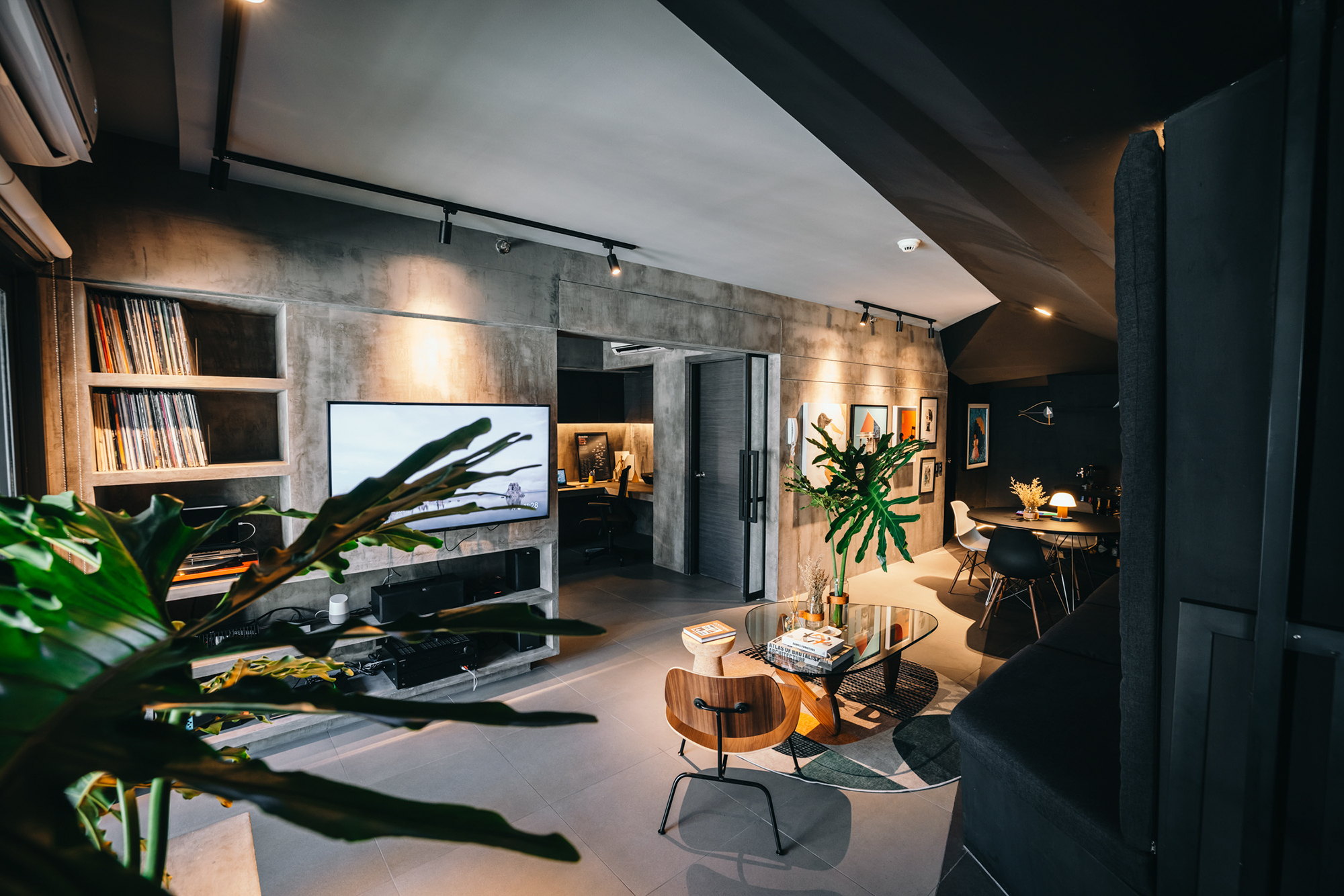 From his favorite chair, Dennis has a view of his living area, all the way through his office space.
PHOTO: Jilson Tiu
"The architect said it's 'processional'. You need to lead people, or else it will be a box," says Dennis. "That's the problem with condos e. Kasi it's a box, parang it's up to you how to define the paths. Kung paano mo siya iikutin."
Art as an emotional investment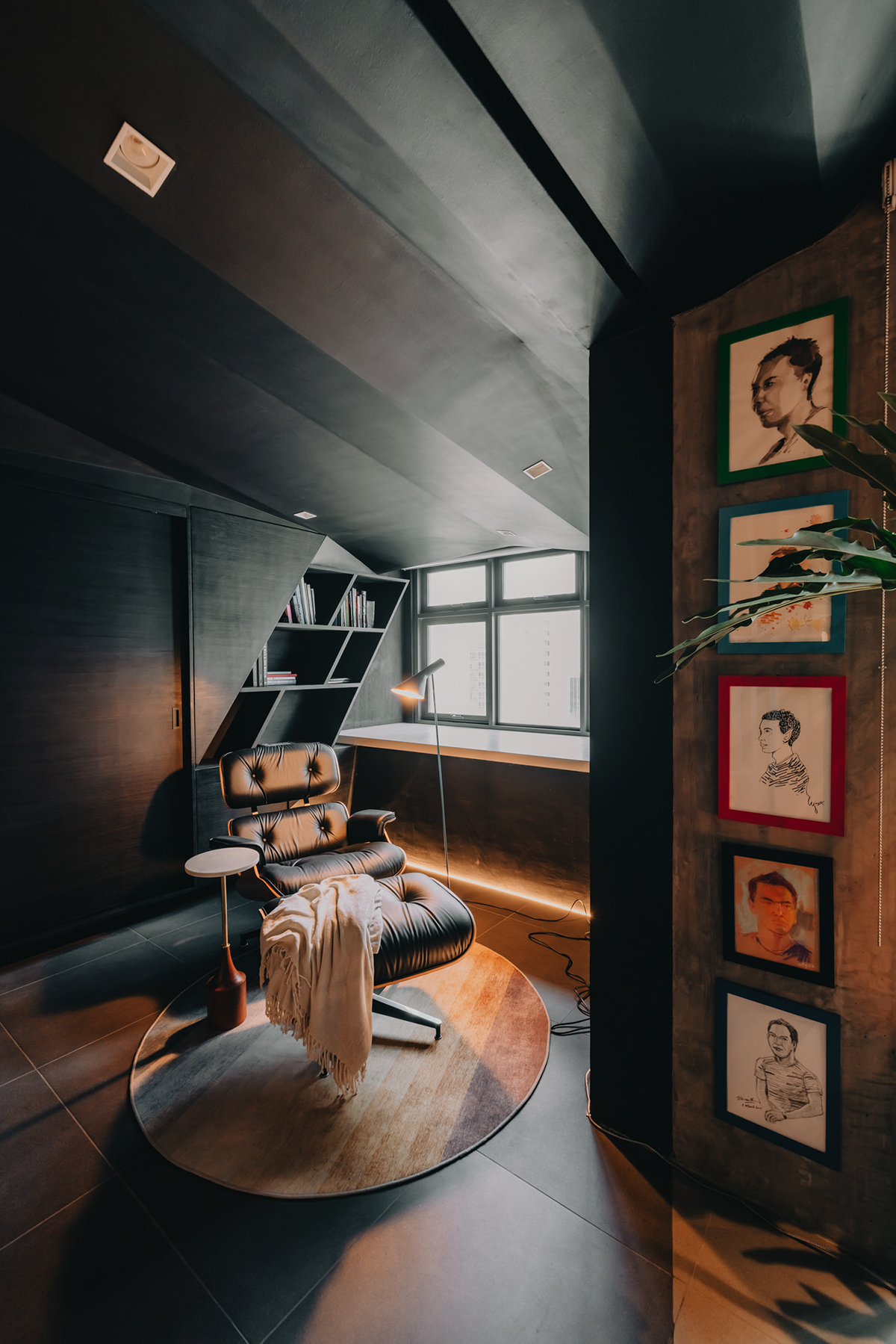 ADVERTISEMENT - CONTINUE READING BELOW
Another welcoming feature in the home is its art pieces. While Dennis doesn't consider himself an art collector, he enjoys spending time in galleries. "Medyo irrational 'yong pag-choose ko ng paintings. I want pieces that create emotion."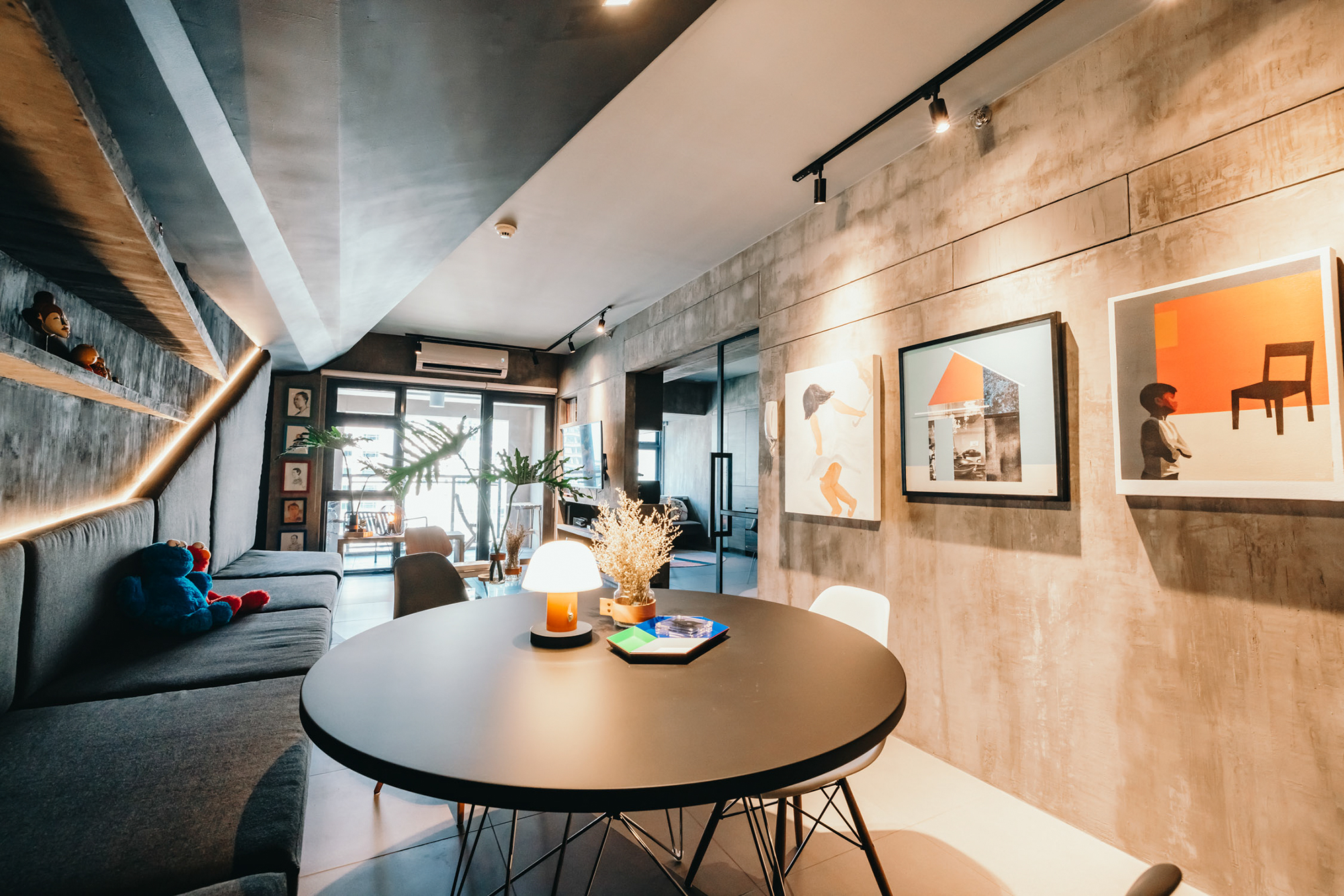 Tracklights lead the eyes to the works of Martie Datu and Mark Copino.
PHOTO: Jilson Tiu
Coming from Manila's Art in the Park to the streets of Singapore, the pieces in his home have a recurring theme: people. And even for those without them, there are still traces of human interaction. "It gives me a bit of warmth." 
Progression in space, progression in life 
Moving from the unit's front door to its open spaces is a quaint journey, which almost mimics the story of Dennis' homes. 
"I like the idea of progression. Progression in different ways. Moving into a bigger space opens up more possibilities. I just want it to be a timeless space where I can create more memories."  
For him, it's flipping a page to a new chapter of a story that began in his childhood. "The way the design actually progressed from me looking at my dad doing drawings when I was a kid, and then moving to my own home, and progressing to a bigger home but still keeping what's in the past, keeping the same team...  
ADVERTISEMENT - CONTINUE READING BELOW
"I just like the feeling of 'Oh, I've progressed'...without forgetting where you came from."