A Lawyer's Modern Luxe Condo Home with Pink and Gold Touches
With the help of interior designer Claudine Medina, the 90sqm space now reflects not just the owner's personality, but her years of hard work as well Coming home to a space that's truly yours is one of the best feelings in the world, especially if you had a long, tiring day. This is something Atty. Keij Ejercito can relate to whenever she opens the door to her condo unit. "I started paying for this condo way back in December 2015. I was still a working-student then, hindi pa lawyer and it was still in the pre-selling phase. After the renovation, my reaction was, 'sa wakas!' Dahil natapos na ang construction and may bahay na akong akin after over a decade of working in the government," she shares with Realliving.com.ph.
To achieve the clean and elegant look she wanted for her condo, Keij worked with interior designer Claudine Medina and her associate, interior designer Alexis Young. "Keij wanted her unit to look and feel luxurious and sophisticated, but still homey," says Claudine, who is known for her Scandi-minimalist-inspired projects with muted color palettes. Working on this unit allowed the designers to work with different colors, lush fabrics, and sleek finishes.
After five months, the space turned into a timeless and inviting home with touches of pink and gold that capture Keij's personality. "It's uniquely Keij. She's a lover of all things pink, gold, and glam so I wanted those to be reflected in her space—up to the finishing touches," the interior designer adds.
Take a peek inside Keij's glam condo below:
Foyer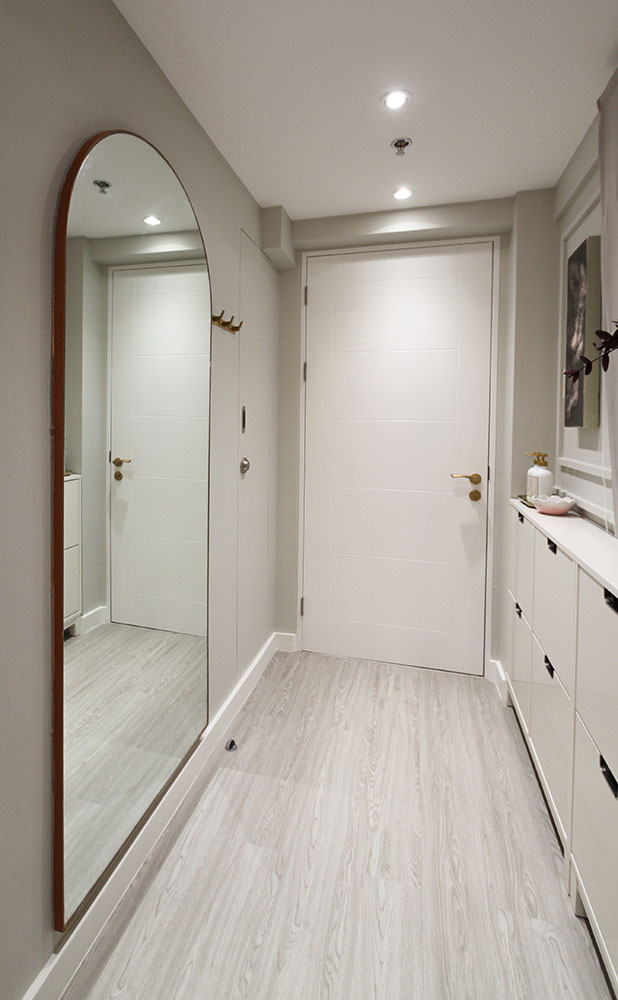 ADVERTISEMENT - CONTINUE READING BELOW
To make the most of the space, Claudine installed slim shoe cabinets to make it easier to get and return shoes before proceeding to the common areas. There's also an arch mirror to enable Keij to check herself before leaving the house.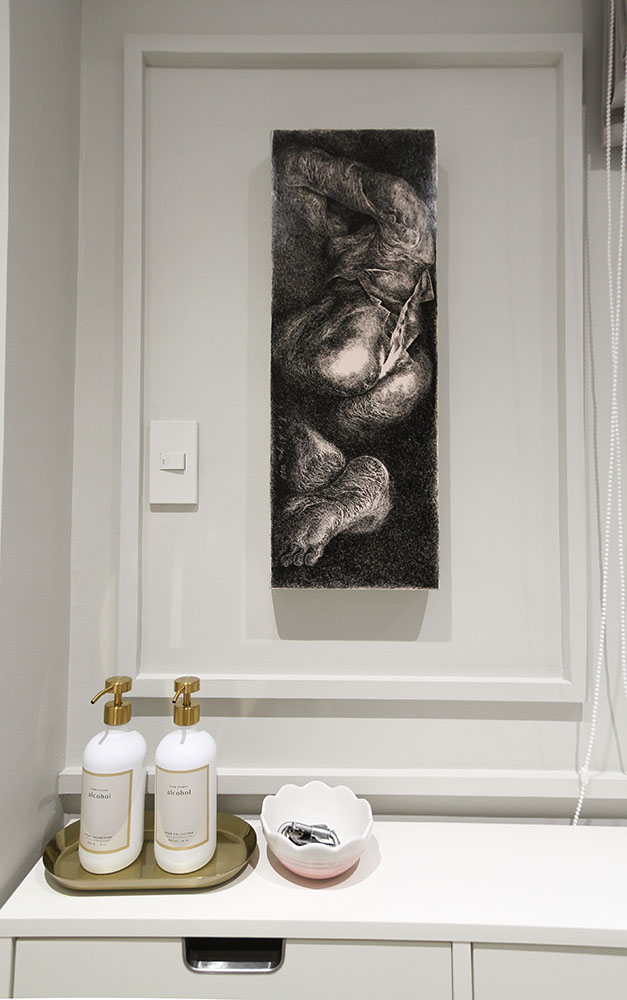 An artwork by Iggy Rodriguez serves as an accent piece in the foyer. Keij also made sure there's a mini disinfecting station where guests can sanitize their hands before entering the unit.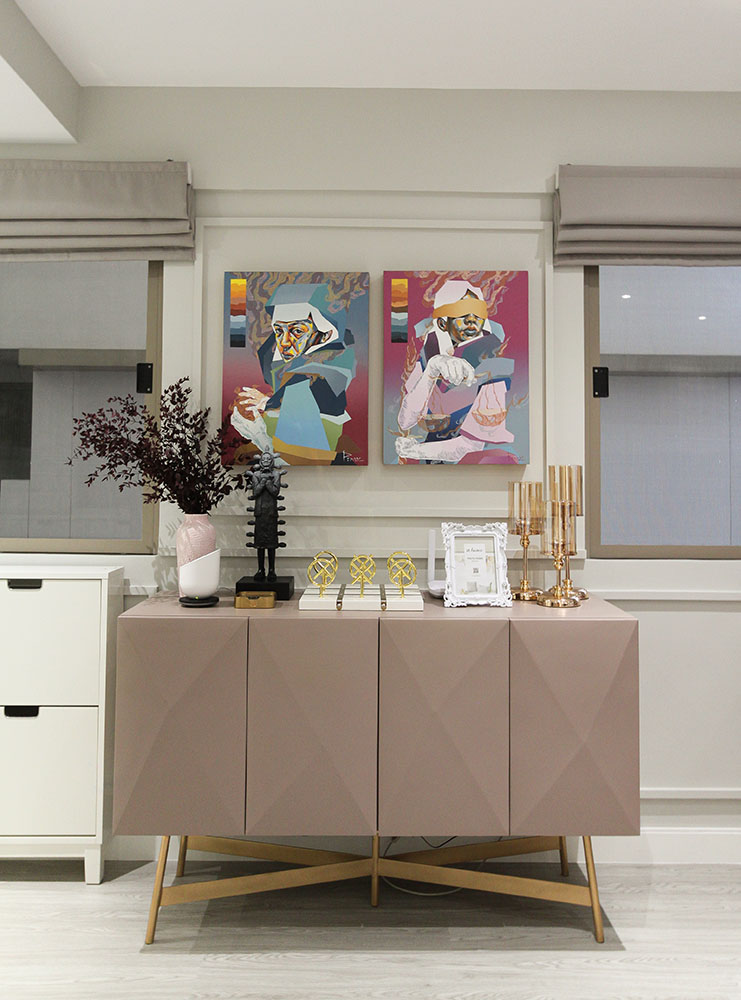 A few steps from the foyer is another striking furniture piece that holds décor picks that conceal the Internet router. What really draw the eye are the paintings by Nikko Pelaez on the wall. "I had these commissioned—one is a medical frontliner who is trying to contain the virus and the other is lady justice who symbolizes equality and the rule of law. On top of the cabinet is a sculpture by Art de Leon entitled 'Panalangin.' These pieces are reminders to serve the people," explains Keij.
ADVERTISEMENT - CONTINUE READING BELOW
Living Area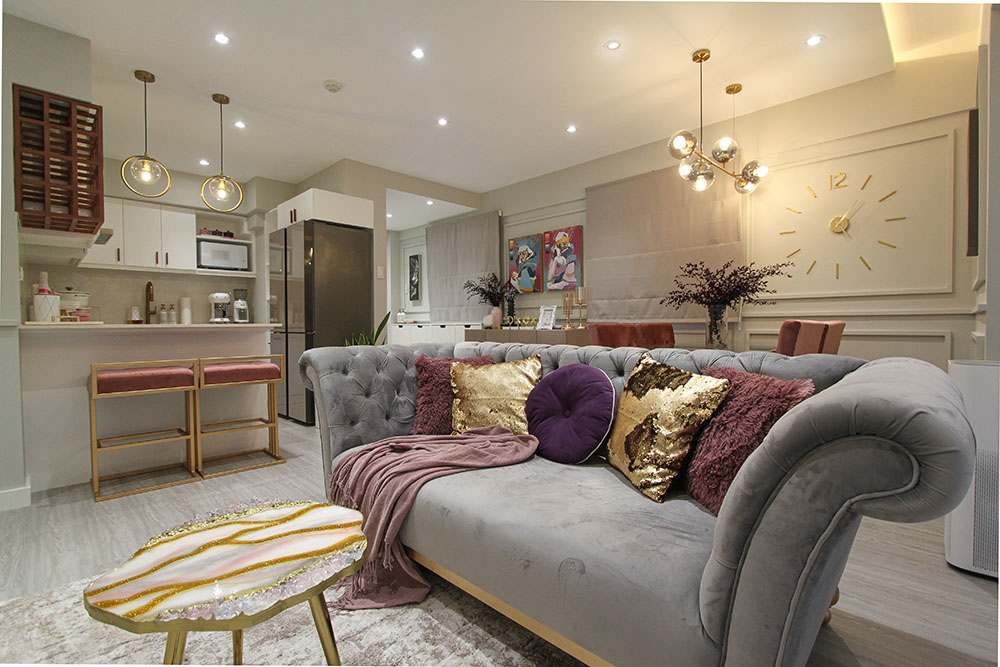 Nothing spells luxury than a custom-made velvet tufted sofa which takes up space in the living area. To make it more inviting, it's paired with mismatched cushions and a throw that complement the overall color palette.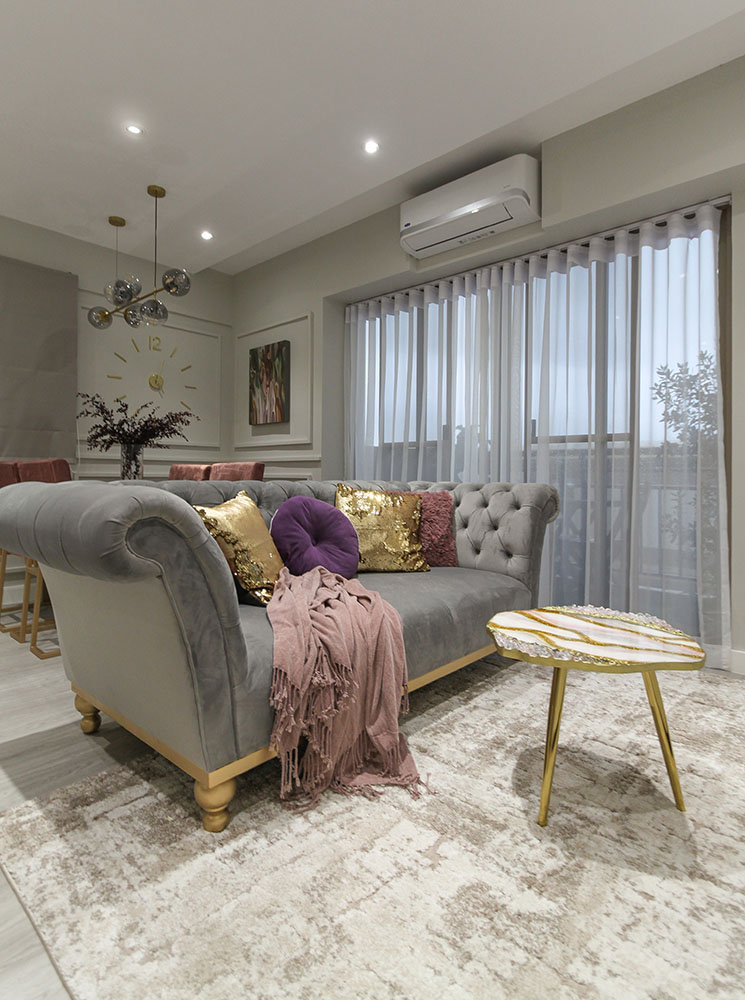 ADVERTISEMENT - CONTINUE READING BELOW
The coffee table seems simple, but it also has hints of gold and can stand on its own even without tabletop décor.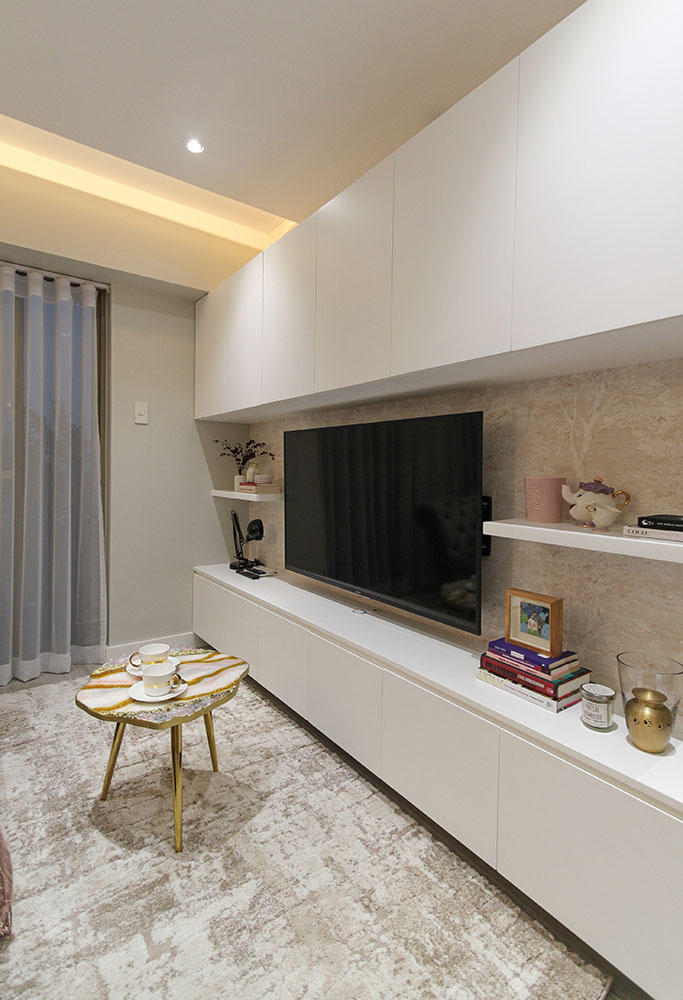 Art and books are just some of the handpicked décor in Keij's unit. The TV cabinet holds some of her prized belongings including a small piece by Pin Calacal and the urn of her dog, Toastie.
ADVERTISEMENT - CONTINUE READING BELOW
According to Claudine, Keij wanted to conceal the outlets and plugs. "We hid the outlets inside the floor cabinets and let the wires pass through the wall. To add more color and accent to the living area, we added a muted pink patterned wallpaper that also serves as a backdrop to the white cabinets and floating shelves," the designer explains.
Dining Area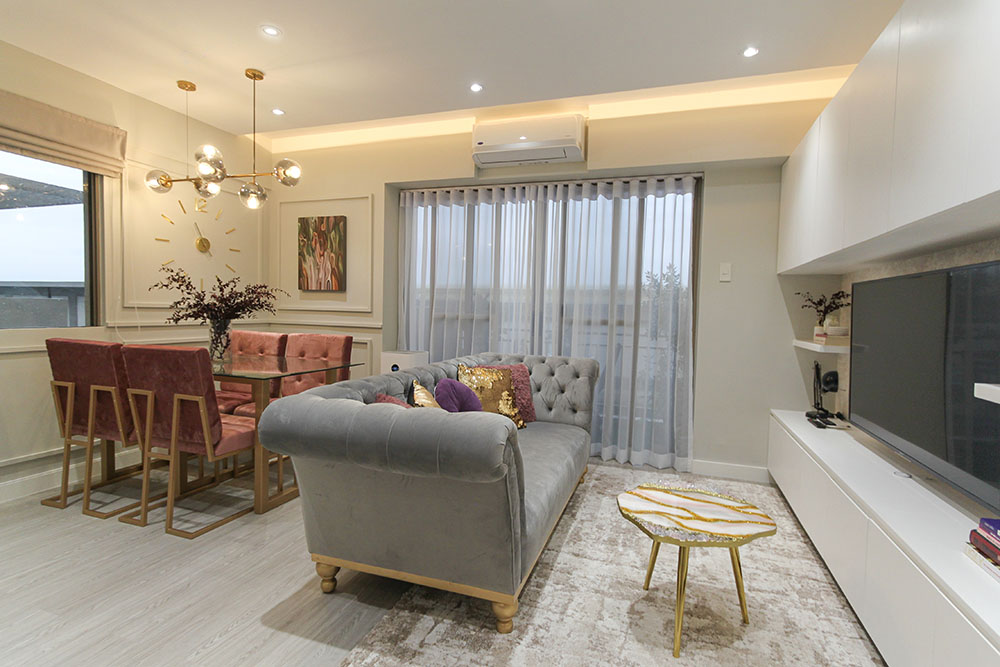 ADVERTISEMENT - CONTINUE READING BELOW
Just behind the sofa is the dining area that's reminiscent of fine dining restaurants. "The dining set is already pretty, especially with the modern chandelier but for me, the painting by Jone Sibugan completed the look," exclaims the court attorney.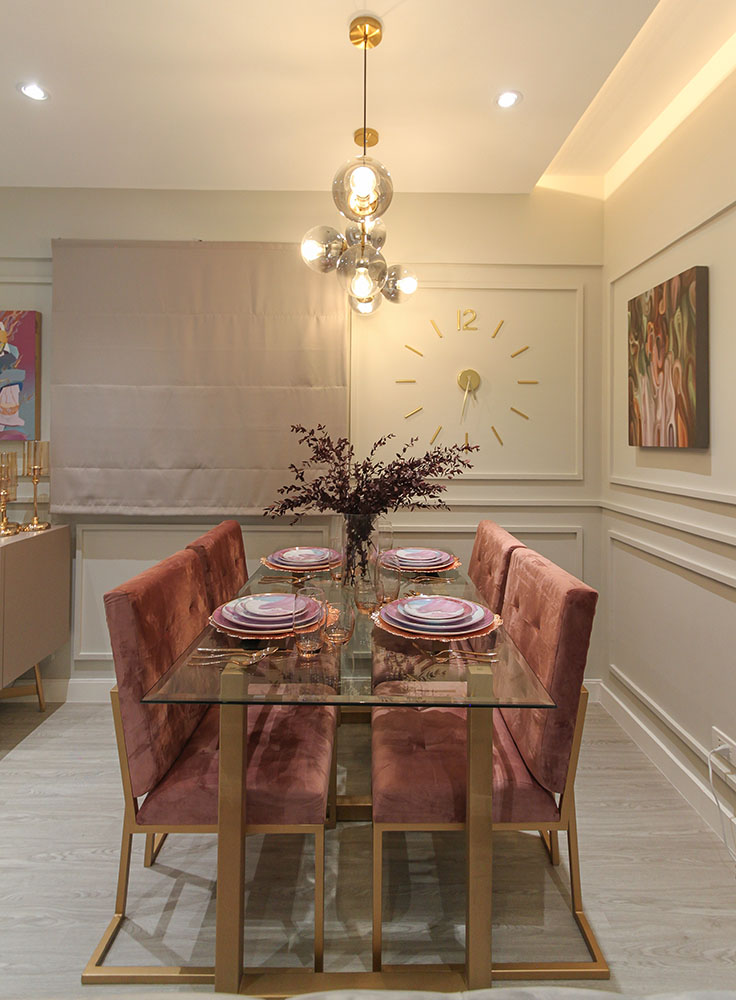 Keij initially wanted a six-seater dining table but to keep the area from being cramped, they settled with a four-seater customized table with a glass tabletop. Completing the look are statement dining chairs in rosewood velvet fabric.
ADVERTISEMENT - CONTINUE READING BELOW
Kitchen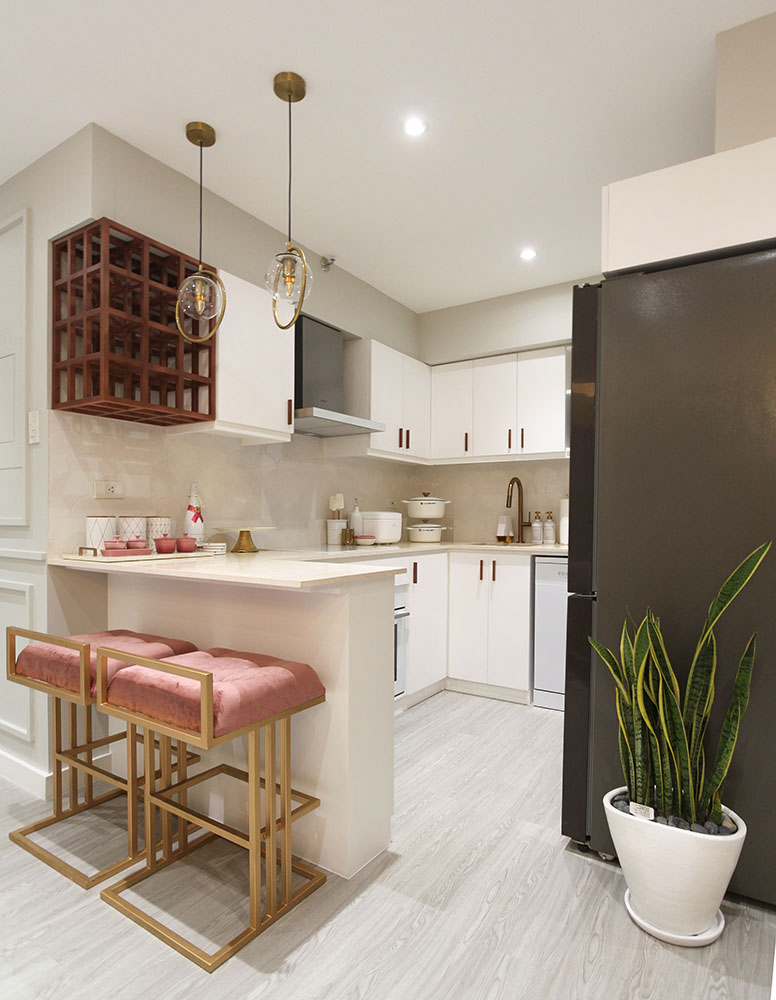 The kitchen may look compact, but it's one of the unit's must-see areas. Claudine shares that it's one of the most challenging areas to work on. "The original kitchen cabinets weren't as efficient and we felt they didn't maximize the given space," explains the designer.
ADVERTISEMENT - CONTINUE READING BELOW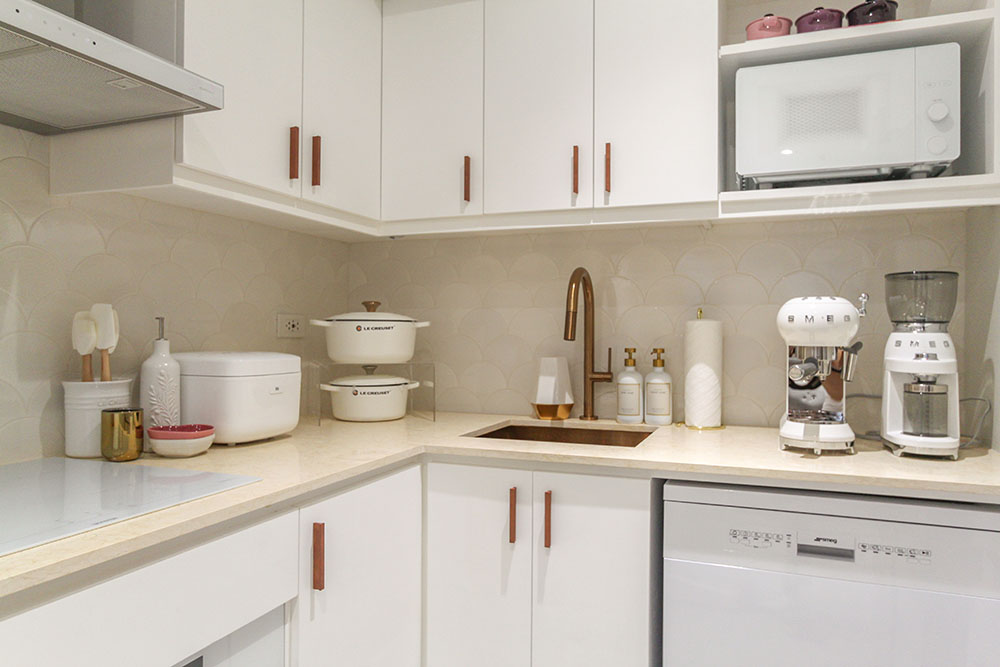 To make it more functional, Claudine and Keij decided to add a breakfast nook completed with barstools that feature the same velvet fabric to create more counter and storage space. This entailed switching the locations of the rangehood and refrigerator to maintain the flow of the area.
ADVERTISEMENT - CONTINUE READING BELOW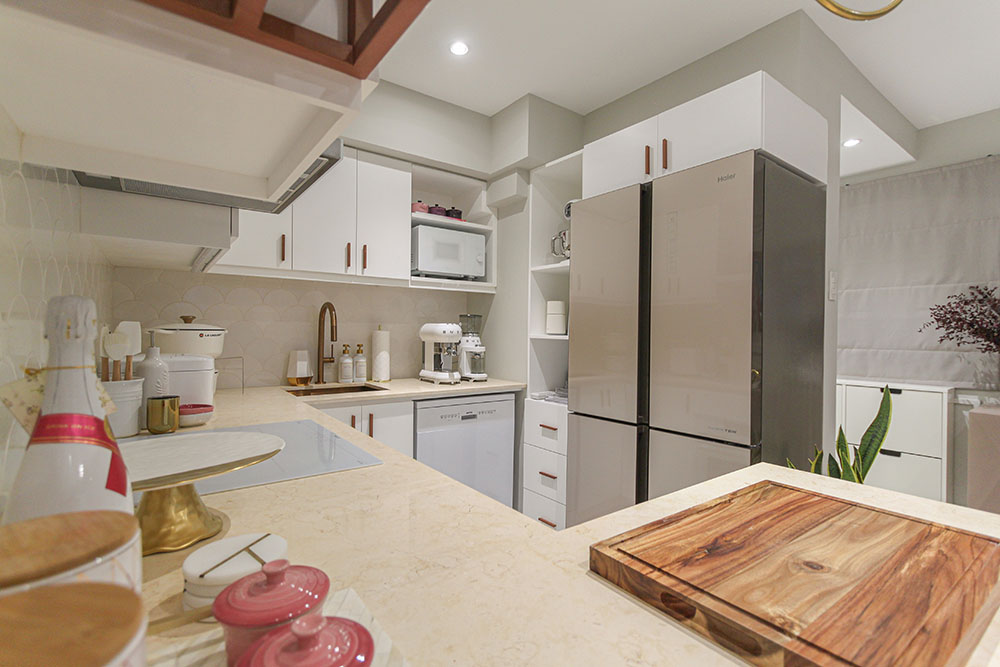 The cabinets were fabricated on site so they can work on the necessary adjustments to accommodate the regular-sized kitchen appliances. Meanwhile, for the countertop, Keij decided to use quartz since it's durable yet classy.
"This is where I splurged," shares Keij. To go with the all-white look she wanted, she picked a white oven, induction cooker, dishwasher, and mini appliances. For the refrigerator, she chose one with a champagne gold French door.
ADVERTISEMENT - CONTINUE READING BELOW
Hallway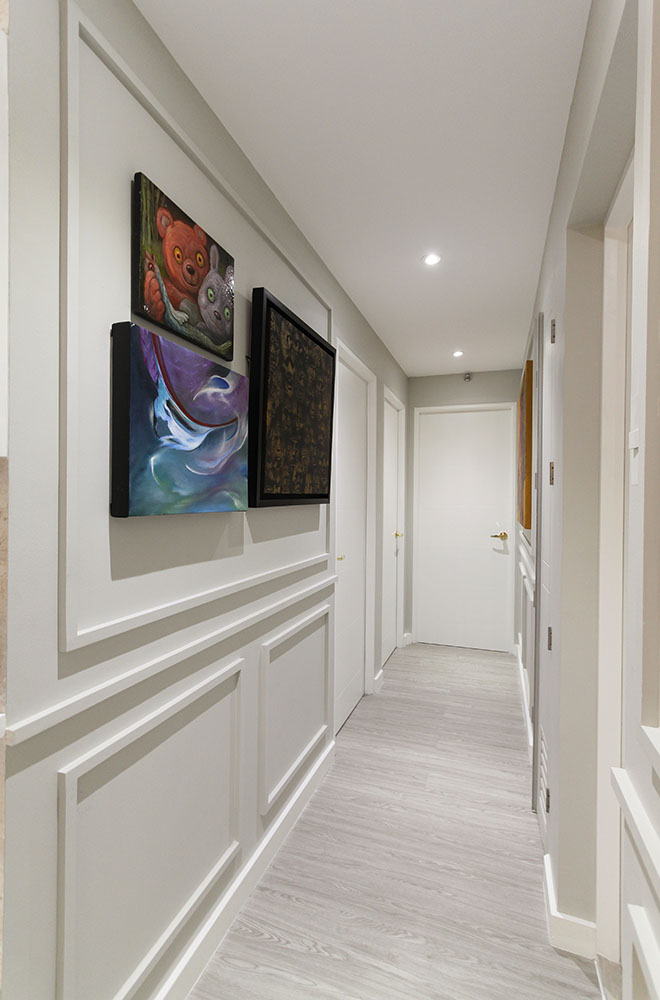 The hallway works as Keij's mini gallery for the works of art she owns. "I was able to fit only a few. These are pieces from local artists like Froilan Calayag, Faye Pamintuan, Frances Abrigo, and Archie Oclos. We have more artworks but we were not able to hang them all because of the limited space. Maybe we'll just interchange them once in a while," she muses.
ADVERTISEMENT - CONTINUE READING BELOW
Guest Bedroom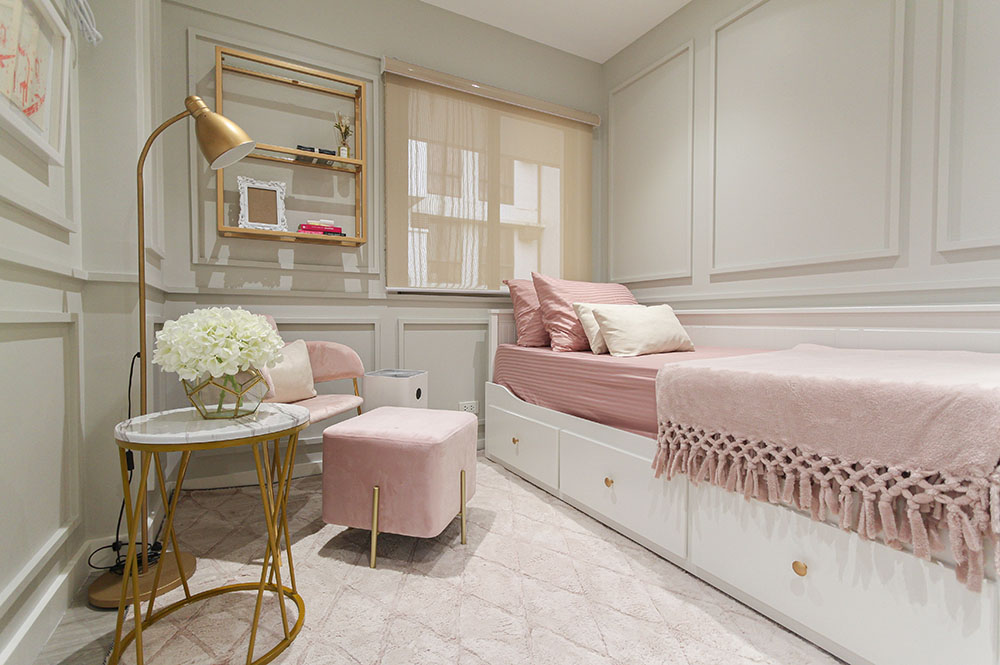 Keij wanted to complete the bedroom with a day bed and a lounge area to make guests feel at home. "The lounge area can also serve as her Youtube space when she wants to change up her backdrops," says Claudine.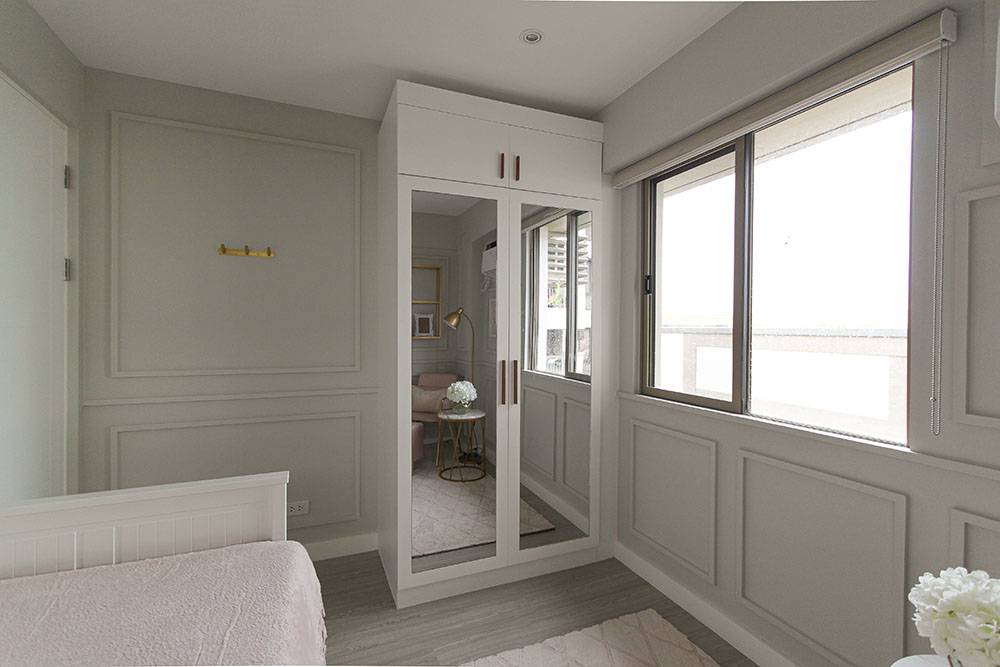 ADVERTISEMENT - CONTINUE READING BELOW
The mirrored cabinet doors not only add a touch of elegance, its reflective surfaces help create an illusion of a bigger space as well.
Guest Bathroom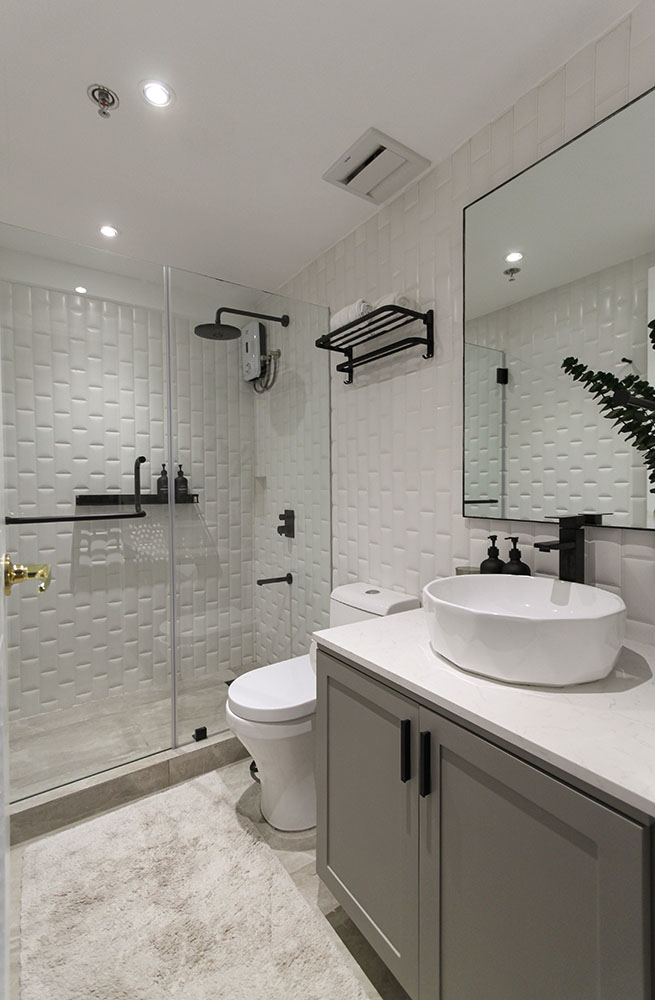 Simpler and more affordable finishes complete the guest T&B. Since it won't be used regularly, a combination of subway and porcelain tiles were paired it matte black fixtures to make it neutral. This is the only room in the condo without touches of pink.
ADVERTISEMENT - CONTINUE READING BELOW
Home Office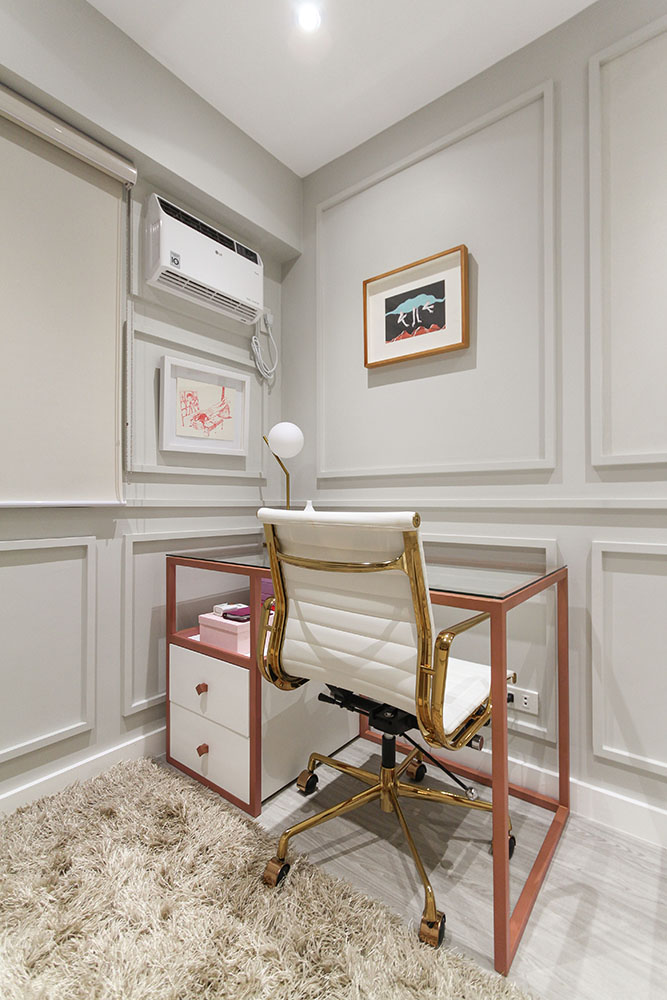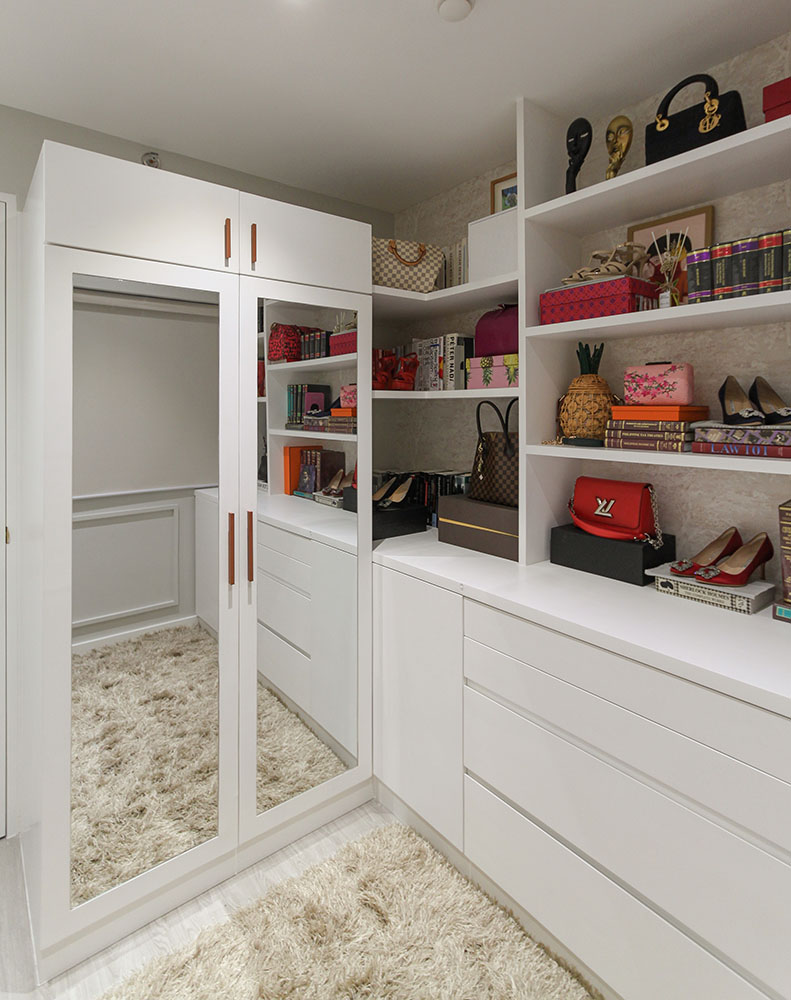 ADVERTISEMENT - CONTINUE READING BELOW
The home office is not only Keij's favorite space, it's Claudine's too. "It can pass off as a walk-in closet because Keij's designer pieces are on display. She wanted a nice background for her Zoom calls so we made sure to add a display wall in this room," explains the interior designer.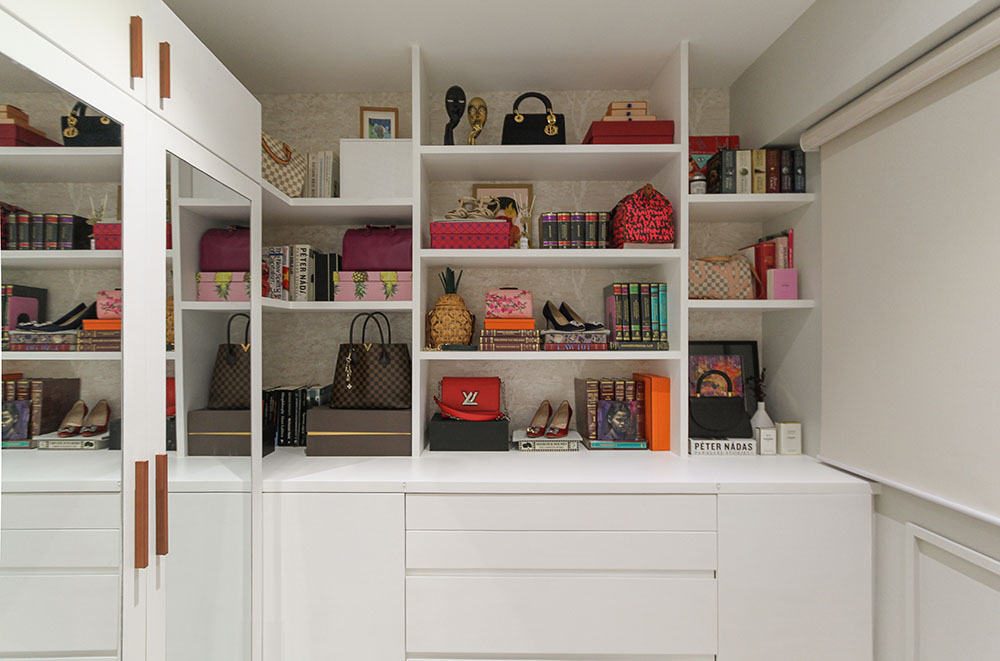 ADVERTISEMENT - CONTINUE READING BELOW
Some of the items on display include Keij's books, paintings, designer items, and belongings with sentimental value. Some of her designer heels also double as accent pieces on the shelves.
Master Bedroom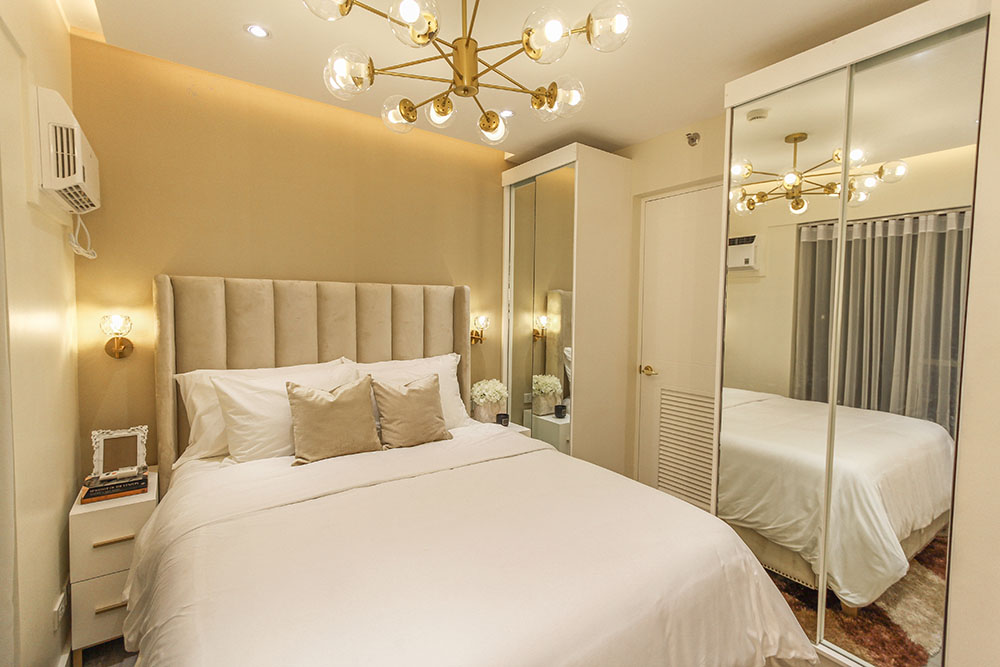 "My requirement is to turn this room into a sanctuary where I can feel relaxed and refreshed. I want it to be the most luxurious part of the house with a bed that's similar to that of a five-star hotel," says Keij.
ADVERTISEMENT - CONTINUE READING BELOW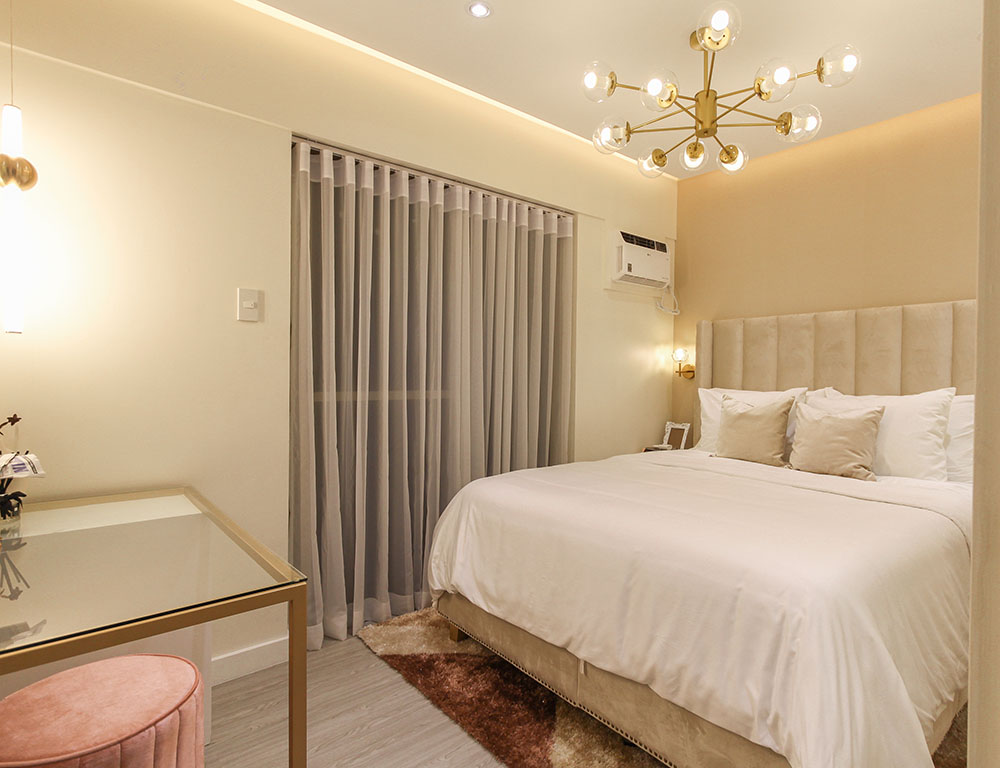 To accomplish this, Claudine had to work around the existing layout which involved working around the position of the doors. "We can't relocate these or tear down walls so we had to compromise clearances to accommodate the queen size bed and tall closets. We also made sure the bed frame has soft edges/corners then added a soft floor covering under the bed frame," explains the designer.
ADVERTISEMENT - CONTINUE READING BELOW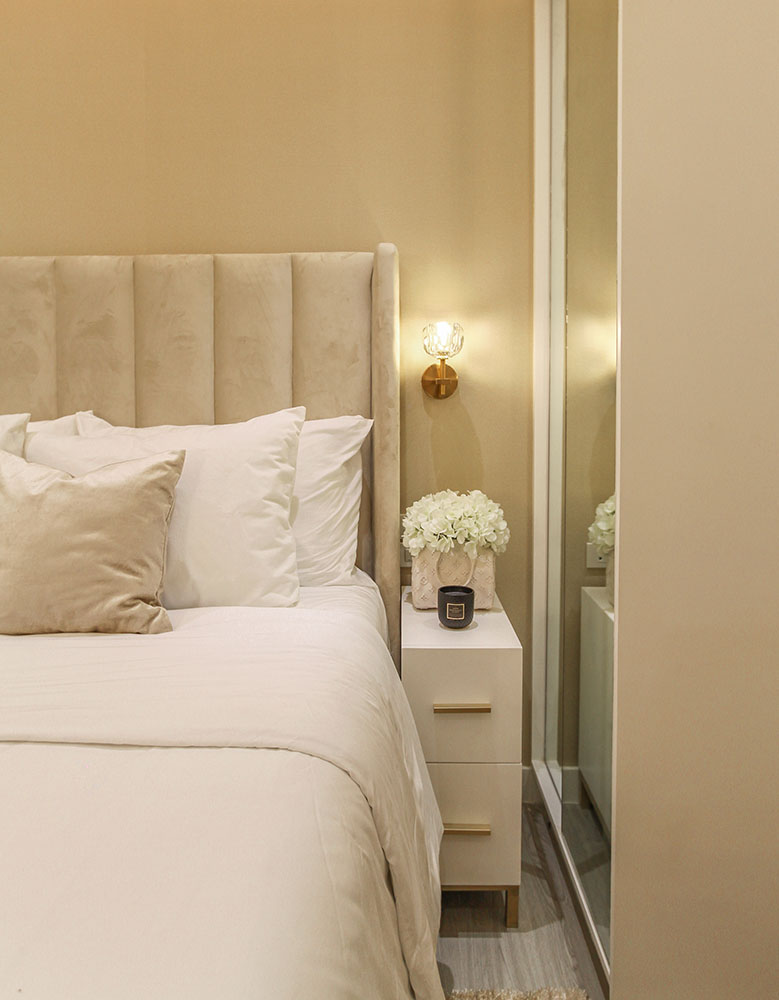 Slim side tables that fit just right in the available space hold décor pieces and some books.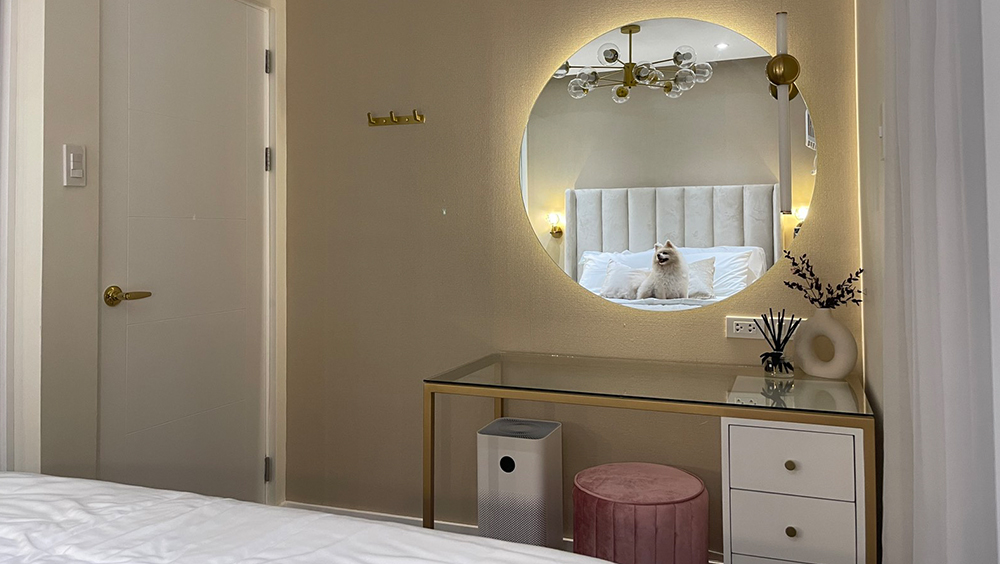 ADVERTISEMENT - CONTINUE READING BELOW
Keij also wanted dramatic lighting in this room so she has a backlit vanity mirror, an accent pendant light, and other lighting pieces that can help set the mood in the bedroom.
Master Bathroom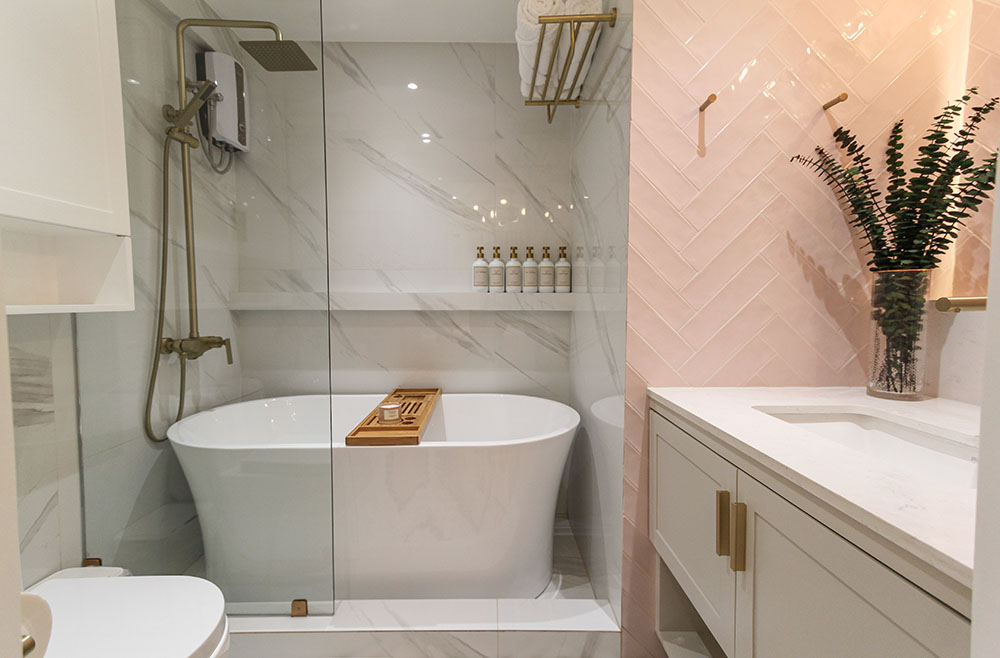 From the start, Keij wanted a bathtub and luckily, they were able to find one that can fit in the space. "It's gold, glam, and pink," exclaims Claudine. Aside from the bathtub, Keij also requested for an accent wall in the vanity area so the designers chose to work with pink subway tiles in a herringbone pattern to serve as a nice accent finish.
ADVERTISEMENT - CONTINUE READING BELOW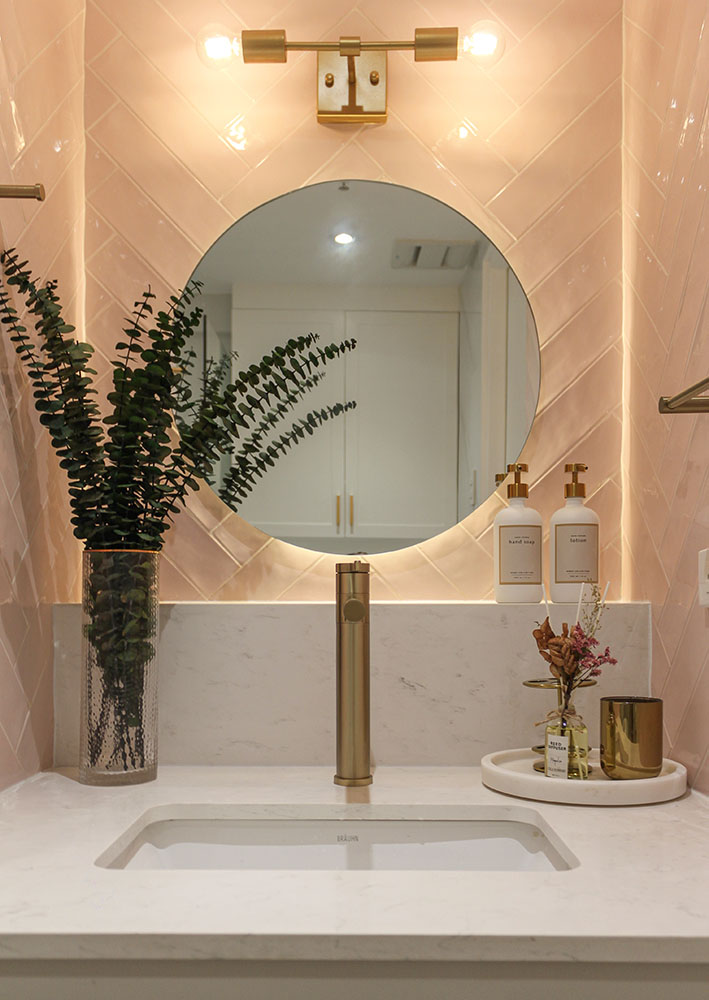 All of the fixtures in the master bathroom are polished gold and brass to maintain the luxe look.
Balcony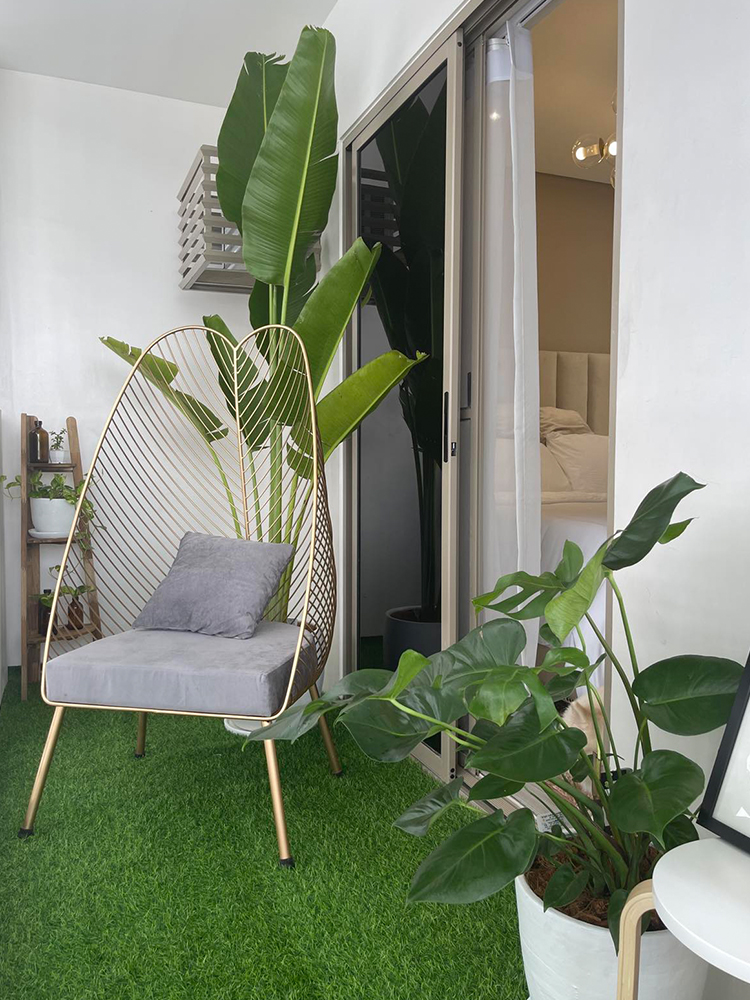 ADVERTISEMENT - CONTINUE READING BELOW
Keij didn't want faux potted plants in her home so she filled the balcony with tons of plants. The custom-made lead accent chair is perfect for unwinding and admiring the view outside. "I also have a wine rack in this area if ever I want to have a sip before sleeping," shares the lawyer.
Ready for your own makeover? Get in touch with interior designer Claudine Medina through email at claudine[at]interiorsbyclaudine.com.
* * *
Have you recently spruced up your room or renovated your home? We'd definitely love to see the result! Send clear photos (with your full name, city address, and accompanying kuwento) to [email protected] with the subject "DIY Makeover" and we may just feature your DIY project!
More on Realliving.com.ph
Load More Stories