Condos
This 25sqm Condo Unit Has Secret Storage Nooks for an Avid Toy and Merch Collector
A place for everything and everything in its place Photography: OLA Interior Photography
For a collector, space and storage are of utmost importance. Nooks for display as well as areas where items can be kept safe, call for more customized solutions. This doesn't mean, however, that one immediately needs a home with a huge floor area to be able to keep memorabilia. Just take a look at this 25sqm, one-bedroom condo unit which interior designer Hanna Chua of Habitat Curator Interiors has worked on.  
The client, who collects toys and K-Pop merchandise, also has a penchant for color contrasts, which Hannah incorporated into the unit.  
"The design plays with light and dark color tones matched with light ash wood, creating contrast and character that makes the space look larger and inviting," Hanna tells Real Living. "Since we wanted to maximize the space, we made use of custom-made built-in cabinets, thinking of it as a way to future-proof the unit as much as possible.  
Living and dining area
The unit opens into a clean, calming palette of grays, off-whites, beiges, and browns. The soft contrast of colors offers a subtle transition between the dining and living areas.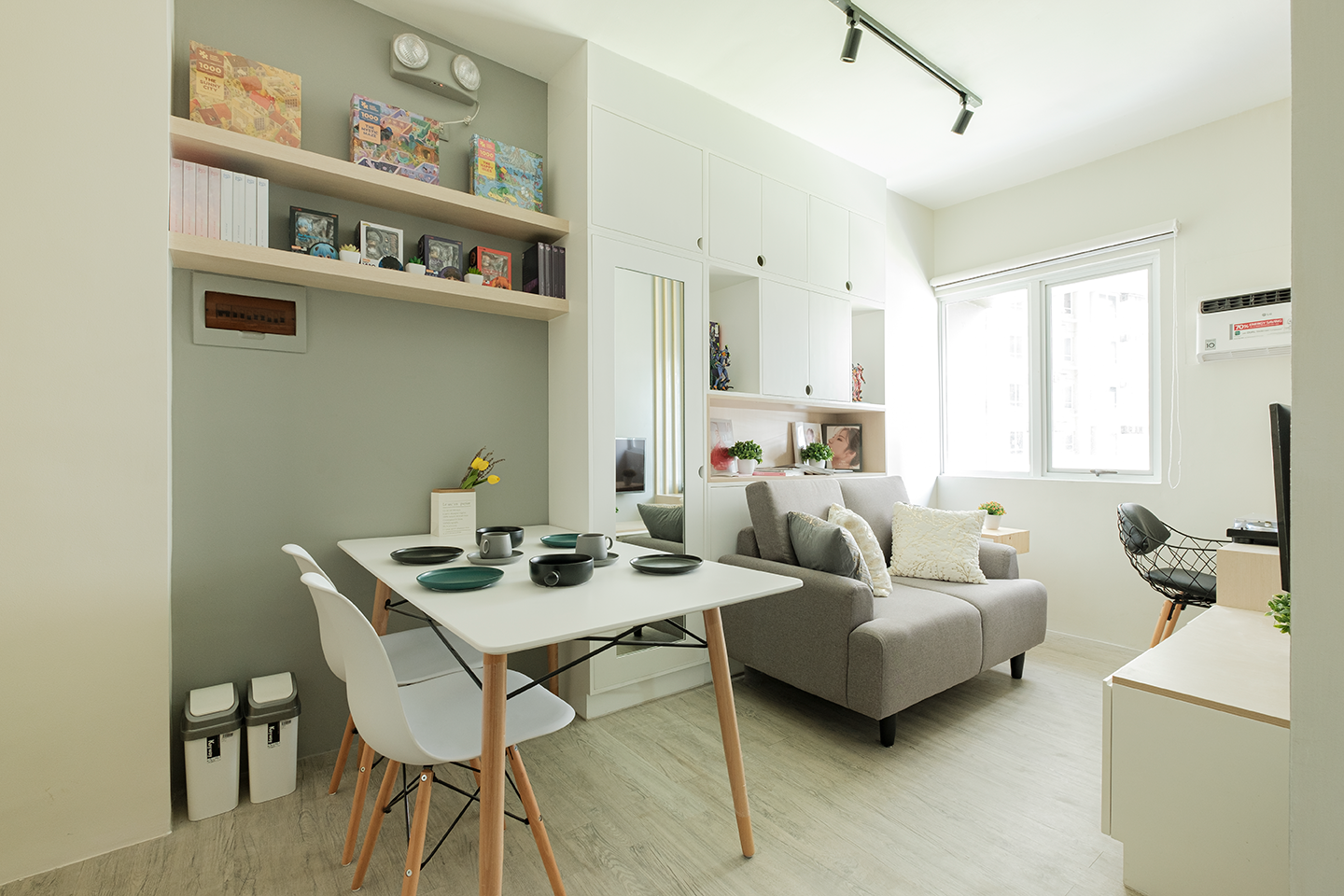 "A two-seater dining table faces the living area, in which we see most of the client's prized collection," says Hannah. The spaces for storage, too, is barely visible. "The full-length cabinet includes closed storage and display area, and finger grab handles that add soft, organic features... We designed the cabinet this way so that the client can easily lounge without hitting the handles." 
ADVERTISEMENT - CONTINUE READING BELOW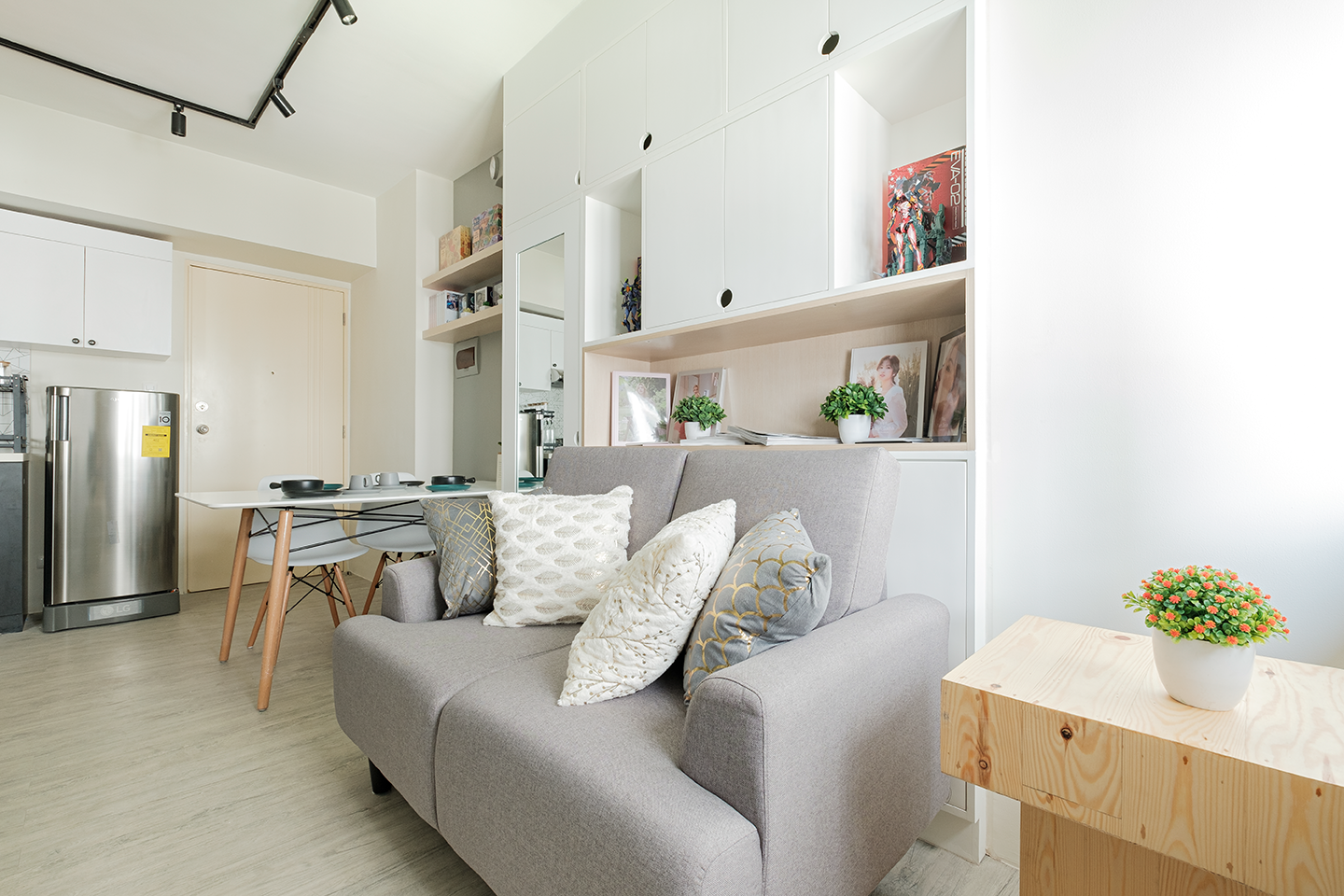 A touch we like is the small music corner off to one side, which has the vinyl records and a player. As the unit owner is also a musician, this is where she spends her free time playing the guitar.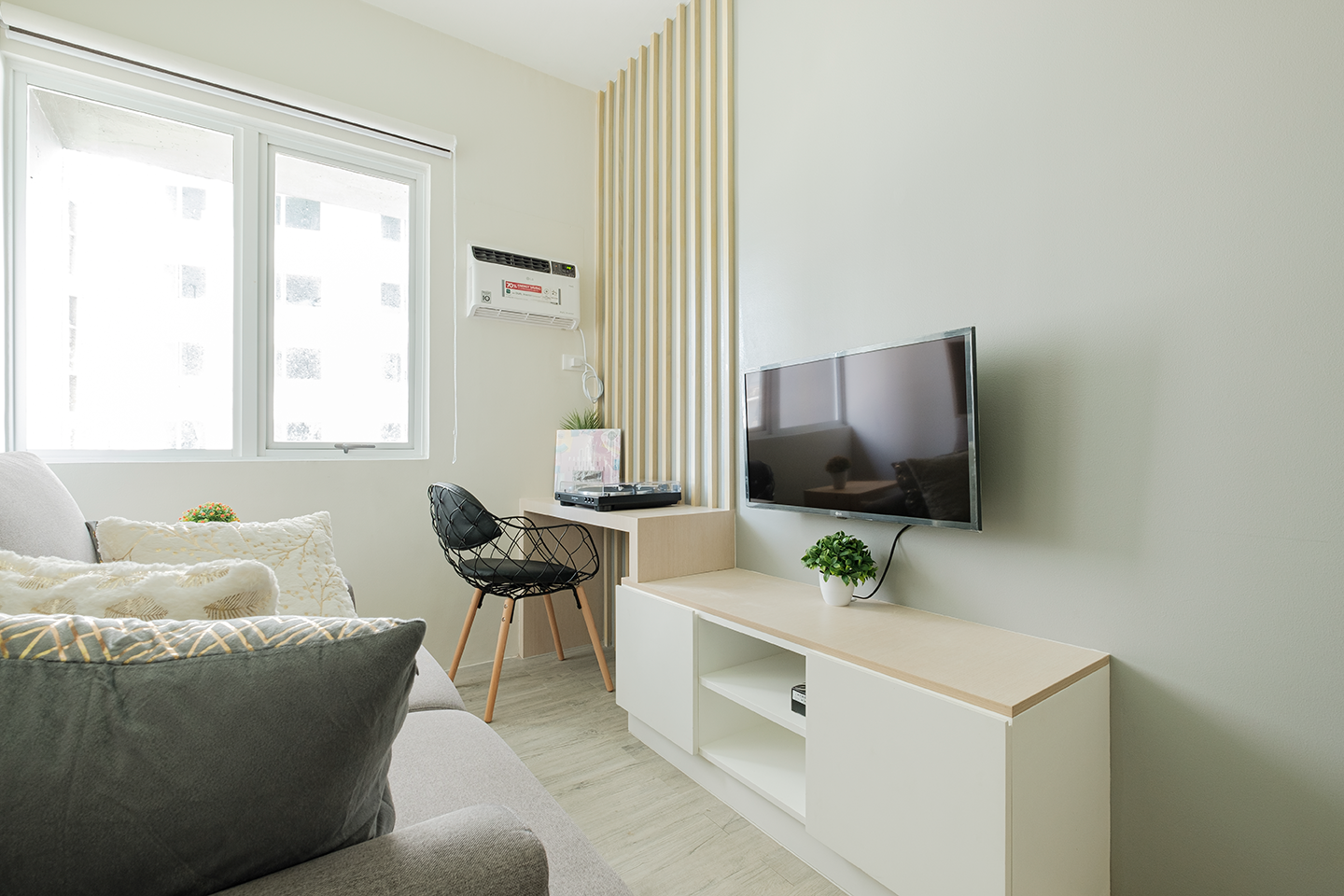 Kitchen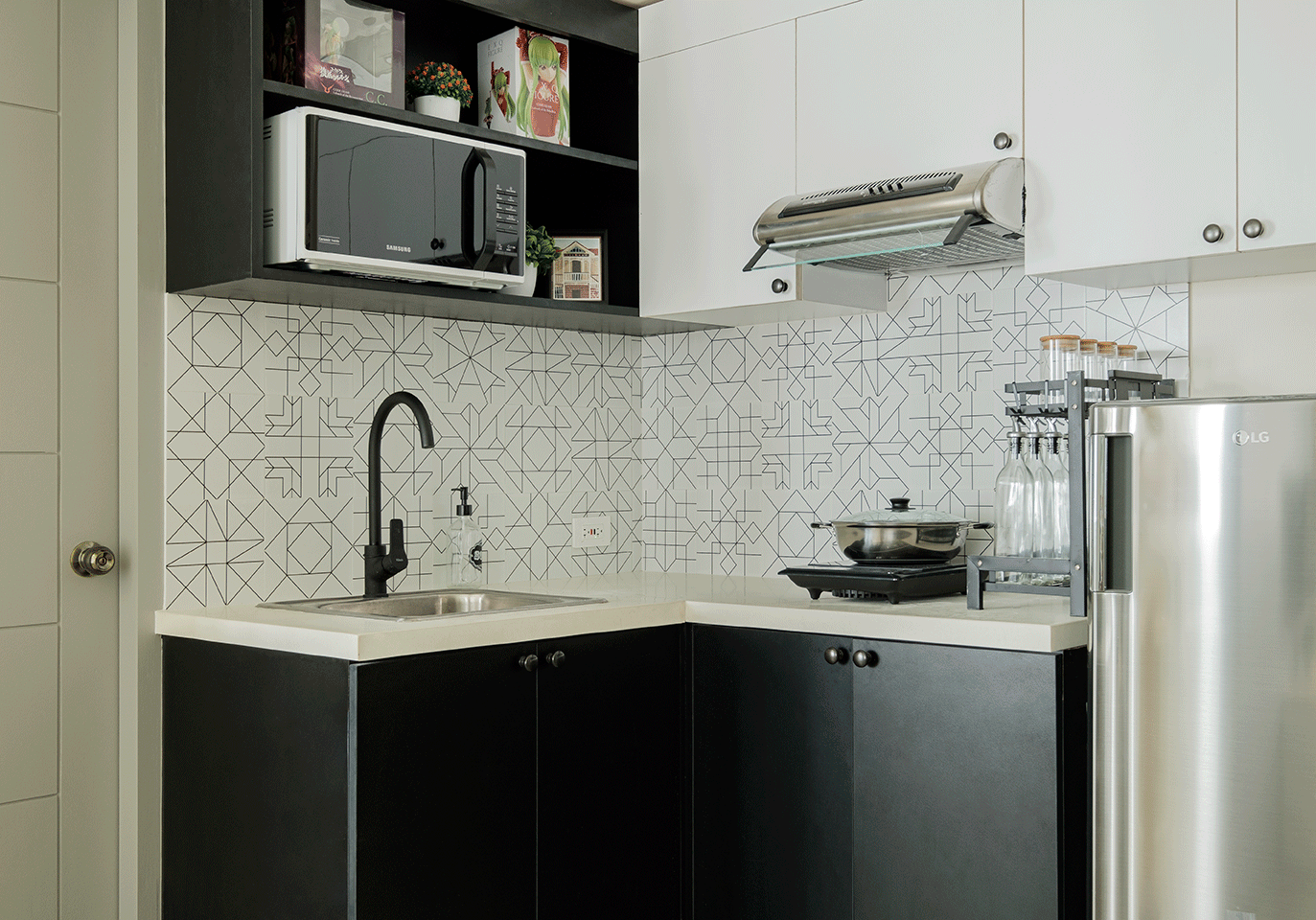 Just beside the dining area is the kitchen, which has a more pronounced color contrast in black and white. Black custom cabinets were installed, and a backsplash with a geometric design adds character without overwhelming the rest of the area.
Toilet and bath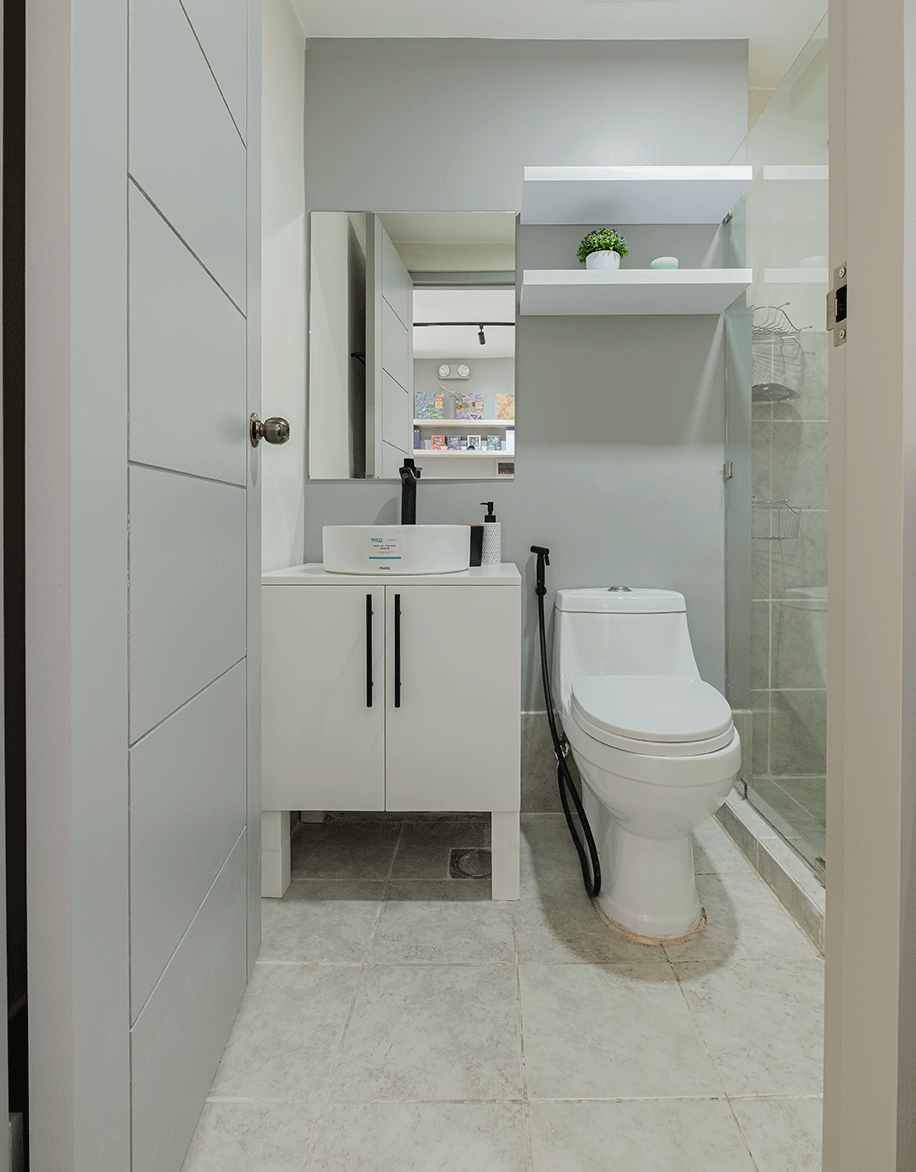 ADVERTISEMENT - CONTINUE READING BELOW
A bit of repainting connected the toilet and bath to the rest of the unit, and a new sink, fixtures, and bathroom tools blended with the clean, geometric theme of the home.
Bedroom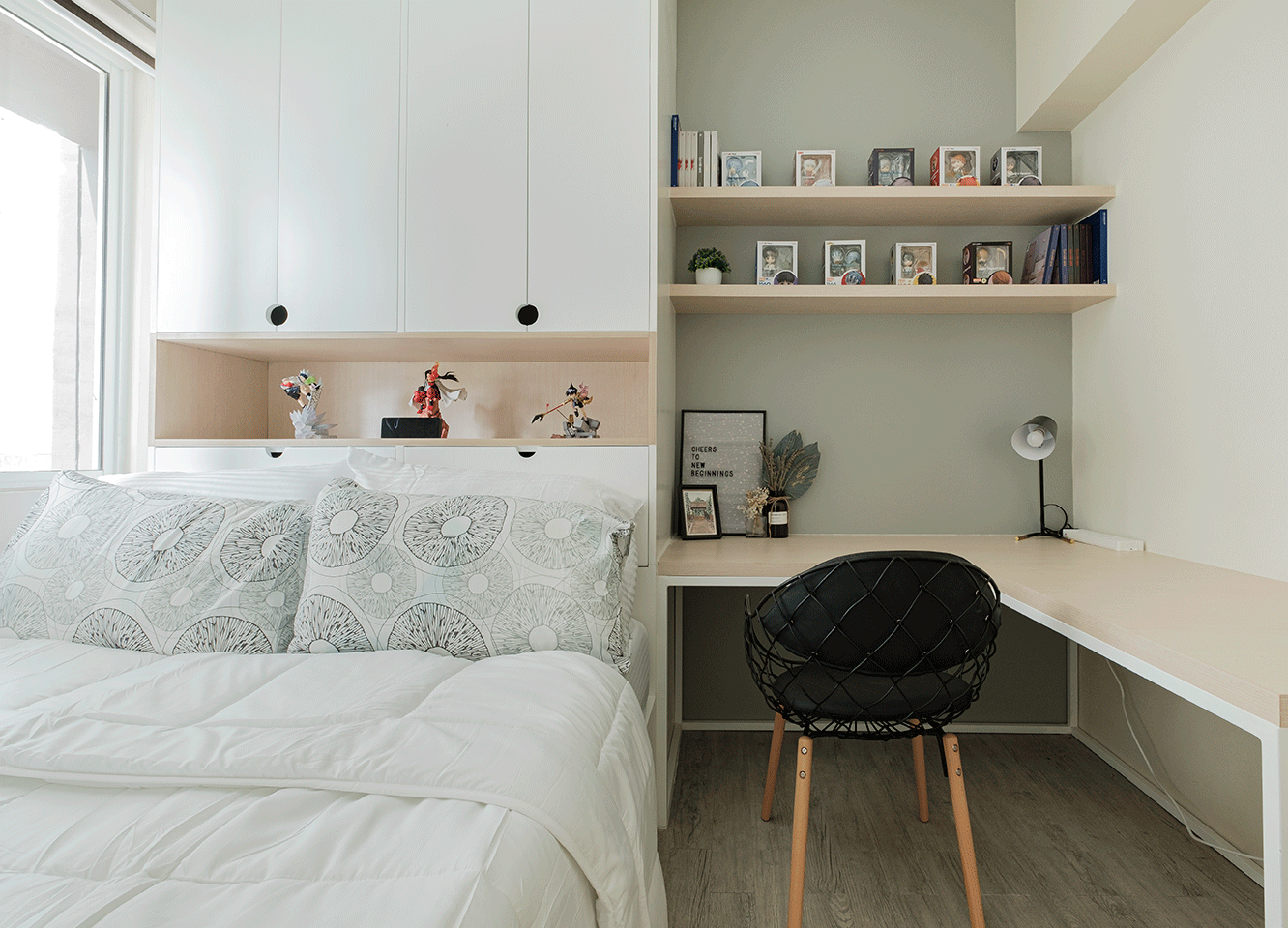 According to Hanna, the bedroom "maximizes the space by including a rest area and a work area, while also giving them distinct locations." While the rest area houses the static space that can be used for storage, the work area has more dynamic pieces that can be moved to accommodate the client's activities. Our favorite? The "secret" storage area beneath the bed's mattress, where luggage can be stored. 
ADVERTISEMENT - CONTINUE READING BELOW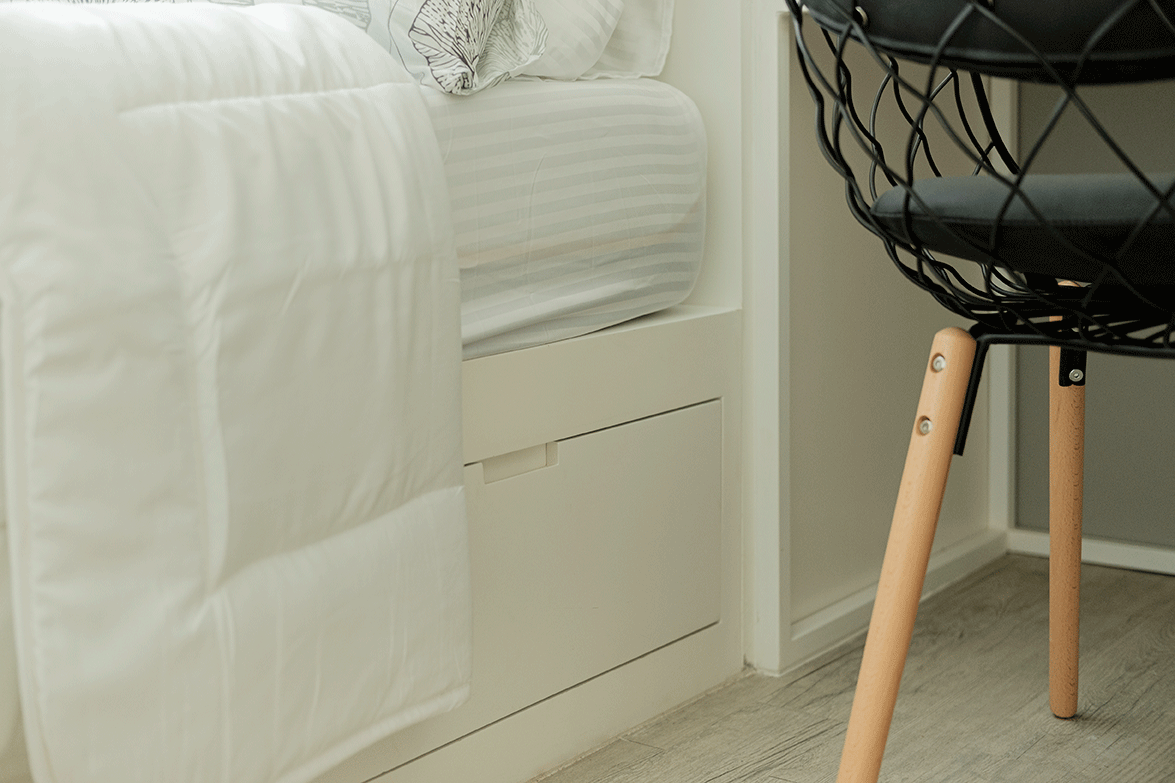 "The project gives a new perspective to small spaces. Small solutions go big in terms of functionality and comfort," the interior designer explains. "With this in mind, living in small spaces shouldn't be intimidating —you just have to think outside the box." 
Learn more about the unit in the video below:
ADVERTISEMENT - CONTINUE READING BELOW
More on Realliving.com.ph
Load More Stories