Celebrity Homes
Living The High Life: Take A Look Into Alice Eduardo's Luxurious 3,000sqm Home
Ever wondered what the Woman of Steel's house looks like? Photography: Courtesy of YouTube/Karen Davila Architect: Ar. Ed Ledesma Interior Designer: IDr. Eduardo Calma
There's a reason why celebrity home tours are so popular online – it's always fun and interesting to have a look into the private spaces of famous people. One such individual who recently gave a tour of her house is business tycoon Alice Eduardo.
In case you didn't know her already, Alice Eduardo is the founder and CEO of Sta. Elena Construction and Development Corp., as well as the sister of YouTuber Small Laude. For her formidable career in the construction industry, Alice has become known as the Philippines' Woman of Steel.
Despite her famous connections, Alice has mostly chosen to stay out of the spotlight. Luckily, however, she has decided to give all of us a peek into her impressive Forbes Park home through a video on newscaster Karen Davila's YouTube channel! To complete the design of her home, Alice enlisted the help of interior designer Eduardo Calma and architect Ed Ledesma while also making sure to imbue the space with her personal style.
Also Read: 12 Things We Love About Small Laude's Stunning Modern Tropical Home
Get a tour of Alice's sprawling, luxurious home:
Facade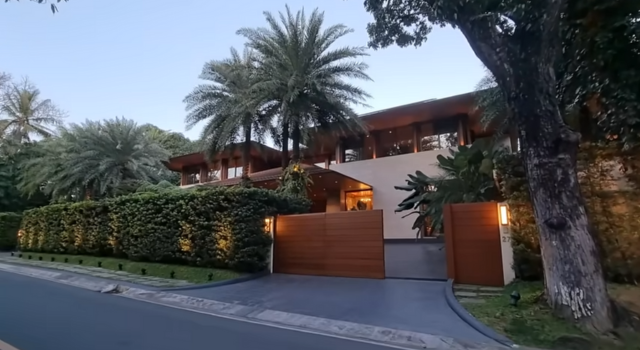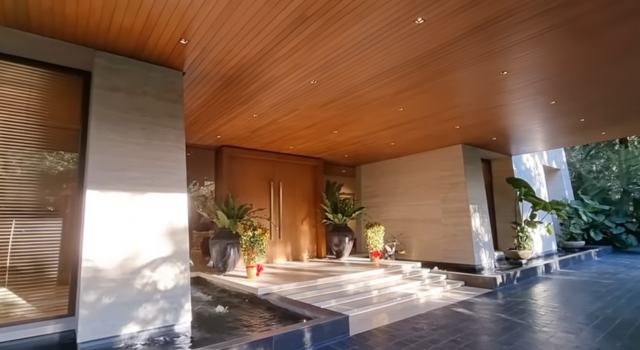 ADVERTISEMENT - CONTINUE READING BELOW
Alice's home, which she shares with her three kids, has a floor area of around 3,000 sqm. This property was initially occupied by an old house, and Alice's original plan was to have it renovated. Eventually, she decided to go another way since a renovation would involve reworking plumbing and electric systems.
Living Area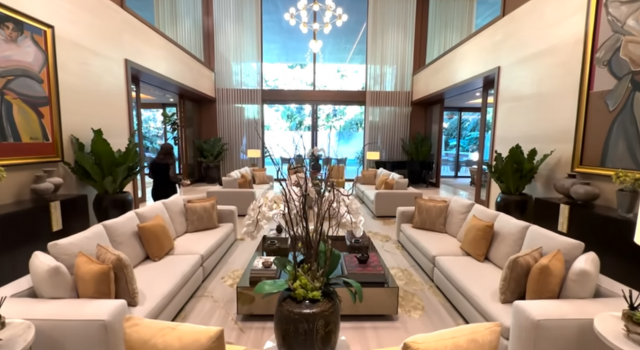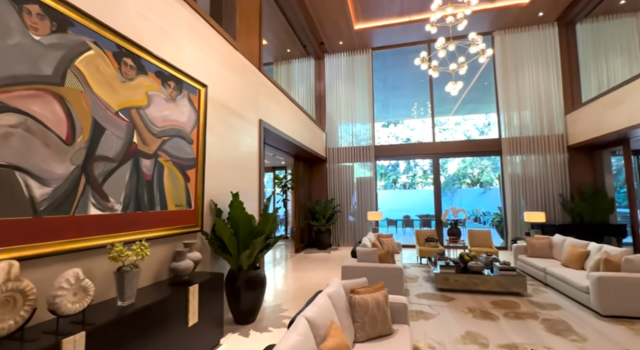 The first part of the house that Alice and Karen visit is the living area, which is spacious and has very high ceilings. The walls are made of travertine stone, which Better Homes & Gardens describes as "a type of subterranean limestone brought to the surface by hot springs" and which has a naturally raw and weathered look.
ADVERTISEMENT - CONTINUE READING BELOW
One unmistakable element of the living room is the presence of two large paintings by renowned Filipino artists Jose Joya and Benedicto "BenCab" Cabrera. Alice revealed three jaw-dropping facts regarding this. First, the Joya painting was purchased at an auction in Hong Kong. Second, the BenCab in her living room was commissioned. Third, she has several other BenCabs in her home!
Also Read: 10 Tips to Help You Achieve A Stunning Living Room
Altar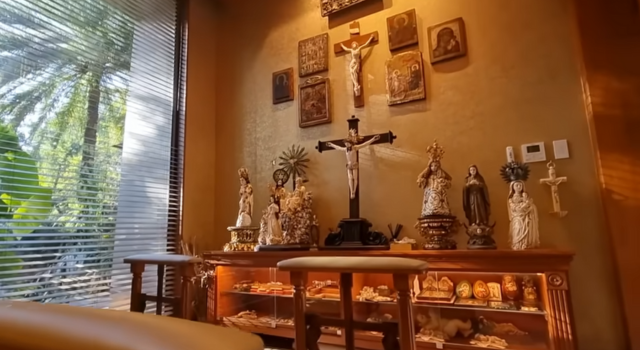 ADVERTISEMENT - CONTINUE READING BELOW
According to Alice, the altar is very close to her heart and is a room she visits at least once every day. It's furnished with, among others, a crucifix and a St. Joseph. When she visits the altar, Alice said that she would always take the time to thank God: "Parati lang akong nag-te-thank you. Para I don't ask anymore kasi I know what He will give me again, e. Parang na-fi-feel ko na, 'Lord, I know You're going to give me this again.' And nandiyan Siya talaga."
Also in this room is a display case full of gifts and souvenirs from Alice's family and friends, which showcases her sentimentality and penchant for keeping every present she receives from her loved ones.
Dining Area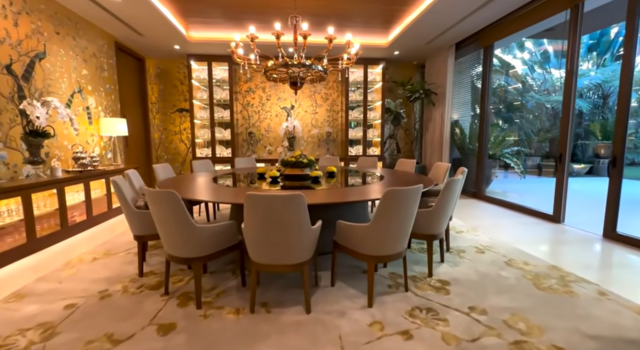 ADVERTISEMENT - CONTINUE READING BELOW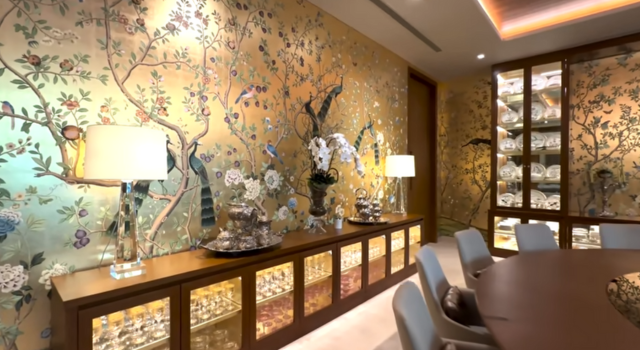 If you follow Alice online, you might know that she often hosts gatherings in her home, most of which are situated in her large dining room. One thing you'll notice here is the round table. When asked why she opted for a round table instead of the more commonly seen rectangular table, she responded that it was in order to practice equality: "Anywhere you sit kasi, you feel na you're all together pa rin."
ADVERTISEMENT - CONTINUE READING BELOW
Hanging over the table is a glass-blown chandelier that came from the Czech Republic. And of course, there is also the painted wallpaper that Alice specifically chose the design for and purchased from de Gournay, which manufactures hand-painted wallpaper, textiles, and decor.
Also Read: 5 Ways to Give The Dining Area a Makeover
Clean Kitchen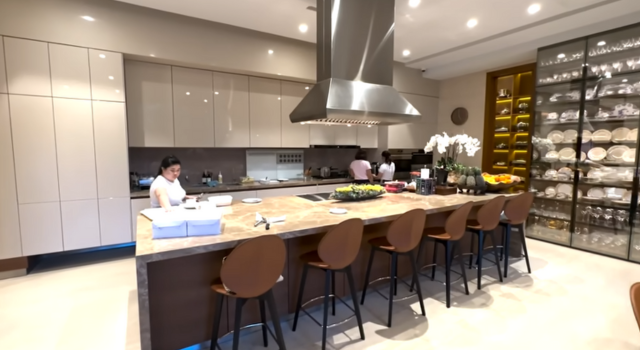 ADVERTISEMENT - CONTINUE READING BELOW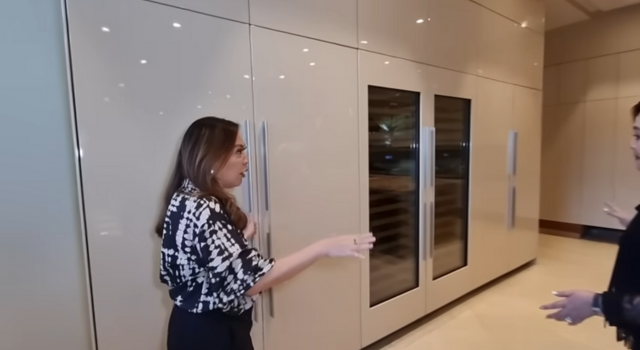 There is a total of two kitchens in Alice's home. The clean kitchen is the one primarily used by her children whenever they want to cook. It also features cabinets and fixtures from German manufacturer bulthaup and expansive glass-front cabinets to store Alice's collection of plates (which includes sets from Cartier, Hermès, and Flora Danica). Aside from these, the clean kitchen also has a working dishwasher and a teppanyaki grill.
ADVERTISEMENT - CONTINUE READING BELOW
Working Kitchen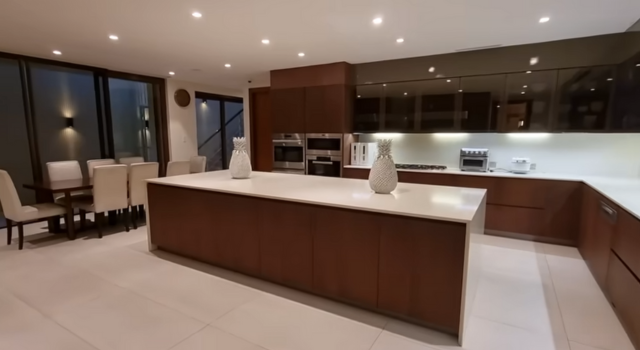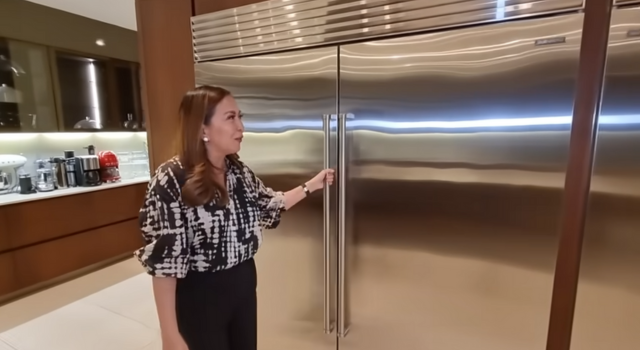 ADVERTISEMENT - CONTINUE READING BELOW
The working kitchen is mostly used by the house staff and for cooking dishes that have strong odors. While also spacious, this kitchen is fitted out with furniture and finishings from Poliform, an Italian luxury brand.
Master Bedroom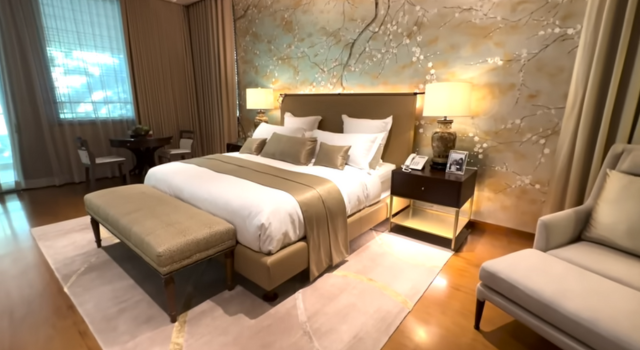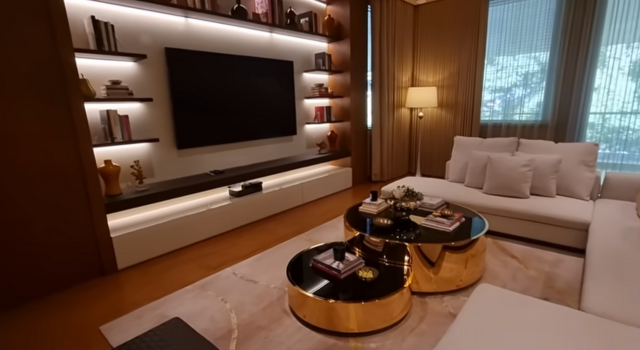 ADVERTISEMENT - CONTINUE READING BELOW
Alice's bedroom, which has a classy color scheme consisting of pastels and golden hues, has furniture from Minotti, an Italian furniture brand. It also has embroidered wallpaper created by de Gournay.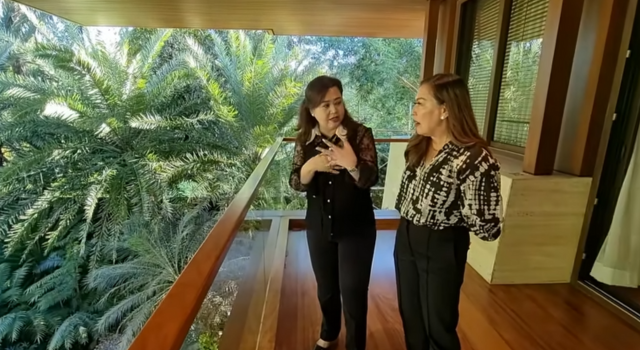 The bedroom opens up to a terrace that gives Alice an expansive view of the pool area and deck. The terrace is protected by a canopy made of natural wood, which Alice makes sure is regularly taken care of by having it be repainted every six months.
ADVERTISEMENT - CONTINUE READING BELOW
Also Read: This Interior Designer Transformed Her Plain Bedroom Into a Bright and Inviting Space
Master Bathroom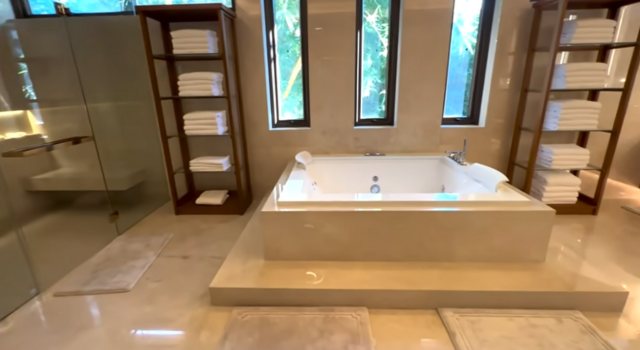 [image: ALICE-BATHROOM2]
Courtesy of YouTube/Karen Davila
Alice shared that originally, the plan was to install his-and-hers sinks in her master bathroom. Later on, however, she and her contractor agreed to add a single sink with lots of counter space for her daily essentials. She also opted to use open shelving to store her towels, explaining that this makes it easier to replenish them regularly.
ADVERTISEMENT - CONTINUE READING BELOW
Walk-In Closet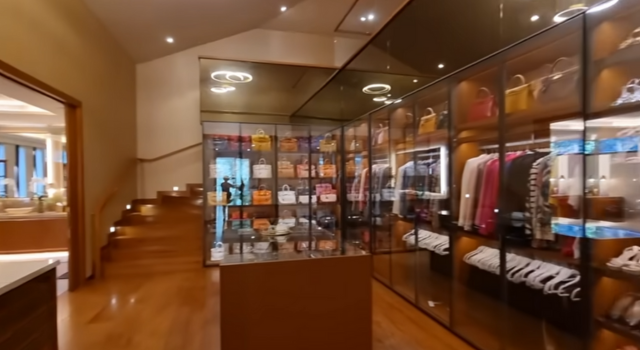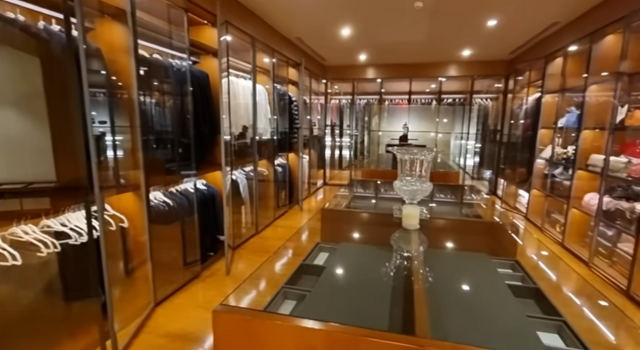 ADVERTISEMENT - CONTINUE READING BELOW
Alice's walk-in closet is chock-full of glass-front cabinets that keep her many bags, shoes, and clothes in pristine condition while also putting them on display. Because she has so many possessions, the walk-in closet actually has two separate floors!  
Office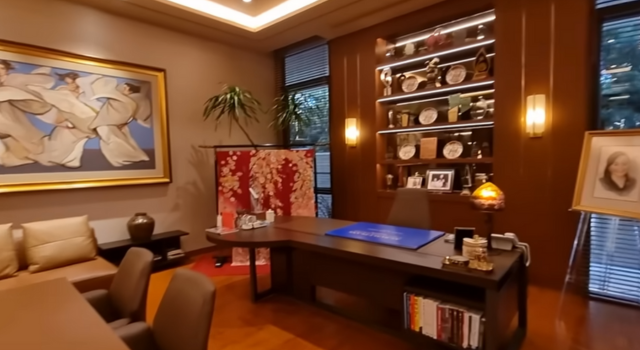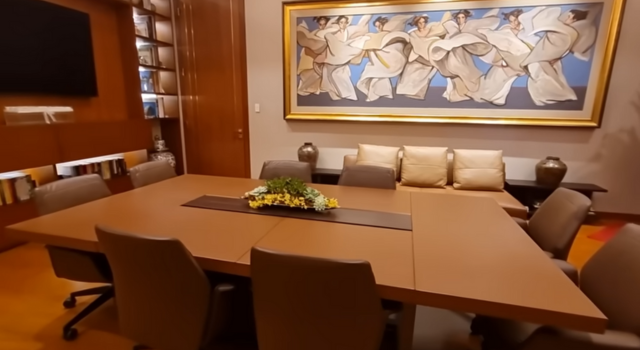 ADVERTISEMENT - CONTINUE READING BELOW
Alice is known as an accomplished businesswoman, so of course, she would have an office and conference room in her own home. While this room is used primarily for work, it also provides the perfect place to display another BenCab painting that is part of her collection. Behind her desk is a set of open shelves that showcase her numerous awards and accolades.
Also Read: How To Create A Home Office In A Small Space
Entertainment Room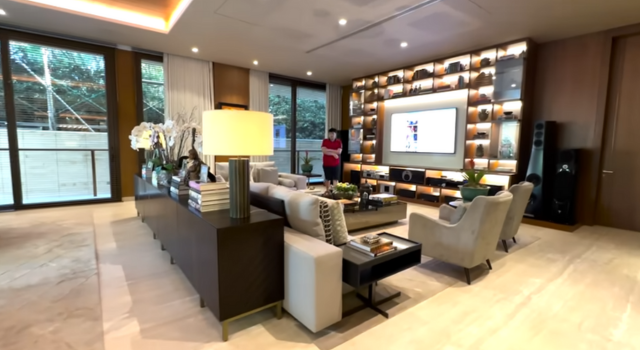 ADVERTISEMENT - CONTINUE READING BELOW
The entertainment room, according to Alice, is a favorite among her three children who love to watch movies. Alice made sure this room would have high-end speakers and projectors, as well as a cozy couch, so that she and her kids could really bond. "I love this place," she gushed. "Talagang sometimes, we have to put TVs sa bedroom, but I want sana all of us here watching."
Parlor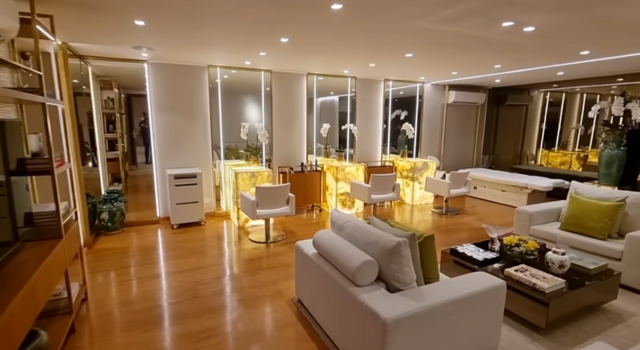 ADVERTISEMENT - CONTINUE READING BELOW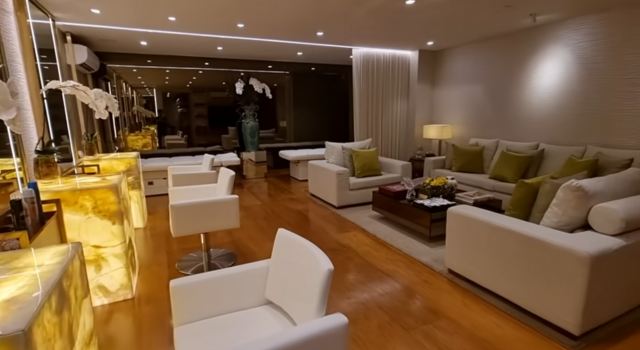 Perhaps one of the most surprising things you'll find in Alice's home is her very own parlor, which is where she goes to get her hair cut, shampooed, or colored. This room has several onyx tables, a comfy seating area, and a shampoo chair and hydraulic massage bed which were imported from all the way in France.
ADVERTISEMENT - CONTINUE READING BELOW
Basement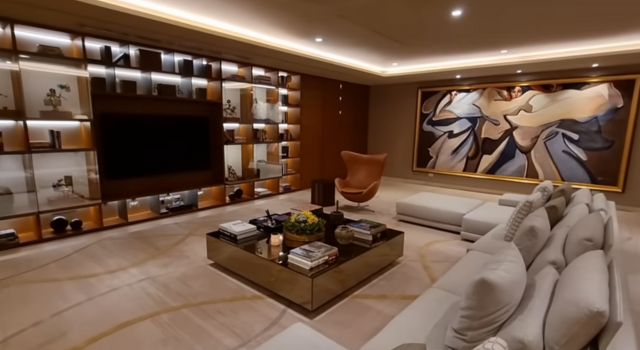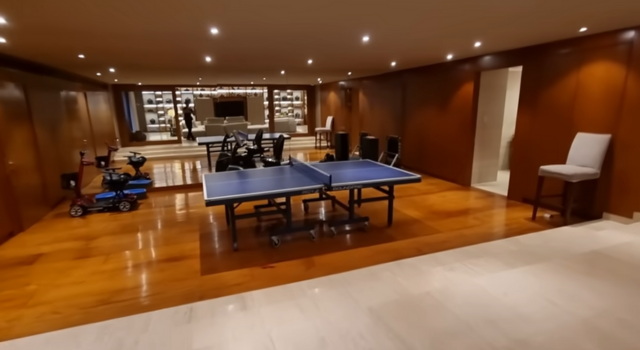 ADVERTISEMENT - CONTINUE READING BELOW
The basement (which is accessible by elevator!) has several different areas, including a library and videoke area, a game room, a gym, and even wet and dry saunas. There's also a little seating area furnished with intricately designed chairs that were especially created for Alice by the Italian furniture brand Cappellini. Don't believe us? Check out the nameplates built into the underside of each chair!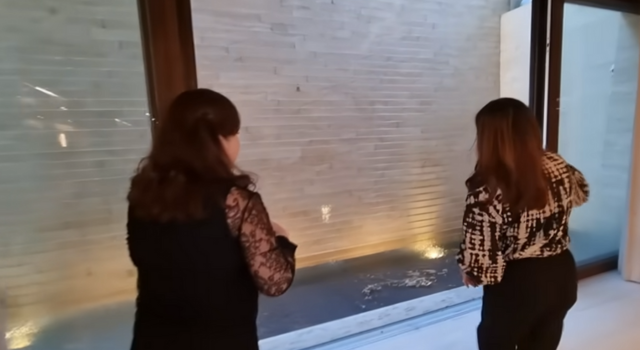 ADVERTISEMENT - CONTINUE READING BELOW
Right next to the library and videoke area is a set of double doors leading to a waterfall feature. Alice shared that, for her, installing this was worth the investment: "For me, hindi naman siya expensive because of 'yong nakukuha mong [effect], 'yong peace. For me, kasi, 'yong sound of water, iba. Then the air."
Moreover, because of the waterfall feature, Alice didn't need to have air conditioning added to the basement. "Long-term, mura rin siya kahit maglagay ka ng ganyan. Hindi naman kailangan ganyan kataas. You can build kahit mababa lang kasi once dumaan 'yong air d'yan [at] pumasok dito, malamig."
Also Read: 7 Things To Consider Before Adding A Water Feature In Your Garden
Wine Cellar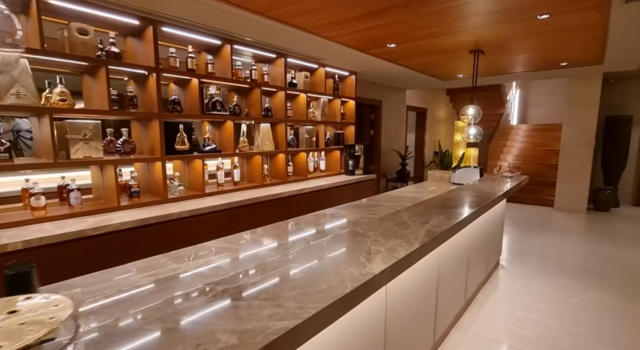 ADVERTISEMENT - CONTINUE READING BELOW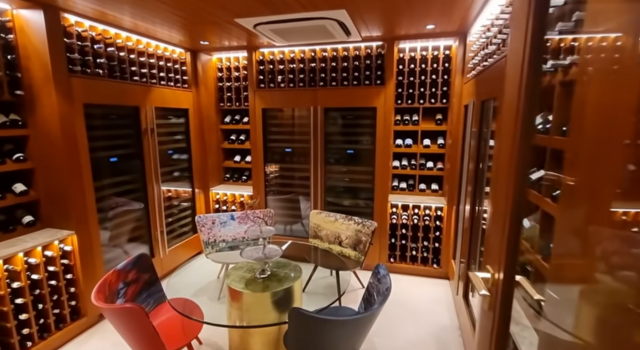 Another item that Alice enjoys collecting is wine, and her extensive collection is put on full display in her wine cellar and the bar right outside it. Funnily enough, she revealed that she isn't actually much of a wine drinker!
Pool Area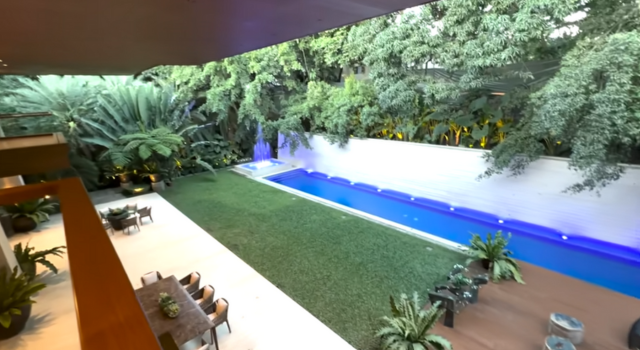 ADVERTISEMENT - CONTINUE READING BELOW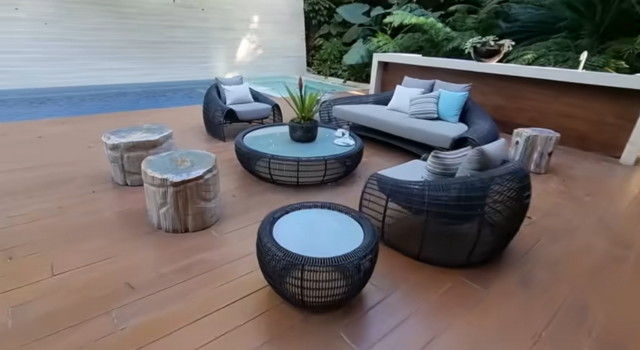 The pool, which is bordered by a tall travertine stone wall, is long and directly connected to the jacuzzi to keep the temperature of the water constant. There is also a deck furnished with several chairs and a cooking station, making this area the perfect setting for an outdoor meal or pool party.
ADVERTISEMENT - CONTINUE READING BELOW
More on Realliving.com.ph
Load More Stories