 Photography: Screenshot from Youtube/mimiyuuuh | IDr. Madelaine San Jose Interior Designer: IDr. Madelaine San Jose, PIID
After giving her followers a peek inside her new home two years ago, content creator Mimiyuuuh recently gave an update on her space, revealing its brand-new Modern Filipino look. With the help of interior designer Madelaine San Jose, the home's common areas are more organized and have a distinct Pinoy vibe that's welcoming.
In an interview with Realliving.com.ph, Madelaine shared that when she went to the home, she immediately noted the need for proper storage, better lighting fixtures, and furniture. "My goal is to bring intimacy and make the space more interactive by letting more people sit comfortably in each area in closer proximity to each other," she explains.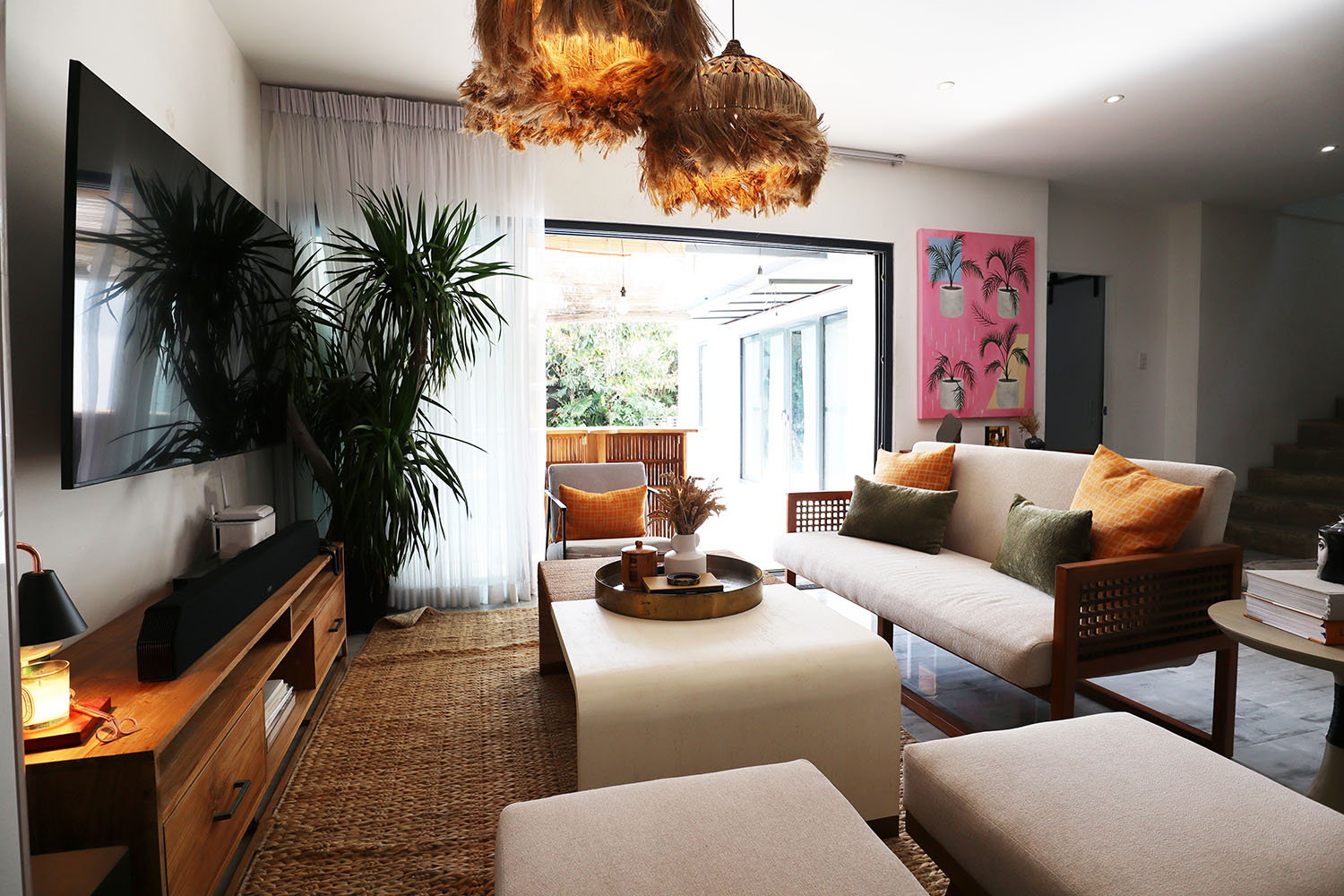 Since the ground floor has an open layout, it was important to make the aesthetic cohesive while also making it easier for the owners to entertain guests. Choosing the Modern Filipino theme came easily to the designer as it mirrors Mimiyuuuh's personality.
ADVERTISEMENT - CONTINUE READING BELOW
"It has ideals that are sentimental, warm, and resourceful. We decided to have a neutral color palette with an accent of bright colors and allotted more storage to have a touch of Filipino festive culture and persona," adds Madelaine.
The makeover took one month to finish as they had to wait for the custom-made furniture for the living and dining areas, while the pantry and dirty kitchen were finished in less than a month.
READ: K Brosas Finally Moves Into New Home, Recalls Bad Experience With Her Contractor
Check out the Before-and-After Photos of the Makeover below:
Before—Dining and Living Areas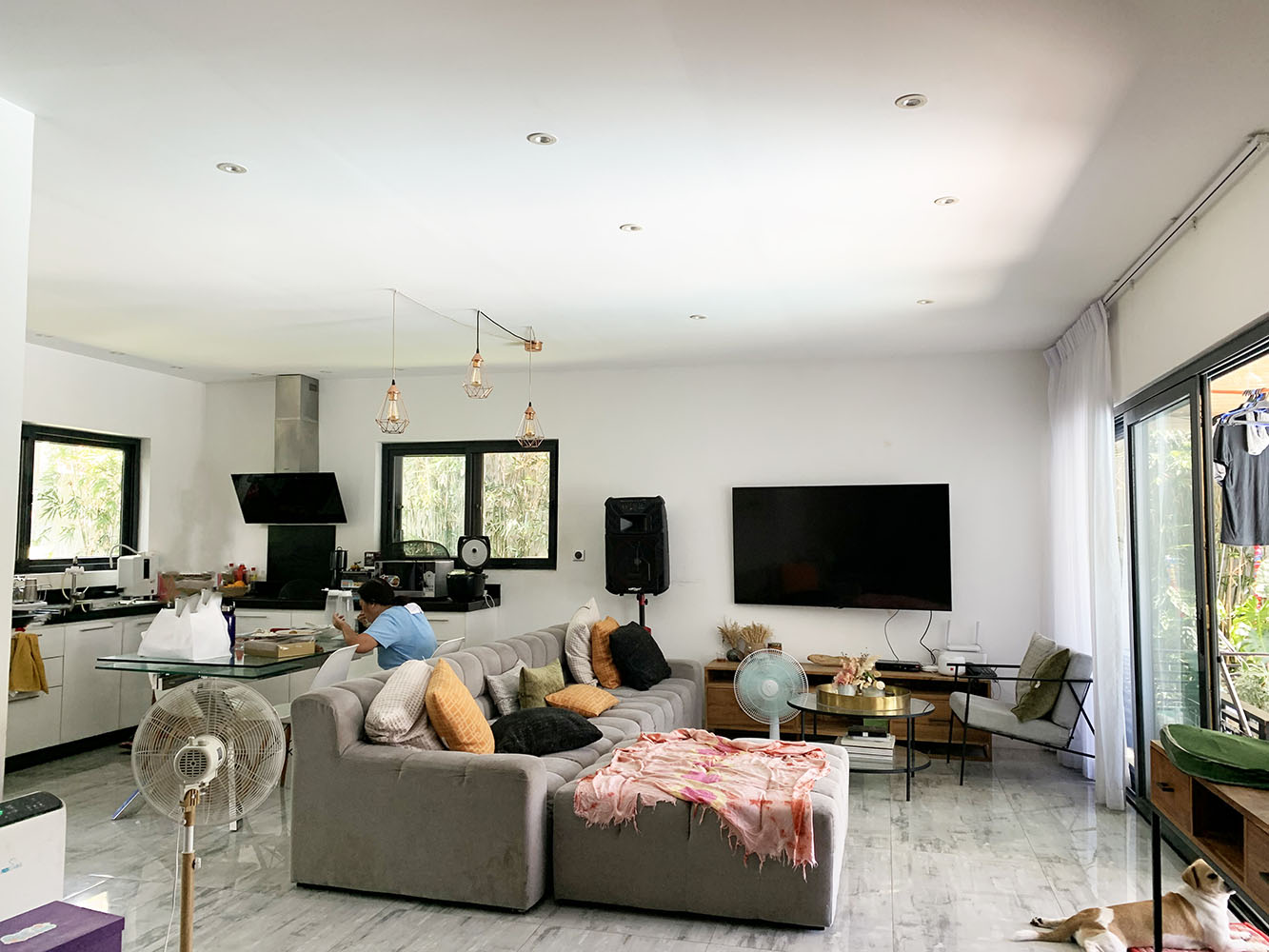 After—Dining and Living Areas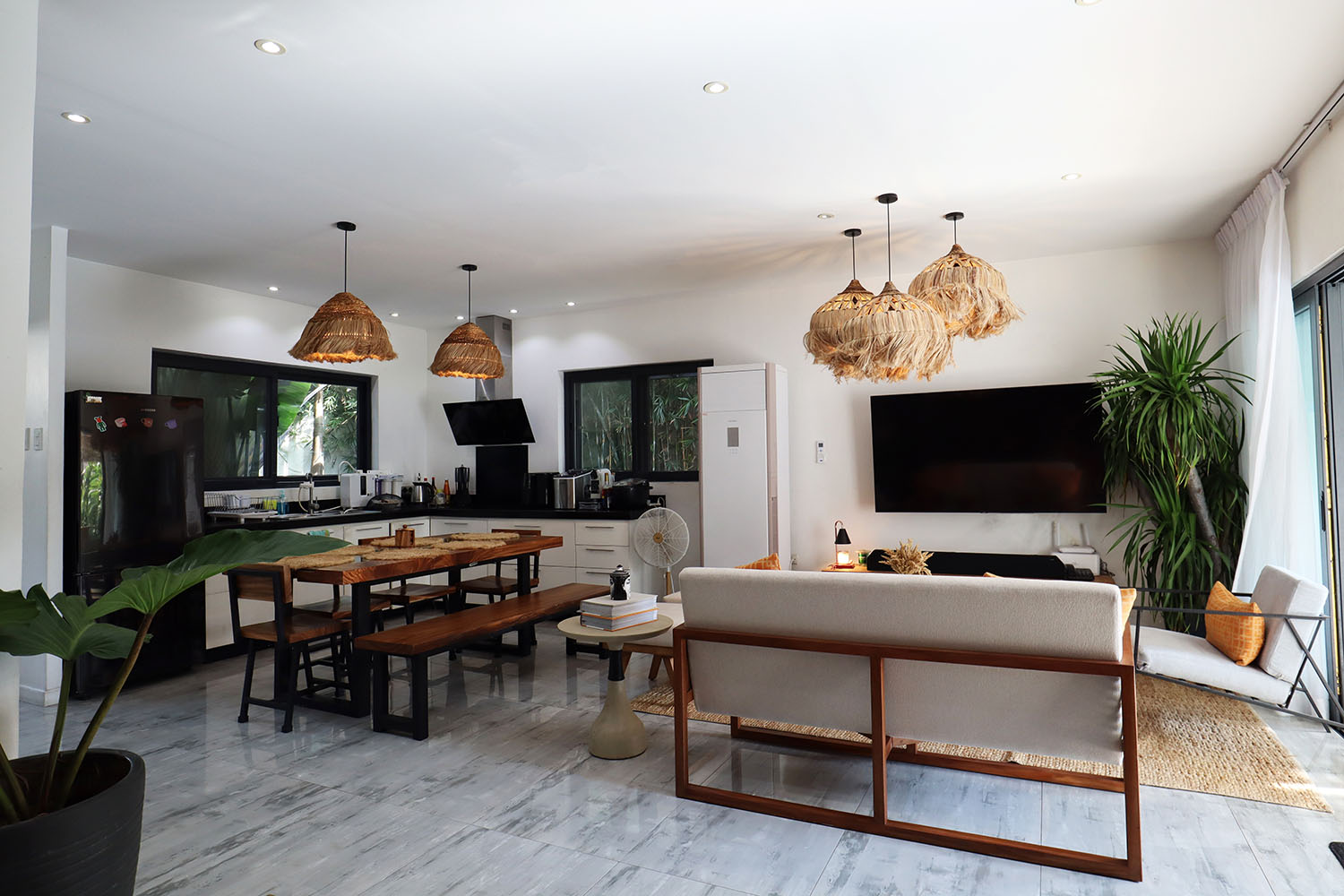 Aside from rearranging the layout, the interior designer chose suitable accessories and lighting pieces that fit the theme to help improve the common areas.
"We used some natural textiles and materials like wood and abaca to make the atmosphere feel like a tropical sanctuary," says Madelaine.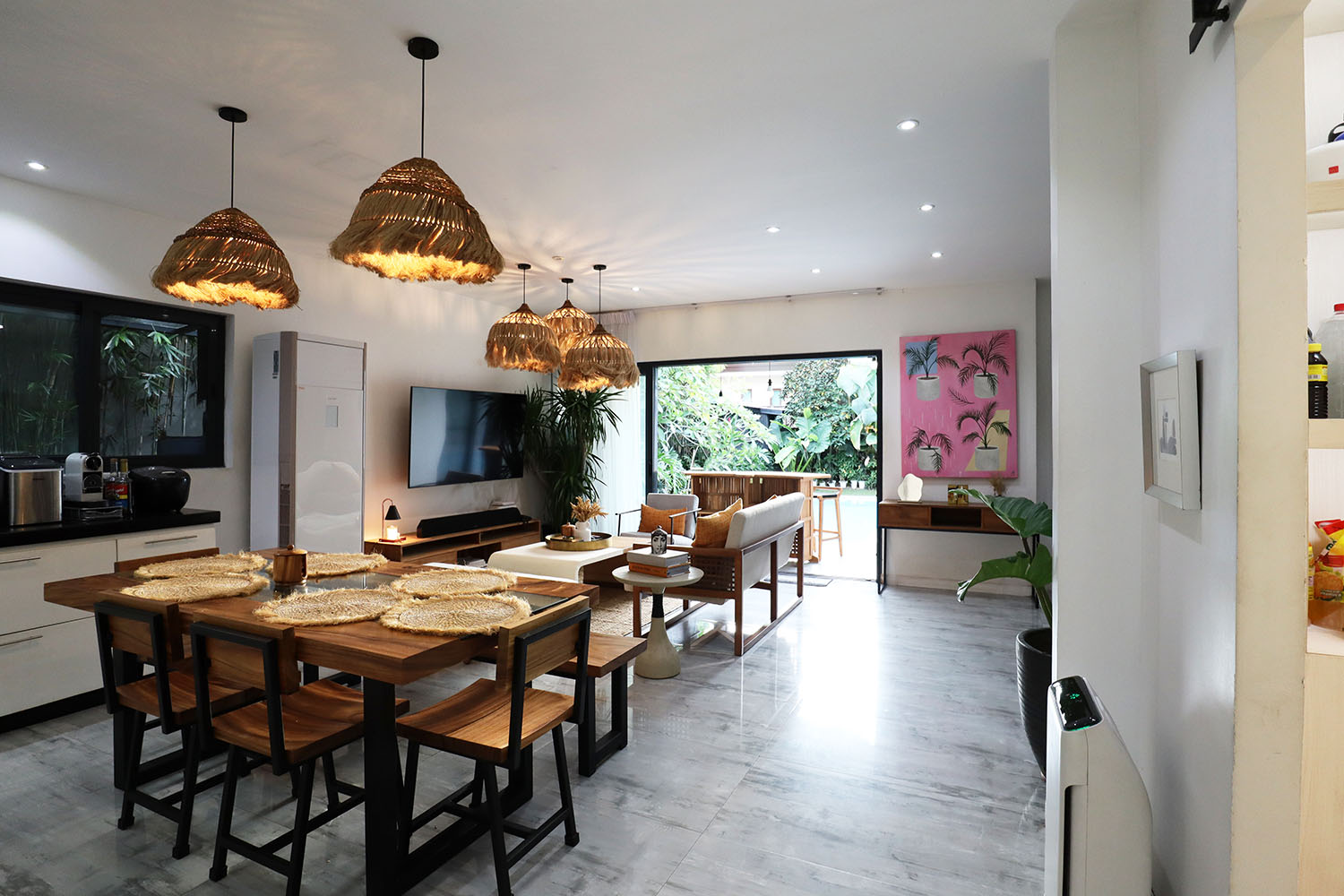 Big potted plants are placed in the corners as well to liven up the areas and bring in a tropical feel.
READ: This Modern-Filipino Family Home in Cagayan de Oro Has a View of the Sea
Dining Area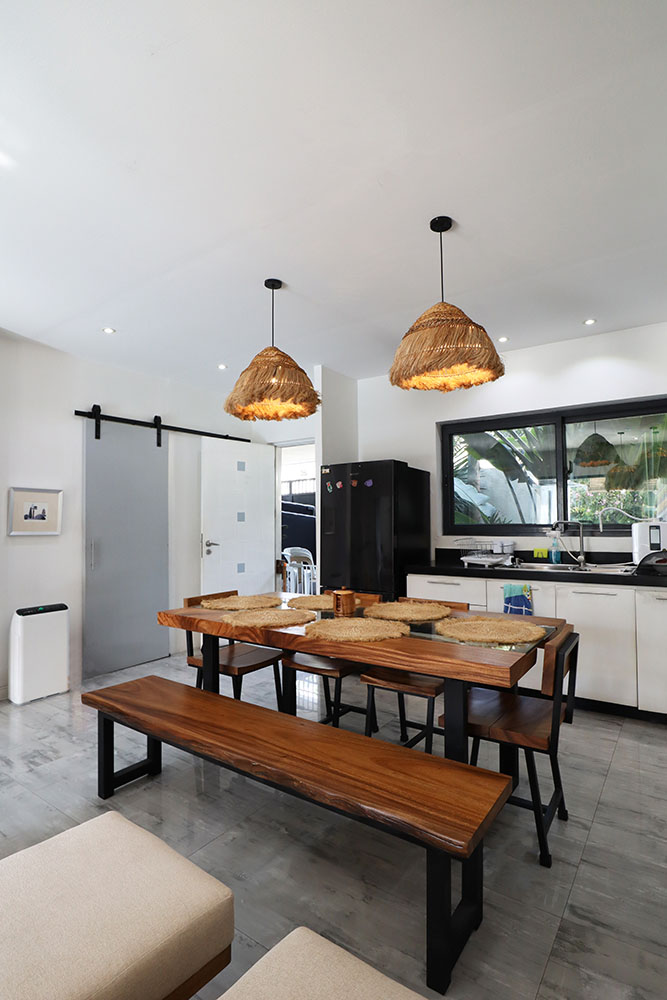 ADVERTISEMENT - CONTINUE READING BELOW
Mimiyuuuh's family loves entertaining and having friends over, so it's essential to have enough space where guests can feel at home. In the dining area, a bench seat was incorporated to accommodate more people as well as to serve as an extension to the living area.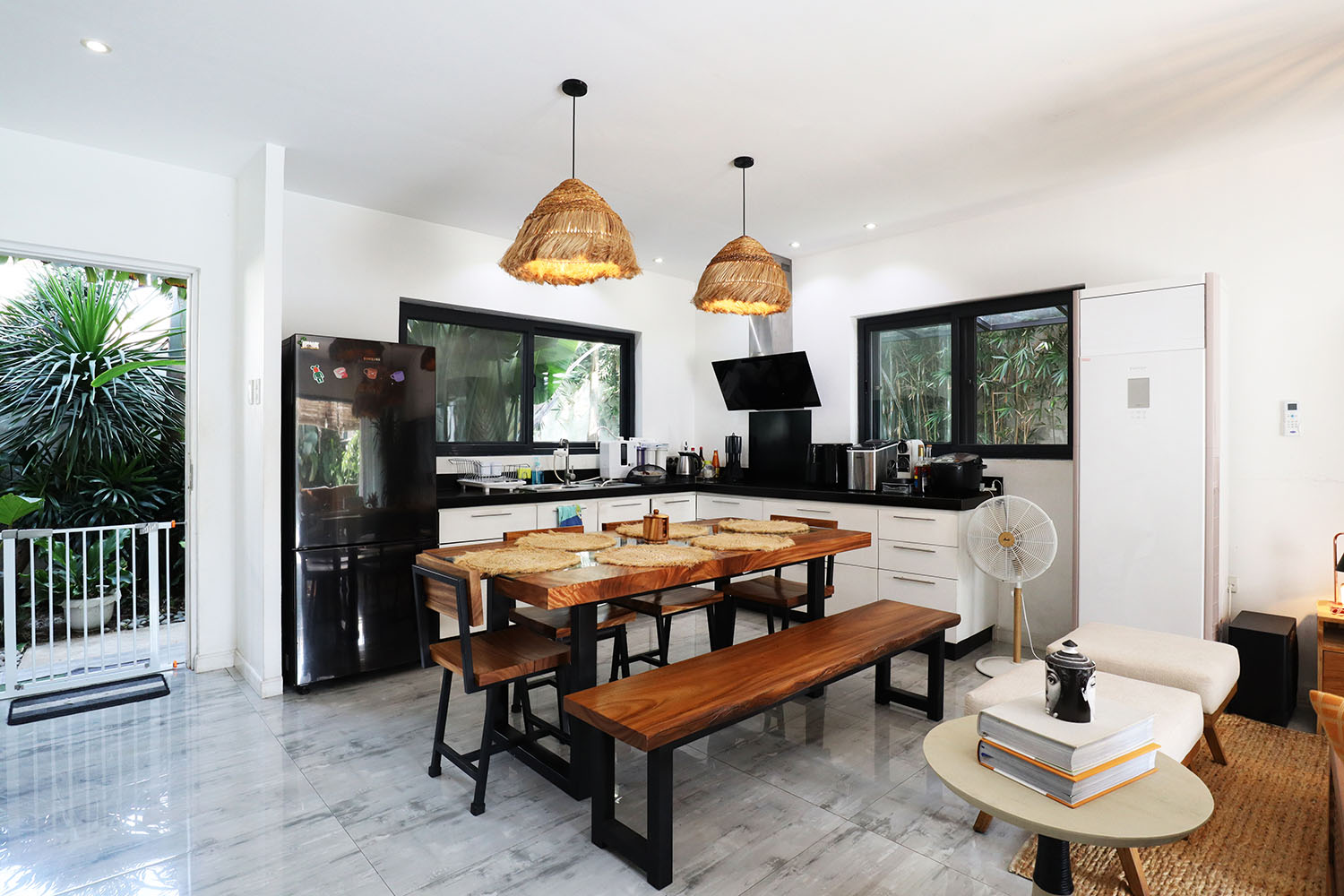 Two matching lighting pieces illuminate the dining area. "We used some natural textiles and materials like wood and abaca to make the atmosphere feel like a tropical sanctuary," adds the interior designer.
Living Area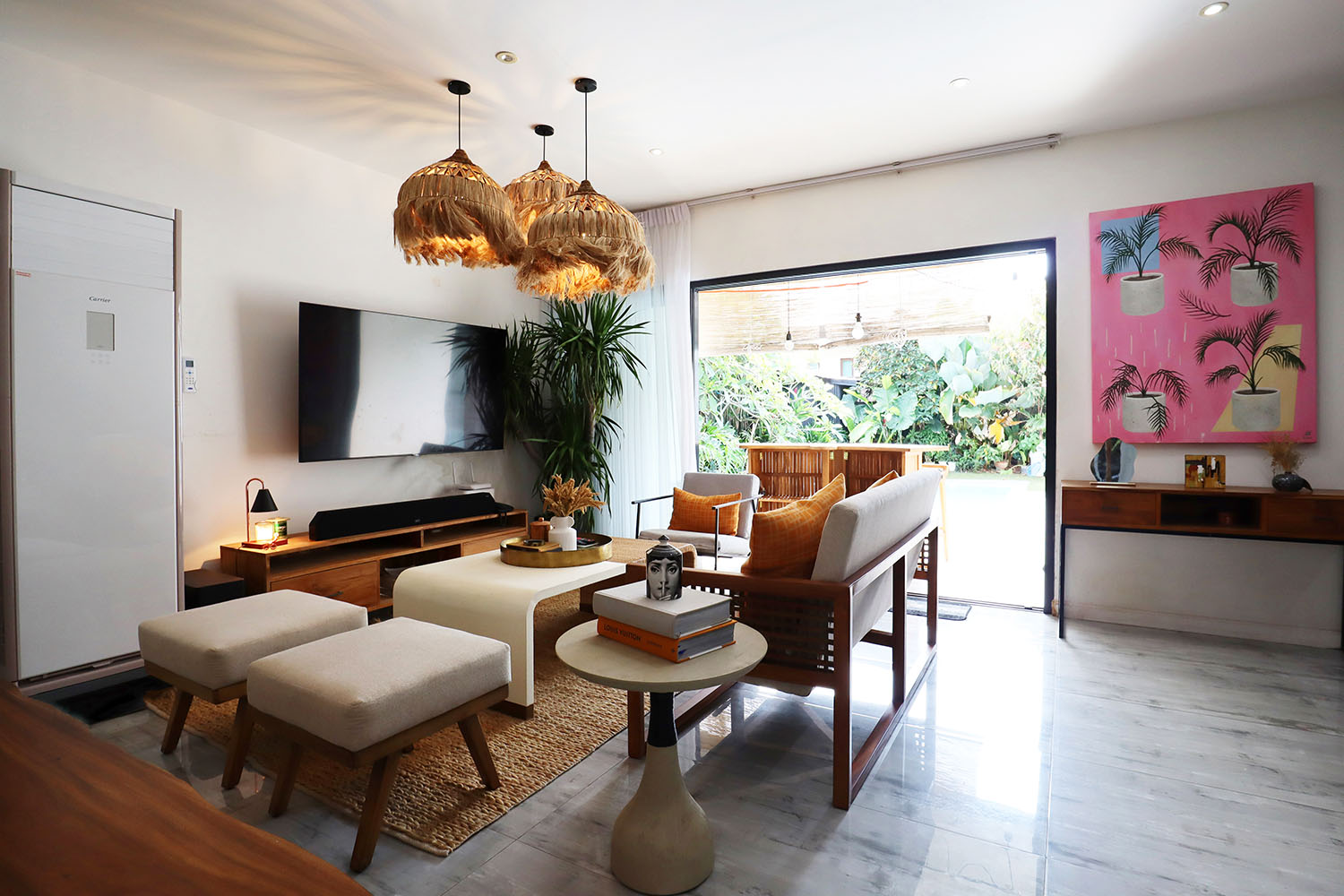 The home's color scheme is dominated by neutrals to keep within the theme while also creating an elegant and timeless look. "The accent colors I chose are mostly bright yellow and earthly green to reflect our concept of bringing nature indoors while also achieving a warm and inviting vibe," Madelaine explains.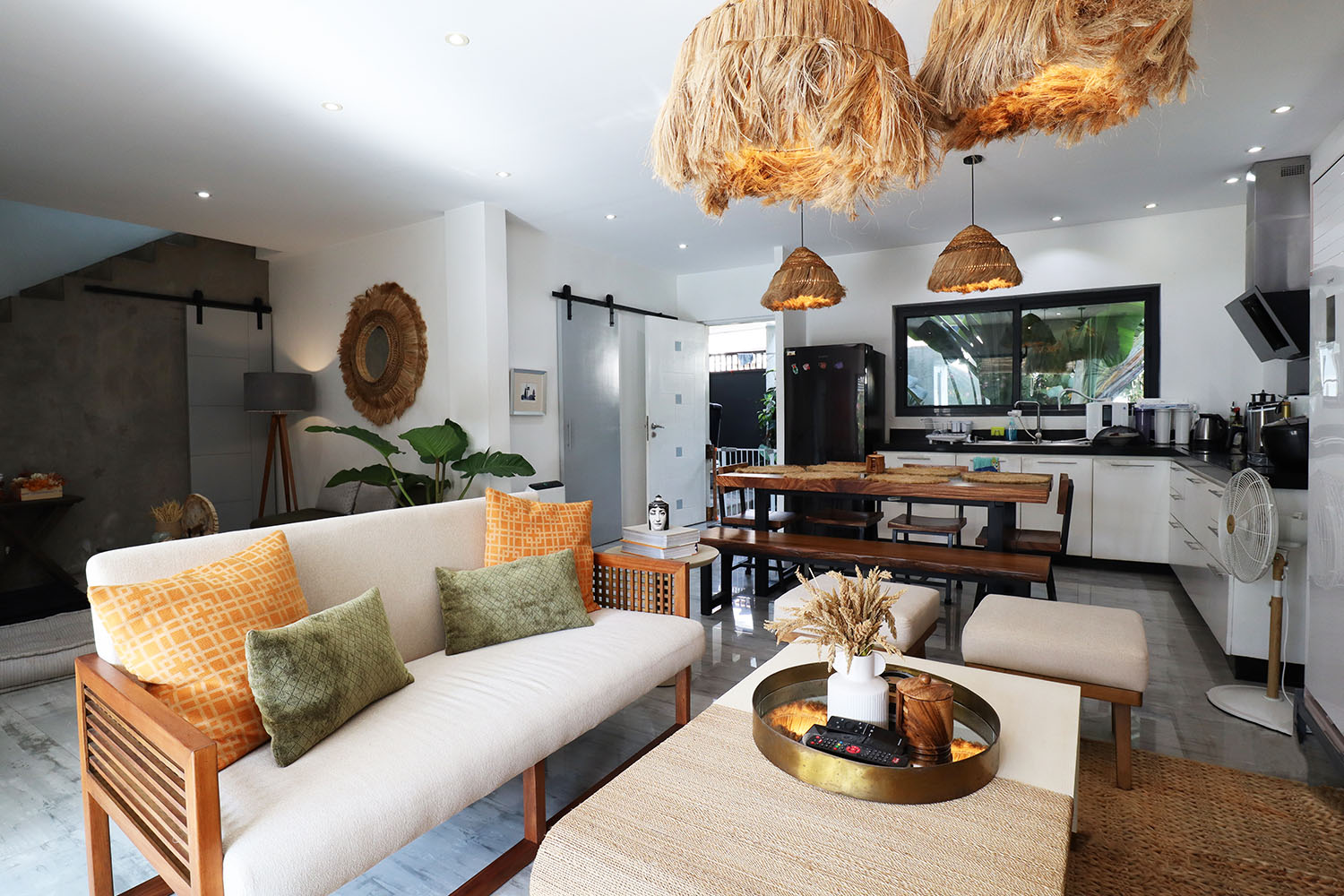 According to the designer, she designed the living area with a formal approach, as seen in her chosen furniture pieces like the two-seater sofa and ottomans. "We broke the clean-lined patterns by choosing a circular side table and a coffee table with smooth edges," she says.
READ: A Relaxing, Modern Tropical Garden In The City
ADVERTISEMENT - CONTINUE READING BELOW
Before—Lounge Area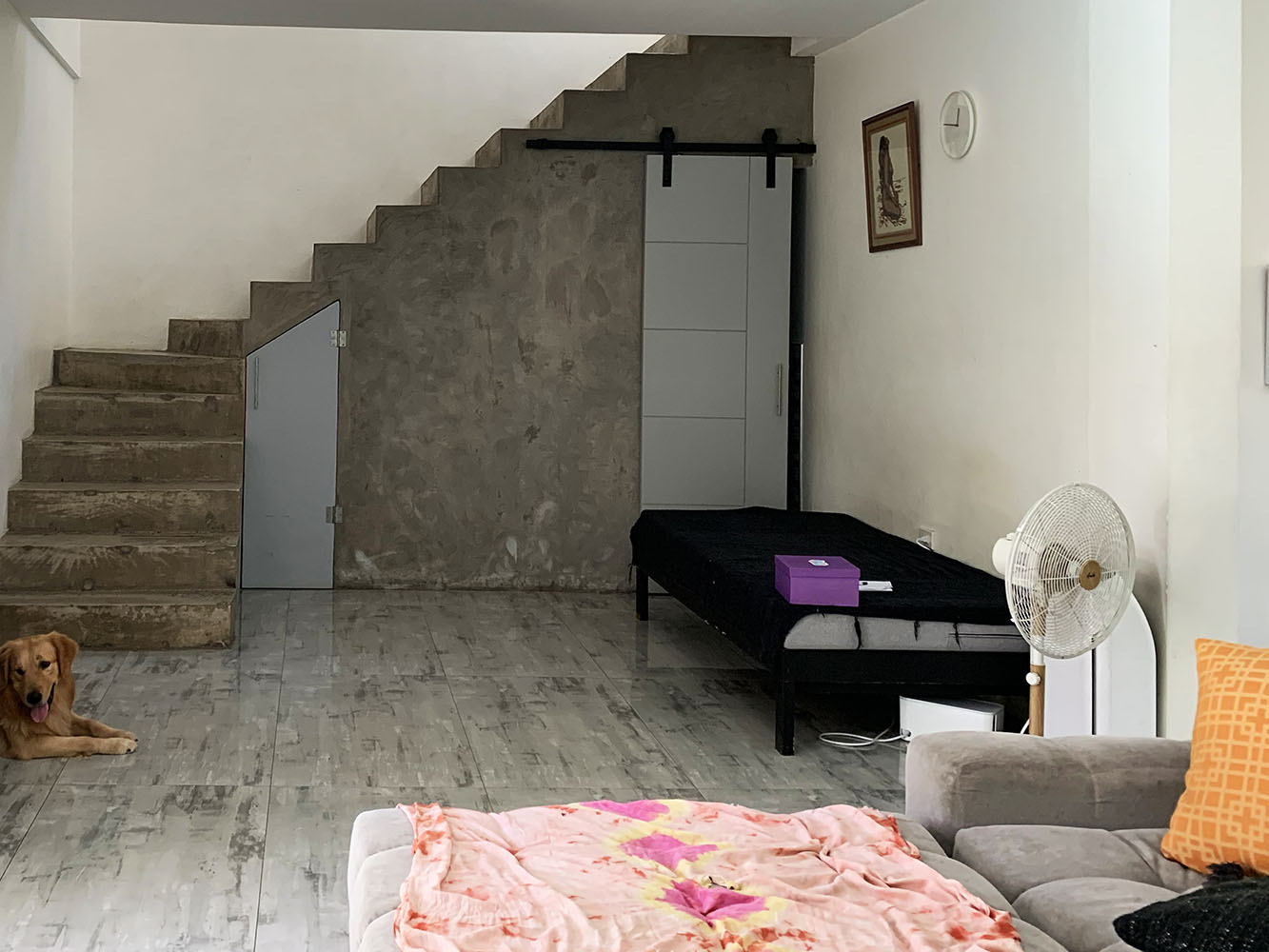 After—Lounge Area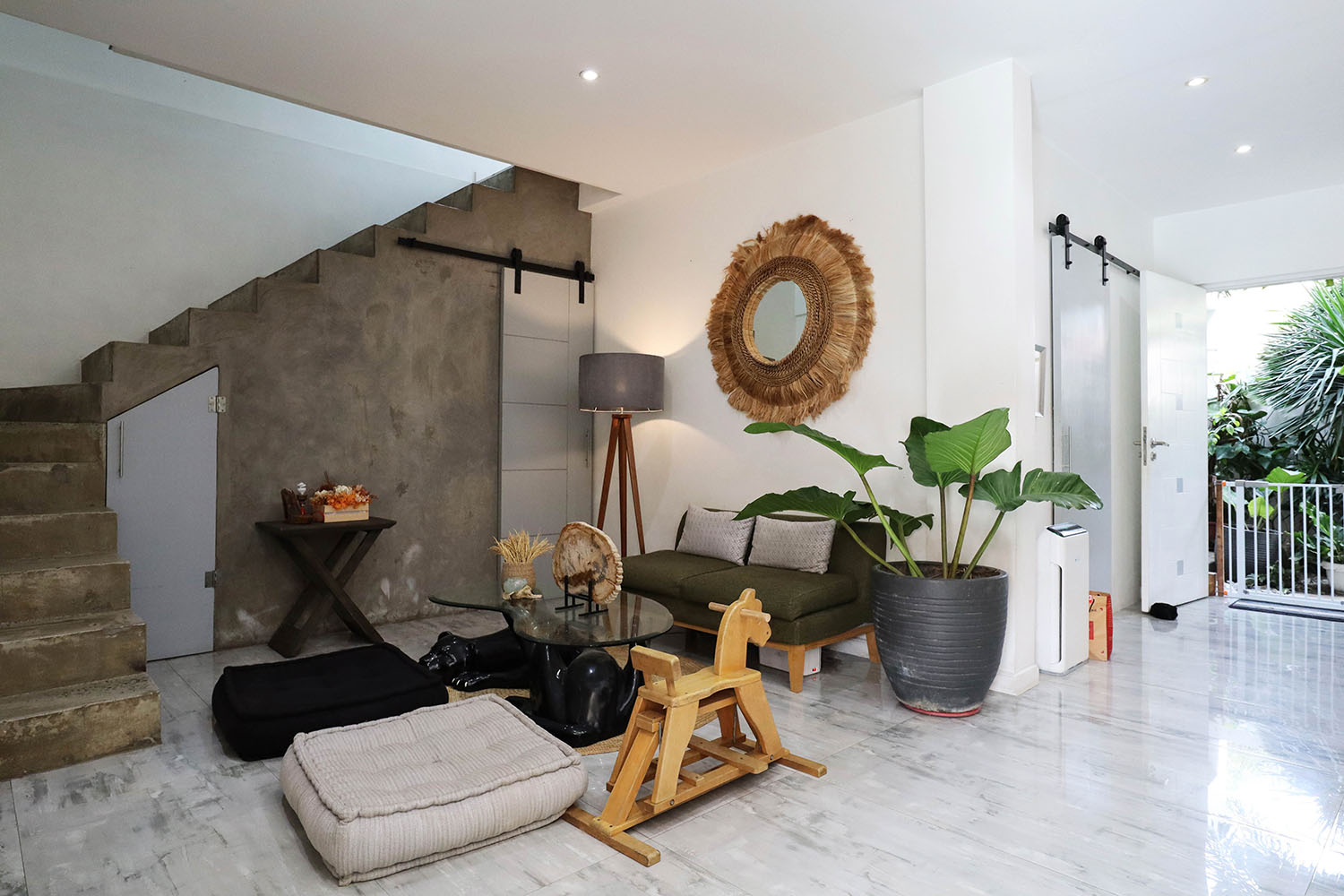 Madelaine ensured that the lounge area could accommodate Mimiyuuh's friends whenever they visited. Mirroring the owner's quirky personality are the miniature wooden horse rocking chair and the black panther coffee table, both of which are striking and instant conversation starters.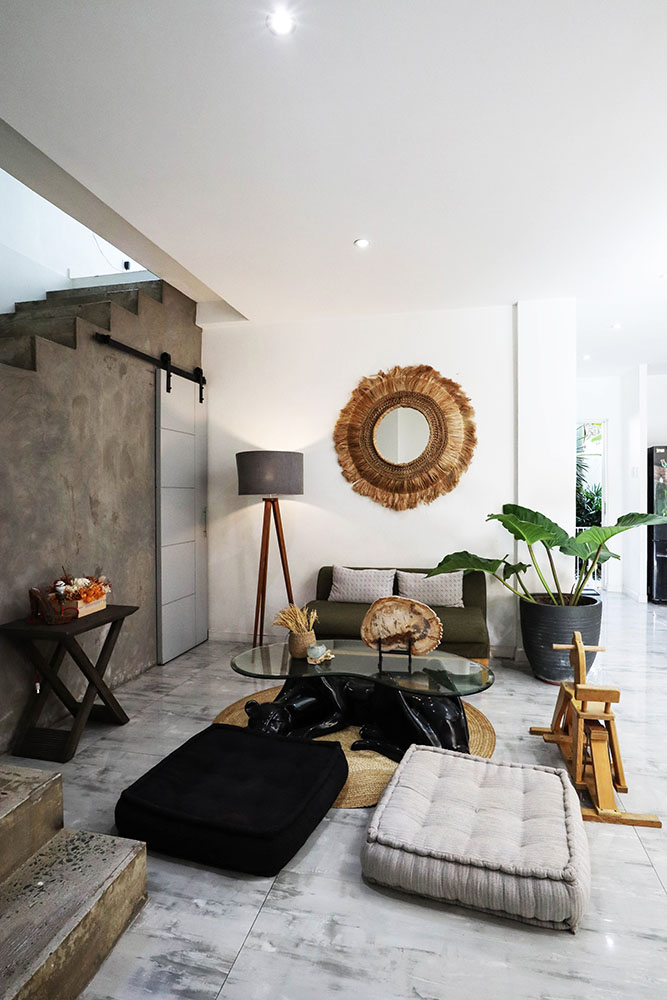 The two-seater sofa in this area is smaller and mid-height compared to the one in the living area. There are also floor cushions so guests can sit on the floor comfortably. Meanwhile, the round mirror features a material that's similar to the lighting pieces.
READ: 6 Easy Ways To Achieve Modern Filipino Style
Before—Pantry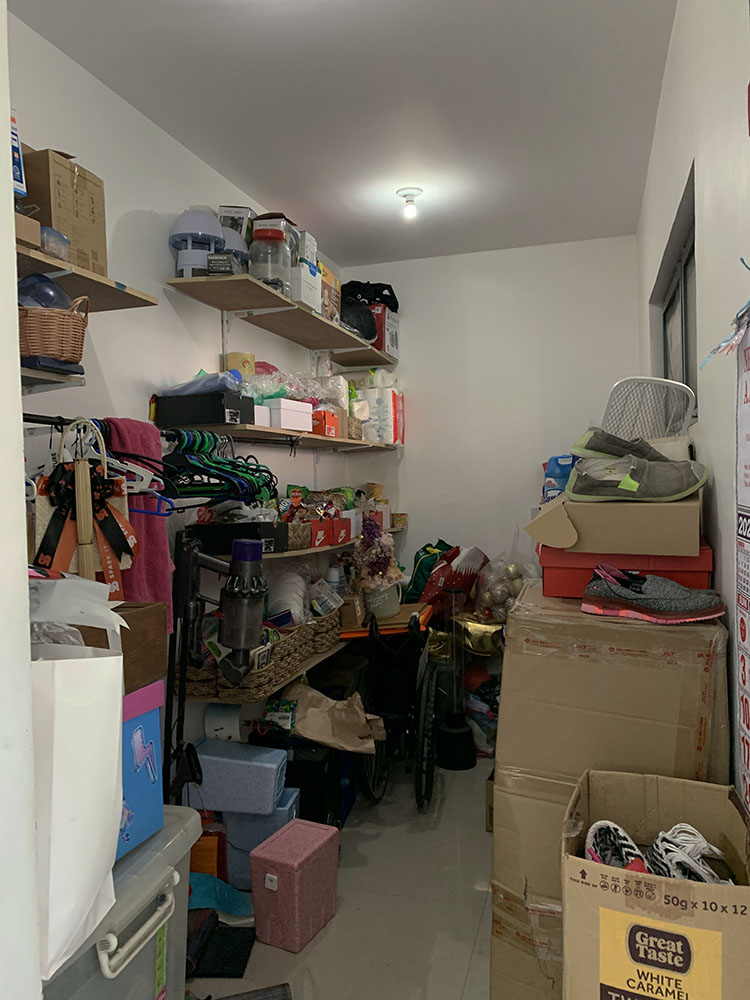 ADVERTISEMENT - CONTINUE READING BELOW
Before the makeover, the pantry looked like any other storage space—filled with boxes and different belongings.
After—Pantry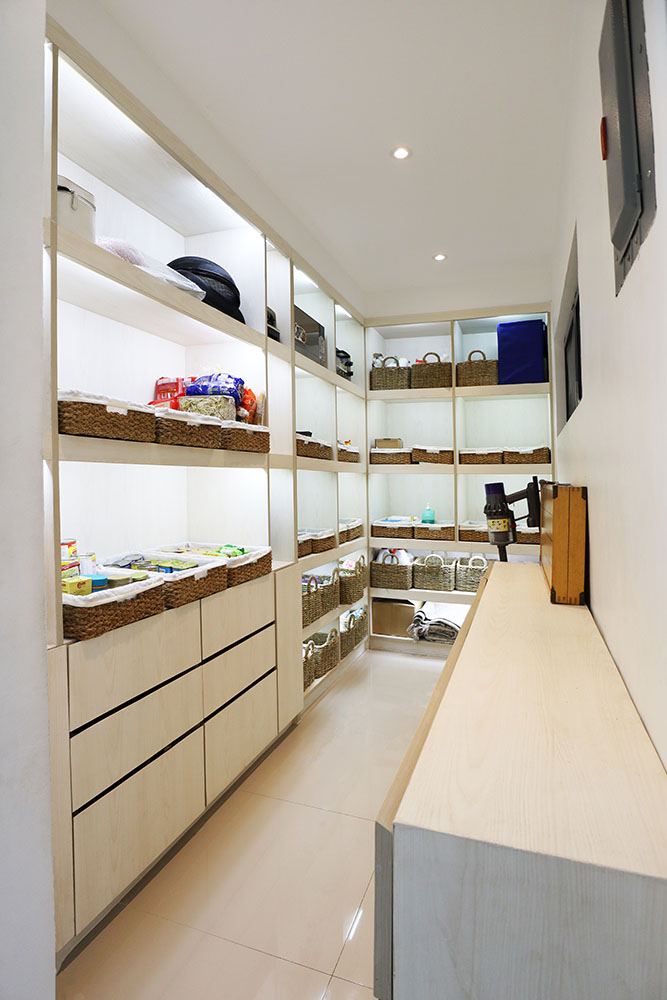 "In designing the pantry, I asked the homeowners about the items they usually buy. What perfectly matches their requirements is creating a walk-in pantry with open shelves so they can easily store the items they need daily," the interior designer explains.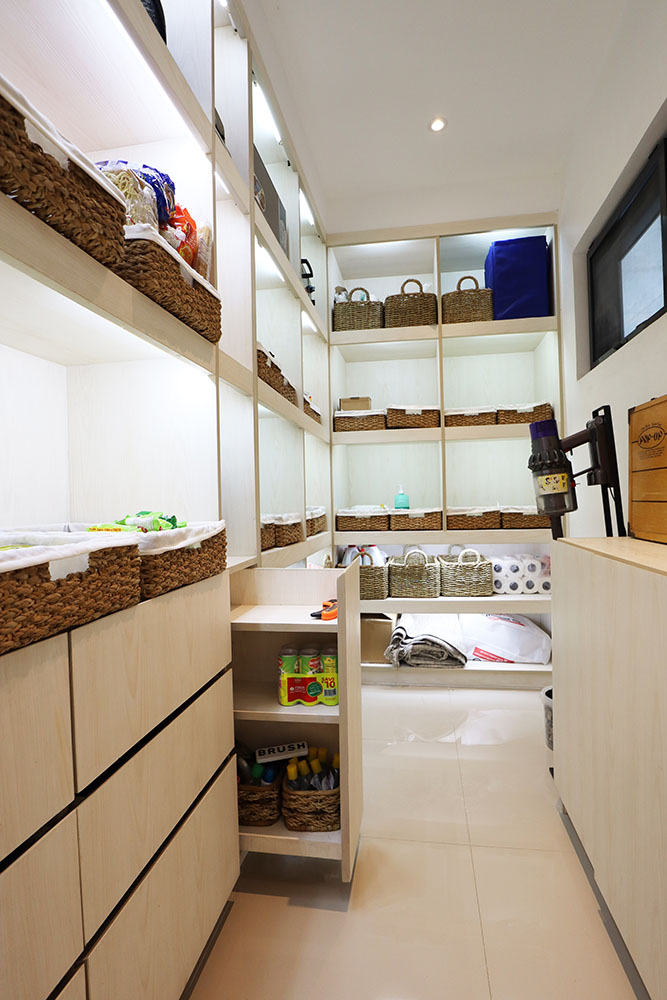 The interior designer improved the overall vibe of the pantry by installing pin lights in the ceiling as general lighting, and recessed tube lights inside the built-in shelves as accent lighting.
Before—Pantry
After—Pantry
There are still drawers in the pantry so the homeowners can organize their other supplies. Across from the walk-in pantry is a movable cabinet with drawers where packages and other utility items can be kept.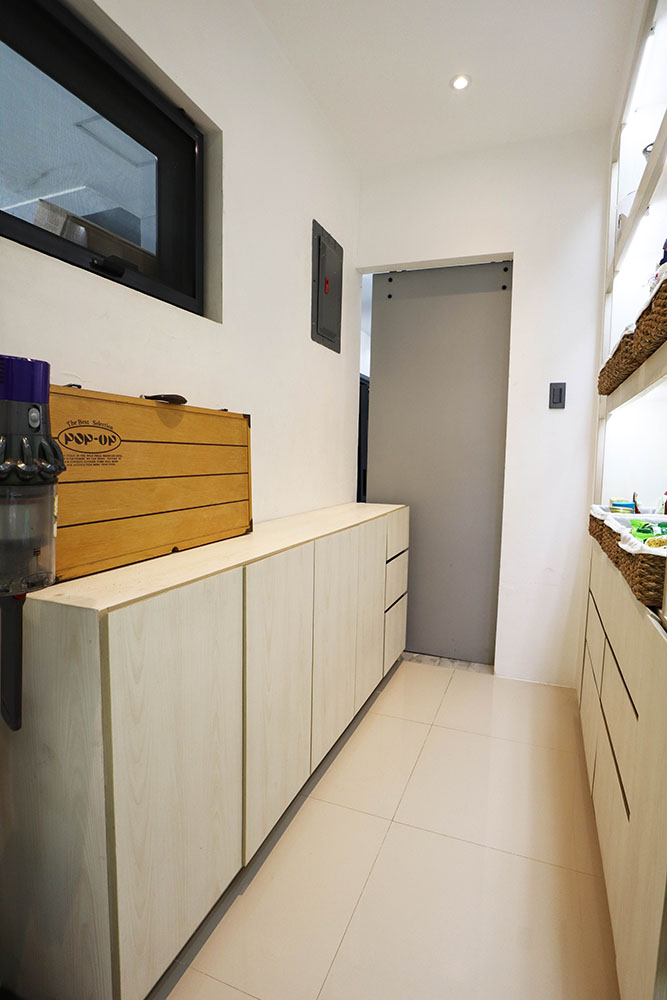 ADVERTISEMENT - CONTINUE READING BELOW
For uniformity, seagrass baskets were chosen as storage so that it's easier to store food, spices, and other ingredients. "We aimed to have an organized pantry so they could save time and money. Since the owners can easily check the food they have, it helps prevent wastage," Madelaine shares.
READ: 5 Filipino Architecture and Design Ideas You'd Want to Apply in Your Home
Before—Lanai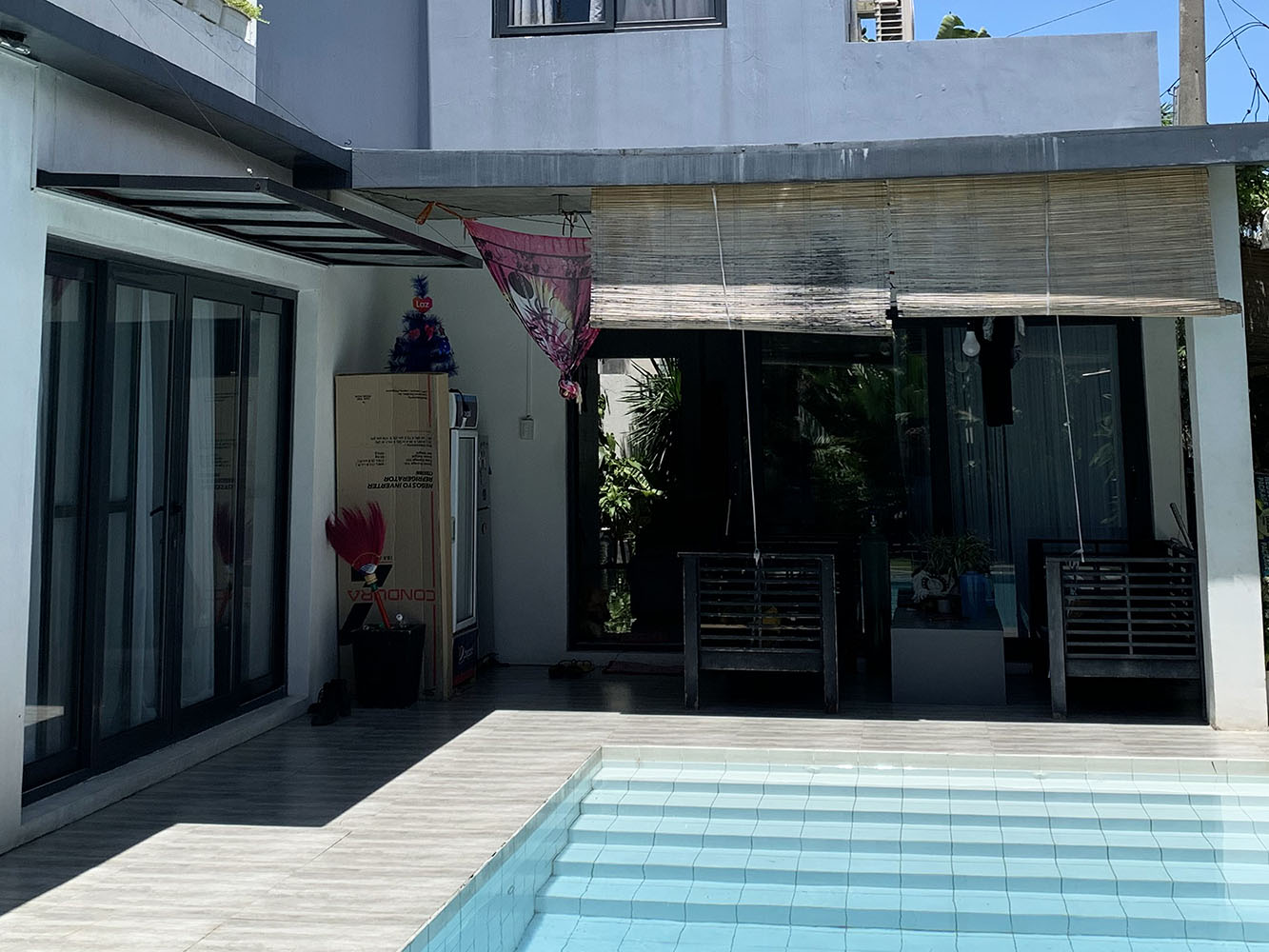 After—Lanai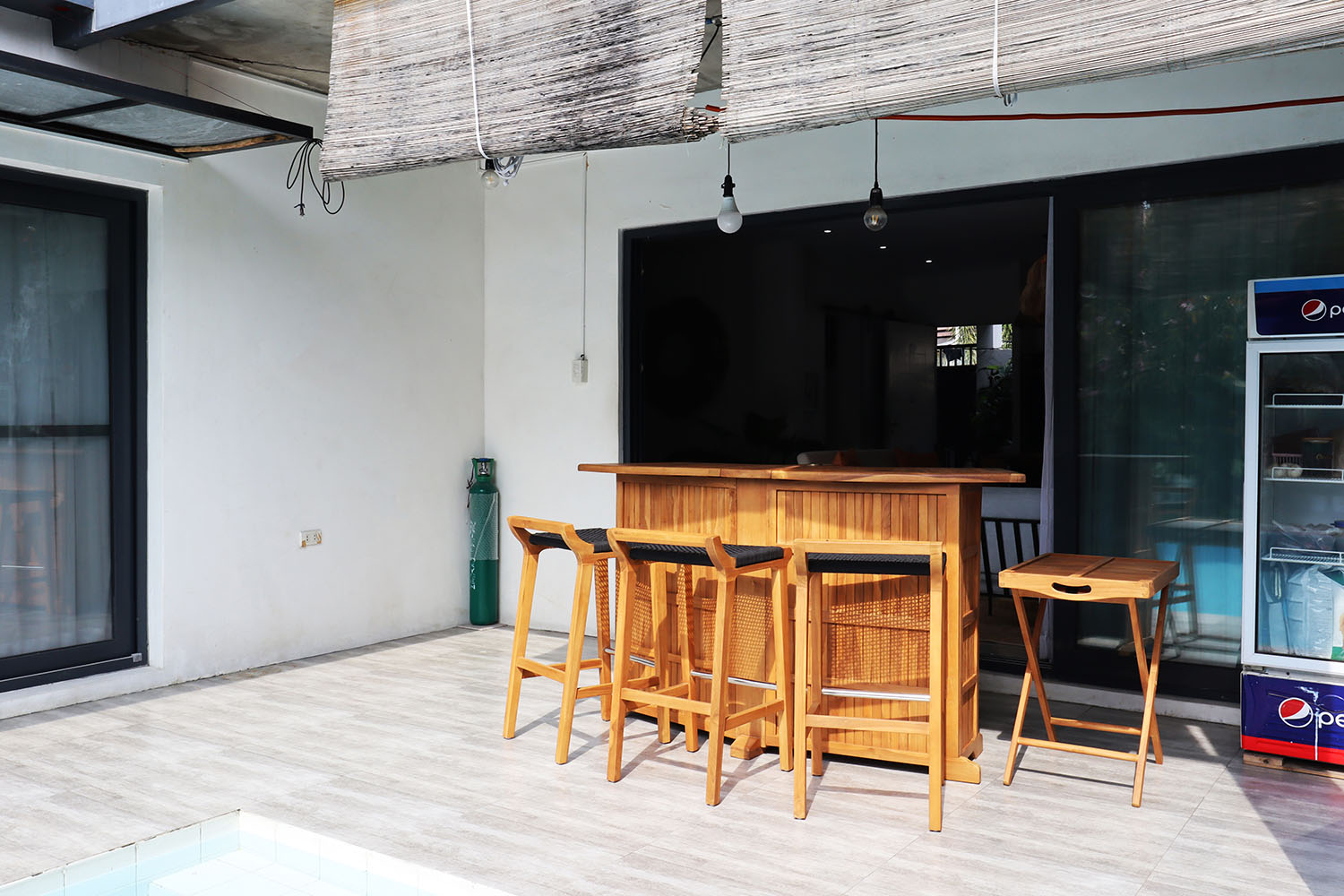 To make the lanai more fun, inviting, and accessible to guests, the interior designer furnished it with a solid teak wood foldable bar table, bar stools, and a tray with a stand.
"We intended to make it look like an extended part of the common areas indoors, especially when the sliding doors are open," says Madelaine. They retained the existing outdoor blinds and ceiling, so the owners still have an opportunity to renovate this area further in the future.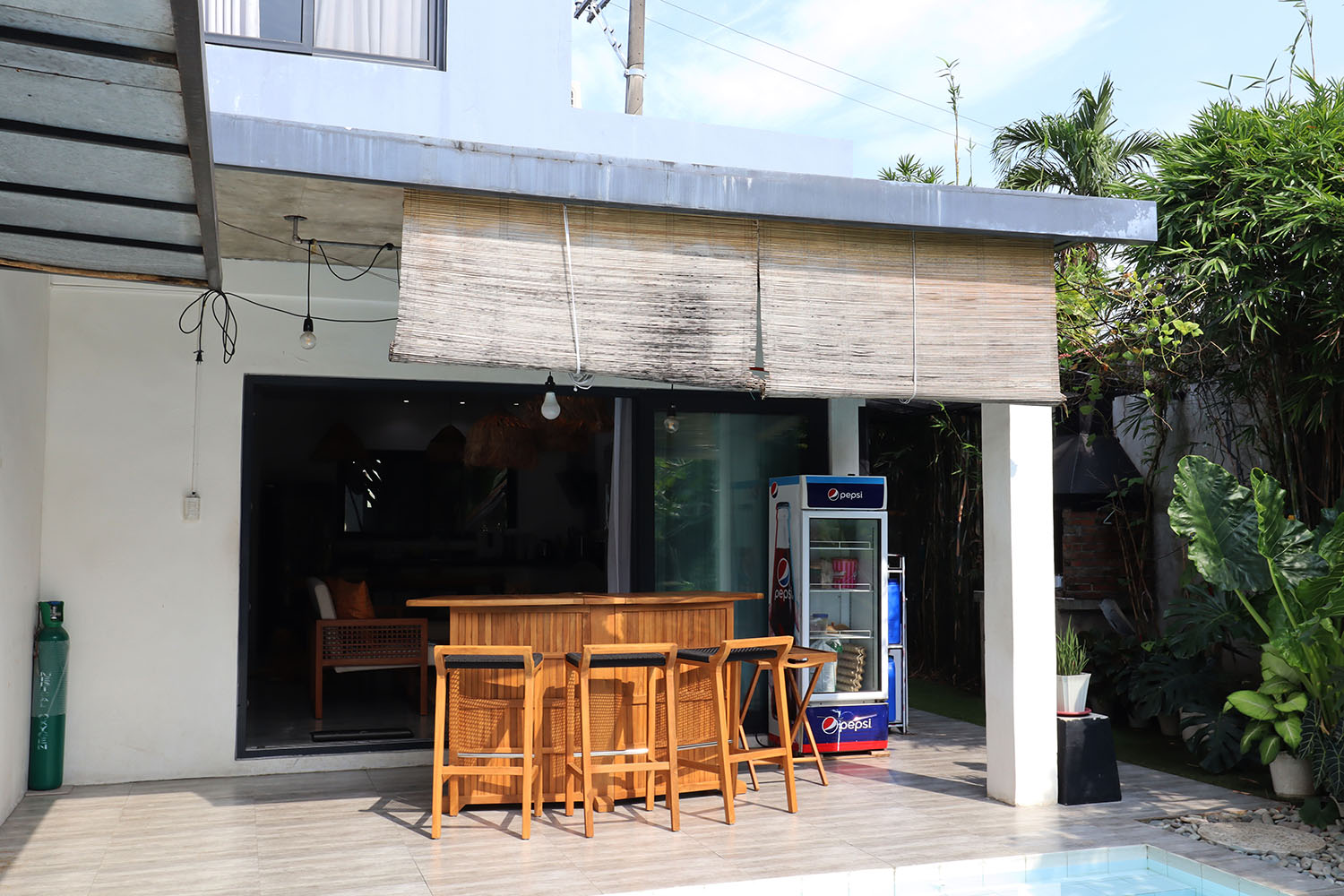 The lanai can also serve as a breakfast nook whenever the owners feel like enjoying a hearty meal outdoors.
Before—Dirty Kitchen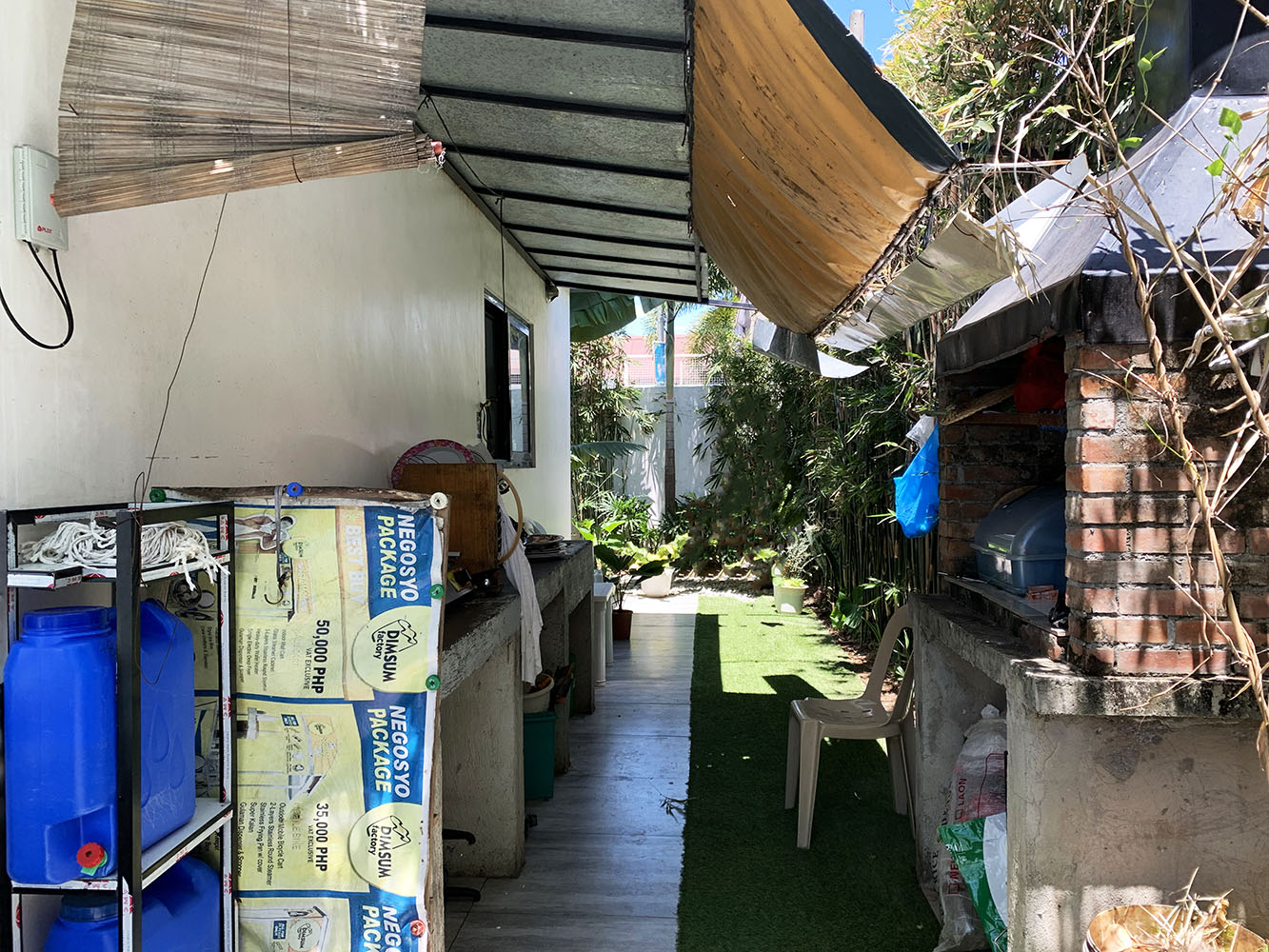 ADVERTISEMENT - CONTINUE READING BELOW
After—Dirty Kitchen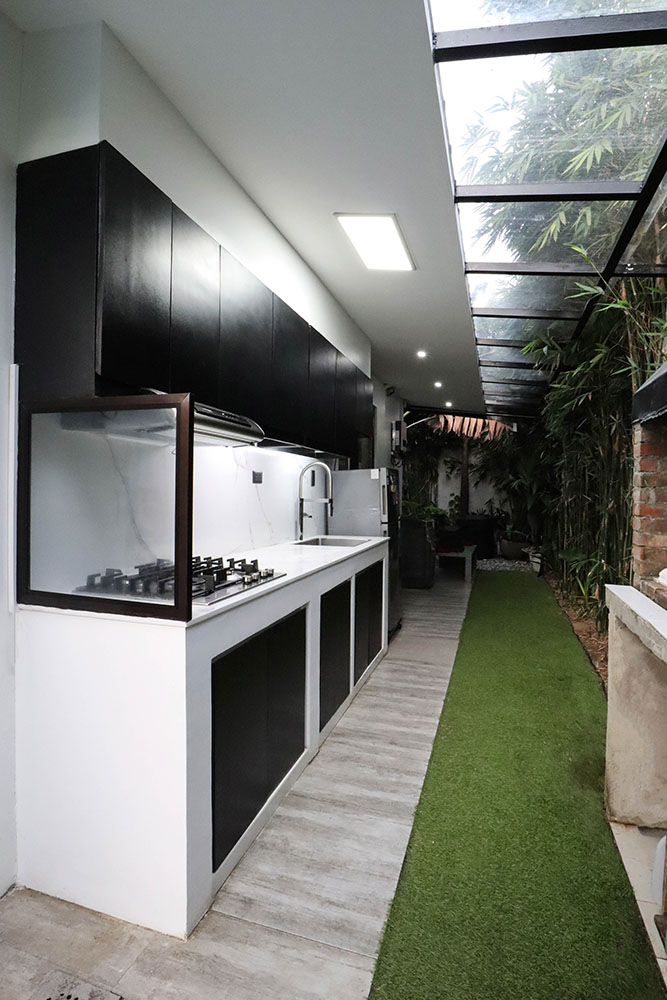 Madelaine shared that it was quite challenging to work in the dirty kitchen. Aside from making sure it's bright and functional, they also need to keep raindrops from entering the space. To do this, they had to do major work on the ceiling.
READ: This Modern Bahay Kubo in Tagaytay Is A Lesson In Tropical Design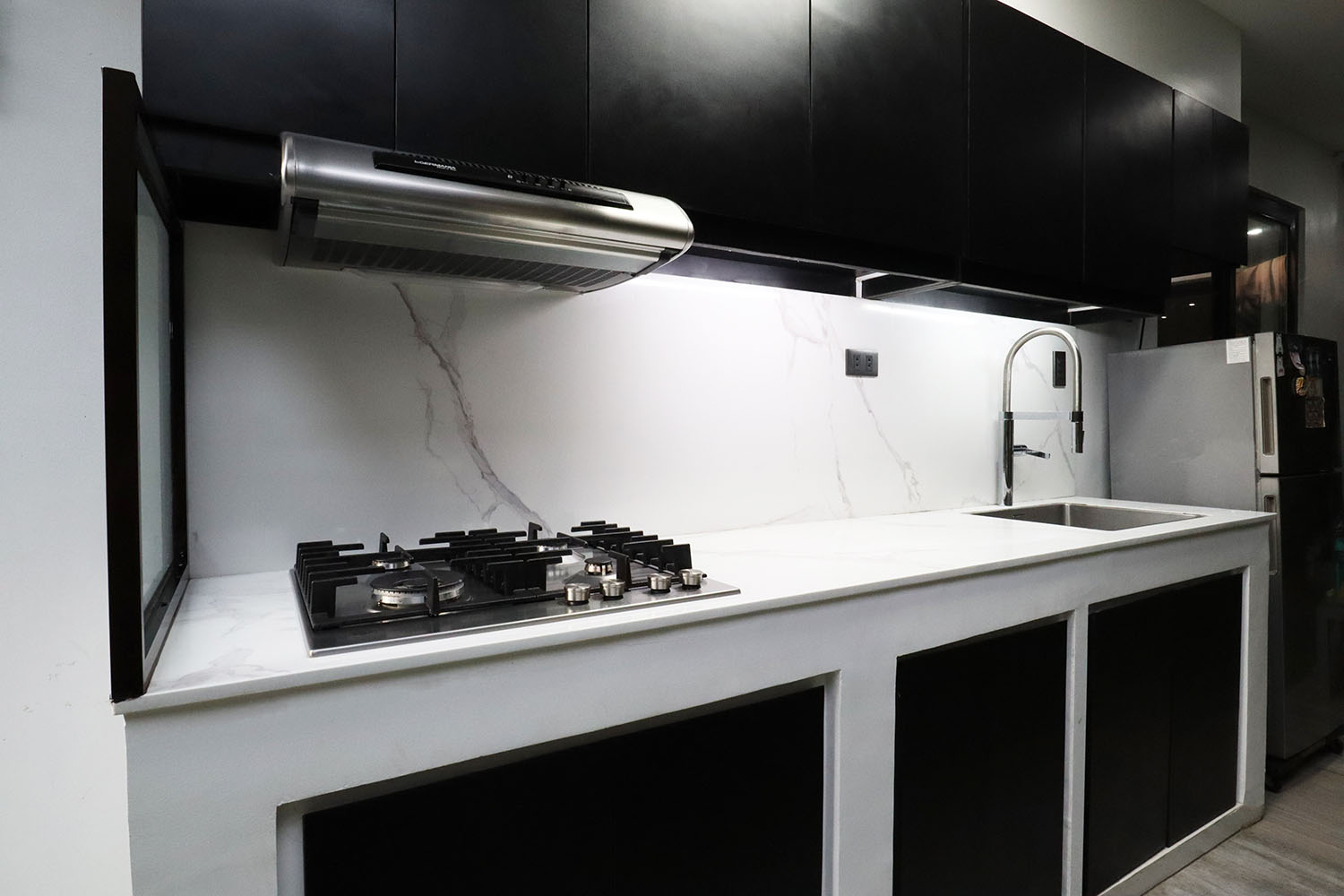 "We installed a drop ceiling so we could install pin lights while the other half of the ceiling was made of polycarbonate roofing to maximize natural light," the designer adds. To spruce up the area, a white marble backsplash that complements the cabinets was also installed.
"A backsplash may seem like a small detail, but it instantly becomes a focal point in the kitchen since the slab features a dramatic veining that also serves as a piece of art. We were able to apply the modern design theme by characterizing a monochromatic color palette, clean lines, minimalism, natural materials, and natural light," shares Madelaine.
Before—Dirty Kitchen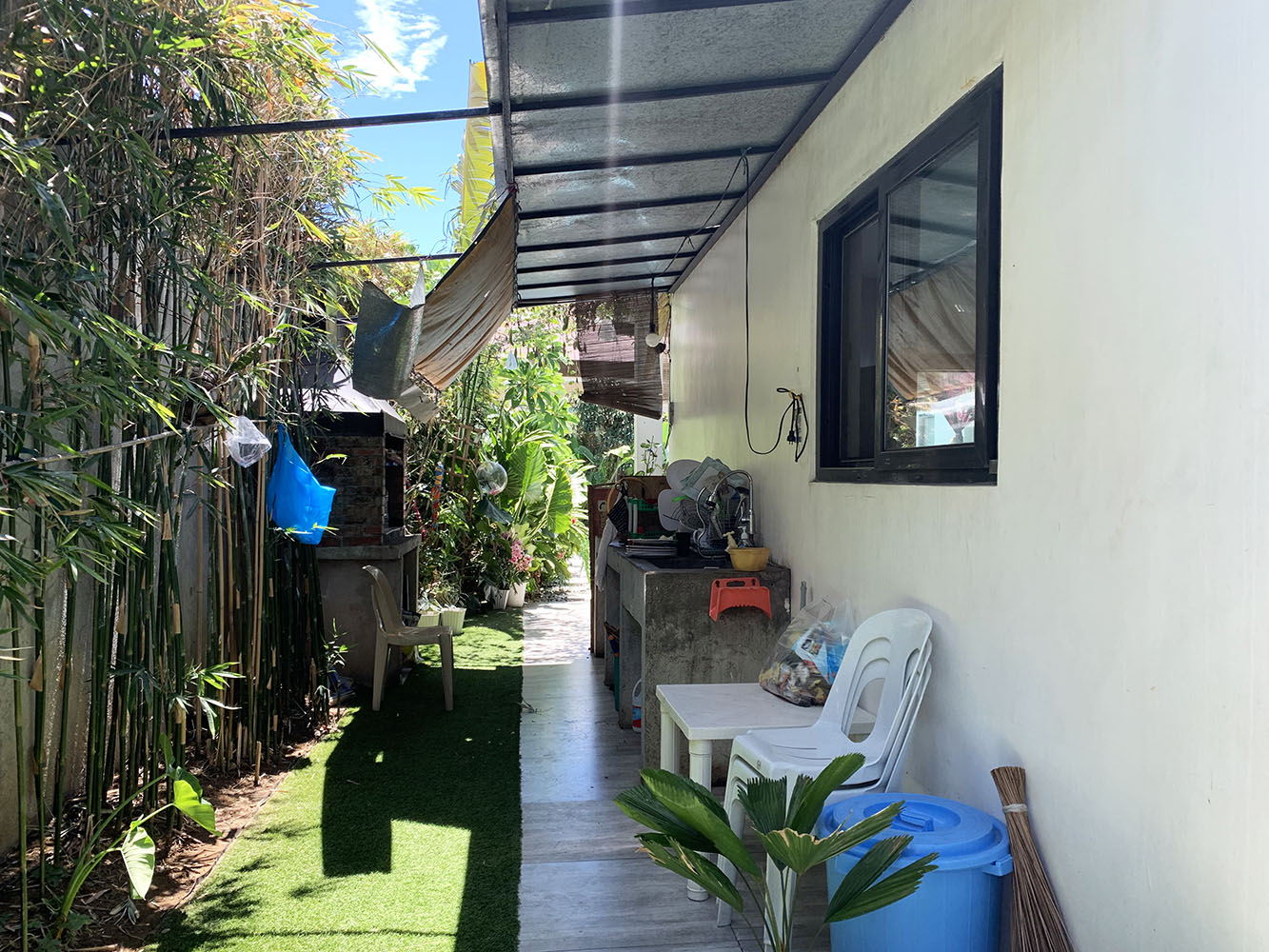 After—Dirty Kitchen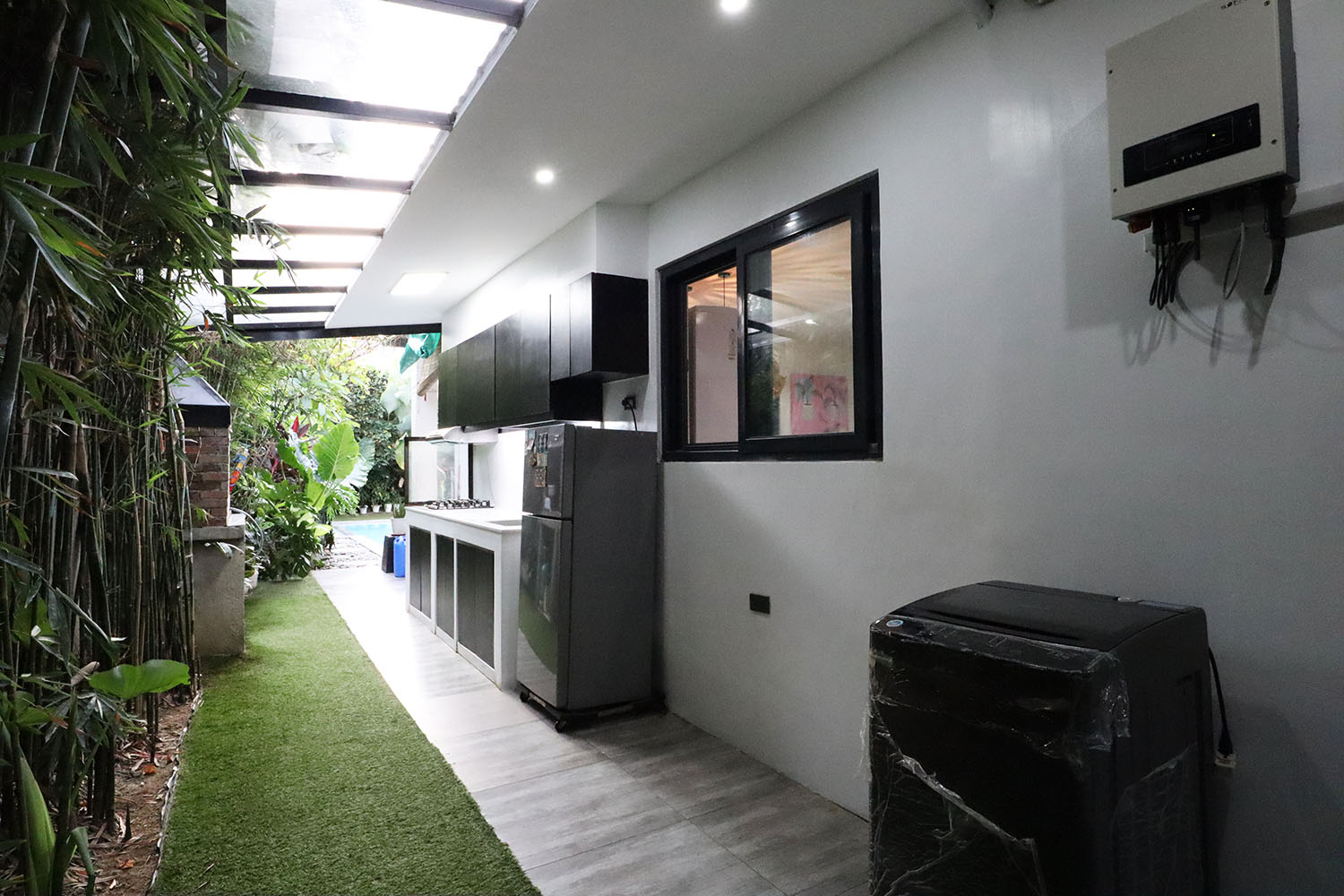 ADVERTISEMENT - CONTINUE READING BELOW
One of Mimiyuuuh's requests was to transfer the laundry area to the other end of the outdoor space, so a faucet and an additional outlet were installed. To avoid clutter, the designer also made sure there were enough built-in storage units.
As a fitting final touch, bamboo plants are covering one wall to tie the look of the outdoor area to the Modern Filipino theme.
Click here to watch Mimiyuuuh's updated house tour.
Interested to work with IDr. Madelaine San Jose, PIID? You can get in touch with her via email at designgonemads[at]gmail.com. You can also follow her on Facebook and Instagram: @designgonemads to see her finished projects.
More on Realliving.com.ph
Load More Stories