Home Tours
This Airbnb in Zambales Seamlessly Blends Modern Design & Probinsya Feels
This property can comfortably fit up to 40 people! Photography: Courtesy of Camzar Photography Interior Designer: IDr. Jai Lawan
Products and services recommended on our websites are independently selected by our editors. If you buy something through our links, Summit Media may earn an affiliate commission at no extra cost to you.
One of the highlights of living in the Philippines is that it's sunny year-round, which means it's always a good idea to go for a beach trip. If you're looking for a new place to visit for your next escapade, here's one property you might want to check out: Balay Angkan in Cabangan, Zambales!
In an email interview with RealLiving.com.ph, Don and Jean Gutierrez, owners of Balay Angkan, shared that they took inspiration from their family when working on the design. During the pandemic, they enjoyed having staycations at exclusive properties. Through Balay Angkan, they wanted other people to relish in the same privacy they always felt on their vacations. They describe the overall vibe as "exclusive, probinsya feels with [a] modern touch."
"There are limited private beachfront properties that can accommodate big groups," Jean wrote. "That's why we decided to build a resort exclusive to 1 group that can accommodate as [many] as 40 people. Thus the name 'Balay Angkan Beachfront Villas.'"
Jean and Don purchased the lot back in July 2021, but they were only able to commence construction in April 2022, when travel restrictions were finally lifted. Due to this, they had difficulties finding reliable local workers and incurred higher logistics costs since most of the furniture had to be transported from Manila, Cebu, Bulacan, and Pampanga. Eventually, though, they were able to find trustworthy people to build the resort. "Delivery cost [was] higher but after seeing the outcome and positive reviews from our guest, it was all worth it," Jean shared.
The couple made sure to be very hands-on throughout the design and construction process, traveling from Manila to Zambales nearly every week to ensure that there were no delays or mishaps. They also enlisted the help of interior designer Jai Lawan, who helped them come up with the design and outsource decor for the property.
ADVERTISEMENT - CONTINUE READING BELOW
Also Read: Everything You Need To Know About Turning Your Home Into An Airbnb
Go on a tour of this tropical haven in Zambales:
Exterior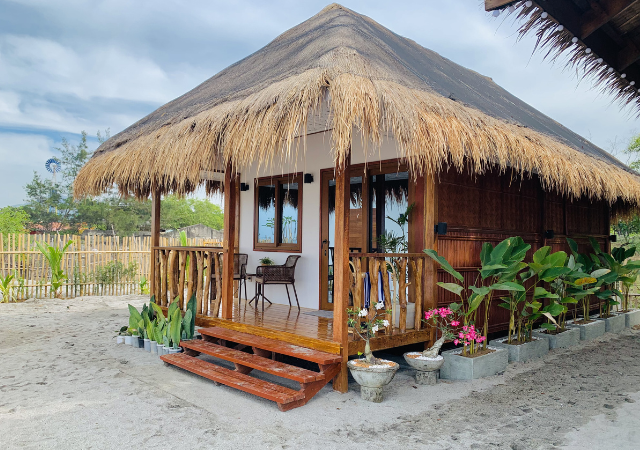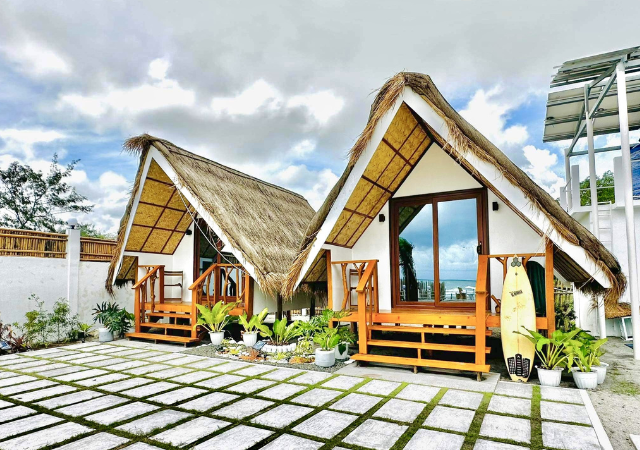 Before Balay Angkan was built, this property was a mere empty beach lot. Jean revealed that around 50 truckloads of mixed sand – consisting of sand, stone, boulders, gravel, and soil – were brought in to make the lot more elevated.
Living Area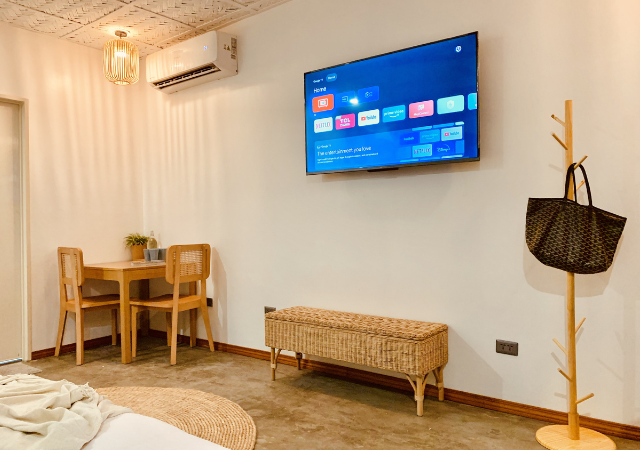 Each room in Balay Angkan has a special element that gives it a unique pop, whether it be an accent piece or a cute wallpaper. In the living area, for instance, you'll find several woven furniture that really emphasize the property's beachy vibe. Jean and Don sourced rattan beds and solihiya chairs from Bulacan.
ADVERTISEMENT - CONTINUE READING BELOW
Also Read: Coastal Living Meets Rustic Elegance in This Beach Shack-Style Airbnb in Batangas
Kitchen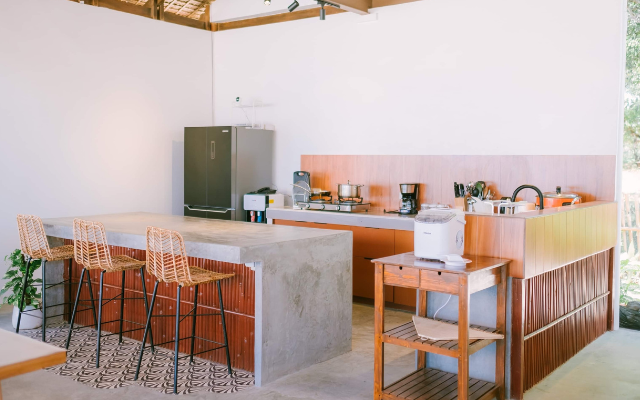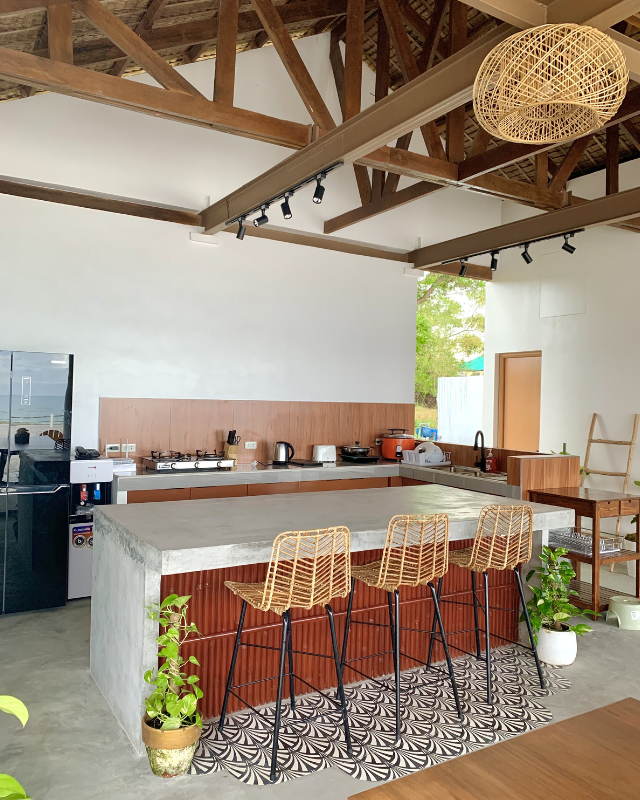 ADVERTISEMENT - CONTINUE READING BELOW
The kitchen is big and bright, making it the perfect place to prepare meals and spend quality time with your loved ones. It is well-equipped and offers plenty of counter space for both cooking and eating, so even large groups won't have any issues with seating. The machuca tiles were sourced from Manila.
Bedrooms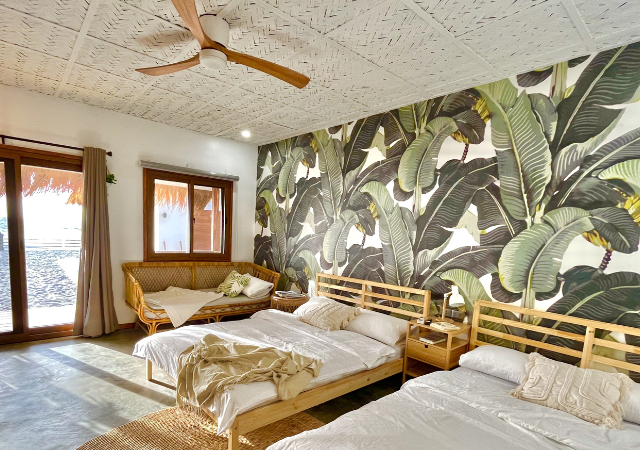 ADVERTISEMENT - CONTINUE READING BELOW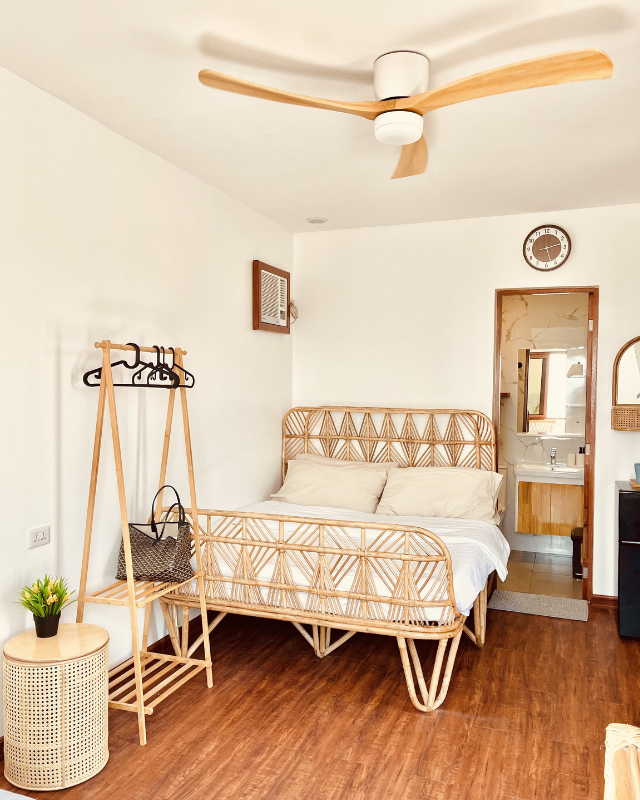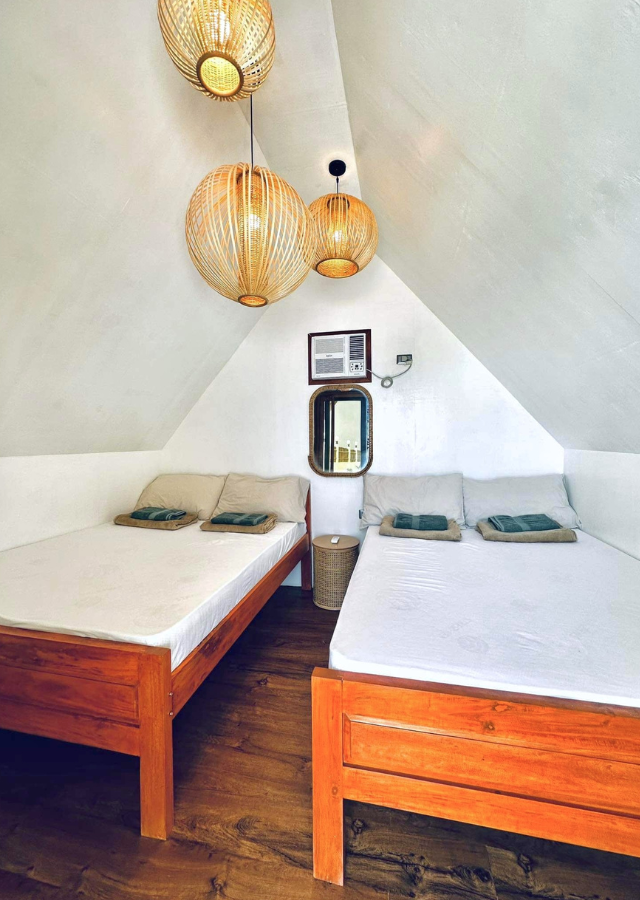 ADVERTISEMENT - CONTINUE READING BELOW
All in all, there are three bedrooms in Balay Angkan. One room has one queen bed and two single beds; the second has two queen beds, one single bed, and one floor mattress; and the third has two double beds. The pieces used in these rooms, as well as the rest of the property, were selected carefully, as Jean shared: "Each furniture itself is a statement piece that was chosen specifically to add to the impact of the space."
Bathrooms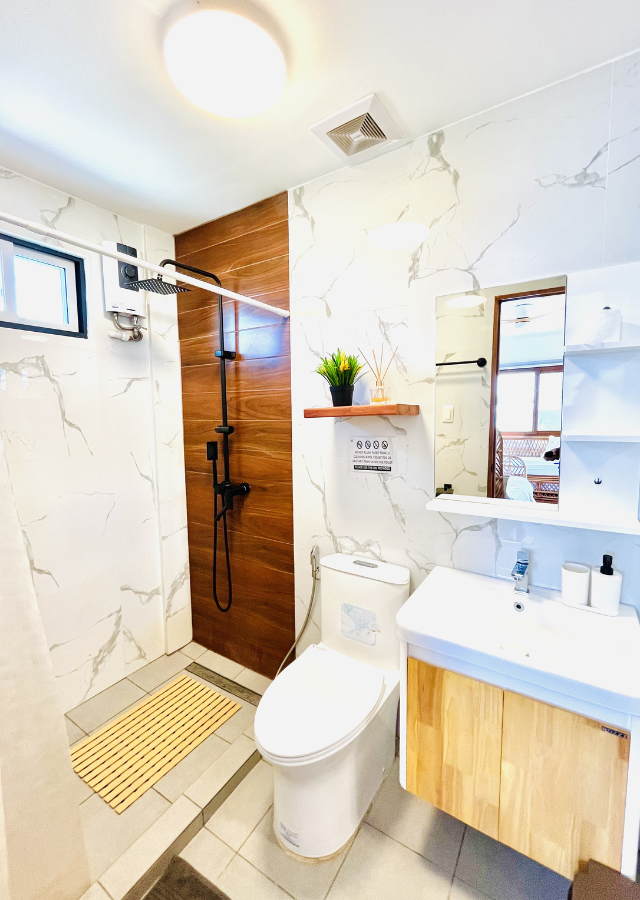 ADVERTISEMENT - CONTINUE READING BELOW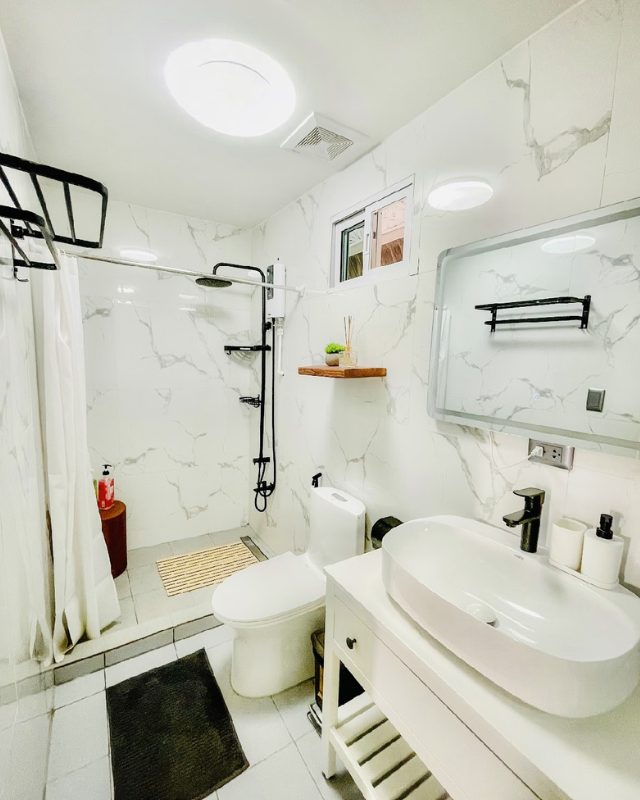 Even the bathrooms at Balay Angkan are so well-decorated! Both have pristine walls, enclosed shower areas, and wooden accents to tie them in with the rest of the property.
Also Read: This Spanish-Style Airbnb in Calatagan is Only A Quick Walk Away From the Beach
ADVERTISEMENT - CONTINUE READING BELOW
Outdoor Dining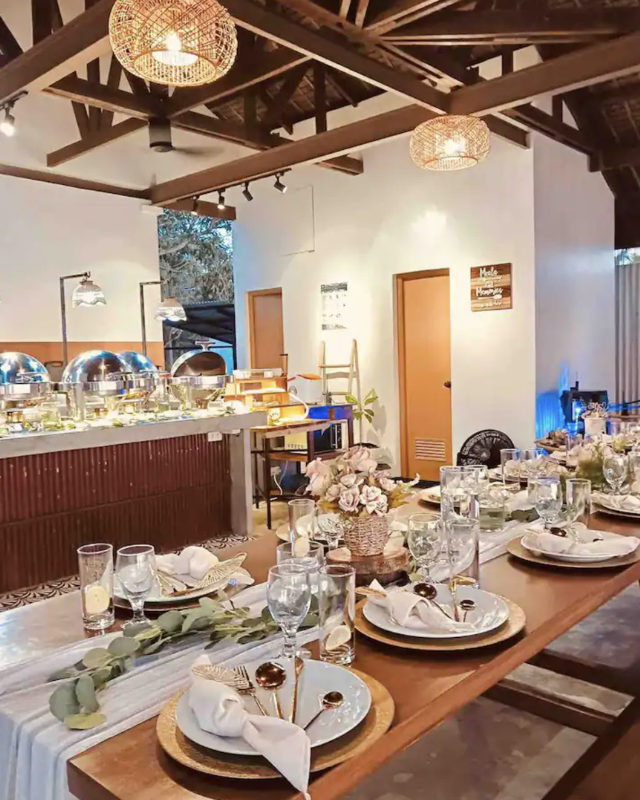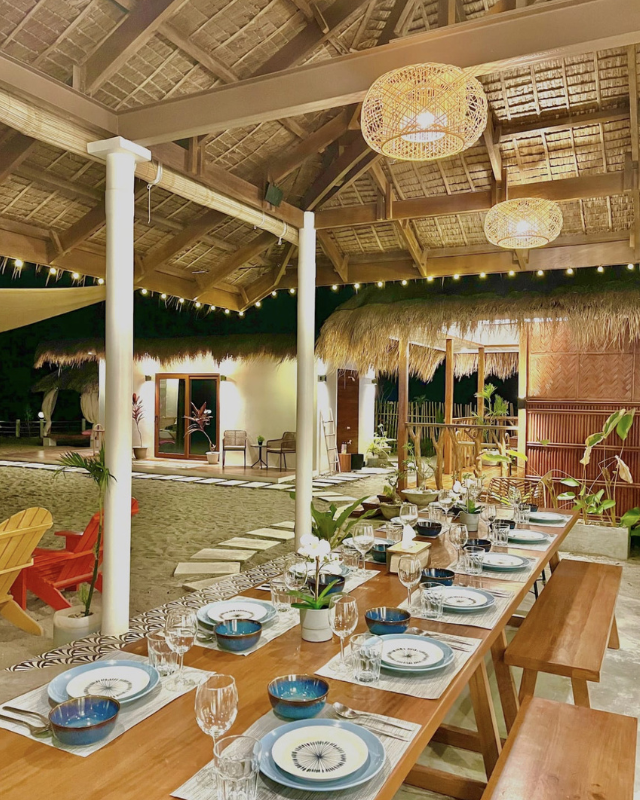 ADVERTISEMENT - CONTINUE READING BELOW
Every mealtime is joyful in Balay Angkan's spacious outdoor dining area, which is adjacent to the kitchen and affords guests an expansive view of the beach outside. Whether you're having a catered affair or an intimate dinner with the family, you're sure to have a blast here.
Outdoor Area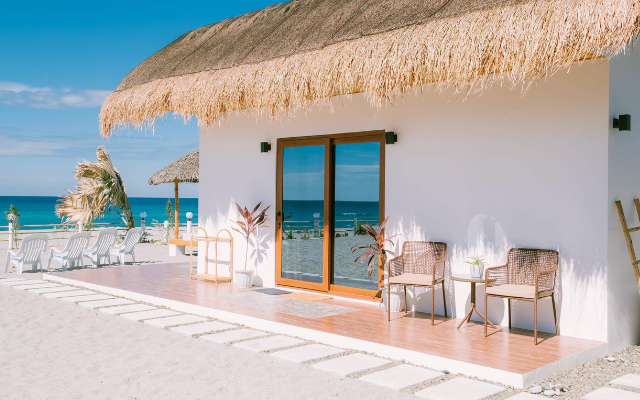 ADVERTISEMENT - CONTINUE READING BELOW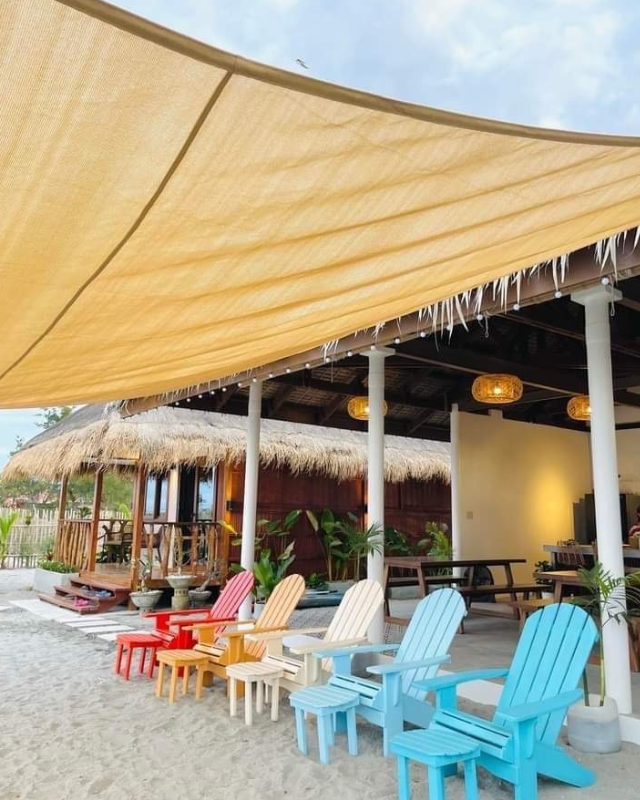 According to Jean, the main highlight of Balay Angkan is the beachfront, and it's not difficult to see why. She shared, "Balay Angkan boasts of 60 meters frontage so our guests can fully enjoy an unobstructed view of the sea and majestic sunsets." There is plenty of seating here, so guests can have plenty of fun in the sun.
ADVERTISEMENT - CONTINUE READING BELOW
Links are updated regularly and as much as possible but note that products can run out of stock, discounts can expire and listed prices can change without prior notice.
More on Realliving.com.ph
Load More Stories