A Makati Apartment Filled With Art, Vintage Finds, And Memories
by
Rachelle Medina
Apr 11, 2018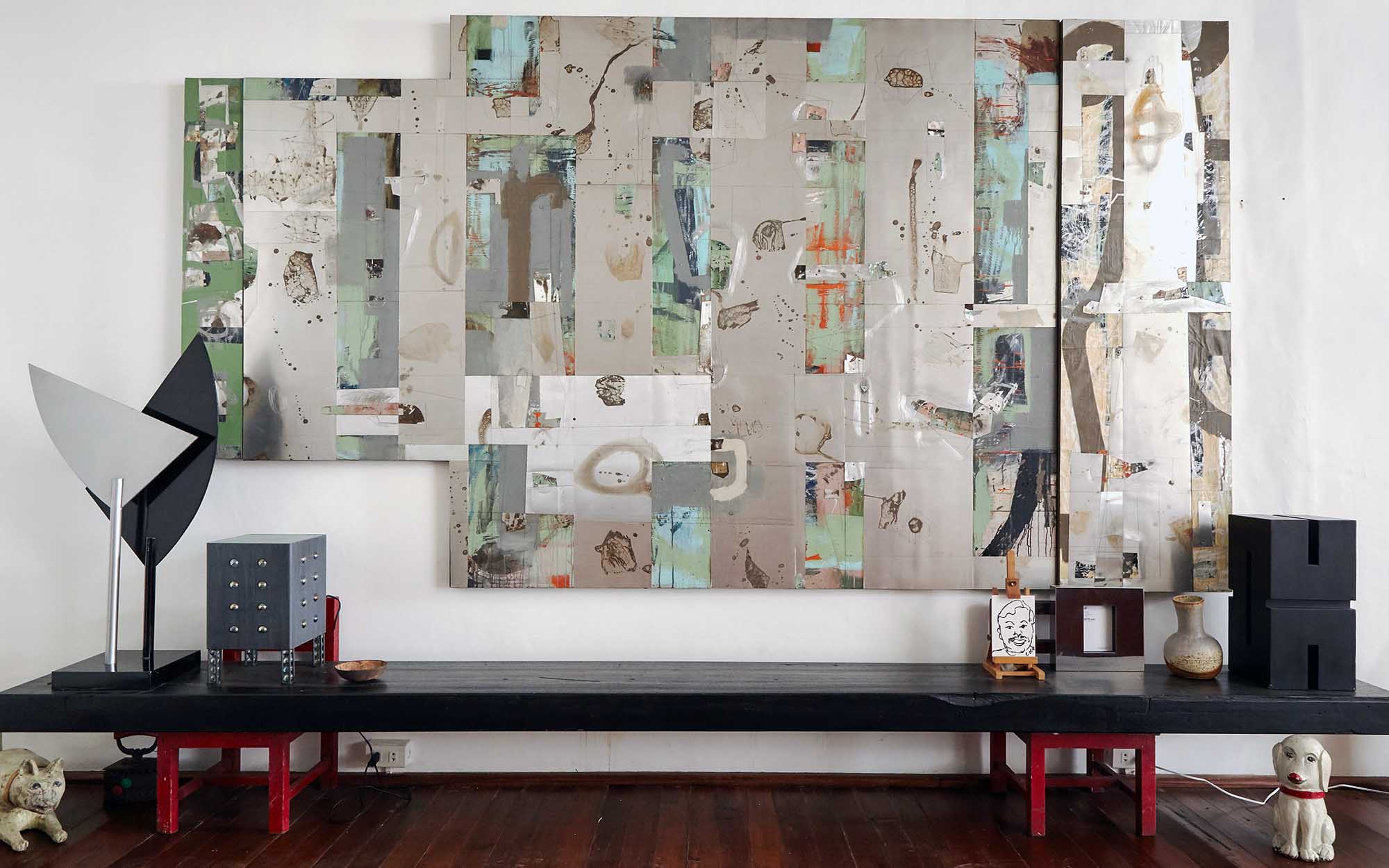 "Iba ang may art sa bahay…kasi art is very personal."
Almost everyone in the arts and culture industry knows Albert Avellana, and many have visited his exhibits. These openings are usually mellow, candle-lit gatherings held at the backyard of the Avellana Art Gallery, shielded from the outside world by a fence made out of wine bottles that are vestiges of old parties. The gallery itself almost vibrates with energy, filled with a vibrant mix of paintings, sculptures, and a steady stream of friends. For Albert, art is life, life is art, and the twain will always meet.
It is no surprise then, that art plays a big part in Albert's home. Located along one of the side streets of Makati, guests enter through a nondescript gate that is part of a three-door apartment. Though furnished with bits and pieces of old homes, there is freshness to the space, seen in the light streaming through the windows and in the clean, white walls. The pieces run the gamut from National Artists' works to a little boy's painting of a boat, and none are coddled but mixed in casually with personal memorabilia.
ADVERTISEMENT - CONTINUE READING BELOW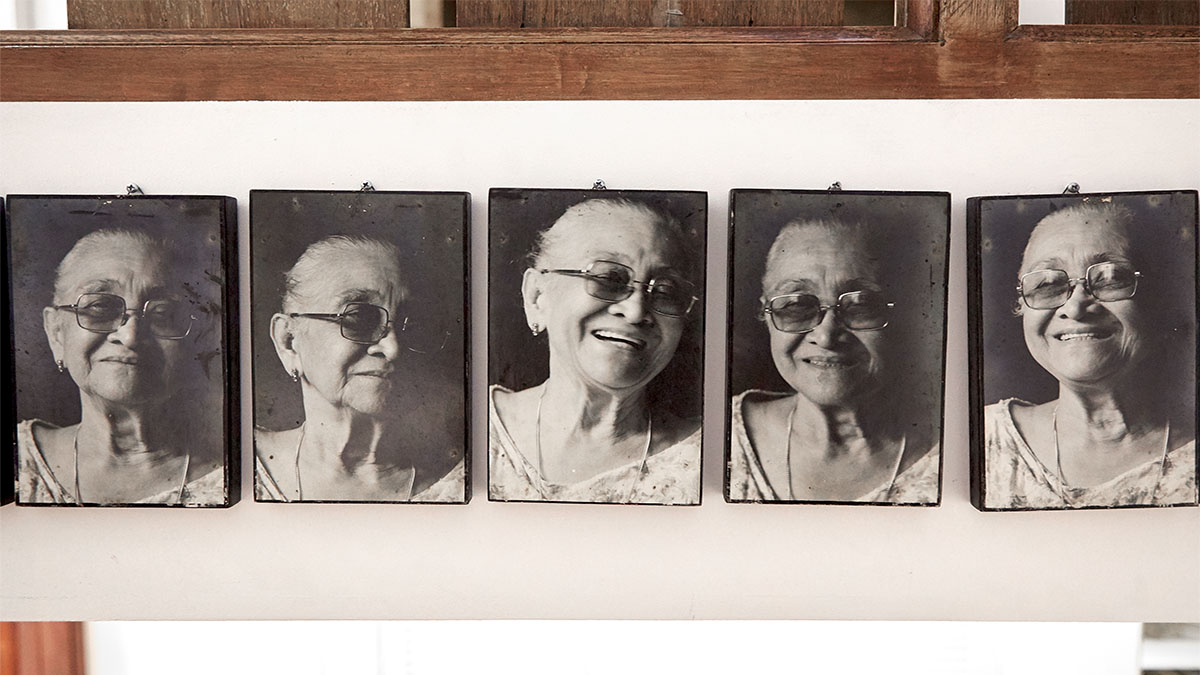 Family first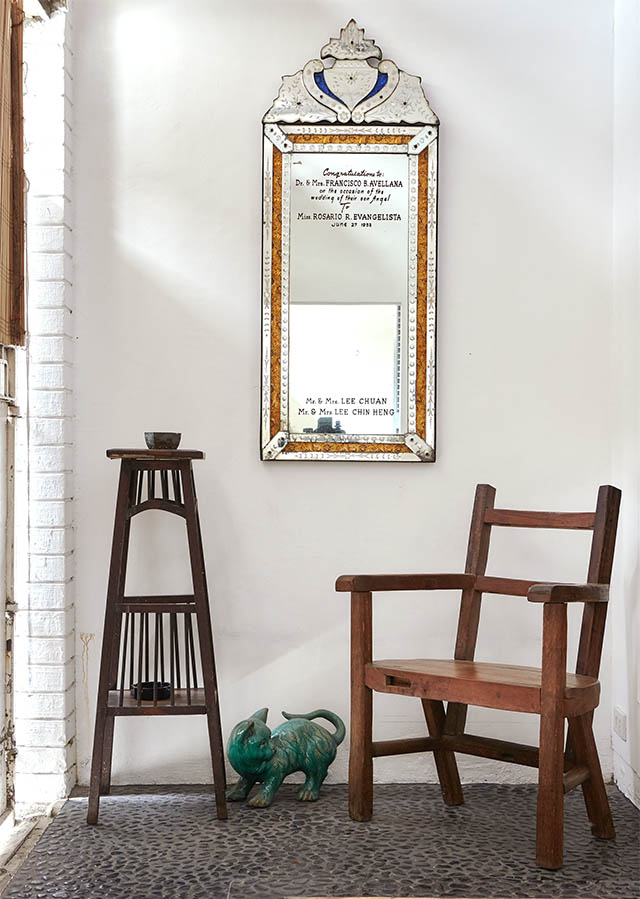 "We call it the 'Nuthouse,'" Albert says with his typical droll sense of humor. "Kasi 'Avellana' actually means 'hazelnut.' And also, puro kalog naman kami!" Most of the furnishings are heirlooms from Albert's family, who are part of a colorful and creative clan (his uncle, the filmmaker Lamberto, and aunt, the actress Daisy Avellana, are both National Artists, and some cousins are artists in their own right). The Venetian-glass mirror in the garage-turned-foyer is a wedding gift to his late parents, and it even bears an inscription of the givers' names. "It's the gift that keeps on giving," he says in jest.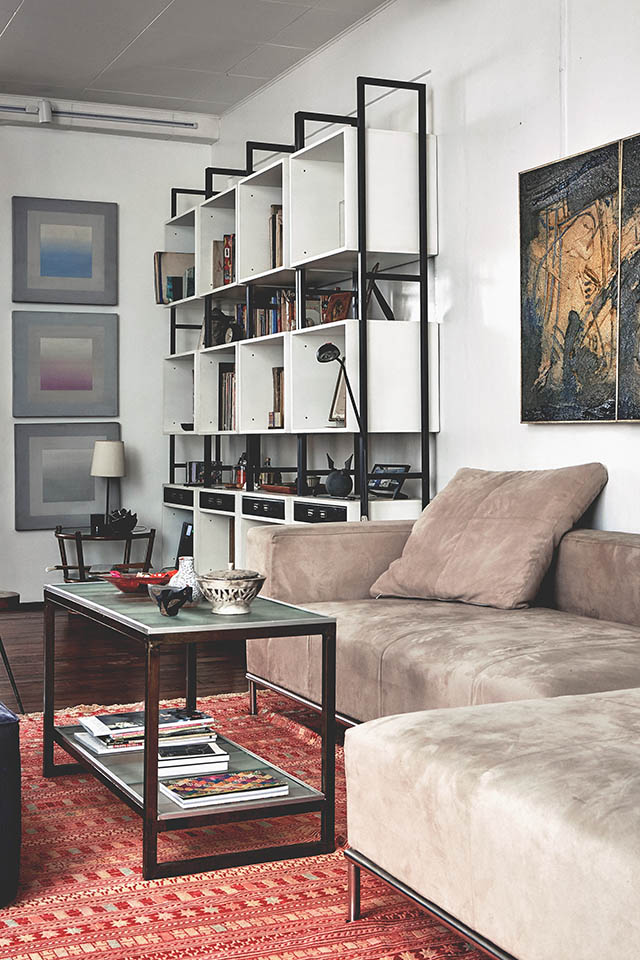 Albert's surviving siblings live in the other apartments and in the main house next to this home. Family is also the main reason for this and the other apartments' renovations. "I moved into this home in 1998, and for a time naging storage ito. I started renovating five years ago, and then noong nag-extend ako hanggang garahe, doon lumabas ang maraming anay." The termite infestation forced Albert to work on a full-blown makeover and re-decoration.
ADVERTISEMENT - CONTINUE READING BELOW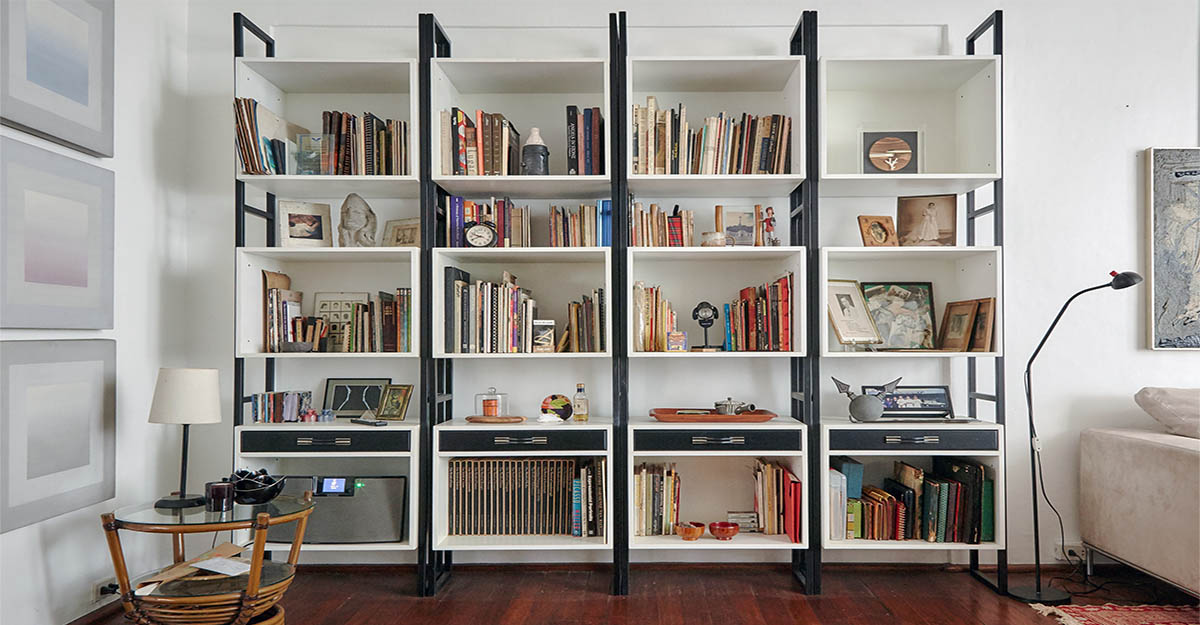 In the living room, an immense sectional sofa—a surprising secondhand find—is anchored by a series of Dan Raralio paintings. In the background near the shelves is a trio of paintings by Ivi Avellana-Cosio. These midcentury-style shelves were custom-made, and are divided into nooks for travel souvenirs, art books, and family mementos.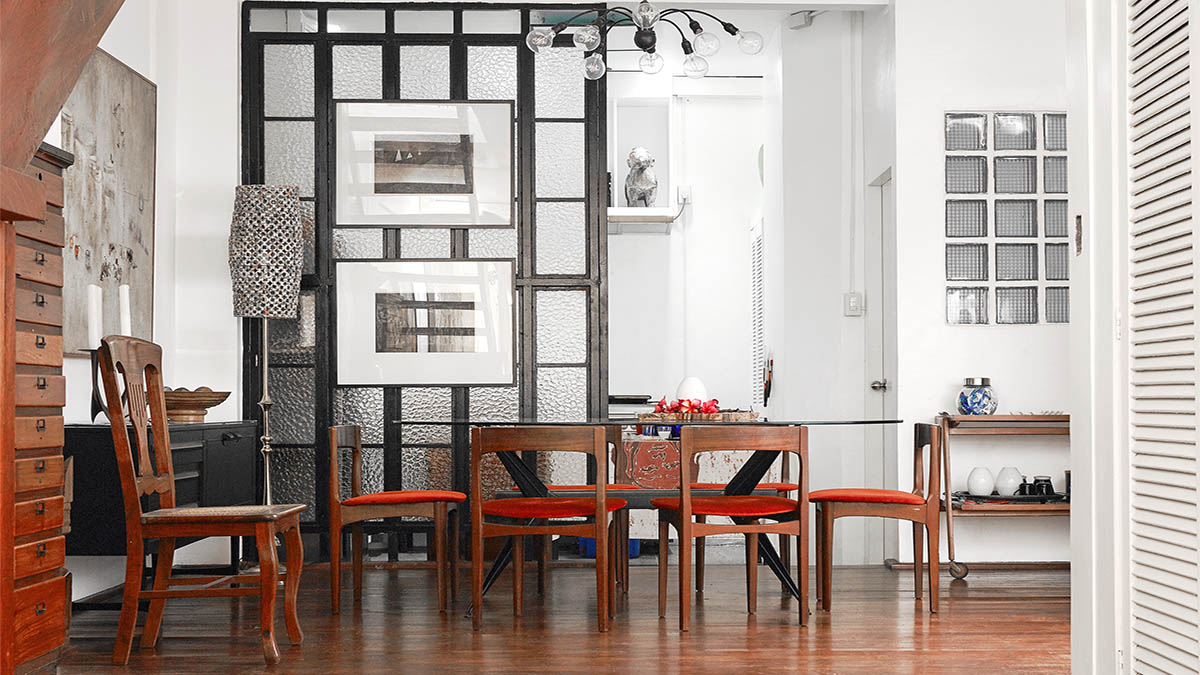 Extraordinary art in everyday spaces
The living area opens to the dining room, which is separated from the kitchen by a divider made of windowpanes, on which hang artworks by National Artist Arturo Luz. The wood and velvet-upholstered chairs are secondhand 1960s purchases, and the retro-style table base is—surprisingly—a department store find from 1997. The recycled paper lamp at left is of Albert's own design for Gifts and Graces, which sell at Kultura.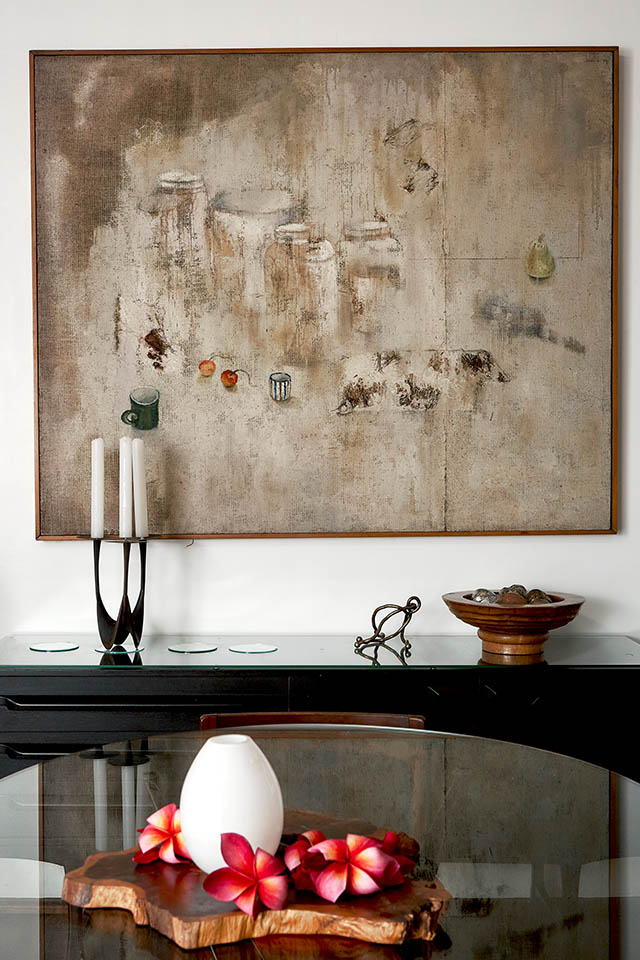 ADVERTISEMENT - CONTINUE READING BELOW
Midcentury furniture and decorative pieces can be found throughout the home, such as the vintage buffet table and candelabra in the dining room, which Albert bought online. The still-life painting above the buffet table is by Lilia Lao (the wife of abstract artist Lao Lianben), and the twisted metal "sculpture," Albert reveals, is actually a pair of curtain ties from Ace Hardware!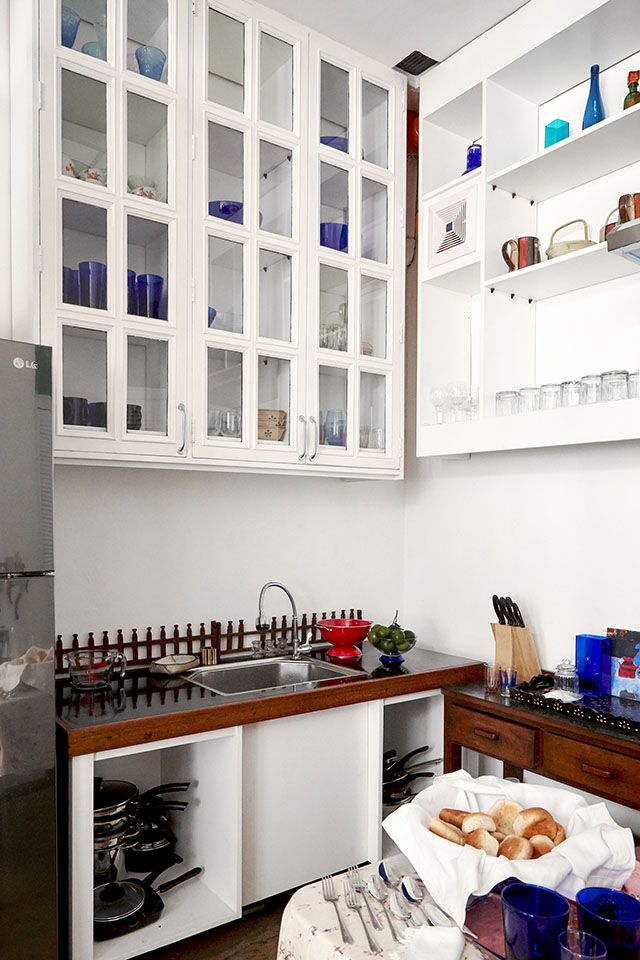 ADVERTISEMENT - CONTINUE READING BELOW
Each area of the home brims with thoughtful, Filipino-inspired details. Light fills the kitchen from the punched-out "skylight" in the ceiling. Albert fashioned a mini-banggerahan (Filipino dish and glass rack) for his kitchen sink out of old parts of a house.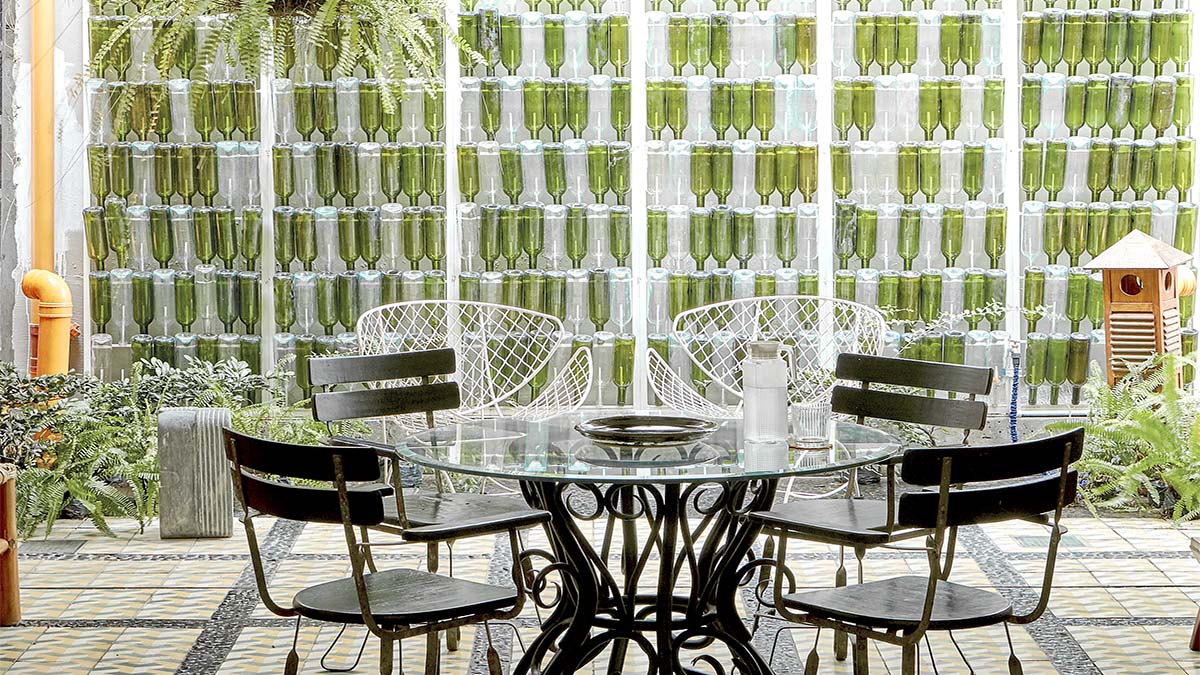 Bottle pop and more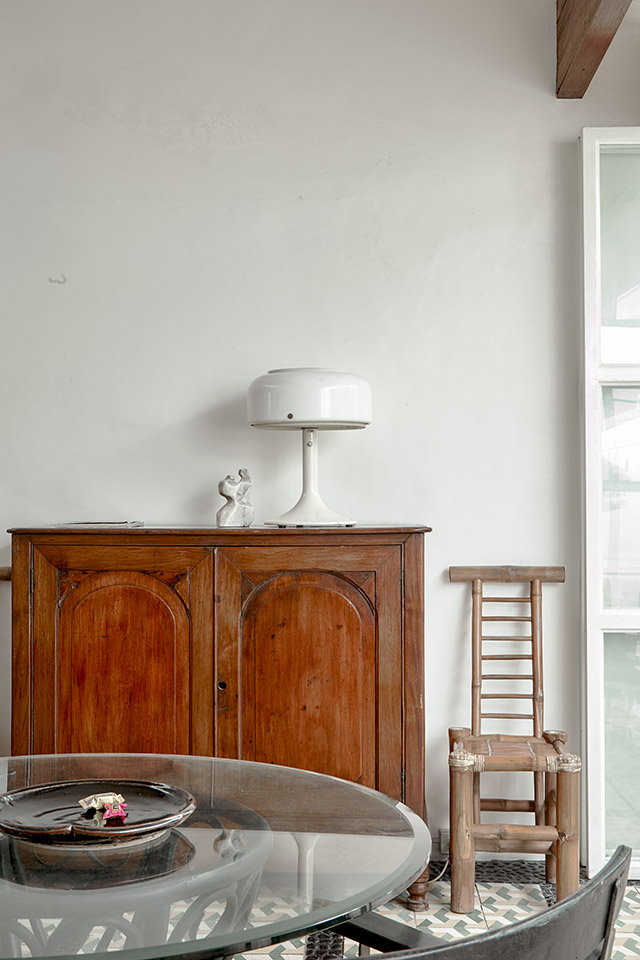 The second floor sitting room, which opens to a firewall, serves as Albert's "outdoor" area, since he doesn't have a garden. Used wine bottles are recycled to create a "wine wall" that echoes the bottle-laden fence at the Avellana Art Gallery at 2680 Pasay City. The patterned cement tiles are vintage finds that Albert bought online.
ADVERTISEMENT - CONTINUE READING BELOW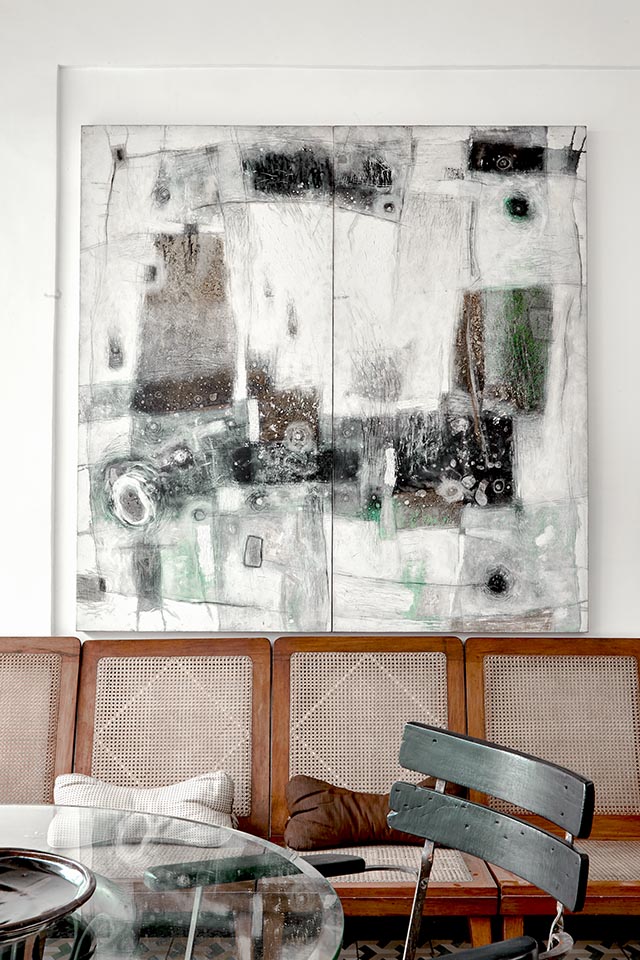 A beautiful Lexygius Calip abstract hangs above the solihiya Ambassador sofa, which is one of Albert's many secondhand finds from Pasay, Makati, Quezon City, HMR, and online Facebook sales.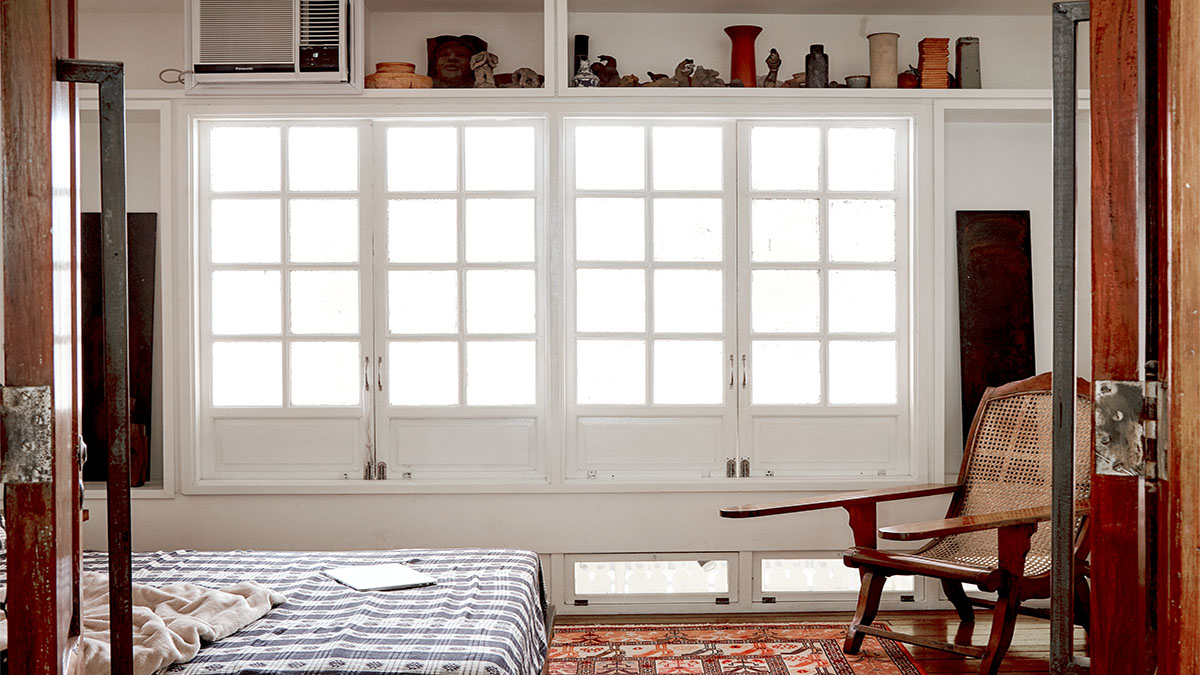 Elegant up-cycling
Artworks aside (because those are a given), some of the most interesting pieces in this house are the furniture, which are secondhand buys that Albert up-cycled in some way. "Kaya ko pinakita itong bahay na ito is to show that puwede maging elegant, kahit puro recycled finds," he enthuses.
ADVERTISEMENT - CONTINUE READING BELOW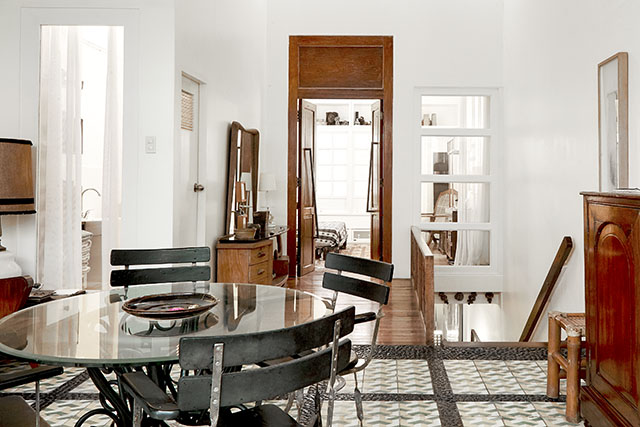 And for Albert, the thrill is in the hunt, as he often finds himself trawling Pasay, Makati, and discount outlets. He relates of the day he found a strange but beautiful vintage dresser that had migrated from his gallery to the second-floor landing of his home. "Itatanong mo, anong era siya talaga? Art deco ba? Ang weird niya!"
ADVERTISEMENT - CONTINUE READING BELOW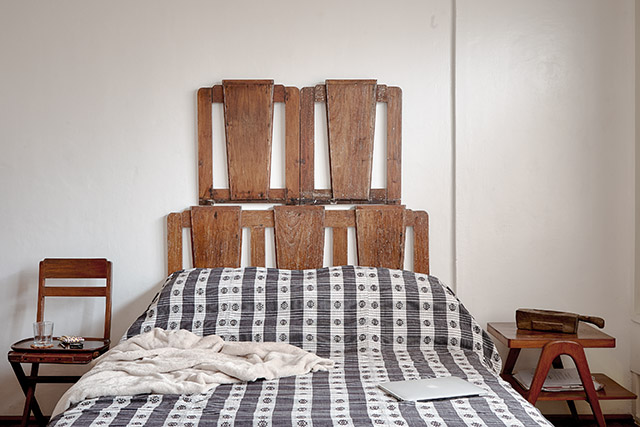 Even Albert's headboard isn't spared from up-cycling. It is composed of multiple backrests of broken-up Ambassador chairs that were formerly painted white. "Noong ini-strip, narra pala," he recalls. The wooden folding chair is but one of the furniture pieces he got from vintage furniture dealer Effie Saquille.
ADVERTISEMENT - CONTINUE READING BELOW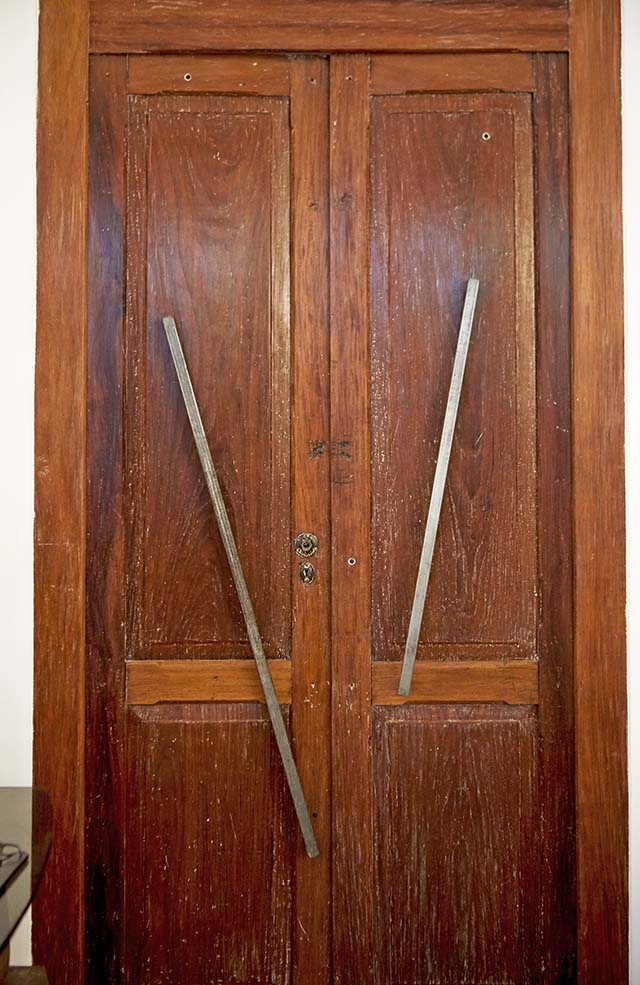 In a way, the old furnishings and family heirlooms in his home are also a reflection of the residential area's past, of a more genteel time when life was simpler. "Ang Salcedo-Legaspi Villages noon, talahib pa, doon kami nagsa-saranggola," Albert muses, recalling his childhood in a Makati that had no skyscrapers.
ADVERTISEMENT - CONTINUE READING BELOW
But for now, art and time will stand still behind this apartment's metal gates, shielded from the noise and chaos of an ever-changing city.
This article originally appeared in "A Remembrance Of Things Past" in the February 2017 issue of Real Living Magazine.