Slater Young Gives Tips on How to Keep Your Home Looking Brand New
Finding the right products is a crucial first step It's one thing to build you dream house and another to maintain it. If you've lived in your home for years or just a couple of months, we're sure you're familiar with the challenge of keeping it in tip-top shape. Given the harsh weather conditions and other elements our homes are exposed to, seeing signs of wear-and-tear is normal.
In a video he posted on his Youtube channel, engineer and tv personality Slater Young shared how he got rid of white stains and limescale that are visibly seen on the Skypod's façade and pool area. From sharing the product recommendations he got on Home Buddies (yes, he's a member!) to spending around Php20, 000 in total, he said that his scheduled cleaning took eight days to finish.
Of course, you don't need to spend that much when it comes to cleaning your own home! Here are tips we learned from Slater you can keep in mind, too:
Follow the instructions on the label of each product.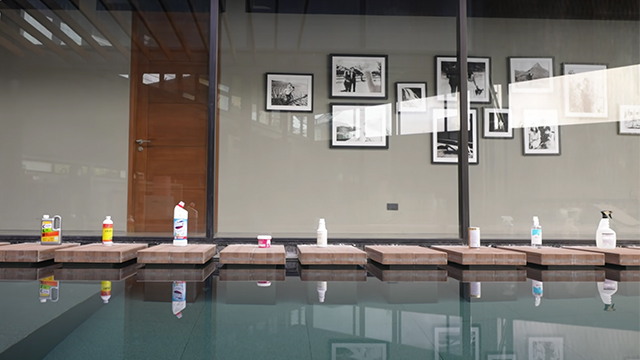 Review the label properly so you know how and where to use the product. Based on Slater's experiment, there are products that are not meant for specific surfaces such as stone and tiles. There are also instructions on how best to apply the cleaning agent – whether it's by using a paintbrush or a drill brush.
ADVERTISEMENT - CONTINUE READING BELOW
Don't hesitate to check reviews and instructional videos.
Slater's video is a good starting point – especially if you're also dealing with stone surfaces and tiles. Checking out reviews will keep you from spending on expensive cleaning products that might not work as well. For reference, here are the items he used:
CLR Calcium, Lime, and Rust Remover – Php1, 650
Lime-a-way – Php399
Domex Stain and Limescale Cleaner – Php250 (the most affordable cleaner!)
The Pink Stuff Miracle Cleaning Paste – Php250 on Lazada
Patience is key.
While instant results are appreciated, keep in mind that some things take time – especially if you need to let the product sit before rinsing. For the Skypod's pool area, Slater had to test a ton of products before finding one that works which turned out to be Domex.
After applying the products using a paintbrush, he also used a grinder to clean the surface before rinsing. Since he's working on the pool, he made sure to use a waterproofing agent after cleaning before regrouting and coating it with the Slate Finish from Nippon Paint to bring back the deeper color of the surface.
Research about the surface you're working with.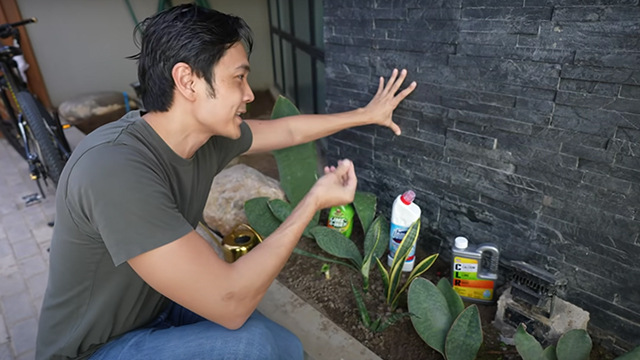 For the Skypod's façade, Slater had to deal with stone with white stains. After testing out different products, he figured out that there's no need to remove the white stains after all. Removing the old sealant, resealing the surface, then repainting it did the trick.
ADVERTISEMENT - CONTINUE READING BELOW
Understanding the type of surface you're working with – whether it's stone, wood, or a specific tile – can make it easier for you to shop for the right cleaning product and achieve the results you want.
Watch the video below and get more tips from Slater:
Got any homecare tips you'd love to share? Let us know by sending an email to [email protected] and we may just feature your tips!
More on Realliving.com.ph
Load More Stories