Home Improvement
Have a Unique Travel Experience in This Natural Farm In Coron that Advocates Sustainable Farming
Ecotourism advocate Al Linsangan tours us around Coron Natural Farms and shares the simple and sustainable ways you can live the farm life even with minimal resources. Imagine not having to buy food from the market and enjoying fresh, homegrown produce all year round.
That's the experience you'll get when you take a farm tour at Coron Natural Farms, a Department of Tourism (DOT)-accredited organic farm destination in Palawan that advocates sustainable ways of farming.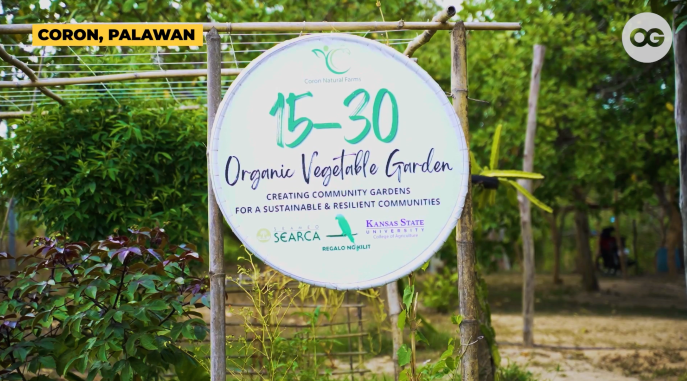 "Ang Coron Natural Farms po ay isang learning site for agriculture," ecotourism advocate Al Linsangan tells the OG team. "Isa po sa mga initiative ng Coron Natural Farms ay mag-develop ng mga prototypes or working models na puwede pong kopyahin or puwede pong gawin ng ating mga kaibigan."

Through bio-composting facilities, biodegradable waste materials at the farm are regularly collected and turn into soil, through the help of worms called African night crawlers. Having a steady supply of natural fertilizer in the process, Coron Natural Farms no longer needs to buy fertilizer from agricultural suppliers.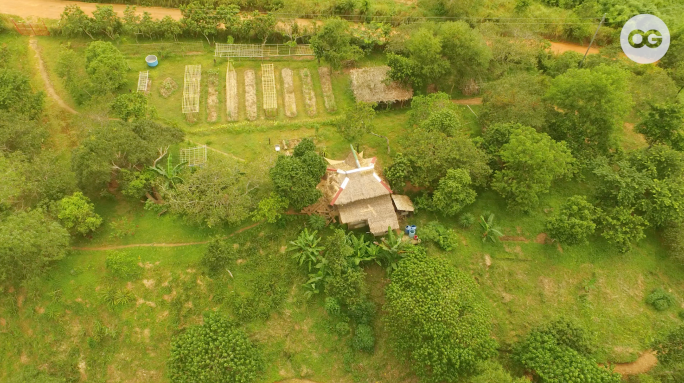 ADVERTISEMENT - CONTINUE READING BELOW
Aqua farming and "palayamanin"
Coron Natural Farms also features three ponds serve as homes to ducks, catfish (hito), and mudfish (dalag). The ponds are self-sufficient as the farm owners don't need to feed the ducks, and the duck feces which ends up in the ponds become algae, which the fish feed on. The ponds' overflow, meanwhile, irrigates a field which Al calls the "palayamanin".

"Yung ating aqua farming po ay inspired siya ng storya do'n sa Aztecs in Mexico at dito rin nagsimula yung kuwento po kung bakit nagkaroon po ng aquaponics and hydroponics," Al explains.

With aqua farming, they are able to tend to a population of 3,000 tilapia (St. Peter's fish). Large tubs occupy different steps of what appears to be terraces, occupying a total of just 24 square meters. The natural slope and elevation of the tubs promote waterflow through gravity.

A large container filled with gravel and sand filters the water from the tubs and serves as a planter box for crops such as lettuce, arugula, cabbage, watermelon, and tomatoes.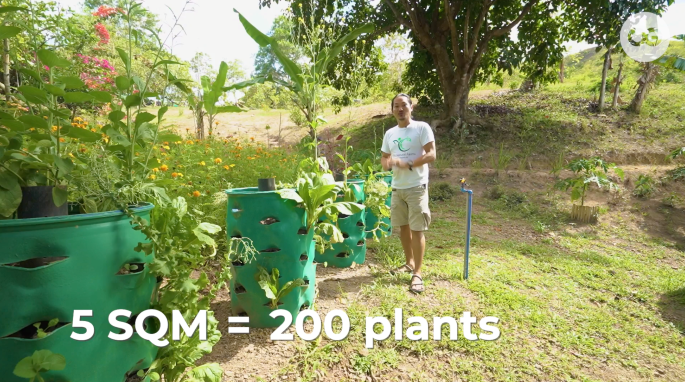 The farm also features tower gardens, a clever way of farming using only minimal space. Pipes in the center of drums are filled with worms and food waste from chickens, manure, and dried leaves, while the rest of the drum is filled with soil which gets fertilized in the process. A tower garden area of five square meters can grow as many as 200 plants.

Another model developed on the farm involves chicken layers, which can yield up to two trays of eggs each day.
ADVERTISEMENT - CONTINUE READING BELOW
A green destination
Currently, Coron Natural Farms is open to tourists for its farm tours, which showcase the farm-to-table and reef-to-table experience.

"Yung mga na-harvest po natin sa farm, from rice, vegetables, herbs, ito po yung gusto nating ma-experience po ng ating mga guests," Al says. "At dahil po yung farm natin ay ridge river to reef, meron pong mga produkto galing po sa dagat."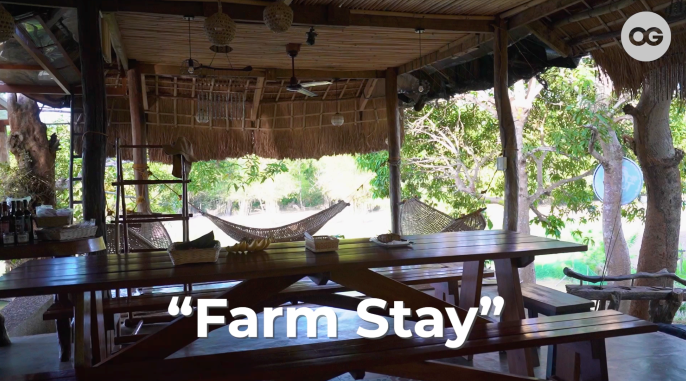 Visitors can also go kayaking, biking, go on photo tours, or go camping or glamping on the farm. There's even an arts and crafts shop for souvenirs, different seeds, and local products. Guests may also wish to stay overnight, as the farm also offers farm stays. In fact, you can search for Coron Natural Farms on Airbnb.

With its circular and cyclical way of farming, Al hopes to inspire Filipinos to adopt their sustainable farming models.

"Ang sabi nila, 'pag nag-organic ka, nagiging regenerative agriculture ka, mas magastos," Al shares. "But we found out as we practiced it, mas mura pala siya kasi hindi ka ngayon naka-depende sa mga laboratories, even sa mga agri suppliers, because you make your own food, you're part of the whole cycle, you're part of the whole system."

For inquiries, visit the Coron Natural Farms Facebook page.


Watch the full video feature here: https://bit.ly/3RxGE4k
ADVERTISEMENT - CONTINUE READING BELOW


OG (Only Good) Channel is Summit Media's first-ever video brand with its own channel on Youtube. OG features content that gives ONLY GOOD vibes with entertaining and informational video series about Amazing Staycation Destinations, Unique Homes, OPM Music, Buhay Abroad, Popular Memes and Trends, and Real Stories about Real People. If you need a dose of good vibes today, visit and subscribe to OG Channel.
More on Realliving.com.ph
Load More Stories