Gardening
What You Need to Know About Starting a Vertical Garden
From the benefits of having one in your space to the plants you need to spruce it up! Photography: Shutterstock
Are you one of the many who have accumulated tons of new plants over the past year? You might be wondering where else you can showcase your green wonders. If you've turned the balcony into a mini garden, created a setup featuring your houseplants in the living area, and decorated every corner at home with small potted plants, chances are, you're stumped for ideas. Give your home another good look – do you have an empty vertical space waiting to be maximized? If the answer is yes, you can consider starting a vertical garden. Ideal for condo dwellers and small space homeowners, vertical gardens give the benefits of having a green space without taking up precious floor area.
Why should you create a vertical garden?
Aside from helping you maximize an empty vertical space in your home, having a vertical garden in your home also has advantages. "It can be easily done at home as it doesn't require fancy garden tools," says Marvz Conti of Habil Crafts. "A vertical garden can also help improve indoor air quality by helping rid the air you breathe of harmful volatile organic compounds. The right plants can help get rid pollutants and dust, too," he adds.
ADVERTISEMENT - CONTINUE READING BELOW
Aside from choosing air purifying plants, you can also pick pretty green wonders that can double as décor. Bern Victoriano of Tierra Plants shares that a vertical garden can instantly spruce up a space while improving the mood of its occupants. "Plants can instantly perk up and change the mood in a room. It can make a space feel more relaxing and alive at the same time. Just imagine having a really rough day and having a vertical garden to stare at while you rest and recuperate," she shares.
Plants don't just add an aesthetic value to a home, it also gives homeowners something to do. According to Bern, caring for plants can be therapeutic for some people. "Nurturing and seeing something grow give the owners a sense of fulfillment," she explains.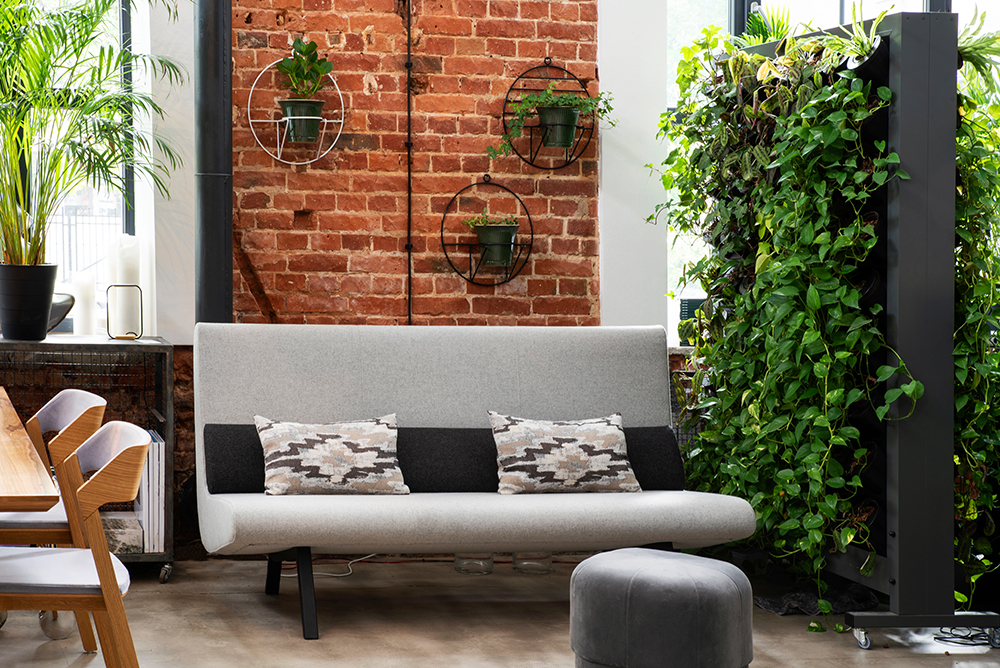 How to start a vertical garden at home
Inspired to start your own wall of greens? One of the best things about starting a vertical garden is you don't a patch of land to get the ball rolling. Choose a location that gets enough sunlight so your plants can thrive. If you're working with plants that can survive with minimal sunlight, you can work in a shaded area. Once you've finalized the location, it's time to decide how you want your vertical garden to look. Do you prefer using a shelf, a frame, or bringing in macrame planters? You can get design inspiration from Pinterest and Instagram.
The most exciting part of starting and maintaining a vertical garden involves choosing the plants you want to put on display. As with any other project, it's a must to do some research so you can pick ones that can thrive. "The most popular plants for vertical gardens are ferns, pothos, and philodendrons. Depending on the style you are going for, bromeliads and air plants are good additions, too," shares Bern. Your vertical garden can be more functional as well should you decide to care for herbs such as basil, dill, and mint. "Make sure you choose plants that grow well together – from those that thrive in the same conditions to green wonders with similar rates of growth. It's important that you pick plants that do not 'overpower' each other," she adds.
ADVERTISEMENT - CONTINUE READING BELOW
If you're looking for more options, Marvz suggests completing your vertical garden with the Inch Plant or Wandering Jew, a colorful houseplant that has lovely trailing vines, and mosses. "Mosses are fans of damp environments. You can also choose a maintenance-free version by going for preserved moss which still provides that look and feel of a vertical garden without the need to water it," he explains.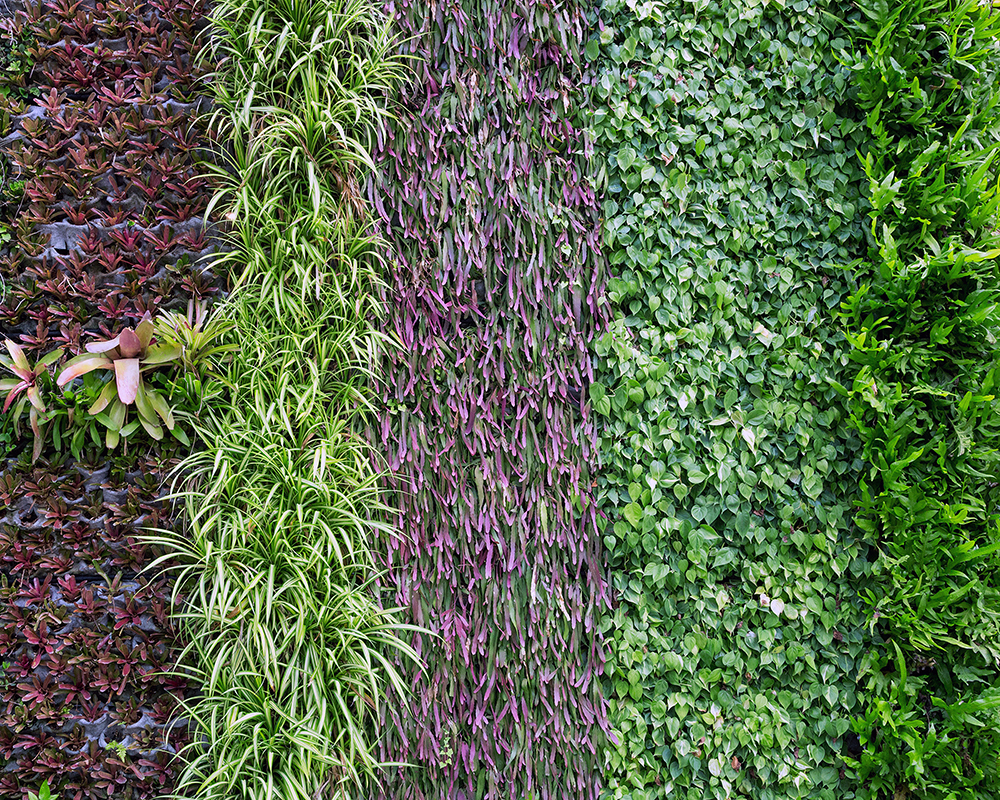 ADVERTISEMENT - CONTINUE READING BELOW
How to maintain a vertical garden
Every garden requires upkeep and maintenance. While it's easier to nurture a vertical garden compared to a sprawling one, Bern says that "it's not without its pain points. No garden can really thrive with zero maintenance."
Some of the challenges you might experience when having a vertical garden include:
Irregular plant growth

Drainage challenges

Ease of access
There's no need to fret as you can easily work your way around these. To deal with irregular plant growth, Bern suggests pruning your plants regularly and removing dead or dying leaves and pest-infested areas. "Pruning helps in the overall health and growth of a plant," she explains. You might be thinking about watering your plants. All you have to do is make sure your pots and containers have proper drainage to ensure that each plant will be watered thoroughly.
"For vertical gardens that are well above your head, the ones on top might be harder to reach. Make sure not to neglect them and have a maintenance schedule so you don't forget to prune and fertilize them," adds Bern. In addition to these tips, Marvz recommends working with light soil to protect the wall your vertical garden is hinged on. "You can work with container soil which often has perlite to reduce weight," he says.
ADVERTISEMENT - CONTINUE READING BELOW
Caring for plants in a vertical garden
Different plants require specific care to make sure each pot blooms and stays alive. Following the plant suggestions above, Marvz shares upkeep tips below:
Bromeliads
Given its shallow roots, this plant is ideal for vertical gardens. Keep it healthy by providing bright light without direct sun exposure. Make sure the soil is kept moist and there's proper drainage.
Ferns
Some ferns would trail or form rosettes. You can mix and match fern varieties to liven up a vertical garden. Most of these enjoy evenly moist soil and regular watering.
Pothos
Who doesn't want a lovely pot of pothos at home? This plant can tolerate low to bright light, rich or poor soil, and even a dry spell. Just remember to use a well-draining potting soil.
Air plants
A good misting or soaking every few days can do wonders! Don't forget to give it indirect sunlight daily for a few hours.
ADVERTISEMENT - CONTINUE READING BELOW
Inch Plant
Good news: this plant can thrive even if neglected. Keep this low-maintenance green wonder healthy by letting the soil dry out completely before watering again. 
Moss
Make sure to keep the soil moist by misting the surface a couple of times a week.
Maintaining a vertical garden requires time and patience, but knowing which plants are ideal for it helps in keeping it in tip-top shape. Do your research and don't be afraid to make mistakes in the beginning. A well-kept vertical garden can instantly brighten up your home.
More on Realliving.com.ph
Load More Stories