Gardening
Neri Miranda Has Vegetable Gardening Tips for Beginners
Neri Naig-Miranda shares practical and easy-to-follow advice on planting and harvesting veggies. Plants do more than just brighten up a space. They can also help you save time and money. Picture this: You're about to start cooking when you realize that you're out of tomatoes. Wouldn't it be convenient to just go to your garden instead of making a quick run to the supermarket?  
Starting your own vegetable garden at home can be simple. Take it from celebrity, entrepreneur, and gardening enthusiast Neri Miranda.
Easy Vegetable Gardening Tips from Neri Miranda  
Persevere.
Neri believes that gardening is a journey filled with trials and rewards. She encourages budding gardeners to keep trying, learning, and growing from experience. "Try lang nang try kasi hindi naman lahat nabibibiyayaan agad ng magaang kamay." 
Begin with the basics.
Vegetables such as pechay, mustasa, and okra are perfect for beginners, according to Neri. These are relatively easy to plant and harvest—and there's nothing like success to motivate you to keep going. "And then eventually from kamatis, mapupunta ka na sa pechay, sa talong, sa okra," she says. "Makukumpleto mo na yung [gulay] pang-pinakbet, sinigang, o chopsuey." 
Buy seeds online for pechay, sili, and other vegetables at Lazada.
Plant vegetables you usually cook.
Neri grows staples such as tomatoes and kalamansi in her garden to ensure a fresh supply for cooking. Her family consumes a lot of tomatoes—"parang limang kilo yata kami sa isang linggo."
Also read: 6 Vegetables That Are Easy To Grow At Home
Understand the unique needs of vegetables.
Different plants have different needs. Neri emphasizes the importance of understanding plant requirements, like the special care needed for vine vegetables such as squash. 
Use natural pest control.
To maintain an eco-friendly garden, Neri uses homemade garlic and chili sprays. This potent mix successfully deters pests without causing harm to the produce or the environment. 
Try composting.
Neri's technique for a nutrient-rich bed is simple: composting kitchen waste and wild grass for over two weeks. This practice not only enriches the soil but also promotes sustainability.
ADVERTISEMENT - CONTINUE READING BELOW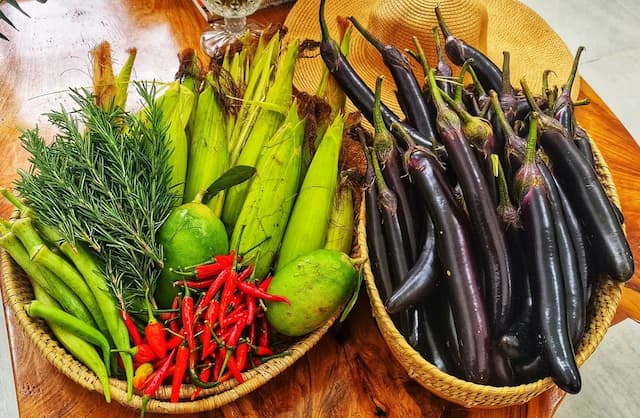 Let the worms be.
According to Neri, the presence of worms indicates healthy soil. She says they're not pests. Instead, they contribute to enhancing soil structure and fertility. "Tumutulong 'yan sa mga plants natin so hindi mo pwedeng patayin 'yan," Neri says of worms. 
Make gardening a family activity.
Neri involves her entire family in gardening, using it as a tool to teach her children about nature, sustainability, and the importance of effort and patience. When your kids see insects like caterpillars in your vegetable garden, you can turn that moment into a quick science lesson. 
Also read: You Can Grow Your Own Vegetable And Fruit Garden at Home
Celebrate small successes.
Each small triumph, like the excitement of seeing the first tomato bloom, can bring you unparalleled joy. "Feeling mo 'yun ang pinakamagandang kamatis na nakita mo," Neri says. "'Pag kakainin mo yun, parang lasap na lasap mo." 
Diversify your veggies.
As you become confident, start planting different vegetables. Neri herself has experienced diversifying from tomatoes to pechay, eggplants, and okra.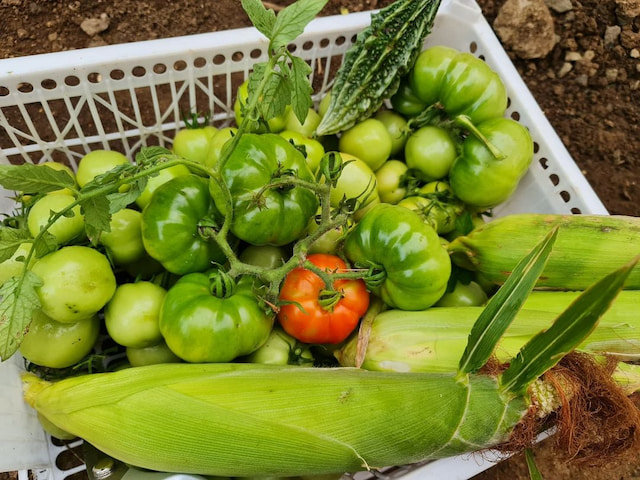 ADVERTISEMENT - CONTINUE READING BELOW
Accept and learn from mistakes.
Neri reminds us that gardening comes with some trial and error. Embrace it and keep learning, adapting, and experimenting. "Kung namatayan kayo o hindi man lang tumubo yung butong tinanim niyo—first time, second, hanggang kahit tenth time niyo na magtanim—huwag kayo ma-discourage kasi kung talaga nasa puso ninyo [at] gusto niyo gawin, go lang." 
Watch Neri share her veggie-gardening tips: 
Also read: Here's How To Grow A Vegetable Garden In Your Own Backyard
Here are some of the produce that Neri talks about in the video, plus tips for planting each: 
Common Vegetables and How to Plant Them in Your Garden
Pechay (snow cabbage) 
This leafy vegetable is a great starter for beginner gardeners. Plant in a place with full sun or partial shade, using rich, well-drained soil. Water regularly to keep the soil moist. 
Mustasa (mustard leaves) 
Easy to grow, mustard likes fertile, well-drained, moist soil with plenty of organic matter. It grows best in full sun but can tolerate partial shade. 
ADVERTISEMENT - CONTINUE READING BELOW
Okra 
This plant prefers the warm season and grows best in full sun. Okra needs space to grow, so don't overcrowd it by planting seedlings too close together. The soil should be nutrient-rich and well-drained. 
Kamatis (tomatoes) 
Tomatoes require at least eight hours of sunlight daily. Use a sturdy stake or cage to provide support as the fruit grows. Regular watering aids in steady fruit production. 
Kalamansi (Philippine lime) 
This citrus plant needs well-draining soil and full sun exposure. Regular watering and occasional feeding with citrus-specific fertilizer will keep it productive. 
Pipino (cucumber) 
Position in a sunny spot and plant in rich, well-drained soil. Provide a trellis for vining varieties to climb. Keep soil consistently moist. 
Kalabasa (squash) 
Squash plants prefer direct sunlight and need plenty of room to grow. Plant in fertile, well-drained soil and water consistently. Be especially careful not to over-water. 
Buy vegetable seeds on Lazada.
Each plant has its own requirements, and not every vegetable might thrive in your garden. Always observe, learn, and continuously adapt your gardening techniques. As Neri suggests, be patient as you go through every aspect, from planting to harvesting. Happy gardening! 
ADVERTISEMENT - CONTINUE READING BELOW
More on Realliving.com.ph
Load More Stories