Home Improvement
Family Renovates Living and Dining Rooms for Only P15,000
Many of the decorations were DIY'd or purchased online! After spending most of your time indoors the past few months, we're sure you've stared at your space and imagined a whole new look for it. You might think that a renovation would require a design professional and a bigger budget, but as one family proves, you can totally achieve a home makeover without spending too much!
Christine Año, a 23-year-old medical technologist was inspired to renovate their house in Tanza, Cavite after watching YouTube videos of home stylists Gila Salvador and Elle Uy. One of Uy's makeovers that featured a tropical, minimalist theme caught Christine's eye and she started to search for similar interiors on Pinterest.
BEFORE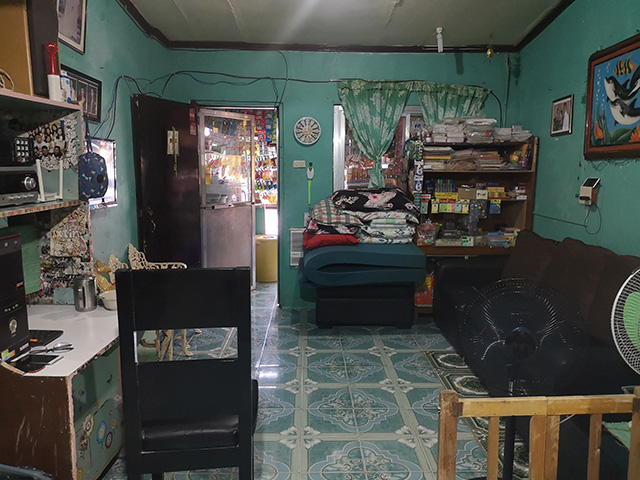 ADVERTISEMENT - CONTINUE READING BELOW
"After getting all the ideas that I liked, I started sketching the design and convinced my mother, Elena, to renovate our living and dining rooms," she tells SmartParenting.com.ph. She also persuaded her father, Eduardo, to help out, since he was out of work and also stuck at home because of the community quarantine.
Though she doesn't have a design background, Christine admits she loved watching home renovation shows as a kid. She also likes doing arts and crafts and DIY (do-it-yourself) projects. "On my high school yearbook, I wrote 'interior designer' as my dream profession," she shares.
A tropical home on a budget
AFTER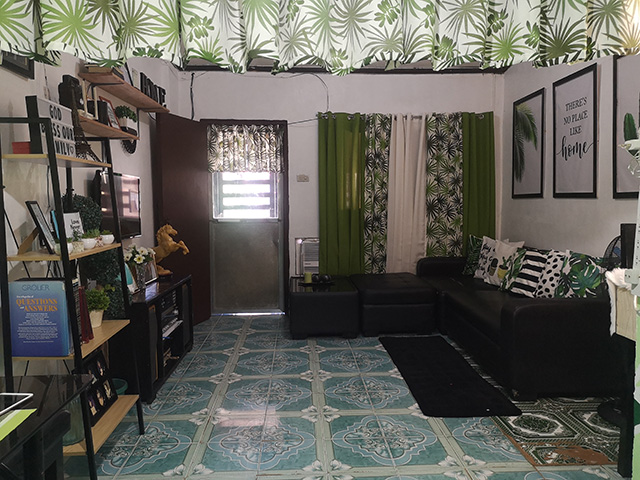 Christine adjusted the theme to match their existing furniture, so they only needed to repaint the walls. "Since the color of our floor tiles is green and we owned black furniture, I decided to stick to a motif of black, green, and white with some plant accents," she explains.
The dad and daughter duo started the renovations in April during Christine's off days (she works as a frontliner at a multi-diagnostic clinic). While she bought some items online, most of the décor used in the makeover were DIY. "[My thinking is] Why buy new stuff when you can create better ones out of old materials?" Christine shares. "Aside from saving a lot of money, I can also customize it the way I want it to look like."
Take a look at how Christine and Eduardo transformed their living and dining areas!
TV console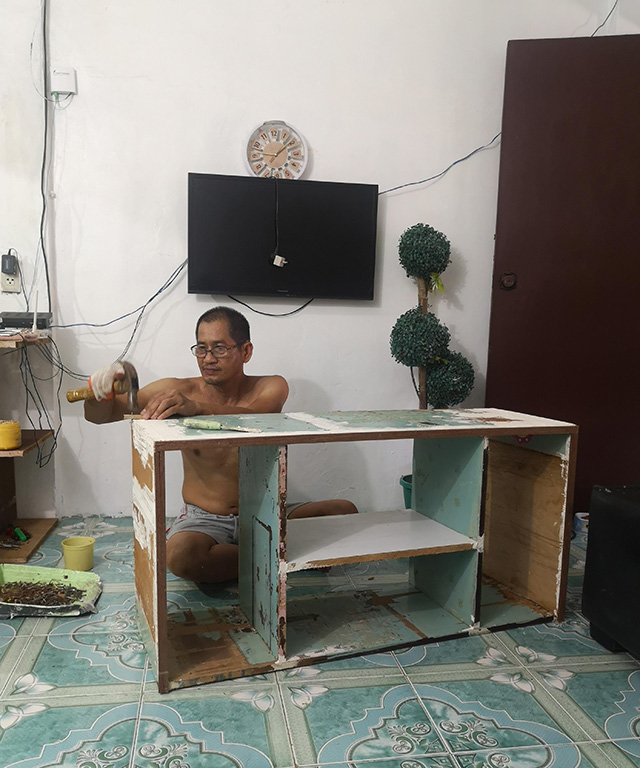 ADVERTISEMENT - CONTINUE READING BELOW
One of their major DIYs is the TV console. "We had an old computer table that was bulky and unwanted in the living room, so I asked my father if he can turn it into a TV console so that we wouldn't have to buy a new one. I gave him a sketch and showed him how our media devices would fit in it," Christine shares.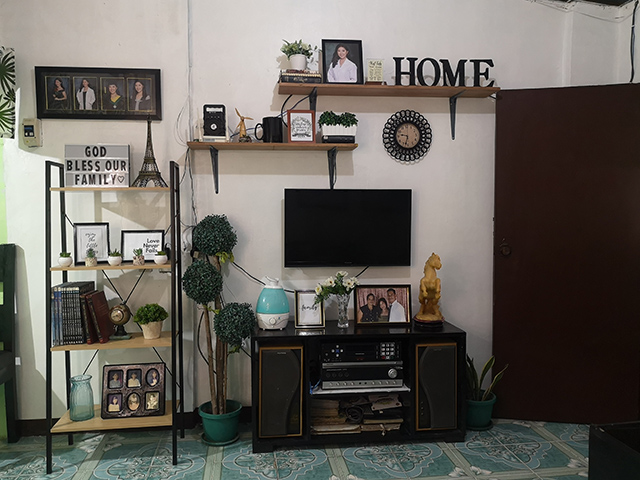 ADVERTISEMENT - CONTINUE READING BELOW
The display rack and LED letter box were bought from Lazada, while the synthetic plants and wall clock were bought from Shopee. They also made DIY shelves using leftover wood!
Accent Wall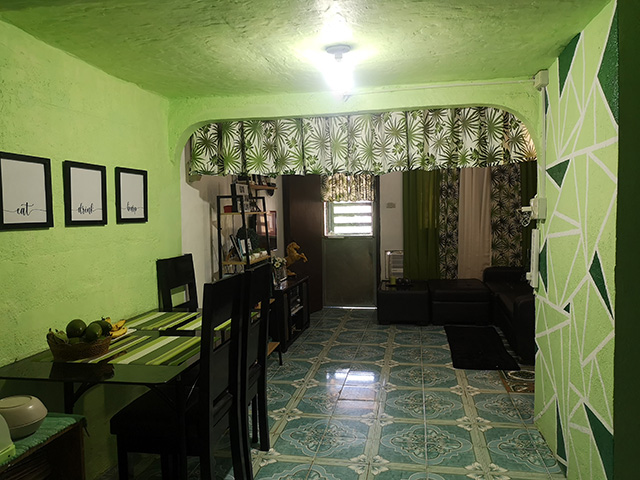 Christine got the geometric pattern from Pinterest!
Wall décor
Christine shares that after she posted their home makeover online, she got a lot of inquiries about their wall frames. "At first, I thought of buying a frame that will match the theme of the living room, but the malls were closed and the huge frames available in the department stores cost too much — probably a thousand pesos just for one large frame," Christine says. "I kept thinking of an alternative until one day, I saw the tarpaulin in our clinic. I realized I can print photos on the tarpaulin and just create a frame out of wood."
ADVERTISEMENT - CONTINUE READING BELOW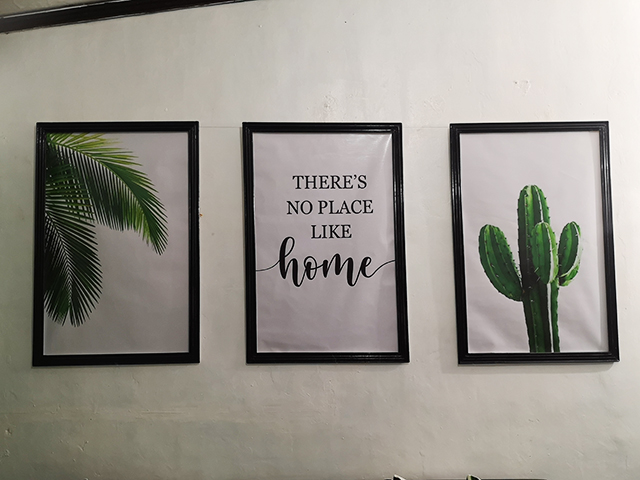 Christine downloaded photos from Pinterest and made a layout using PowerPoint. She had the photos printed on a 2x3ft tarpaulin and asked her father to create the frames.
Couch and vanity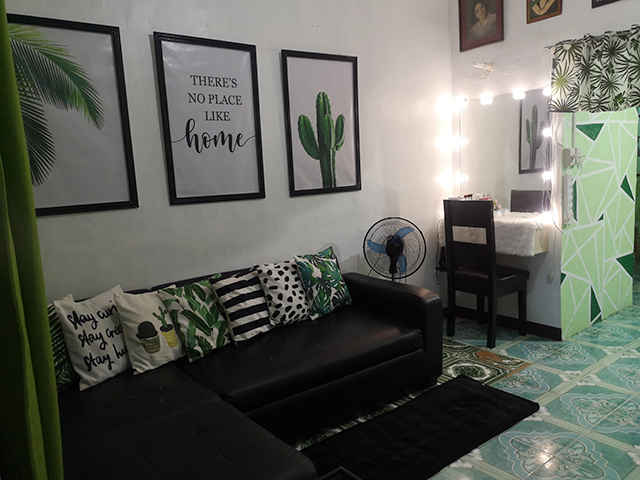 ADVERTISEMENT - CONTINUE READING BELOW
Christine upgraded their couch with tropical-themed pillowcases, which she bought from Vista Mall. The rest of the accessories were bought from Bonus and Parkson Shopping Center.
The total cost of the renovation? Around Php15,000! Christine offers a breakdown:
Php3,000 for paint and other materials
Php2,000 for the curtains
Php3,000 for the home décor and accessories
Php1,000 for the display rack
Php4,000 for items purchased online
Php1,000 for DIY frames
Php800 for DIY shelves
Click here to read the full interview on Smartparenting.com.ph! 
Want to share your home makeover? Email us at [email protected]. For more home improvement and renovation ideas, click here.
This story originally appeared on Smartparenting.com.ph.
* Minor edits have been made by the Realliving.com.ph editors.
More on Realliving.com.ph
Load More Stories