Decorating
Go For A Modern Farmhouse Kitchen If You Are #TeamKahoy
Follow these tips to achieve the look!
CREATED WITH WILCON DEPOT INC. Warm wood and bright white blend beautifully in a modern farmhouse kitchen design. And by adding other design elements — such as stone, metal, and cement — you can create a cozy and inviting kitchen that reflects your own personal style, too.
To achieve this look, follow these valuable tips and check out these home must-haves from Wilcon:
Choose timeless yet versatile flooring
This is essential when you're going for a modern farmhouse style. Tiles that mimic the homey feel of wood, like these ones from Energie Ker, help create a welcoming mood in a bright, white kitchen. And because they're made of porcelain, they're a practical and easy-to-clean option, too.
You can also go with a more minimalist look and a bright atmosphere by choosing white floor tiles from Arte Ceramiche. The matte finish makes these tiles ideal for a high foot traffic area such as the kitchen.
Build a functional sink area
When it comes to farmhouse-inspired kitchens, sink areas are usually spacious and incorporated with an industrial touch. Achieve this by pairing a double-bowl white quartz sink from Quartex with an industrial pull-down kitchen faucet from Sefa.
For an elegant touch, install backsplash tiles from Emigres. Their warm, neutral colors won't look out of place in a modern farmhouse kitchen.
Upgrade to stylish, quality appliances
The perfect kitchen space isn't all about aesthetics. It also needs high-quality appliances that provide a high-standard performance.
For a satisfying cooking time, upgrade to a built-in oven and a premium-quality range hood from Hamden, as well as a Swiss-made induction hob from Franke. These kitchen appliances are designed with a modern black and chrome finish that complements the bright yet warm ambiance of your kitchen.
Balance rustic decor with minimalist pieces
One of the main components of a modern farmhouse interior is wood. The different tones and unique wood patterns bring out a rustic touch to the kitchen, adding warmth to the space.
Add wood decor and furniture to your kitchen such as pendant lamps from Alphalux and bar stools from Heim. To keep things balanced, install a minimalist-looking quartz countertop by P.Tech.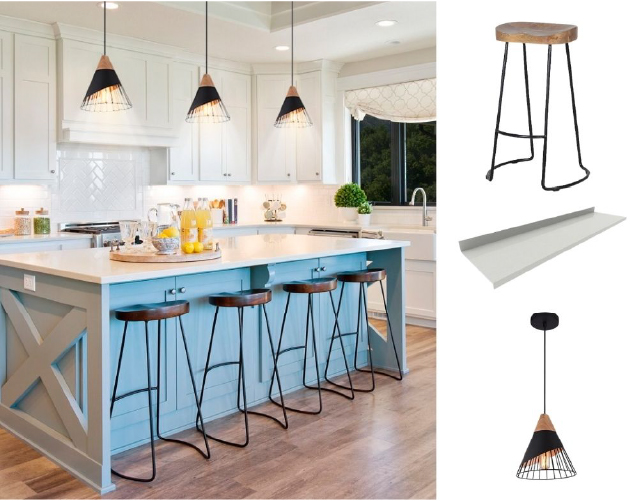 Pay attention to the little details
A modern farmhouse design is a well-balanced mix of white and earthy colors and clean and warm textures. The right kind of kitchen cabinet fixture — like these Direct Hardware handles and hooks with a black finish — can provide a nice contrast to white cabinets.
Go for a little contrast with your kitchenware
To complete your modern farmhouse kitchen, pick kitchenware that beautifully offsets all the white and light neutrals. Heim offers sleek, non-stick cookware and kitchen organizers with a black finish and wooden accents. Functional and stylish, these will add to the modern yet rustic aesthetic of your kitchen.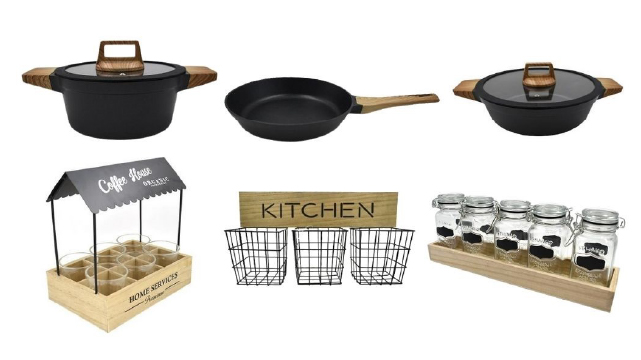 Transform your kitchen into a modern farmhouse cooking haven by getting your home improvement needs from Wilcon Depot.
Have an amazing online shopping experience with the Wilcon Online Store. Purchase your needs with just a few clicks here: shop.wilcon.com.ph.
You can also visit any of Wilcon's 67 stores nationwide and explore the wide range of products it offers — such as tiles, sanitaryware, plumbing, furniture, home interior, building materials, hardware, electrical, appliances, and other DIY items.
Adhering to health and safety protocols to help fight against COVID-19, Wilcon continuously implements necessary precautionary measures inside all of its stores. This ensures that the safety, health, and well-being of its employees and valued customers remain a priority.

You can also shop through a personal shopper with the Browse, Call, and Collect/Deliver service. For the list of participating stores and their pick-up and delivery contact details, go here: www.wilcon.com.ph/content/328-bcc-branches

Another shopping alternative is the Wilcon Virtual Tour. An online shopping option wherein customers contact the nearest store via Facebook Messenger app. Then, a member of the Wilcon team will take them on a virtual tour to explore the available products inside the physical store.

Wilcon also provides contactless and convenient payment options to its customers like bank transfers, GCash, PayMaya, InstaPay, PesoNet, WeChat, and Alipay.

For more information about Wilcon, go to www.wilcon.com.ph, follow its Facebook and Instagram, and subscribe and connect via its Viber Community, LinkedIn, and YouTube.
This article was created by Summit Storylabs in partnership with WILCON DEPOT INC..