Decorating
10 Things to Know if You Want to Achieve a K-Drama-Inspired Bedroom
Here's how you can pull off that minimalist aesthetic. Photography: Shutterstock (main)
When it comes to watching K-dramas, fangirling over our favorite oppas and leading ladies is pretty much a given already. But if there's one other thing we can't help but notice and love, it's gotta be the interior design of their rooms. Having a pretty bedroom like Yu Na Bi's from Nevertheless or Seo Dal Mi's from Start-Up would be an absolute dream.
If you're thinking about redecorating and recreating the same vibe for your space, we gotchu! Below, we gathered all the things we've learned about what really makes up a Korean-inspired bedroom—including the colors to consider, and the furniture you'll want to have. Keep reading to know more.
Check out these Korean room design ideas for your next space makeover.
1. Pick neutral colors for your walls.
While some consider it as an easy task, choosing a color for your bedroom is actually a *major decision* because it will affect the overall mood of your space. You'll want to go with colors like white, beige, or ivory, for a clean look and maaliwalas feel. These neutral hues give a sense of calmness and allows the room to look more spacious, too.
2. Choose light-colored soft furnishings.
According to Manila-based decorator and home stylist Elle Uy, soft furnishings are your curtains, beddings, throw pillows and the like. (As the name suggests, literally anything soft in your room counts.)
For curtains, she suggests to get linen that's sheer, flowy, and white or ivory in color. You might also want to invest in blankets and duvet covers that follow the same palette. These will all help in giving your space a more subtle, relaxed feel.
3. Keep things simple.
In case you haven't noticed, the Korean aesthetic is very minimalist. When you're choosing home decor items, keep in mind that you'll want to avoid anything with a sophisticated or intricate design. However, if you feel like the room is too plain, it's best to go with simple patterns (ex. gingham) for your soft-furnishings.
4. Position your bed near the window.
Simply put, doing this gives you access to as much natural light as possible. Imagine all the super cute selfies you can take during golden hour!
ADVERTISEMENT - CONTINUE READING BELOW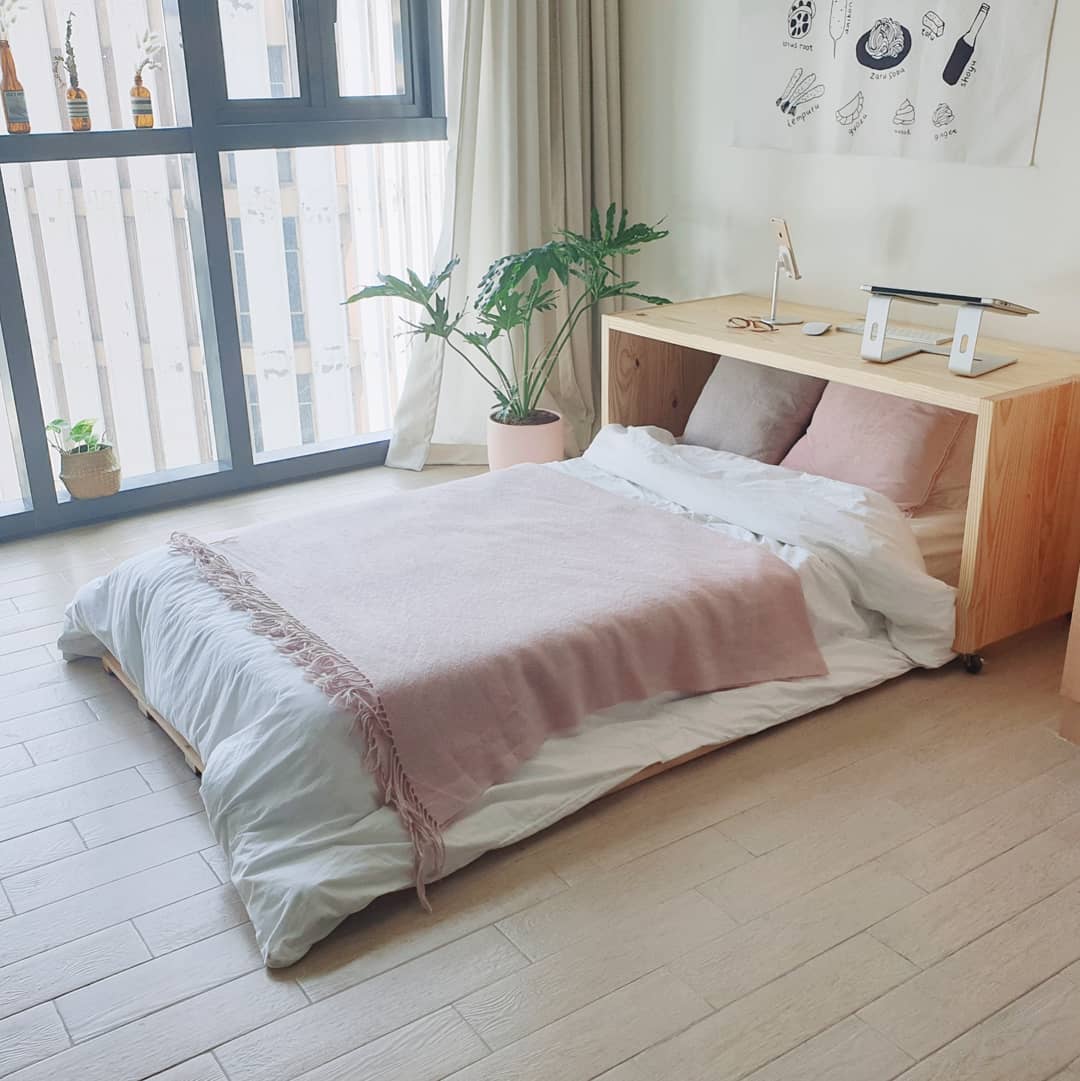 5. Install mood lights.
In a previous interview with Cosmopolitan Philippines, interior designers from Tanaw Studio once mentioned that lighting is definitely one factor in home improvement that deserves more attention. "People tend to stick to one lighting option: the general or standard lighting. But we can actually incorporate mood lighting options in the design. Switching from one lighting option to the other will drastically change the feel of your room. It can also change the overall purpose," they explained.
To set the mood, you can look into getting a lamp or dimmer. Bulbs that produce a warm, yellow light can also contribute to the cozy atmosphere. If you're feeling a little extra, string lights add a pretty touch as well.
6. Furnish the space with light wood furniture.
Now is the perfect time to be on #TeamKahoy! Perhaps you can opt for a wooden desk, chair, or dresser for that natural element in your room. And if you think about it, the light wood furniture will complement the rest of your light-colored furnishings.
7. Consider low-level furniture, especially for bigger pieces like your bed.
Based on a recent vlog by Mandaue Foam Home TV, the most common aspect for any Korean room is the mattress-only bed. There are three ways you can set it up: (1) Put your mattress above wooden slats or a platform, (2) Place the mattress on top of a carpet, or (3) Use a spring mattress and spring bed box.
ADVERTISEMENT - CONTINUE READING BELOW
Elle also explained that having low-level furniture gives you that feeling of being in a lounge. "Ang isa pa sa mga nakakadagdag kapag medyo mababa yung furniture niyo [is] mas nagmumukhang mas mataas yung room kasi mataas pa yung natitirang space. So, mas nakakaluwag siyang tingnan," she added.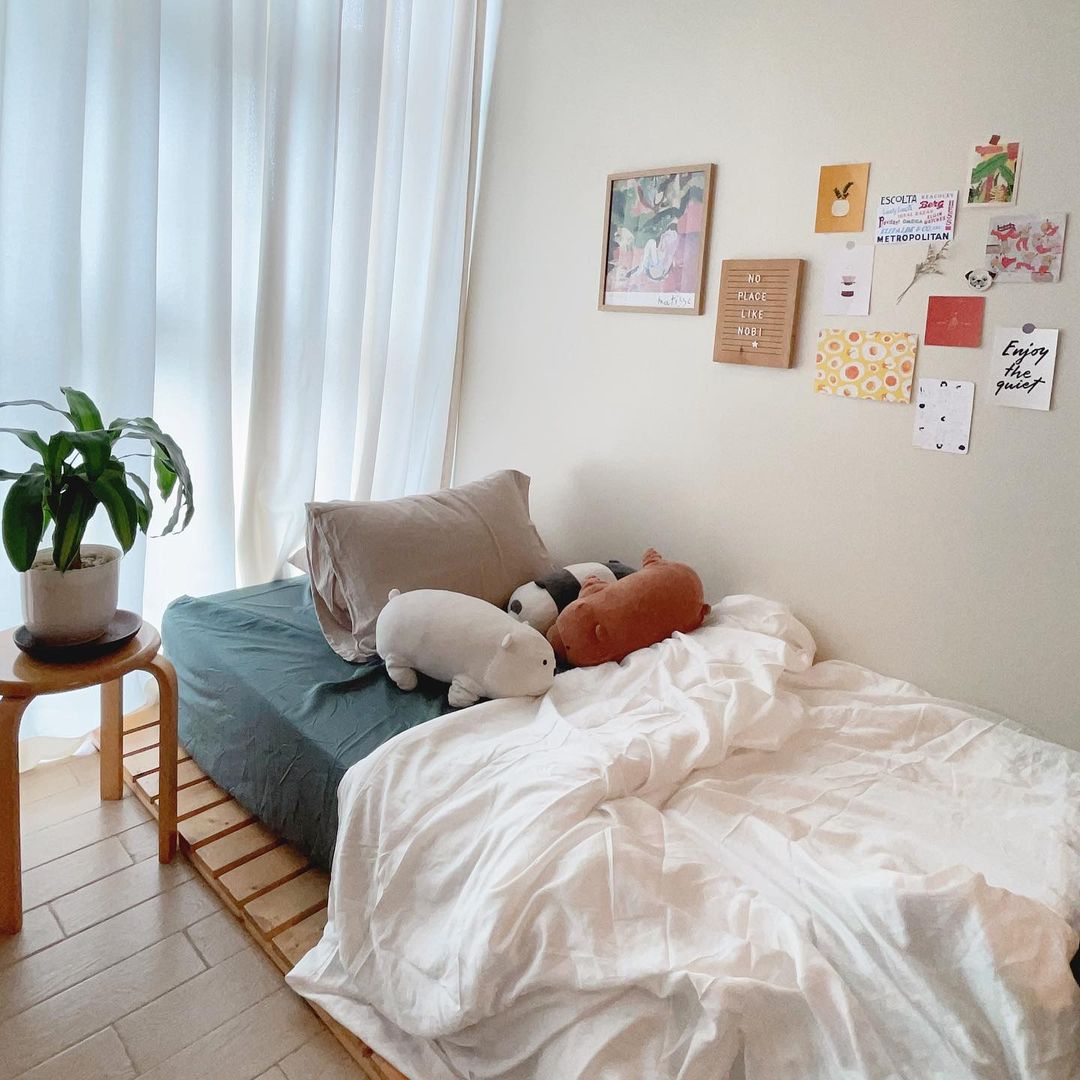 ADVERTISEMENT - CONTINUE READING BELOW
8. Your design should also fit your personality.
Of course, since your bedroom is where you usually spend most of your time, you'd want it to be a personal space that's comfortable. Don't be afraid to add accents that will reflect your style, but always remembe that less is more. Feel free to add pops of pastel colors if you feel like it! (And in case you need inspo, content creator Ashley Garcia's coffee corner is the perfect example for this.)
9. Use full-length mirrors and tilt them against the wall.
In case you didn't know, mirrors aren't just there for your daily OOTD vibe checks. Similar to the purpose of neutral-colored walls, they help make a space look bigger. But okay fine, they're great for at-home photoshoots too.
10. Add greenery.
Getting indoor plants for your room is like adding cherry on top of your ice cream. More than being a great aesthetic addition to your space, plants are known to have health benefits like boosting your mood, reducing stress, and most importantly, cleaning the air. And hey, if you can't commit to being a halamom or plantita, you can always go for fake plants. 
ADVERTISEMENT - CONTINUE READING BELOW
* * *
This story originally appeared on Cosmo.ph.
* Minor edits have been made by the Realliving.com.ph editors.
More on Realliving.com.ph
Load More Stories