Decorating
How to Display Indoor Plants in Both Small Spaces and Spacious Homes
Discover creative ways to display indoor plants and elevate your home decor. From wall-mounted shelves to unique plant stands, find inspiration for showcasing your greens. Products and services recommended on our websites are independently selected by our editors. If you buy something through our links, Summit Media may earn an affiliate commission at no extra cost to you.
Indoor plants can breathe life into any space and transform it into an oasis. They not only enhance the aesthetic appeal of your home but also contribute to a more refreshing, relaxing ambiance. Whether you're living in a compact condo unit in the heart of the city or a sprawling house in the suburbs, there are many ways to display indoor plants that can elevate your living space.
Read on to discover creative ideas and techniques to showcase your indoor plants—from making the most of your wall space to crafting stunning centerpieces.
Maximizing Wall Space
An effective way to display indoor plants is by utilizing wall space. This approach not only maximizes the visual impact of your plants but also saves valuable floor space. Take your pick of these ways to display your plants on a wall:
Floating Shelves
Installing floating shelves on a wall can create a sophisticated display not just for your art pieces and memorabilia but also for your houseplants. It's ideal for compact condos. You can order a set of three white floating shelves online for P699.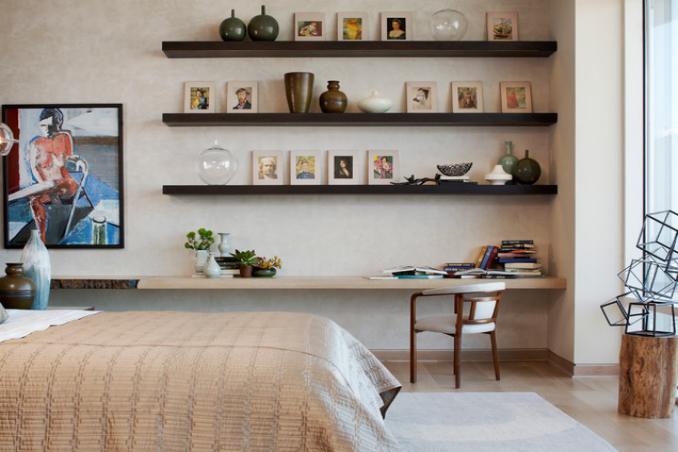 Triangle Shelf
Pick a triangular shelf design that offers ample space to hang multiple (and lightweight) pots. It also adds a contemporary touch to your indoor plant display.
ADVERTISEMENT - CONTINUE READING BELOW
Terrariums
Place faux plants inside a terrarium to add a green element to a corner. This saves you from the hassle of plant maintenance. Even better—buy terrariums online. Check out Bio-Art Philippines on Facebook.
Read also: Gift Ideas for Succulent Lovers and Beginner Gardeners
Innovative Plant Stands
Plant stands are not just functional; they also serve as decorative features that elevate your plants literally and figuratively.
Ladder Stand
Create a ladder stand by using wooden boards, a table saw, wood glue, and other materials. This DIY project adds a rustic and unique touch to your indoor plant display, perfect if you're going for a vintage vibe. If you prefer to just check out online, add to cart this tabletop ladder stand for P1,200–P1,800 (on sale for less than P600 as of this writing).
Wooden Crate or Box Stand
Make a wooden crate stand to give your indoor plant arrangement some rustic charm. Or you can install box-type wooden shelves instead.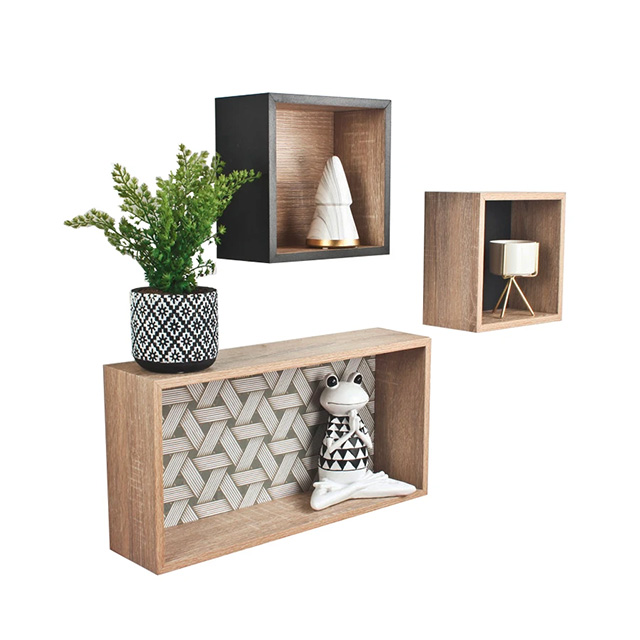 ADVERTISEMENT - CONTINUE READING BELOW
Read also: How to Care for Indoor and Outdoor Plants During the Rainy Season
Hanging Planters
Hanging planters are a fantastic way to utilize vertical space and create eye-catching displays. Here are some ideas:
Macrame Plant Hanger
Use a macrame plant hanger to display your plants by a window. This adds a bohemian touch to your indoor plant arrangement and is perfect for those who love a retro vibe. Here's how to make your own macrame plant hangers.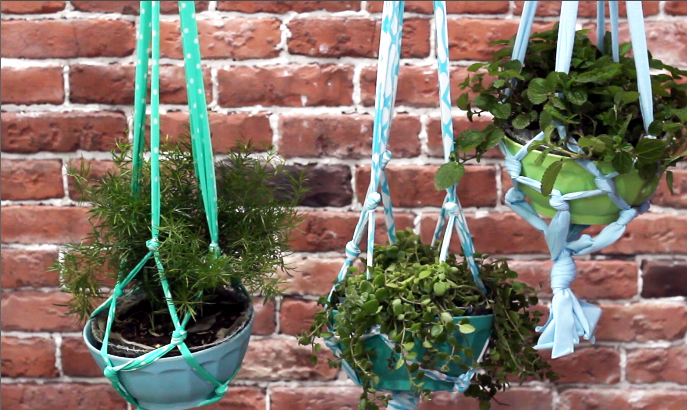 IMAGE Alyssa Roxas
ADVERTISEMENT - CONTINUE READING BELOW
Hanging Terrariums
Hang glass terrariums with trailing plants by using twines to create a unique and whimsical display that adds visual interest to your space.
Hanging Display with LED Lights
Incorporate LED or fairy lights into your hanging plant display to conjure a magical evening at home. Order a set of string lights online for P500–P520.
Read also: Mini Plants to Keep on Your Desk (Aside From Succulents)
#Shelfie-Worthy Spaces
Shelves provide an excellent opportunity to create visually stunning displays for your indoor plants. Here are some ideas to make your shelves #shelfie-worthy:
Mix and Match
Mix plants of different sizes, shapes, and textures to create a dynamic and visually interesting display. You can also group plants by color or theme for some diversity and contrast.
Alternative Shelving Units
Think beyond traditional shelving units and consider using a ladder, hanging shelves, or a pegboard to create a unique and functional display for your plants.
ADVERTISEMENT - CONTINUE READING BELOW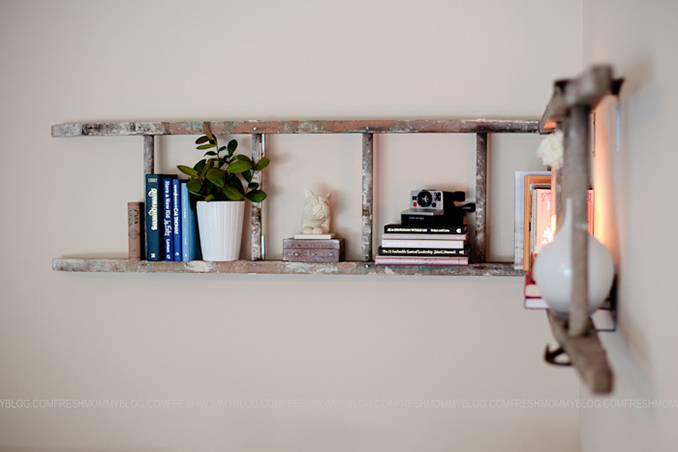 Living Walls
Create a "living wall" by arranging plants vertically on a wall. This dramatic display of plants not only adds visual interest but also helps improve air quality and reduce stress levels.
Centerpieces and Tabletop Displays
Centerpieces and tabletop displays provide a focal point for your indoor plants. Here are some ideas for stunning centerpieces:
ADVERTISEMENT - CONTINUE READING BELOW
Planter Box Centerpiece
Bring the outdoors in! Use a planter-box centerpiece to grow herbs or small plants on a dining table. This can add a touch of freshness and natural beauty to your dining area. Opt for a small planter box that resembles a wooden produce crate, available online for P138 apiece.
Terrariums as Centerpieces
Use terrariums as beautiful centerpieces that provide ample room to display real or faux plants. This creates a visually appealing and self-sustaining ecosystem.
Coffee and Dining Table Displays
Place vibrant green plants on coffee and dining tables. For an extra pop of color, place a pot on a stack of books with eye-catching covers.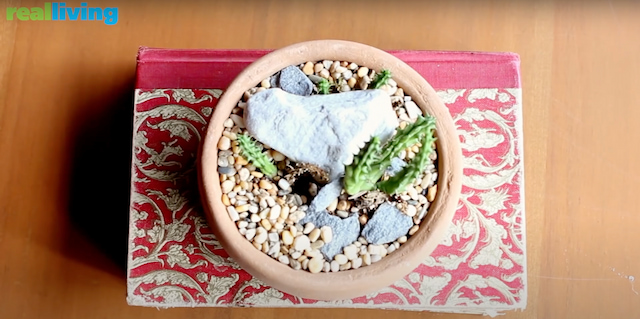 ADVERTISEMENT - CONTINUE READING BELOW
Welcoming Guests with Touches of Green
One of the best ways to make your guests feel at home is by welcoming them with touches of green. Place a beautiful plant at your entrance or in your foyer. You can also consider placing a small plant on a side table or console table in your living room.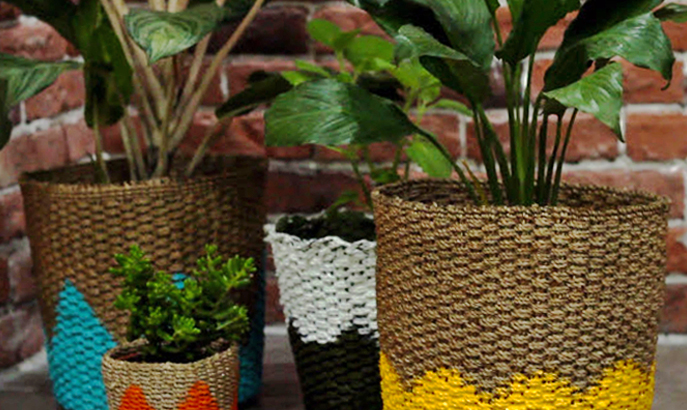 ADVERTISEMENT - CONTINUE READING BELOW
Planters are a modern and stylish way to display your indoor plants. They come in various shapes and sizes, allowing you to create a unique and visually interesting display. (You can buy woven planters online for just P249–P379 each.) You can place them on shelves, tables, or even hang them on walls. 
Need a quick recap of these ideas? Watch this:
Incorporating indoor plants into your home decor not only adds beauty but also brings a sense of tranquility and freshness. By maximizing wall space, creating unique plant stands, hanging planters, designing shelfie-worthy spaces, and even welcoming guests with touches of green, you can showcase your indoor plants in the most creative and visually appealing ways. Whether you're living in a compact condo or a spacious house, there are various ways to showcase your indoor plants.
FAQs
How can I display indoor plants in a small space? 
Utilize wall space, create unique plant stands, and consider hanging planters to maximize vertical space.
ADVERTISEMENT - CONTINUE READING BELOW
What are some creative ideas for displaying indoor plants on shelves? 
Mix and match plants of different sizes and textures, use alternative shelving units, and consider creating a "living wall," which is a wall filled with plants.
How can I create a visually stunning centerpiece with indoor plants? 
Use planter-box centerpieces, terrariums, or vibrant green plants on coffee and dining tables to create a stunning display.
Links are updated regularly and as much as possible but note that products can run out of stock, discounts can expire, and listed prices can change without prior notice.
For more discounts and deals, check out Real Living's exclusive vouchers.
More on Realliving.com.ph
Load More Stories