Decorating
10 Space-Saving Furniture Your Home Needs This New Year
Let these functional and stylish pieces give your home a fresh look this New Year. Redecorating your home is one of the best ways to start the year. It creates a new vibe and makes you feel like you're starting anew, too. To give your home a fresh look, you'll need furniture pieces that combine aesthetics, functionality, and versatility.
Below are unique pieces your home needs this new year.
1. Penny Queen Bed
This elegant bed frame is made with luxurious fabric upholstery and features a tufted headboard and wooden accents. You can store linens and clothes in its built-in blanket box.
P42,998.
2. Slim Night Table
This glass-top bedside table has fabric upholstery and three drawers. It comes with two built-in USB ports and an LED nightlight with a dimmer.
P14,498.
3. Lilac Accent Chair
This convertible chaise lounge will brighten up a room with its graceful curves and soft-colored upholstery. Stylish and functional, it has a hidden storage compartment.
P24,998.
4. Wolcott Center Table
This round coffee table comes in an elegant walnut finish. The removable table top can also serve as a tray and the space below can become a storage compartment.
P17,498.
5. Liko Shoe Cabinet
Get this compact three-tier shoe cabinet for tight spaces. More than just chic, it's also practical because it can double as a table ledge if you use two side by side. Get it in white or gunmetal.
P12,998.
6. Govert Bench
Another compact piece, this bench is both stylish and functional. Its white seat and light wood accents will easily blend into any room. While primarily a bench, it gives you extra storage space when you lift up the top of the seat. The bottom also serves as a shoe rack.
P11,998.
7. Stockholm Series
This Scandinavian-inspired furniture series features slim wooden legs and sleek integrated handles for a clean and streamlined look.
P7,998 to P32,998 
8. Larvik Series
The pieces from the Larvik series help give small rooms the illusion of bigger space. They feature a smooth blonde oak finish that add color against greys and other earth-toned walls and furnishings.
P2,998 to P42,998
9. Cosmos Sectional Sofa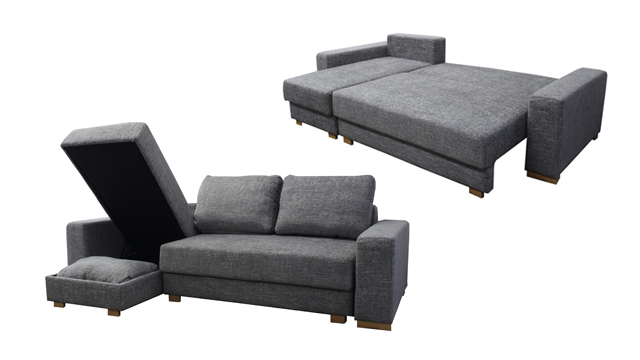 This article is sponsored by BLIMS.