Building & Renovating
Would You Live in This 60sqm Bamboo House?
A team of design professionals came up with a sustainable house design that promotes proper housing and the use of bamboo as a building material Photography: courtesy of Ar. Matias Irrgang Dazzini and Ar. Miguel Luis Roman Andrade
When it comes to building a house, choosing the right materials is an important step. While many instantly decide to build concrete and modern homes, we cannot discount the beauty and durability of structures built using natural materials, too.
In a recently concluded social housing prototype contest conducted by USAID, Miyamo International, and ULEAM, the use of bamboo took the spotlight as design professionals came up with designs that address the lack of proper housing in Ecuador's crowded areas.
ALSO READ: How To Achieve These 5 Popular House Designs in the Philippines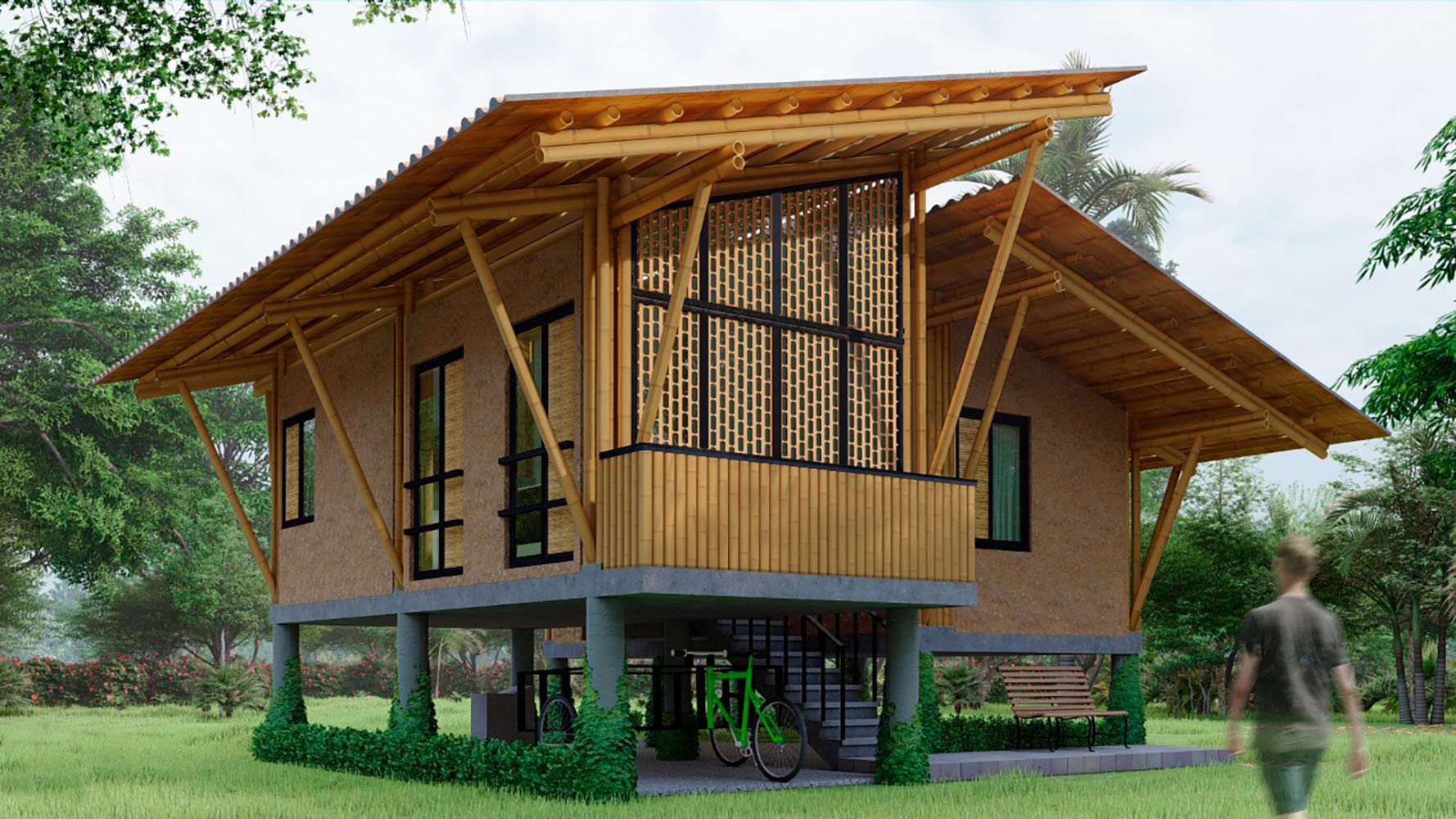 ADVERTISEMENT - CONTINUE READING BELOW
Interior designer Christine de Leon, one of Real Living's 25 Creatives to Watch in 2017, was part of Team BAMSE (Bamboo+House), which won second place. "The contest is a social housing competition in Latin America. It was a wonderful opportunity to be invited by the team representative, architect Emmanuel Mendoza Zambrano, who specializes in the field of climate change, to participate in this project together with their team of architects," shares Christine.
Understanding that everyone has a right to proper housing, the team came up with a modern, functional, and inviting 60sqm bamboo house. From the outside, it's reminiscent of our well-loved bahay-kubo, especially the space under the house. Traditional Filipino homes often have storage or just an open space beneath it referred to as a "silong."
ALSO READ: An Old Fashioned Pinoy Bahay Kubo In Palawan
Designed with Ecuador in mind, the BAMSE can be used as inspiration when planning a Filipino home, too. Both countries experience tropical climate and have an abundance of bamboo.
As Christine explains, "we're blessed to have a bountiful amount of bamboo in the Philippines. As a plant, it's a powerful climate change mitigator and it absorbs more Carbon dioxide than other trees."
Whether you're looking into building a sustainable home or just on the lookout for possible materials you can use, the BAMSE definitely provides a source of inspiration. Learn more about the design below:
Facade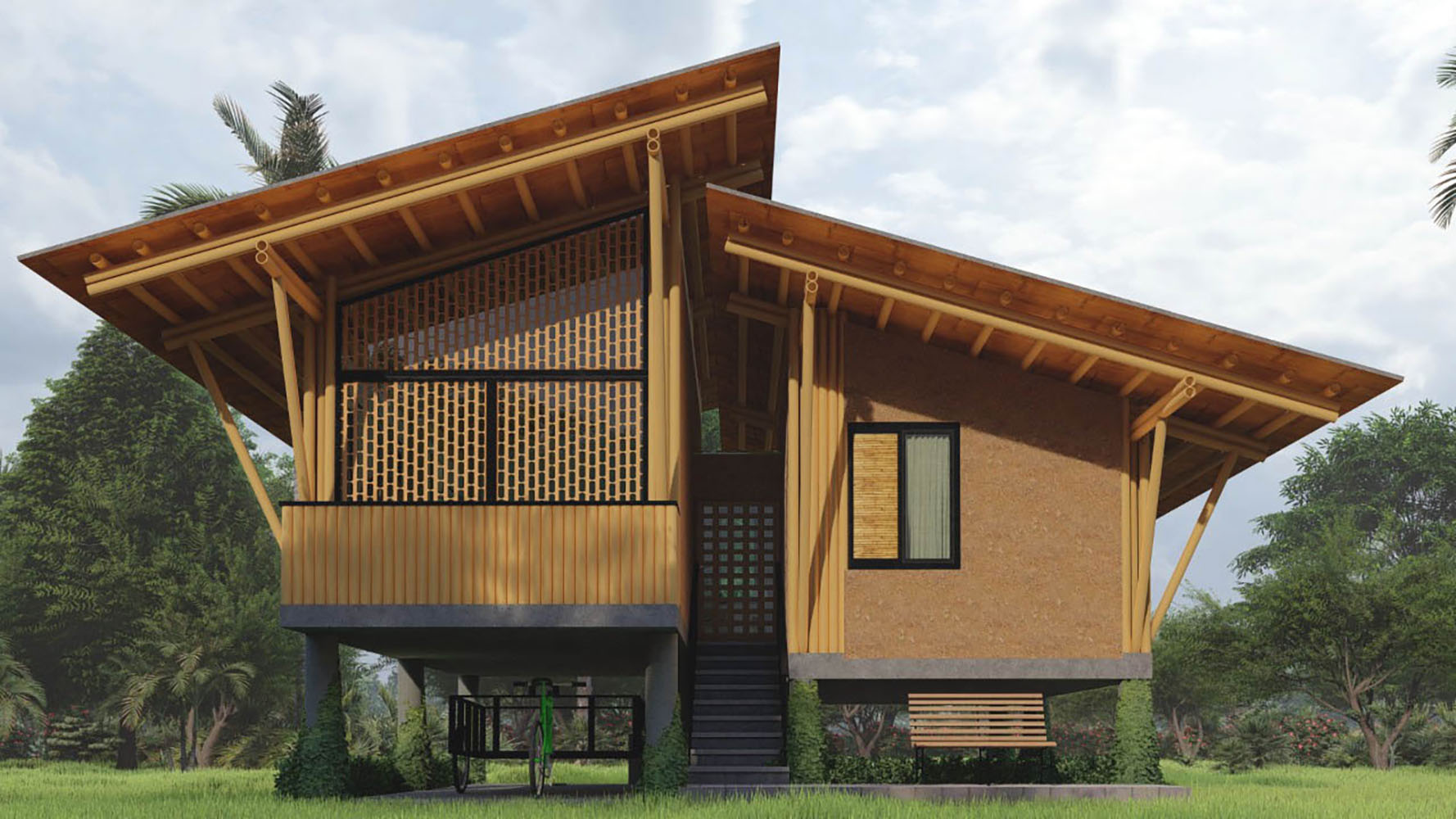 ADVERTISEMENT - CONTINUE READING BELOW
The house is elevated, with the space under the house serving as storage while aiding air insulation. Ar. Matias Irrgang Dazzini shares that the green areas surrounding the house and run alongside the roof perimeter allow owners to grow their own food and make use of rainwater.
ALSO READ: Are You Living in a Flood-Prone Area?
"Bamboo is a fast-growing grass. Structurally, it can be as strong as steel, provided that it is treated and sealed correctly, plus, it works well with traction and compression," adds Ar. Matias. Concrete was used for the foundation piles to serve as a barrier which comes in handy especially in areas prone to flooding.
Interiors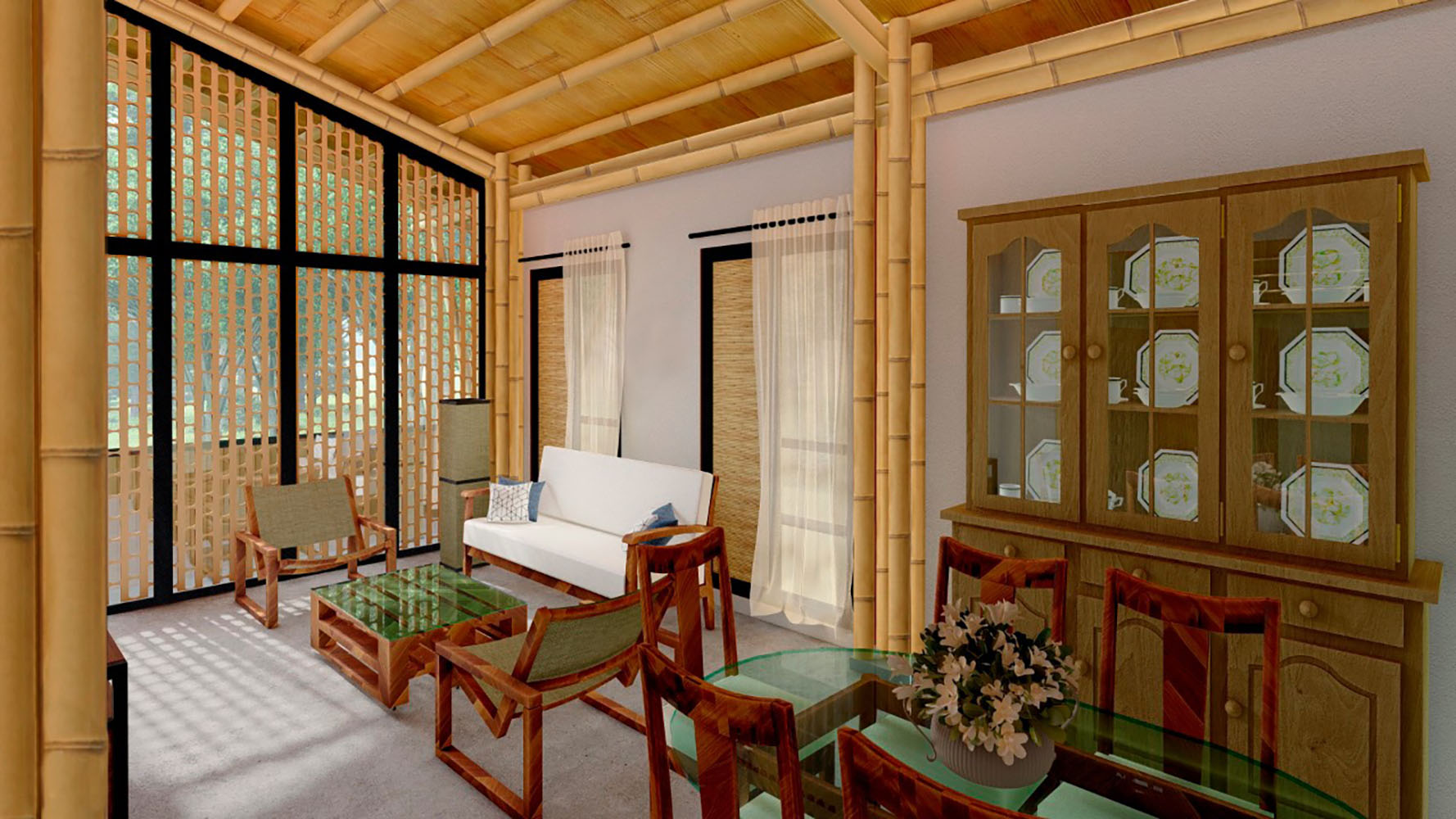 ADVERTISEMENT - CONTINUE READING BELOW
The house has two bedrooms, living, dining, and kitchen areas, and a bathroom. According to the team, a variation in floor levelling was done to define the different areas. "The section of the bedrooms was lower than the kitchen and living room section. The roofing angles [were also planned] to work with natural air flow," explains Ar. Matias.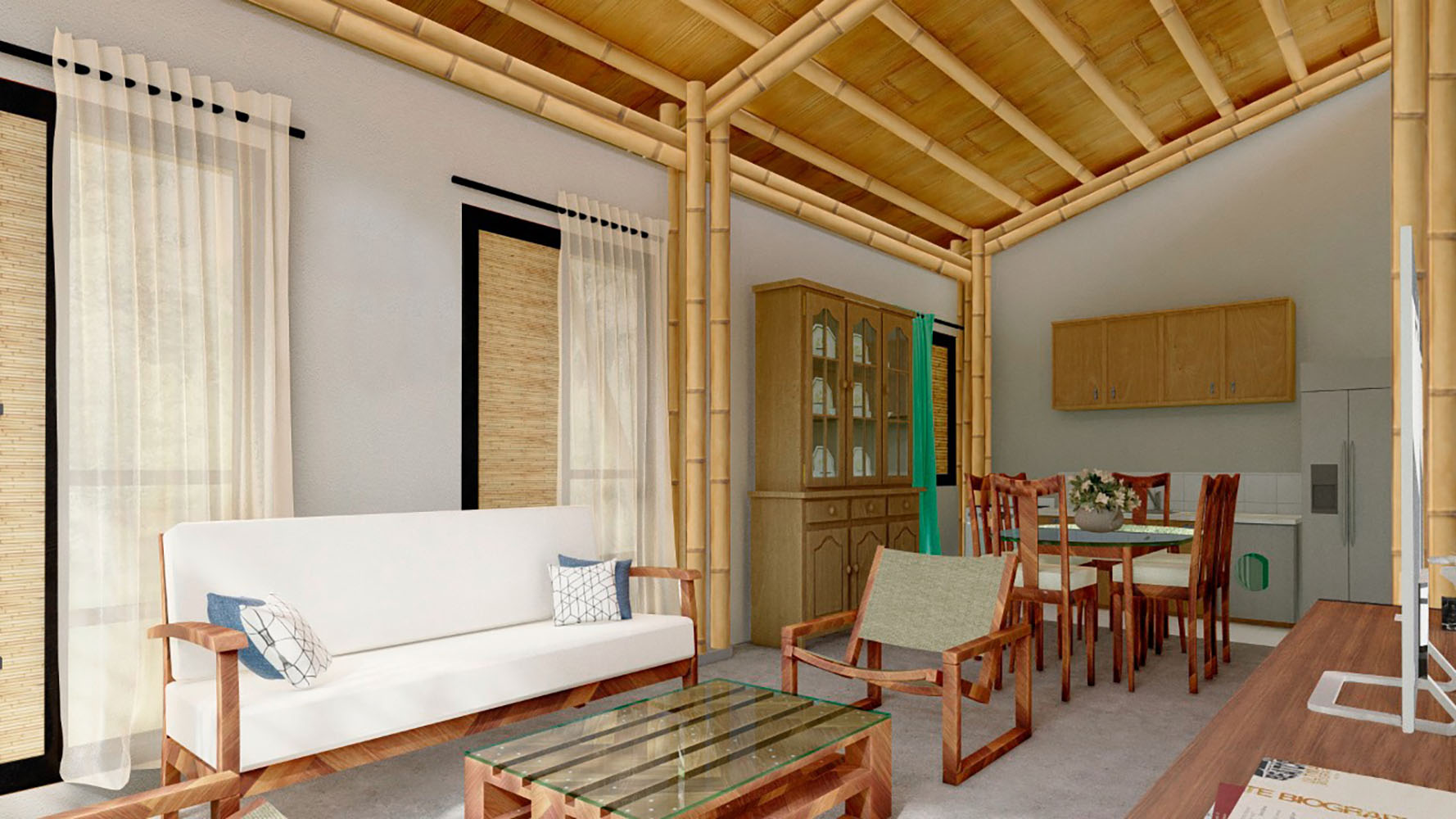 ADVERTISEMENT - CONTINUE READING BELOW
Simple yet welcoming, the team went for a relaxed modern look for the interiors. "We used a natural color scheme, complementing the bamboo as well as the bahareque walls. Simple modern furniture pieces were chosen according to size and style to give a feeling of adequacy in space proportionate to each area," Christine says.
The home is reminiscent of ancestral homes, including the choice of furniture. Nothing is out of place and each element adds to the overall look. To complement the bamboo, the team also used bahareque (earth and bamboo) for the walls and polycarbonate for the roof to provide insulation while minimizing the sound of rain.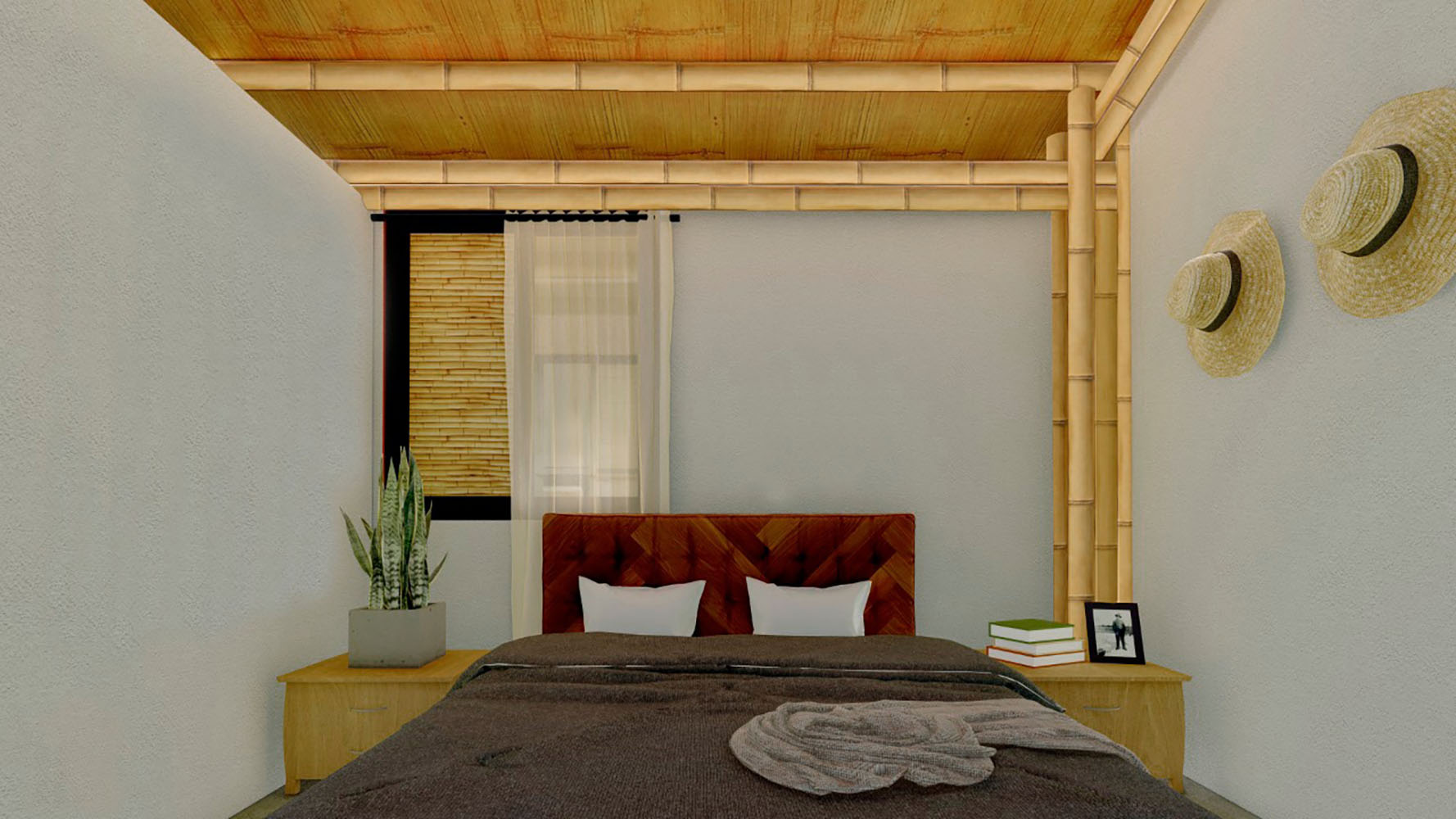 ADVERTISEMENT - CONTINUE READING BELOW
Bamboo is a versatile material that can be used in structural and non-structural components of a house. It can be used as doors, as windows, as ceilings, and even to serve as a column. Ar. Matias says it does not emit radiation unlike other conventional construction materials. "It's easy to construct and build with. It's beautiful, has a nice color, texture and even scent. With BAMSE, all five senses were used to create it," he adds.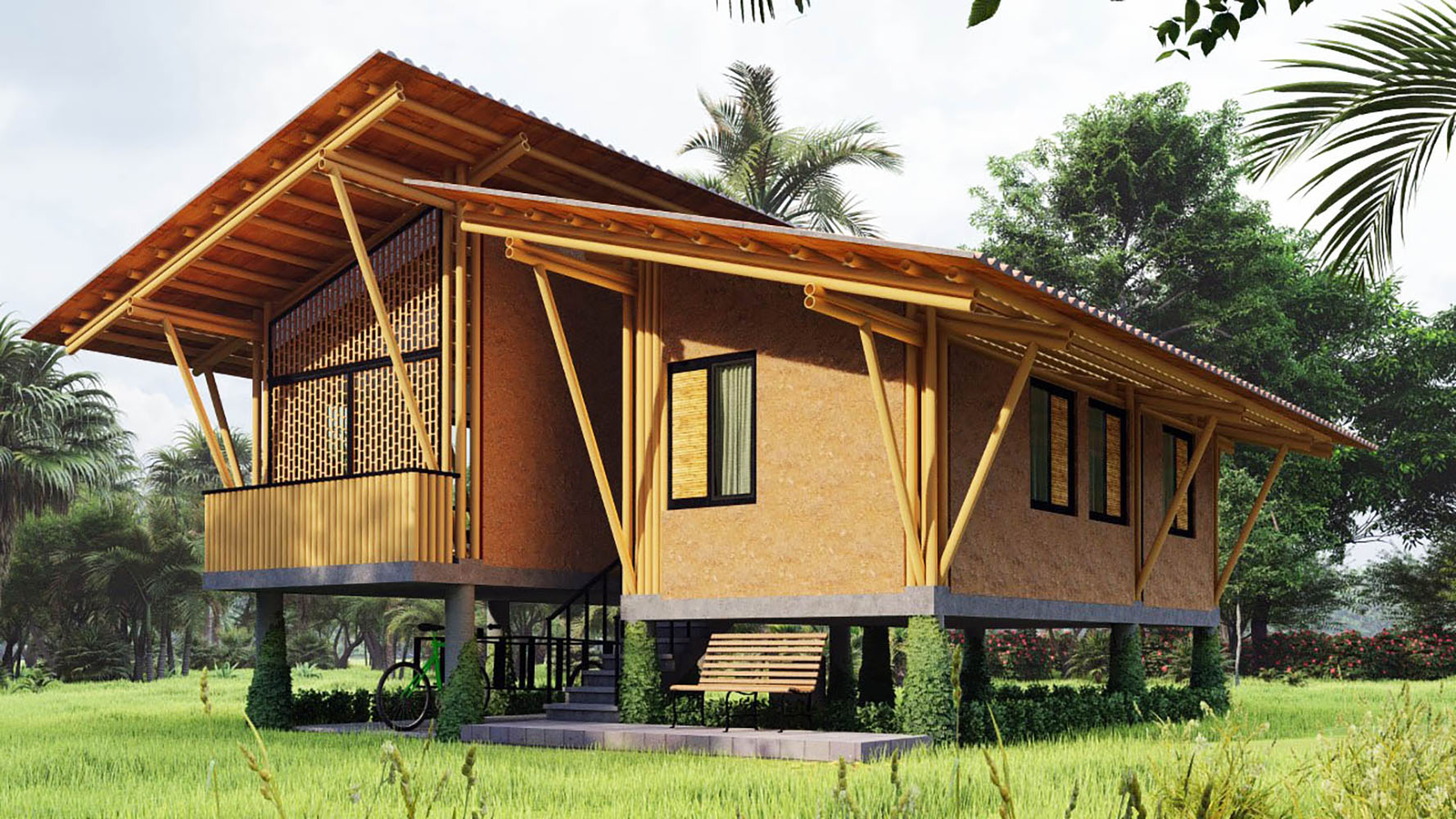 ADVERTISEMENT - CONTINUE READING BELOW
BAMSE proves we can achieve the home of our dreams using readily available materials. For Christine, it's all about building and designing with nature in mind. "We are given a timely opportunity to be eco-conscious. As we experience the effects of climate change, it's our responsibility to care for the future. We can maximize an efficient structure that works for us and the environment. When we take care of the planet, the planet takes care of us," she shares.
Team BAMSE is a group of professionals who have extensive experience in coming up with considerate and sustainable designs that take into consideration its future owners. Aside from Ar. Matias and Christine, completing the team are Ar. Emmanuel Mendoza Zambrano, Ar. Miguel Roman Andrade, Ar. Melanie Cristina Apolinario Plaza, Ar. Manuel Leonardo Noblecilla Alvarez, Engr. Maria Cruzaty Sancan, and Ar. Maha Saraswati.
BAMSE is once again an entry to another competition, Revista Trama - Arquitectura+Diseño. You can check it out on Facebook.
ADVERTISEMENT - CONTINUE READING BELOW
More on Realliving.com.ph
Load More Stories