Building & Renovating
What You Need to Know About Choosing a Small Wooden House Design
Is it ideal to build a house made entirely of wood in the Philippines? Photography: UNSPLASH/Travis Grossen (main)
When you browse through house design pegs, are you one of the many who often stop when wooden houses pop up? These structures have an undeniable charm, and rightly so – from the inviting vibe it exudes and how such houses remind you of cottages in the woods.
In the Philippines though, we rarely see houses made entirely of wood anymore. "Wood as a building material in any structure gives off an appearance of warmth and a value respect for nature. Although it's not ideal to have a pure wooden house structure in our country because of our climate, there are way it can still be achieved," shares Ar. IDr. Isabelle Ong Sitco.
If you've decided to pursue a small wooden house design, it's important that you familiarize yourself with the considerations you need to make, the right materials to work with, and how you can manage the challenges you might encounter when working with wood.
ADVERTISEMENT - CONTINUE READING BELOW
Let the insights below guide you:
What are the most important considerations homeowners need to make when going for a small wooden house design?
 1. Choose the right material.
According to Ong Sitco, it's important to choose the correct wood – whether it's solid wood, plywood, engineered wood, wood plastic composite, wood vinyl, or wood laminate. "There are also new building materials that offer the same wood textures that can withstand our climate," she says. "Wood-plastic composite (WPC), is made of composite materials made of wood fiber, plastic, and a bonding agent. The advantage of WPC is it's an environmentally friendly approach of using waste wood and recycled plastic material," the architect-interior designer adds.
2. Make sure the wood you're using adheres to the specified fie-resistive requirements on the National Building Code of the Philippines.
Building a wooden house is not as easy as having a plan, a lot where you can build the structure, and the materials. Ong Sitco reiterates that the wood you're using complies to the required fire-resistive rating. These ratings are needed to "evaluate the capability of a material or assembly to contain a fire within a compartment of building."
Timber is often listed as a fire-resistant construction material.
3. Do your research about the materials you're working with.
Proper preparation matters – especially when you're working with wood. As Ong Sitco explains, "solid wood must be well-treated before using it as a building material. Wood expands on heat and contracts on cool climates. Wood must be properly kiln dried to achieve the right moisture content, if not, the wood will expand and contract."
As an alternative, you can also look into using synthetic wood materials like wood-plastic composite as it's weather-resistant, paintable, termite-free, and recyclable. Although synthetic wood materials have its share of advantages, Ong Sitco reminds homeowners that if it gets worn out over time, synthetic wood might require investing in a brand-new replacement. "Synthetic wood materials do not have the luxury to be sanded down as it's mixed with plastic," she explains.
How do you achieve a small wooden house design that wows?
"Wood in itself is aesthetically beautiful. It has a very natural feel and gives off a warm ambiance," says Ong Sitco. Aside from making you feel like you're in a vacation house or a remote cabin, wooden houses are also easy to spruce up and personalize.
ADVERTISEMENT - CONTINUE READING BELOW
As Ong Sitco shares, "there are endless possibilities" because wood is a versatile material. It also goes well with glass, concrete, and other design materials so you achieve the style you have in mind for your space.
"To better highlight interior wood materials, it can be used as accent whether on doors, walls, or furniture. As an exterior house material, it can also be used as an accent cladding, louvers, fence, decking, ceiling, or gate cladding," the architect-designer suggests.
Turning your small wooden house design into reality requires tapping the expertise of design professionals who can help you build a safe, beautiful, and structurally sound home. "Architects, engineers, and interior designers work hand in hand to achieve a well-designed home for every homeowner," says Ong Sitco.
Ready to plan your small wooden house? Check out the homes below for inspiration:
Wood x Concrete
ADVERTISEMENT - CONTINUE READING BELOW
In this house in Pasig, wooden touches cozy up the heavy use of concrete, helping the owner achieve a cozy, minimalist-inspired home.
Reclaimed Wood x Container Vans
Architect couple Buji and Nikki Libarnes snugly transformed cold, metal container vans into a bright and airy home with the use of reclaimed wood, jalousie windows, and tanguile slats.
ADVERTISEMENT - CONTINUE READING BELOW
Wood as Accents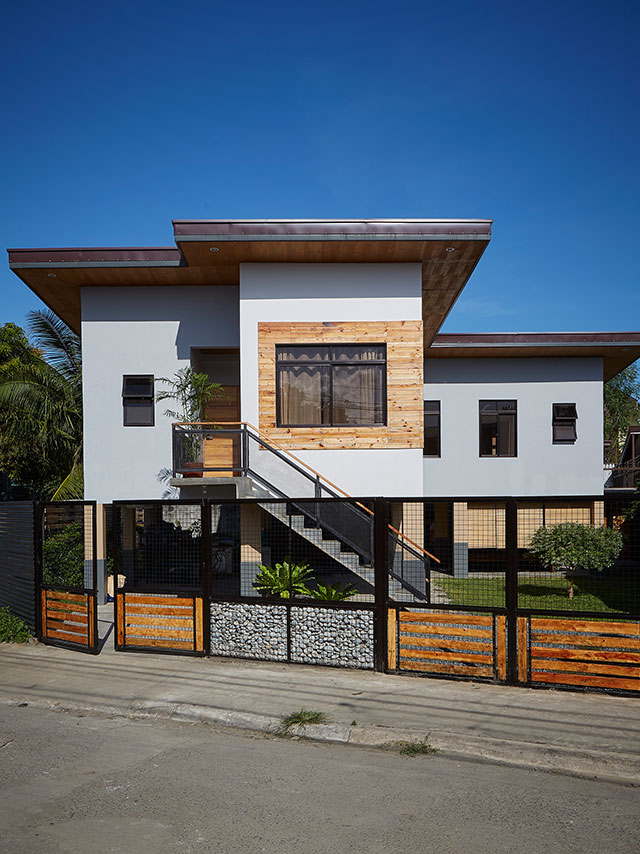 There are so many things to love in architect Alistair Sadie's bahay kubo-inspired house – from the choice of materials to how maaliwalas it is. Aside from using wood as accents on the façade and main gate, the architect also completed the dirty kitchen with palochina wood.
ADVERTISEMENT - CONTINUE READING BELOW
Wooden Getaway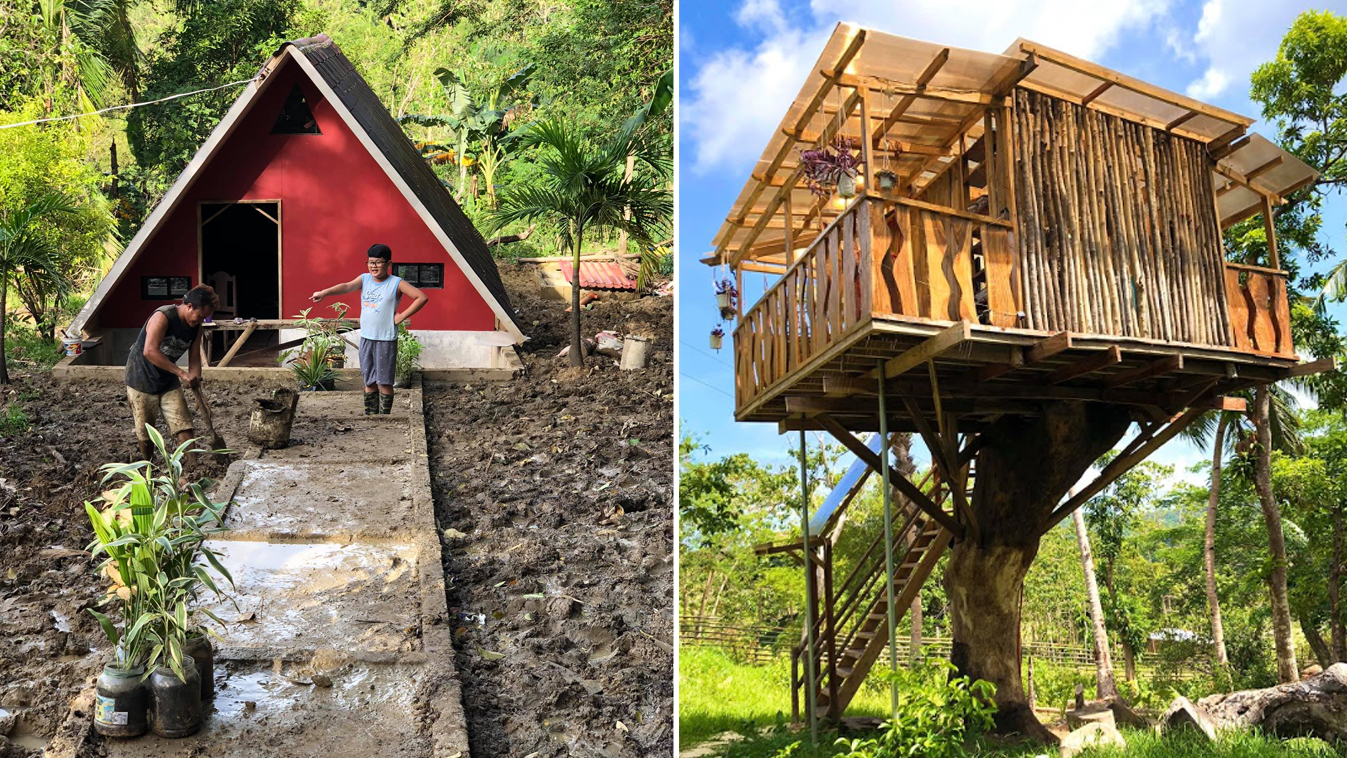 The owners of this property maximized the lot they have by building a tiny house and a tree house with the right wooden materials.
Grown-up Bahay Kubo
ADVERTISEMENT - CONTINUE READING BELOW
Interior designer Wilmer Lopez transformed his childhood home into a modern industrial haven that showcases reclaimed wood sourced from Pampanga.
Ready for your own makeover? You can get in touch with Ar. IDr. Isabelle Ong Sitco of Iztilo Interiors through email at iztilointeriors[at]gmail.com. You can also follow Iztilo Interiors on Facebook: facebook.com/iztilointeriors and Instagram: instagram.com/iztilointeriors.
More on Realliving.com.ph
Load More Stories