Building & Renovating
The Best Bedroom Colors For Your Next Makeover, According to Designers
Say goodbye to those plain walls! Photography: (L to R) Courtesy of DSG Design Studio, Courtesy of GRAAR
I think it's safe to say that throughout this ongoing quarantine, we've all picked up our own little hobbies/activities that have either kept us sane, or have gotten us out of boredom. Perhaps you've been experimenting more in the kitchen, collecting plants for your indoor garden, or even filming videos on TikTok. Whatever it may be, we're here for it! These are definitely trying times and we all gotta take care of our mental and physical health one way or another.
For some, space makeovers are the way to go. To be honest, it's pretty therapeutic! (One Pinay even shared how her room makeover has helped her mental health.) Now if you're inspired to do a home improvement project yourself, one thing you might want to focus on is the color of your bedroom. Yup, it matters! In fact, picking a color for your room is a *major decision* because it will affect the overall mood of that space.
ADVERTISEMENT - CONTINUE READING BELOW
If you're looking for tips and ideas on this topic, we gotchu. In an email interview, Cosmo.ph spoke to experts from GRAAR and DSG Design Studio to help us out. Keep reading to know more about what colors work best for bedrooms, and what design tips you should take note of.
Take a look at these room color ideas for some inspo.
According to Lando Cusi and Allie Principe of GRAAR, "Color combinations for bedrooms could be approached by referring to color psychology. In that sense, we could recommend cooler tones like blues and greens to evoke a more relaxing atmosphere in the bedroom. Having plenty of warm tones like orange or red entail a more active energy in the space, so it might not be something you would want in the place where you sleep and recharge."
However, they clarified that these should only serve as a guide, not a rule. "You could pair a pale, slightly desaturated calm blue wall with a cool bright orange clock for example, and it could work. What would matter more is your intent or personal style when it comes to designing or decorating," they shared.
For most of their projects, they enjoy doing either semi-brutalist schemes, or they go minimalist with fun accent colors like pinks or greens. They also like how certain shades of wood pair well with the stark coolness of concrete finishes. Here are some photos of their previous work: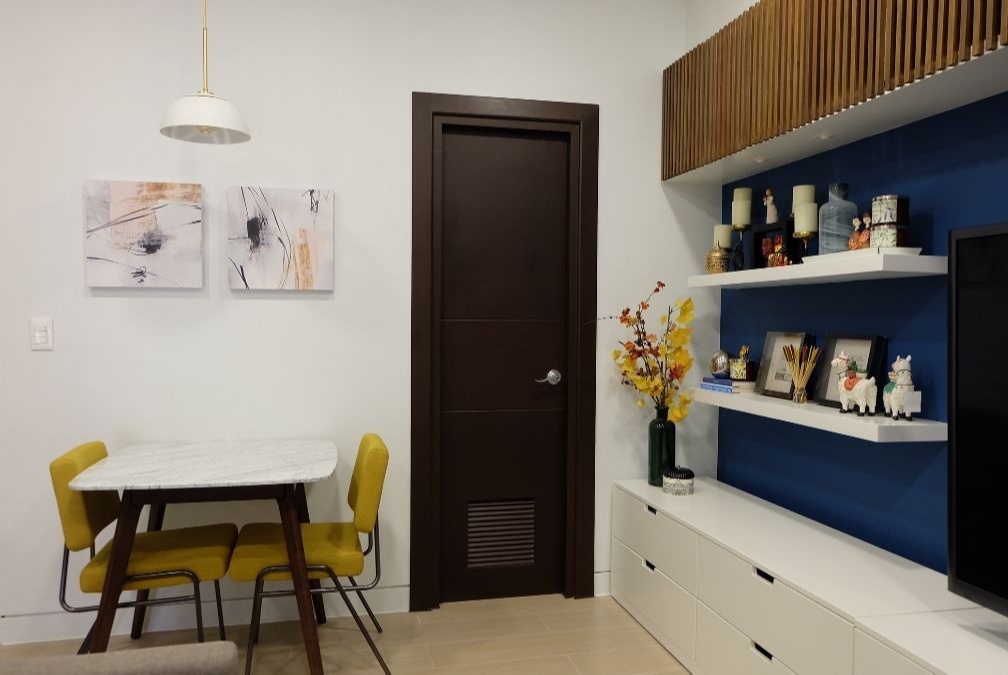 ADVERTISEMENT - CONTINUE READING BELOW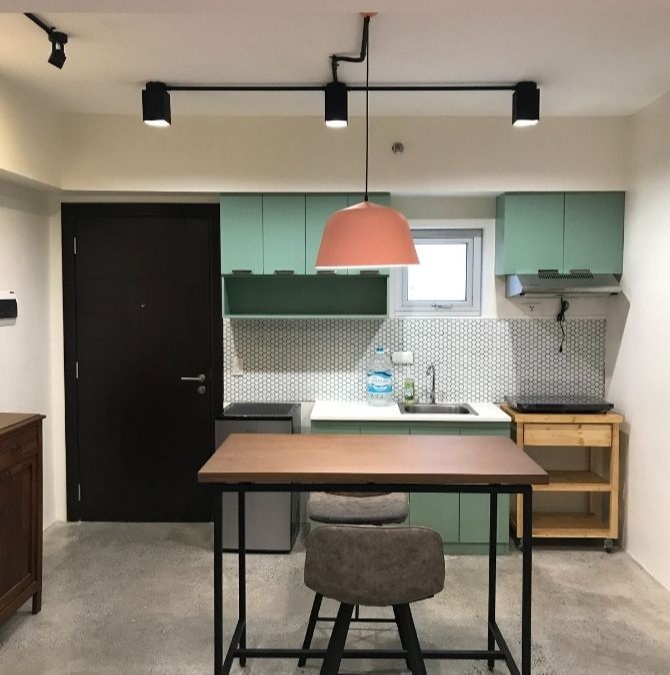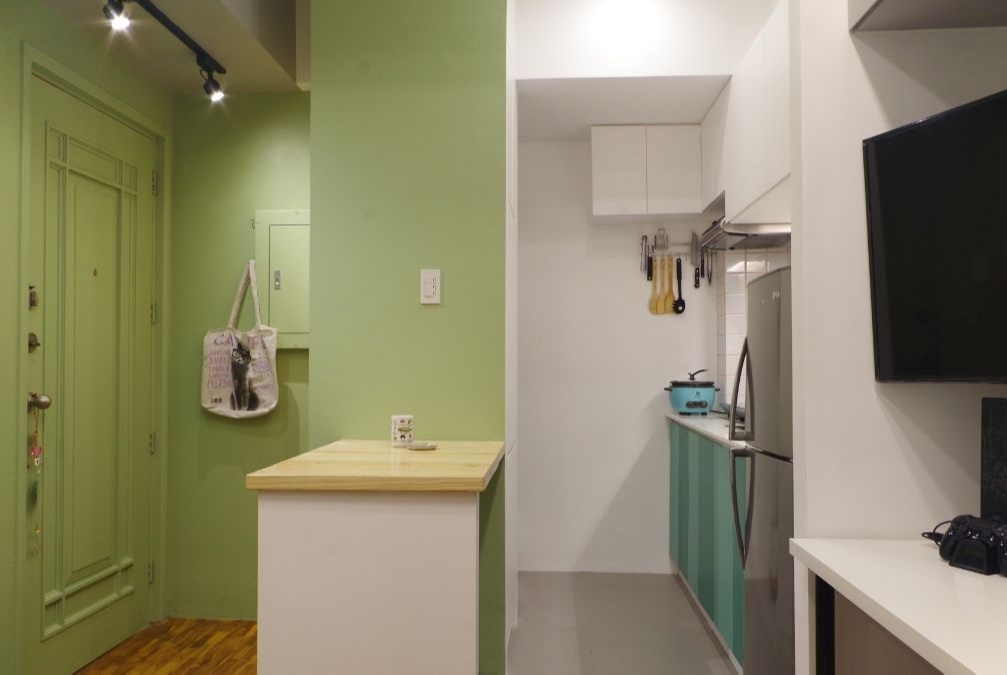 ADVERTISEMENT - CONTINUE READING BELOW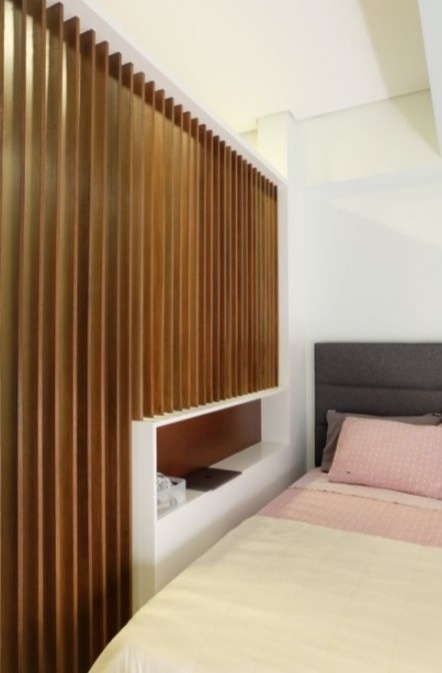 For DSG Design Studio, the best hues they recommend for a bedroom are muted colors, usually dusty rose, sage green, and off-whites. If there are colors to avoid, it would mostly be red and yellow because "bedrooms are for relaxing and those two colors would just make your brain more active." They also mentioned that blues are usually more for workspaces as it encourages focus.
ADVERTISEMENT - CONTINUE READING BELOW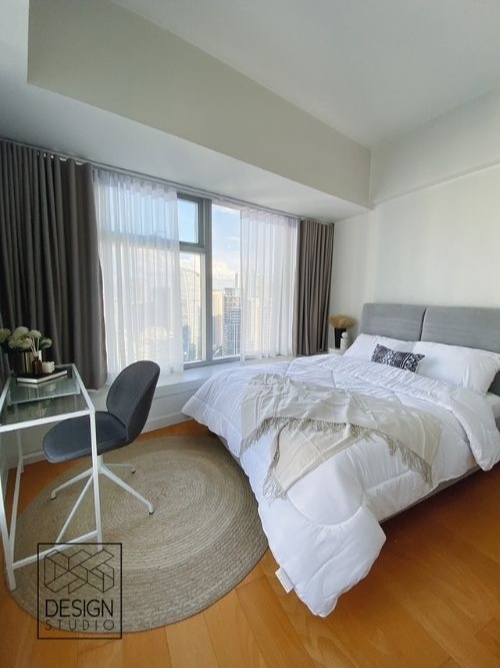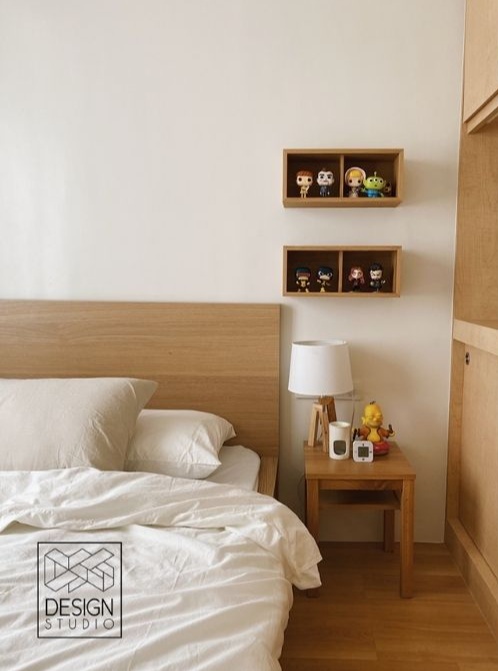 ADVERTISEMENT - CONTINUE READING BELOW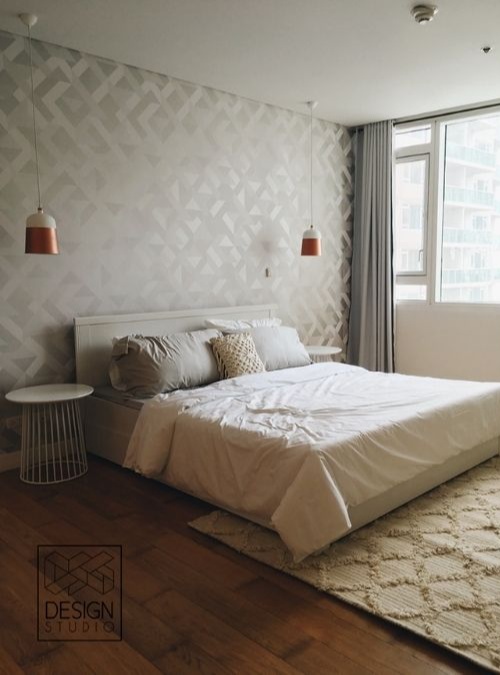 If you want a pop of color but would like to maintain a sense of maturity in the space, they suggest you go with the following: dusty pink, beige, and gray; pastel accents on wood or white; and monochrome. Below is a sample mood board.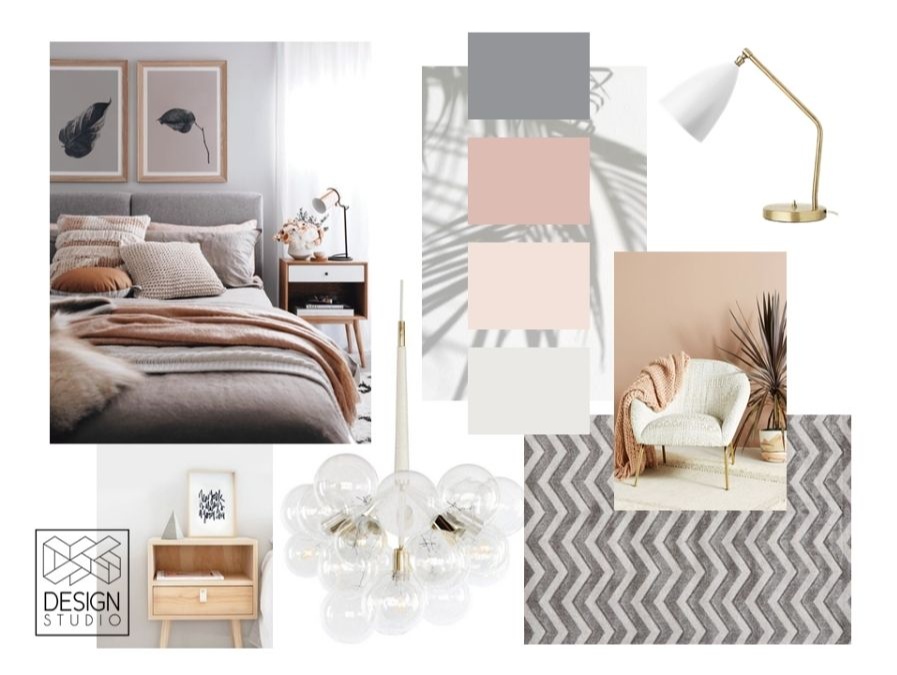 ADVERTISEMENT - CONTINUE READING BELOW
Aside from checking out room color ideas, here are a few design tips you should know.
Form follows function.
Lando and Allie's number one tip? Internalize. "Before picking out new paint swatches or looking into which new furniture to get, we'd encourage you to internalize a few things first." Since your bedroom is a place where you usually spend most of your time, it's important to make sure that your room "works as well as it could."
Consider your lifestyle.
"Take some time to think about how you want your room to function," Lando and Allie advised. Do you see it as a space where you'll binge-watch your fave K-dramas all day? Or do you think it could be your home office too? "This would then be your guide as to what things you'd want to put in your space, and how everything connects."
ADVERTISEMENT - CONTINUE READING BELOW
The team behind DSG Design Studio also explained that "style is a personal self-expression and would vary from person to person." To be honest, there really is no "wrong or right style" since it all depends on your preferences.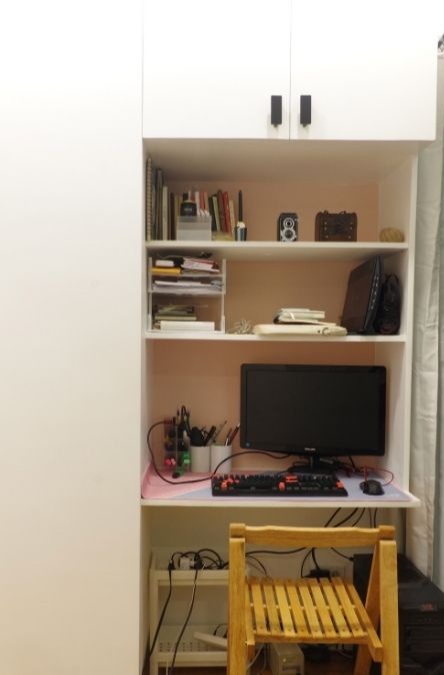 Check what you have.
Another tip from Lando and Allie is to do an inventory of your belongings. They shared that one of the things that usually gets overlooked during room makeovers is storage space. While it can be tedious and tiring, it helps to declutter! As inspired by Marie Kondo, only keep things that ~*spark joy*~. "The last thing we want is a beautiful new room that gets cluttered easily either because of mismanaged storage spaces, or a lack of it," they mentioned.
ADVERTISEMENT - CONTINUE READING BELOW
Determine your budget and priorities.
How much are you willing to spend on decorating your space and what items are you willing to [splurge] on? For DSG Design Studio, they observed that most people tend to forget that linens (like bedsheets and pillowcases) are also considered decorative items. They recommend investing in these items since you basically use them all the time.
Measure everything!
"Measure your room," Lando and Allie added. "Check the size, the ceiling height, where the windows are, [and] where your outlets are. Then, measure your furniture. Make sure that everything will fit once it's all in place. Also, measure the price, new furniture, how much paint you'll need, [and] what other works will go into the decorating. This is very important, especially if you're on a strict budget. The last thing to measure is your time. Try to come up with [a] timeline or schedule of your decorating work." Ask yourself: How much time are you willing to put in? Will you do it all in one go and enjoy the fruits of your labor early, or will it be a long work in progress, where you're able to celebrate each small victory as you near your goal?
ADVERTISEMENT - CONTINUE READING BELOW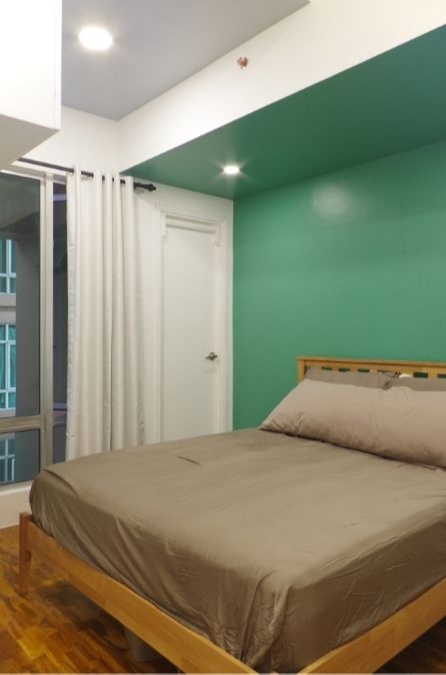 Do your research and source.
Thanks to e-commerce apps and marketplaces, it's so easy to go online and check for things you'll need. As a reminder from DSG Design Studio, "Find the right one that would fit your style and budget."
Consult with experts.
Decorating a room is easier said than done. If you're iffy about certain things, especially with some of the more technical aspects of the design, don't hesitate to go to the professionals! There will always be several skilled interior designers, architects, contractors, and workers who are able to help. "It's all a matter of finding the right people to work with you," Lando and Allie said. They also pointed out that since we've all been connecting virtually via social media nowadays, help could even just be a DM away.
ADVERTISEMENT - CONTINUE READING BELOW
Don't forget to have fun and take it one step at a time.
Cliché as it may sound, DSG Design Studio emphasized that decorating should be a fun and exciting process. It doesn't have to be finished overnight, you guys! "You can purchase piece by piece until you achieve your desired look, which allows you to add to it as time goes on," they mentioned.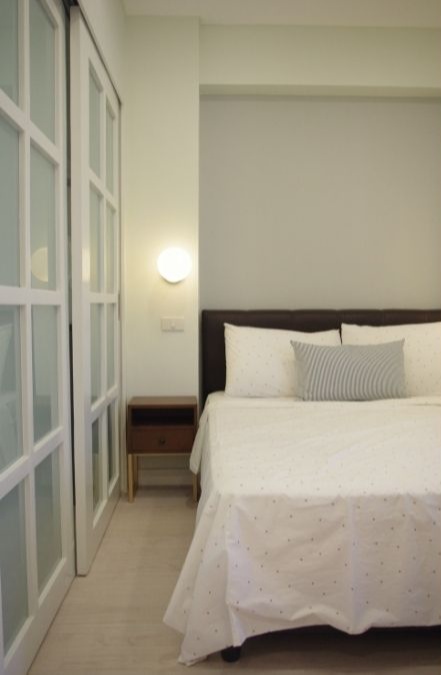 ADVERTISEMENT - CONTINUE READING BELOW
Need experts to help you with your next home project? You can contact GRAAR and DSG Design Studio via the following:
* * *
This story originally appeared on Cosmo.ph.
* Minor edits have been made by the Realliving.com.ph editors.
More on Realliving.com.ph
Load More Stories