 Photography: Studio B&T Designs
Whether you're renovating or building a bathroom for your home, one of the important elements you'll need to consider is what kind of tile to use inside. The most popular options include porcelain vs. ceramic tiles, but unlike other parts of the home where you'll choose flooring based on appearance, for your bathroom you'll need a tile that will perform under stress — a.k.a. one that can stand water and moisture. So, which of the two is the better option?
Porcelain vs. ceramic tile — is there a difference?
The terms porcelain and ceramic are often used interchangeably in shops. But as it turns out, they are composed differently and have slight differences according to how each tile behaves upon installation.
According to Andrea Santos, a licensed interior designer from Feliz Interiors, porcelain and ceramic tiles come from a larger category that can generally be called ceramic. "Porcelain is considered more durable and better suited for heavy usage than ceramic tiles. It is also impervious to water making it more expensive than other ceramics."
ADVERTISEMENT - CONTINUE READING BELOW
The U.S. Porcelain Tile Certification Agency certifies types of tile as "porcelain" if these tiles have a water absorption rate of 0.5 percent or less, according to The Spruce.
Ceramic is also very water-resistant, but it is more affordable than porcelain. It also has a wider range of designs and it is easier to cut manually (for those who like DIY). According to Andrea, porcelain tiles range from Php400 to 800 per sqm, while ceramic tiles cost Php150 to Php350 per sqm.
What tile is best for bathrooms?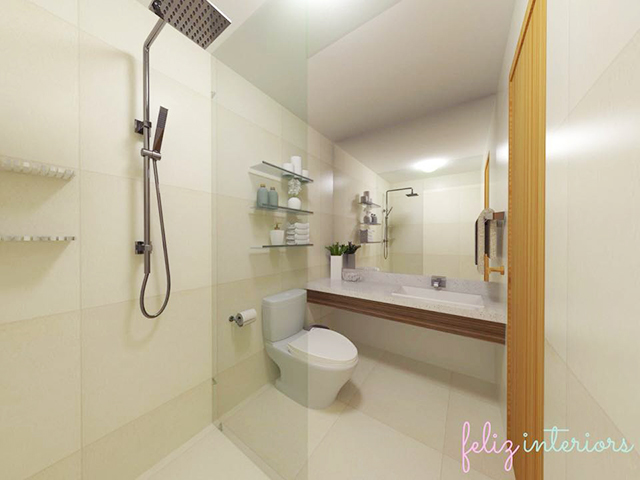 Andrea suggests when choosing between porcelain vs. ceramic, it is better to use porcelain for high traffic areas — where people hang out most of the time — like the main lobby of your home, dining room, and hallways. But since the bathroom at home is not considered a high traffic area, she suggests opting for a ceramic tile instead. "It is more cost-effective — you save labor costs because it is easier to cut and install than porcelain, plus you can buy your desired tile at affordable prices," she says.
When it comes to functionality, floor tiles and wall tiles should have two different textures. Floor tiles must be slip-resistant and unglazed to prevent bathroom accidents while wall tiles can be in either finish. "But for maintenance purposes, it is better to have glazed wall tiles so it will be easier to clean," Andrea shares.
She also suggests placing accent tiles. "It's always recommended because this gives contrasts on a bare space."
When choosing between tile sizes, Andrea suggests going for larger tiles with a minimum dimension of 600mm x 600mm. "It's now commonly used for residential and commercial projects because they are easy to install and maintain. Large tiles in small areas can also make the space look bigger," she says. "Small tiles like 20mm x 20 mm mosaic tiles are usually used as an accent border, so it's not recommended to be used in small areas."
If your budget permits it, whether porcelain vs. ceramic, Andrea says installing wall tiles from floor to ceiling is highly recommended for easier maintenance. Grout color should also be the same or at least close with the chosen tile for better aesthetic.
This story originally appeared on Smartparenting.com.ph. Minor edits have been made by the Realliving.com.ph editors.
More on Realliving.com.ph
Load More Stories