How to Achieve a Scandinavian-Inspired Kitchen
Bright and dreamy, this design can be done easily with the right elements From its bright interiors and cozy vibe, Scandinavian design has become a go-to for homeowners who want to transform their spaces. What's not to love about this aesthetic? It's welcoming, pleasing to the eyes, and most importantly, quite easy to achieve. If you're not yet ready to give your home a major makeover, you may want to get started in one key area like the kitchen.
Going for a Scandinavian kitchen design can give you a cooking area that's picture-perfect and ideal for preparing food, too. "This design is all about function and efficiency over form. Practical storage and organizational systems are musts in Scandinavian-inspired kitchens," explains interior designer Claudine Medina.
If you haven't decided on a kitchen aesthetic yet, read through this article to know more about Scandinavian kitchen design. Who knows? You might lean toward executing this style in your home.
What is Scandinavian kitchen design?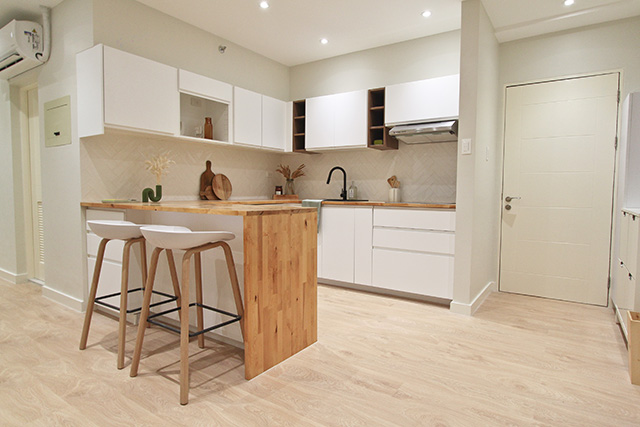 In photo: Interior designer Claudine Medina worked with a timeless combo of white and wood. It features clean lines—from the cabinetry to the countertops. The backsplash add needed texture.
Many of us are familiar with the Scandinavian aesthetic – think bright interiors, wooden touches, and a light color palette. "To understand Scandinavian design, we must look at the weather conditions in these Nordic countries," shares Claudine. "These countries experience harsh and long winters so to combat the cold and gloom from the outside as well as cope with being cooped up inside their homes during the cold months, homeowners aim for light, bright, and airy interior spaces to make their living spaces less bleak," she adds.
ADVERTISEMENT - CONTINUE READING BELOW
Given this, the design features lines, colors, and textures that are inspired by nature to bring the outdoors in. Lighter and neutral colors mixed with light wooden tones are often seen in Scandinavian interiors to make the most of the available natural light while softening the overall look of a home.
Why should you consider this kitchen aesthetic?
Claudine says that a Scandinavian-inspired kitchen is affordable and easy to maintain. "The materials and finishes needed to achieve this style are available locally so it's easier to implement compared to more intricate design styles," she explains.
Since this look focuses on function, streamlined forms, and neutral colors, it's timeless and guaranteed to stand the test of time. Given the multipurpose pieces and classic colors that complete this style, choosing to renovate or switch styles can be hassle-free as well.
With the rise in popularity of the wood and white combo, you might be thinking that working on a Scandinavian kitchen design is the best decision. Before you decide, make sure you consider how you use the space and your lifestyle. "While Scandinavian design is attractive to most, make sure that you are aligned with the elements and principles of this style before jumping in. at the end of the day, you're the end user of your space," explains the designer.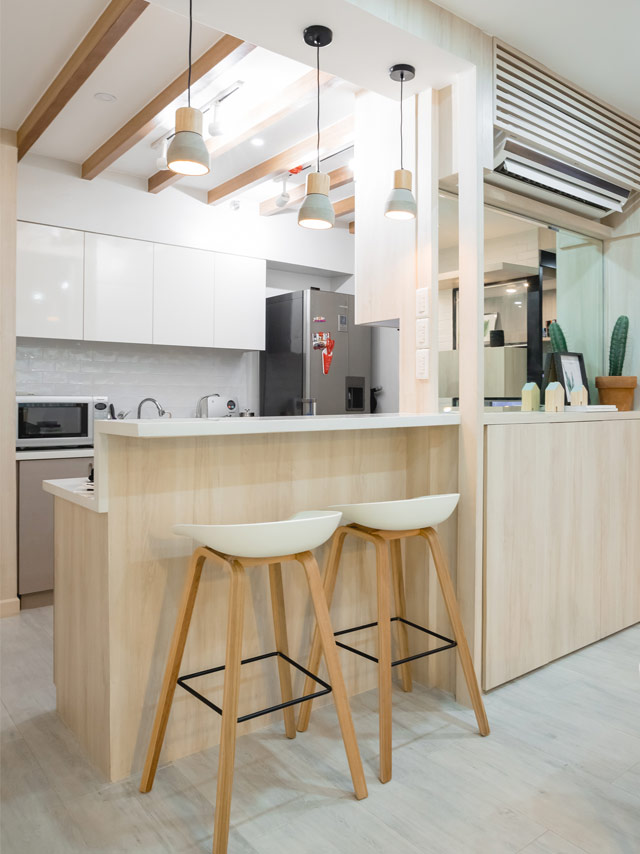 In photo: In this condo unit, the compact kitchen still stands out because of the absence of clutter and how well-lit it is.
To help you make a final decision, list down your priorities in a cooking area, how you use it, and the essentials you plan to add to the space. "These things dictate the flow, function, and form of your kitchen. Don't wait for construction to begin before you decide all these things," Claudine further advises.
ADVERTISEMENT - CONTINUE READING BELOW
In terms of layout, pair Scandinavian aesthetic with an L-shaped kitchen so you have enough space for storage and food prep. If this is not possible, you can still apply this design in a one-wall kitchen as well – just make sure you control clutter by maximizing the available vertical space into storage nooks.
What are the features of Scandinavian kitchen design homeowners need to take note of?
If most of your saved pegs follow the Scandinavian style, you might be wondering how best to achieve it in your space. According to Claudine, since it revolves around function and efficiency, storage is given utmost importance while décor is purposeful.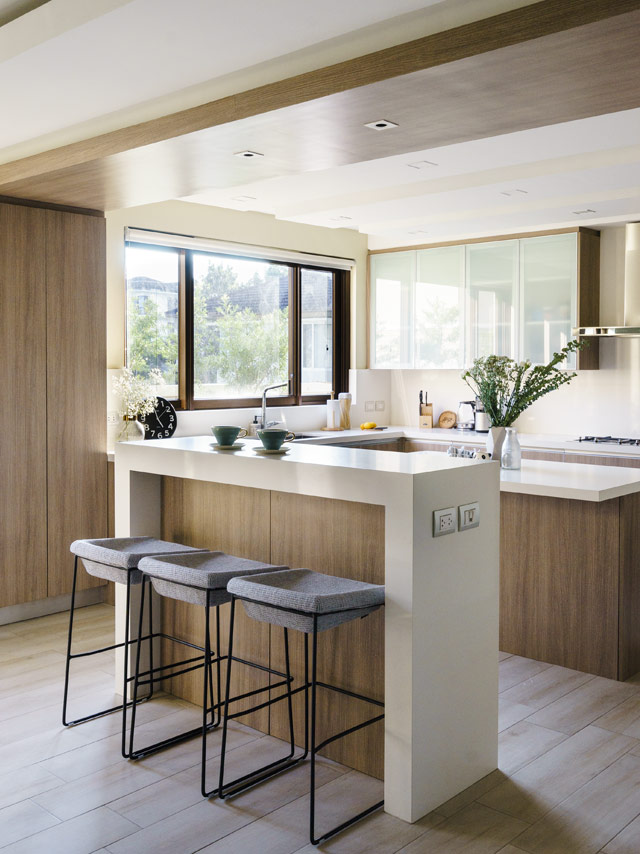 ADVERTISEMENT - CONTINUE READING BELOW
In photo: If you are limiting your decor on display, take your cue from this kitchen—decorate with plants and cooking/dining essentials that can double as decor.
"Seamless cabinetries, clutter-free counters, and natural finishes are some of this style's features. Ornamentations are minimal and natural like plants and wooden boards," says the interior designer. Lighting is also key in a Scandinavian-inspired kitchen. To keep it well-lit, it's usually placed beside windows or completed with sufficient lighting to brighten up the space.
When planning a Scandinavian kitchen design, take note of these non-negotiables:
Cleanliness – furnish it with essentials
Functionality – make sure you have multipurpose pieces, smart organization systems, and that every inch of space is maximized
Neutral – consider working with white and other subdued colors
Bright and airy – make the most of natural light and bright artificial lights
What are the elements you need in a Scandinavian-inspired kitchen?
ADVERTISEMENT - CONTINUE READING BELOW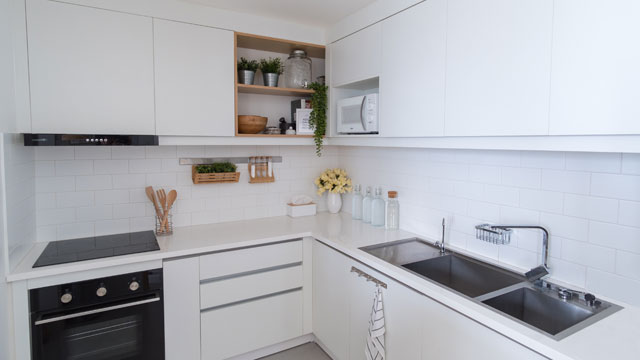 Claudine gives the following tips when it comes to scouting for materials and colors to use to choosing the type of cabinetry needed in your cooking area:
Countertops – consider working with locally available materials like natural stone or treated wood
Backsplash – tiles with clean lines, solid stone, and treated wood slabs are commonly used as these add texture to the space
Walls and flooring – subway tiles or tiles with minimalist geometric patterns can be considered, but if going for a more streamlined look, consider working with solid stone or treated wood slabs
Color palette – light neutrals and subdued colors are top picks for easy maintenance, but you can also add pops of color like yellow or red
Cabinetry – frameless cabinets can help you maximize internal storage space. For cabinet doors, choose a flat panel or handle-less style for a polished look
Extra storage – pair cabinets with open shelves where everyday essentials and small potted plants can be displayed
ADVERTISEMENT - CONTINUE READING BELOW
Can Scandinavian kitchen design be achieved even on a budget?
Contrary to popular belief, the Scandinavian aesthetic can be achieved even on a budget – as long as you know what to prioritize. "This design actually started with the goal of making design accessible, affordable, and sustainable to everyone. It's about simplifying lives and sticking to essentials, maximizing locally available materials and getting rid of things that don't provide value," explains Claudine.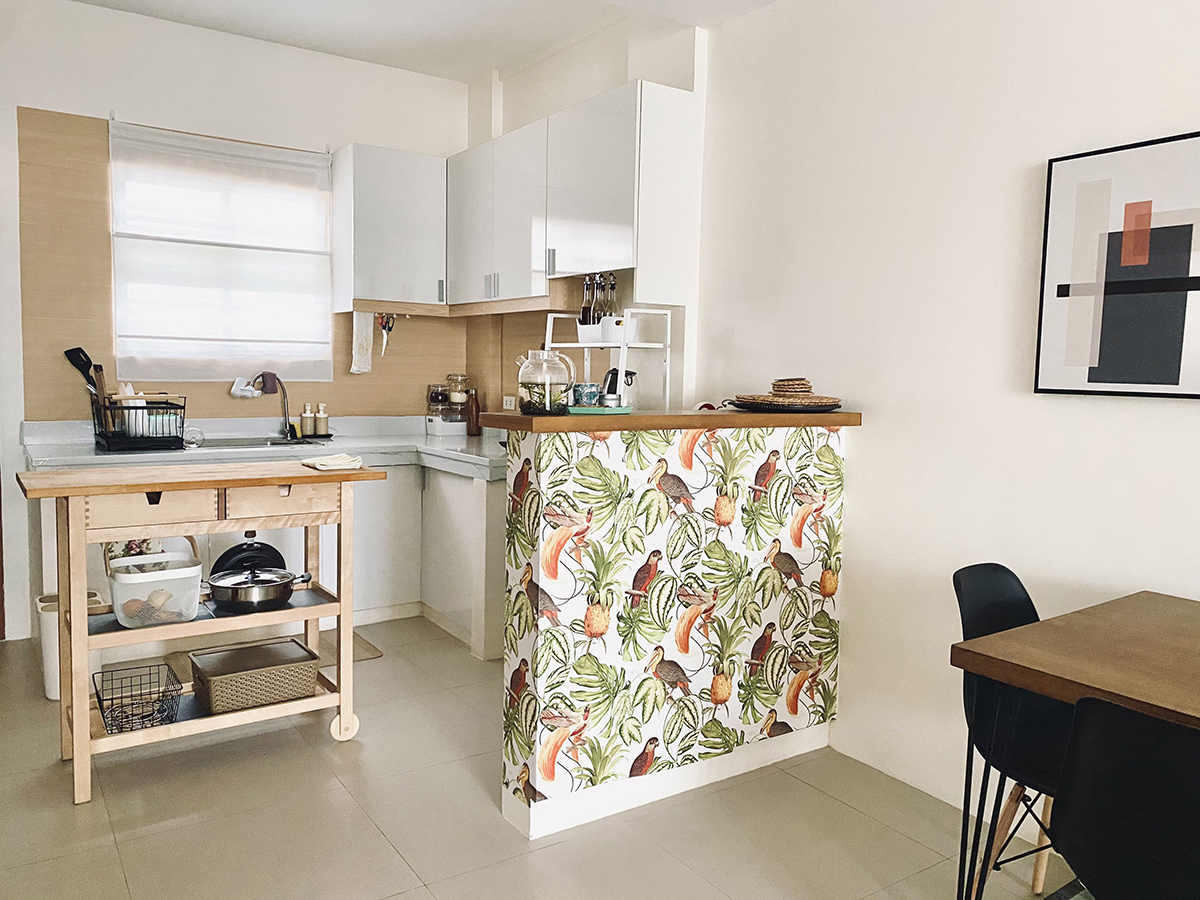 ADVERTISEMENT - CONTINUE READING BELOW
In photo: Don't be afraid to add a pop of color in a Scandinavian-inspired kitchen. As long as it goes well with your color palette, you're good to go! In this kitchen, the touches of green work like magic.
Aside from allotting enough budget for appliances you can use on a daily basis, prioritizing cabinetry is important as your storage nooks come in handy in making the kitchen more efficient. If your budget allows, Claudine also suggests investing in solid stone – real or synthetic – slabs for countertops as these are more hygienic and easier to maintain.
Ready to transform your kitchen? If you're not yet set on Scandinavian kitchen design, you can check our small space or modern kitchen design for inspiration. Learning more about different kitchen designs according to aesthetic can help you achieve your dream cooking area.
Planning your home makeover? Get in touch with interior designer Claudine Medina through email at claudine[at]interiorsbyclaudine.com. See more of her projects on Instagram at: @interiorsbyclaudine.
ADVERTISEMENT - CONTINUE READING BELOW
* * *
Have you recently spruced up your room or renovated your home? We'd definitely love to see the result! Send clear photos (with your full name, city address, and accompanying kuwento) to [email protected] with the subject "DIY Makeover" and we may just feature your DIY project!
More on Realliving.com.ph
Load More Stories