Building & Renovating
5 Townhouse Design Ideas to Consider for Your Future Home
If you want your house or space to reflect your style, you can take your cue from these townhouse design ideas to create a home you'd love to return to Photography: Jilson Tiu and Dairy Darilag
When you live in a highly urban area, one usual option for home ownership is investing in a townhouse. By design, a townhouse allows residents to be close to their jobs and the city while still coming home to everything they need.
A townhouse is unlike other real estate types; it is more spacious and has more privacy than apartments or condos. However, it has a smaller floor area than single unattached homes.
What is a townhouse?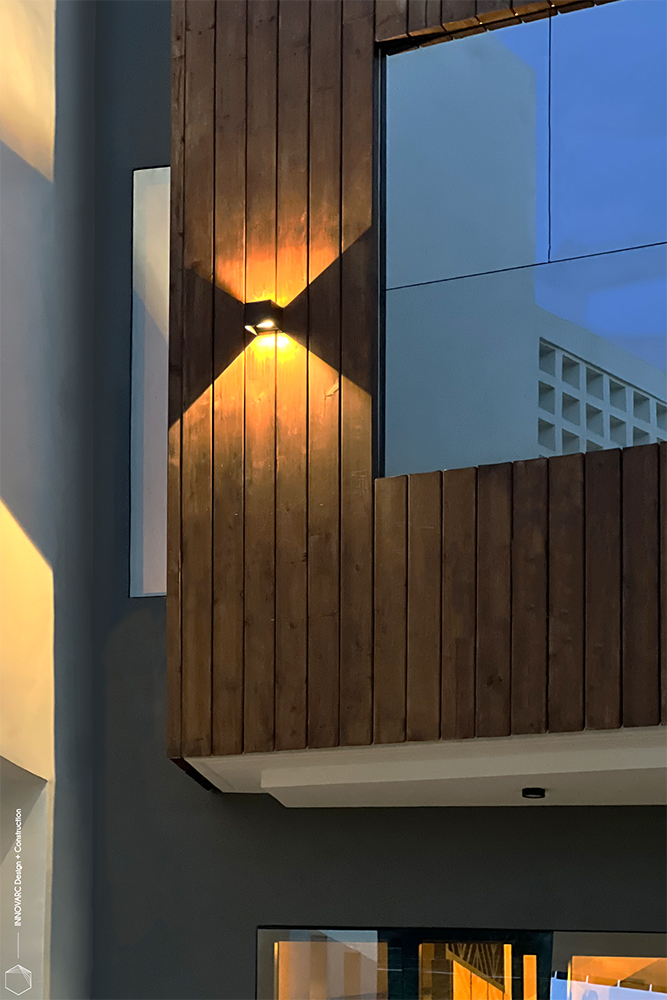 Townhouses are homes that share one or two common walls with neighbors. They often also share one facade but each house has its entrance. Townhouses will usually have multiple floors, allowing the living space to be spread out between several levels.
It is a great option for families living in highly urban areas, as the land footprint is maximized. This means more space on a relatively small floor area. 
What differentiates a townhouse from an apartment?
A townhouse is a great middle ground between detached houses and apartments. Detached houses are a rarity in a metropolitan city, and can be expensive if you do find one.
Unlike apartments, townhouses afford you more space and the feeling of living in a real home. You have a lot more privacy, as townhouses are built to accommodate families.
What features do townhouses have?
In the Philippines, various developers will create subdivisions of townhouses in strategic areas near or in the city. Depending on the area, you may have options regarding the house size and style.
ADVERTISEMENT - CONTINUE READING BELOW
A common townhouse design includes a one-to-two car garage. Other styles may include a roof deck, pocket garden, outdoor laundry area, or balcony.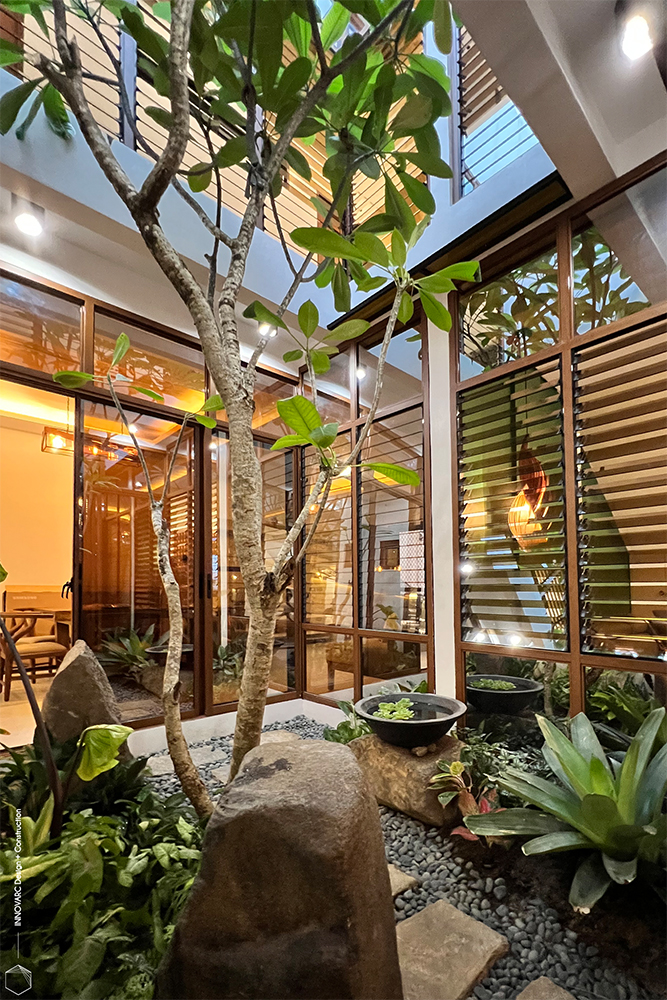 You'll usually find that townhouses will have their own set of facilities and security managed by a homeowners' association. These perks make it a more attractive option compared to building a detached home by yourself.
Townhouse design ideas to consider
While owning a townhouse is a great option if you'd like to stay in the city, you may not always be able to customize the exterior as they come pre-constructed. Instead, you may be able to renovate the interior to your liking. 
Consider adding a personal touch to the layout and design of your home to create an urban oasis. If you're buying a new place or transforming an old space, here are some townhouse design ideas to consider.
Add mirrors to create an illusion of space.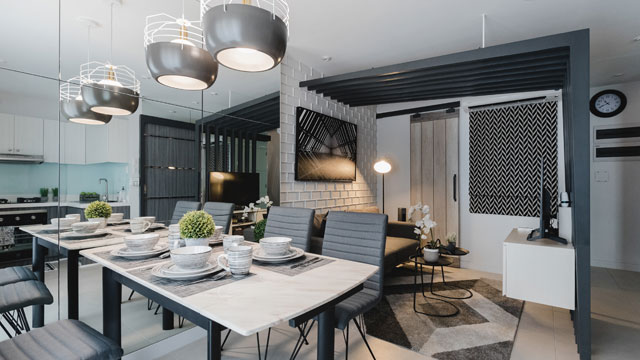 ADVERTISEMENT - CONTINUE READING BELOW
Working with a small floor area? Avoid design elements that can make your townhouse look cramped and dark. This home in Quezon City had to fit a living room, dining space, and kitchen in a compact floor space. The designer used floor-to-ceiling mirrors in the dining area to make the room look larger. As a bonus, these panels bring more light to the entire ground floor.
Use glass to lengthen and brighten rooms.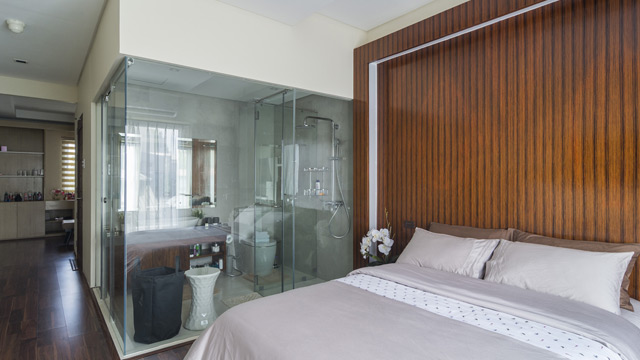 ADVERTISEMENT - CONTINUE READING BELOW
The owners of this four-story townhouse wanted a hotel-like feel through posh and streamlined design elements. The interior designer divided the dining area from the living area using a glass panel. This allows natural light to illuminate the space, even with limited windows on the ground floor. 
In the master bedroom, they also opted for a glass enclosure for the entire bathroom, keeping the room bright and well-lit. If you're not a fan of doing your business in a glass bathroom, some blinds can help maintain privacy.
Add a walk-in closet.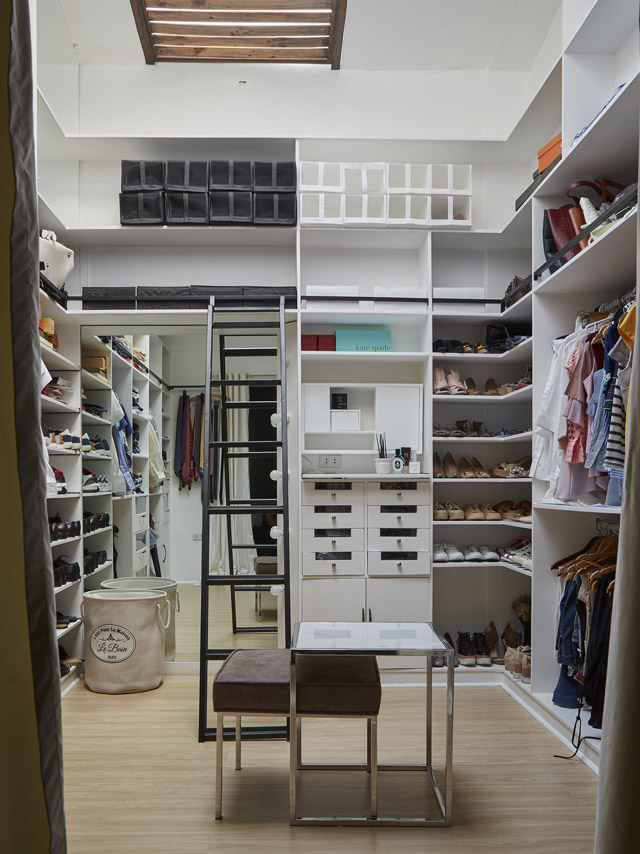 ADVERTISEMENT - CONTINUE READING BELOW
Have more bedrooms than you need? Try converting this into a walk-in closet. Townhouses often have compact bedrooms, and choosing a separate room for your clothing can keep the master bedroom more spacious and serene. You'll also have the added advantage of eliminating the chance of clutter in your sleeping area since it will be limited to your closet. 
Turn unused nooks into study spaces.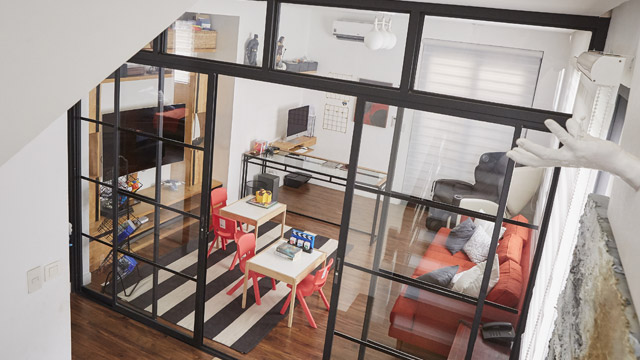 ADVERTISEMENT - CONTINUE READING BELOW
The owners of this townhouse turned a second-floor space into a work/study area that satisfies each family member. The room includes several cabinets to stow away books and papers, desks for the family's kids and working parents, and a sofa as a spot to rest in between meetings.
The entire room is defined by a glass partition, providing enough light into the space and making it conducive for work and study.
Re-layout the home to add more space.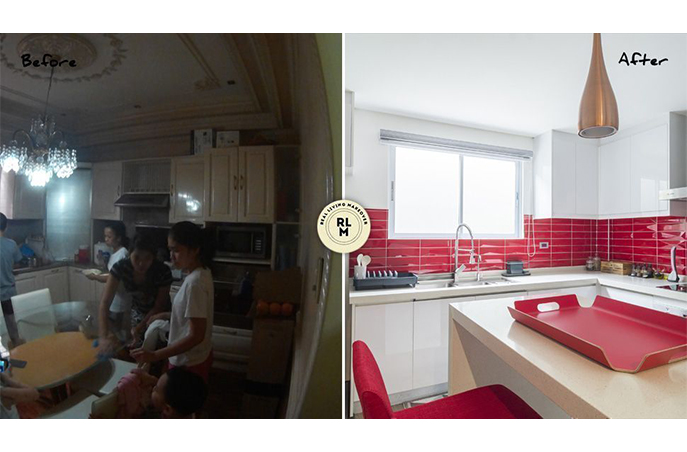 ADVERTISEMENT - CONTINUE READING BELOW
Before the renovation, this townhouse's ground floor lacked light and was incredibly cramped. The homeowners decided to transfer the kitchen to the second floor. This allowed the designer to create a more spacious kitchen area while leaving the ground floor for the living and dining spaces. 
More on Realliving.com.ph
Load More Stories