Storage
How Long Can Food Safely Stay In Your Freezer? Photography: Shutterstock
Stocking up on food, whether it's for the quarantine, your weekly or monthly supply, emergency stash, or long-term storage, is a skill. There are certain things you have to consider when buying food in bulk and storing these.
Canned goods are fantastic for long-term storage but so is freezing food. That's because when frozen properly, frozen food can last a pretty long time. You might be wondering. 
How long can frozen food last?
The answer is indefinite.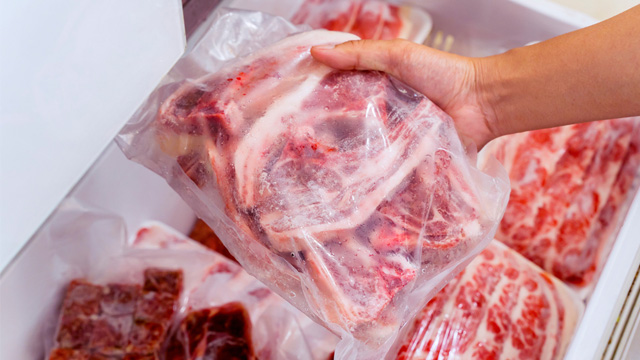 According to the food safety information website of the U.S. Department of Health and Human Services, food when frozen completely and properly can last for months for best results and will last indefinitely in extreme cases.
This is great news for everyone who has ever wondered if the frozen piece of meat in the back of the freezer is still okay to cook and eat. You may already be doing it without realizing it! 
ADVERTISEMENT - CONTINUE READING BELOW
In fact, what makes frozen food fantastic for long-term storage is the fact that these are almost, if not better, than fresh food. That's because frozen vegetables and fruits are commonly shucked, picked, and otherwise harvested at the peak of their ripeness before being flash-frozen or individual quick freezing (IQF). Freezing basically halts the passage of time until thawed.
How do you freeze food properly? 
The best way to freeze food is to freeze these individually. This method is best since each piece of food is frozen instead of a big bulk of it. This means it will thaw faster and, it makes it easy to grab what you need and only thaw that much instead of the whole bag.
To individually freeze food at home, here's what you do: 
Prepare your ingredients, according to size. (Cut meat to cubes, slice produce into bite-sized pieces.)
Blanch and cool vegetables to maintain color and texture after thawing.
Lay out the food on a tray or similar vessel in a single layer and freeze for at least 3 hours. (Larger pieces may need overnight freezing time.)
Once frozen, transfer to containers, label the container with the name of the food and the date, and store frozen.
Keep food frozen, removing only what you need, for best results.
Cooked food can be stored in reusable containers while meat is best wrapped tightly in plastic or in freezer bags with the air squeezed out of them to prevent freezer burn. Freeze these flat so you can store these food easily.
Being prepared when it comes to food means choosing the right edible items that can feed us in the long run. There is such a thing as buying too much food, but the good news is that storing food can be easy, budget-friendly, and practical. Learn all these tips to store food properly in the freezer, and you will always have food that will be ready to cook and eat when needed.
* * *
This story originally appeared on Yummy.ph.
* Minor edits have been made by the Realliving.com.ph editors.
More on Realliving.com.ph
Load More Stories