Organizing
A 5-Step Guide to Organizing Your Lipstick Collection
It'll be just as satisfying as buying a new tube. Photography: INSTAGRAM/thehomeedit
If you're reading this, I think it's safe to assume that you own more lipsticks than there are days in a month. You probably didn't anticipate that your loot would accumulate this much, and you're now having trouble trying to use all of them up or at least keep everything in order. Instead of just throwing everything in a big plastic bin, we highly recommend dedicating a few hours to some serious organizing. Here's a simple five-step guide that you can follow:
Step 1: Lay everything out in front of you.
If you're a true lipstick lover, you'd have to clear your floors to do this step. Laying out every single lip product in your collection will give you a full view of just how many you have, and hopefully, how many you're willing to keep.
After that, you can begin separating everything into different categories. We recommend sticking to these: Keep, Toss, and Set Aside. (The Set Aside pile are those that have been barely used and can still be used by others but still need to be disinfected. While there are groups that collect barely used makeup for women in need such as Foundation Foundation, you may want to hold on to these in the interest of health given the current situation.) Having more than this would likely result to you keeping more than you should, because let's be honest—we can get a little too attached to our makeup sometimes.
ADVERTISEMENT - CONTINUE READING BELOW
CONTINUE READING BELOW
Recommended Videos
Step 2: Figure out what you want to keep.
To start your organization on a positive note, start with your "keep" pile. This includes all the lip products you're currently using, think you still have use for, or can start using more often.
Once that's in order, create a sub-pile of your most-used lipsticks, and then place them somewhere that's easy to reach instead of leaving them inside a drawer later. This way, you'll save yourself the effort of digging through your entire collection just to find your usual MLBB color.
ADVERTISEMENT - CONTINUE READING BELOW
Step 3: Organize your "toss" and "donate" piles.
Lipsticks usually have a one or two-year shelf life (you can check this on the label), meaning anything that you've had for longer than that are expired and should be disposed. If you don't know the exact date that you opened them, you can gauge by the product's state. For example, if the lipstick already has a weird smell or the texture is off, it should go to the "toss" pile.
Meanwhile, for slighly-used products or those that you haven't worn in a few months, consider if you still need them in your collection. If not, it's up to you to decide whether you should toss them or sanitize them to give away. That said, lipsticks are not the easiest to sanitize (especially ones with doe-foot applicators like lip glosses and liquid lipsticks) so be quite discerning with what goes into your "donate" pile as well for safety purposes.
ADVERTISEMENT - CONTINUE READING BELOW
Step 4: Create a system that'll make you use your lipsticks more.
Sorting your lip products by brand is one of the easiest ways to streamline your collection when it comes to packaging. You can also sort them by type by grouping all the tints, lipsticks, lip pencils, lip glosses, and liquid lipsticks all together.
If a lipstick has a color swatch somewhere on the outside packaging, store it in a way that makes that swatch visible. You'll be more likely to reach for the product this way. However, if you have lipsticks you love but have no color swatch on the tube, you can make your own! Organizers Joni and Kitt of Practically Perfect solved this problem by swatching the lipsticks on paper, laminating it, and then sticking the swatch on the tube with double-sided tape.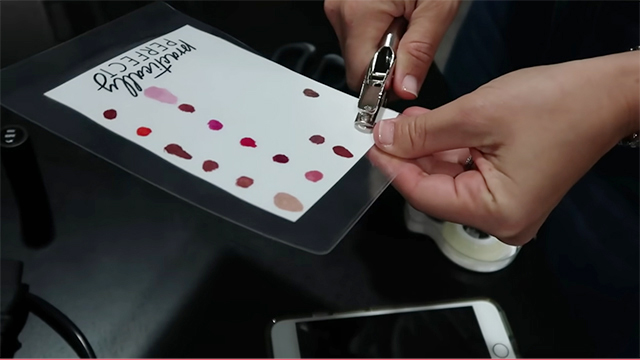 ADVERTISEMENT - CONTINUE READING BELOW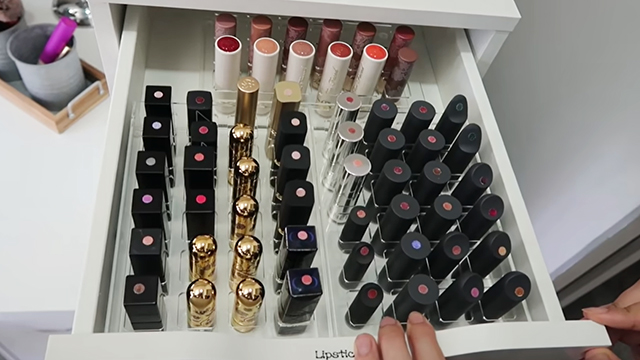 Step 5: Store everything in towers and drawers.
Avoid dumping all your must-keep lip products in big bins because trust us—you won't open those. Instead, organize everything inside shallow drawers with several dividers. This system will add a better semblance of order and make reaching for a particular lip color easier (no aggressive digging required). For your most-used picks, display them on lipstick trays or smaller drawers on your vanity table for easy access.
ADVERTISEMENT - CONTINUE READING BELOW
More on Realliving.com.ph
Load More Stories