Home Care
Household Cleaning Hacks for Quicker Cleanup
Speed up home cleaning to free up time Cleaning is probably one of the chores that you hate doing. All that scrubbing, wiping, and brushing just never seem to end. But don't stress yourself out anymore. With these hacks, cleaning will just be quick, leaving you with more time to play with your kid, cuddle with your dog, or simply put your feet up on the couch and watch your favorite show.
Steam-clean your microwave
No need to wipe yourself to death when cleaning the insides of your microwave. Mix equal parts vinegar and water in a microwave-safe bowl and heat it up for five to 10 minutes. Don't forget to place a toothpick or wooden spoon in the mixture to prevent boiling. Then, open the microwave door a couple of minutes after heating and wipe the insides with a sponge soaked in hot water and a little Pine-Sol® All-Purpose Cleaner Lemon Fresh. Wipe down with water for a streak-free finish. To know more about how to de-splatter the microwave, go here.
Blow-dry water rings on furniture
Have you been screaming your head off thinking of ways to get rid of those water rings? Get your hair dryer, let it blow just above the water ring, and watch those eyesores disappear.
Clean your floor sans the balde
Ditch the bucket-and-mop combo with Pine-Sol® All-Purpose Cleaner. Just mix it with water in a 50-50 ratio in a spray bottle for everyday cleaning and instant deodorizing. Spray on the floor and wipe with a damp mop or rag. Pine-Sol® All-Purpose Cleaner has 4x cleaning action that disinfects*, deodorizes, cuts grease, and removes grime, allowing you to have spotless and germ-free floors in no time.
Clean and deodorize your bathroom in one go
Just add one-fourth cup of Pine-Sol® All-Purpose Cleaner to a gallon of warm water; soak your mop, sponge, or rag; and wipe your tiled bathroom floor or walls. Or for everyday clean-up, keep the Pine-Sol® All-Purpose Cleaner mixture in a spray bottle for quick spritzes.
Say goodbye to dirty tiles and strong, irritating smells of ordinary household cleaners with Pine-Sol® All-Purpose Cleaner, which comes in five scents: Original, Lemon Fresh, Orange Energy, Lavender Clean, and Sparkling Wave. Pick your Pine-Sol®!
Combat stains, grime, and dirt on stove top with oil
Wipe off the grease on your stovetop with paper towel and drops of vegetable oil. Or better yet, wipe the surface with sponge or cloth dipped in one-fourth cup Pine-Sol® All-Purpose Cleaner mixed with a gallon of warm water. Its 4x cleaning action removes grease and grime away, ensures that you have a clean, germ-free and fresh-smelling home.
With Pine-Sol®, you can cut down on cleaning time and make more time for the things you enjoy. Smell and feel the real clean—and savor your me-time—with Pine-Sol® All-Purpose Cleaner.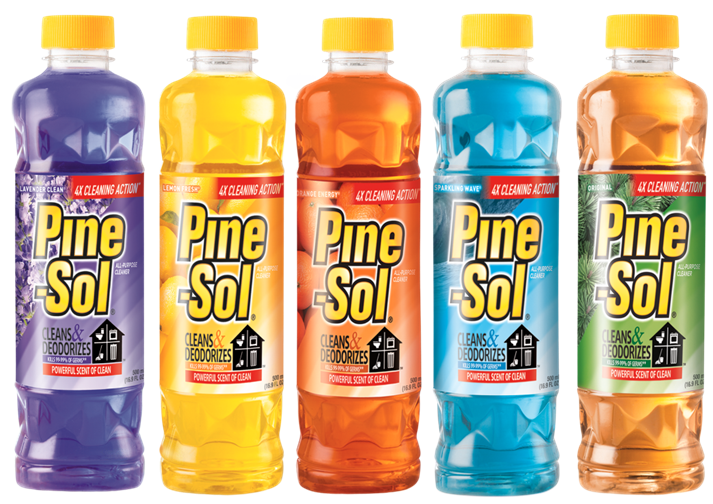 *Tested to kill 99.99% of Pseudomonas aeruginosa, Escherichia coli, Salmonella choleraesuis, Staphylococcus aureus, Trichophyton mentagrophytes (athlete's foot fungus) when used pure